No, it's not the First of April … this really is an air-conditioning system for motorcycles.
Personal air-conditions systems developers EntroSys are the inventors and manufacturers of the world's first personal motorcycle air conditioning system – BikeAir. The AS/C system consists of a 4.5kg unit about the size of a tank bag that sits on your back seat or rack and attaches much like a tank bag. It cools or heats air and pumps it via a vacuum-cleaner-style hose into your jacket.
BikeAir is not a joke, but a reality. It is available in America for $US1500 and coming to Australia, Europe, and Japan this year. I certainly could have done with it recently during heatwave conditions when I was riding a Harley Street Glide and Victory Vision, both big, hot bikes with windscreens that prevent cooling air.
It might look silly with a hose up your jacket, but it's safer than riding around in a t-shirt and shorts. The bulky unit uses NASA-developed solid-state technology, rather than conventional compressors which would make it even more bulky. It draws low power so it won't drain a motorcycle's battery, although a heavy duty alternator would be advisable.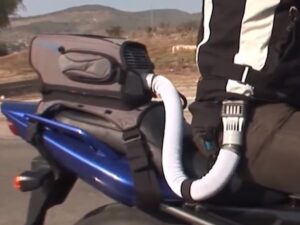 While the unit sits on the seat or rack behind you, there is a glove-friendly remote control you can attach to the handlebars or fuel tank via a velcro patch to control the temperature.  The hose connects to a cooling vest inside your jacket which has a rubber manifold to distribute the airflow around your body. The hose is designed to disconnect in the event of a crash. EntroSys also points out that it is eco-friendly as it does not use any gases harmful to the Ozone layer and has a low carbon footprint.
Would you use one of these A/C units?