Spirit Gloves Review Summary
Spirit Gloves Image Gallery
AGV Sport "Spirit" Leather Gloves
The AGV Sport Spirit gloves are new for 2015. They're all leather with no perforations or vents and the leather is a light- to mid-weight type. AGV Sport lists these as "mid length" and that's about right. The gauntlet is neither too short nor too long. They're lined along the top and unlined on the palm side and altogether very comfortable.
The fingers are slightly longer than expected and this helps to add comfort in hot weather. A TPU main knuckle protector and some extra leather on the sides and palm add protection. But there is no wrist strap for added security, which is a shame, because otherwise, the Spirit gloves are good-looking and have adequate protective features for light duty.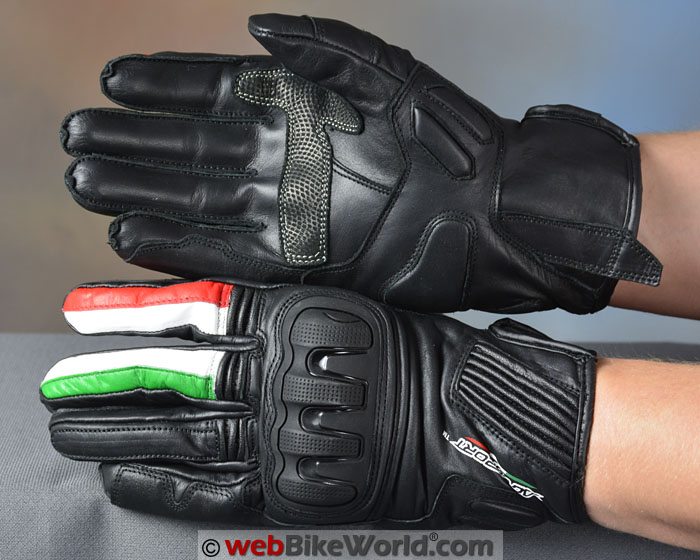 Features and Details
The AGV Sport Spirit gloves were added to the Spring/Summer 2015 "Racing/Sport Gloves" lineup. While we'd hardly call these "racing" gloves, we'll give "sport" a pass.
One glove weighs just 93 grams (3.25 oz.), and that's counting the liner and knuckle protector.
These are good-looking, all-leather gloves available in all black or black with an Italian flare: red, white and green colors on the first two fingers, as shown here.
The Spirit gloves proved to be so popular that the first shipment completely sold out. So out the window goes our theory on security vs. style!
Their popularity can be understood because these are very comfortable motorcycle gloves, with just enough extra room and the semi-breathability of natural leather added to the mix.
The wrist is tapered and there's a "V" of elastic on the inside of the wrist at the gauntlet, but we think it's too easy to pull a glove off the hand without much effort. Too bad, because these would make an excellent all-around basic pair of motorcycle gloves, if only…
Features include:
The "Premium full grain cowhide leather" construction is used throughout. There's very minimal textile found in the Spirit gloves, and that's a plus.
The gloves are lined along the top on the inside with a 100% polyester lining and the leather along the palm side is flocked or buffed, making for a nicely comfortable pair of motorcycle gloves.
There's a bit of extra leather that looks like the classic Pittards "Digital" type on the palm, pinky finger and thumb.
A nice, large main knuckle protector is made from some type of TPU or plastic with a bit of foam underneath.
More foam is included in pads at the wrist and base of the thumb, intended for impact resistance.
AGV Sport said that "high tensile strength nylon thread stitching" is used throughout the gloves. Too many motorcycle glove manufacturers don't list the thread type, so this is good.
Most of the seams are double-stitched.
The fingers are mildly pre-curved.
The overall quality is excellent and the styling works for cruisers (black) or sport/street riding (with a nod to the Italian flag).
Missing features:
We really wish the Spirit gloves had a wrist strap, perhaps on the bottom of the wrist, or something that would add extra "stay on" security.
Some middle and first knuckle protection would be nice.
Perforations may be missed by some. But those would only add a potential weak point and the air flow probably would be blocked by the liner anyway, so we don't miss that feature in this case.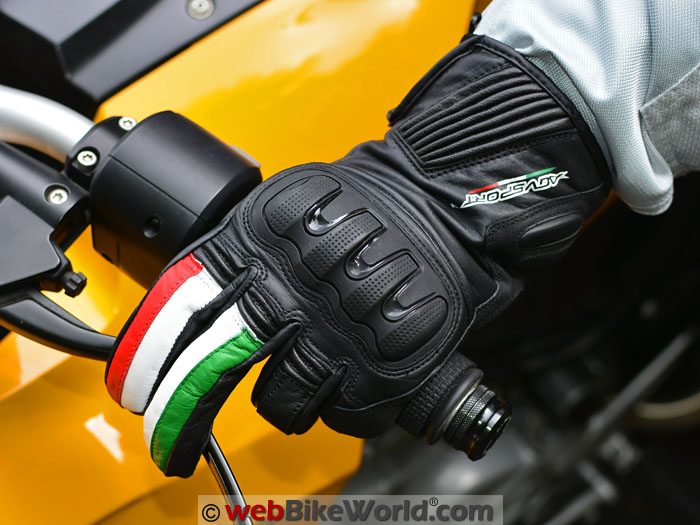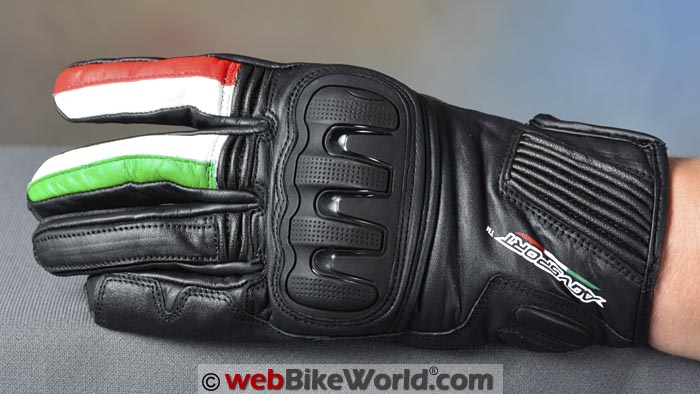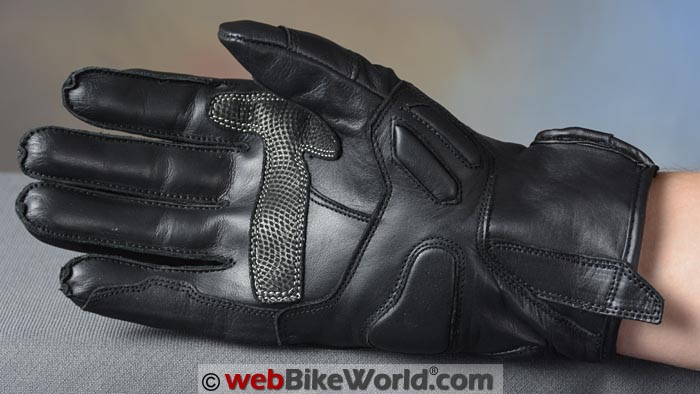 Summer Riding
The Spirit gloves made entirely from non-perforated leather. The lighter-to-mid-weight leather with zero insulation gives the overall impression that these are lighter-duty gloves suitable for summer use, thus our inclusion of them in the comparison.
Natural leather does have a certain amount of porosity, which helps it breathe. The breathability is actually better than some textile gloves or gloves with perforations in name only.
Those are perforations that don't actually function to flow air inside the glove, having been added only to tick off a box on the feature list. Unfortunately, there are many gloves in that category.
So while one may question the Spirit gloves in a summer motorcycle glove comparison, we don't see a problem.
Our pair of Spirit gloves in size large are just a little bit oversized, which actually works out pretty nicely for a hot-weather motorcycle riding glove, because it makes it easier to put the gloves on or take them off when the hands are sweaty.
The fingers seem also just a little longer than expected; again, a good thing, as it gives some extra room for swelling in hot weather.
The fit of the "mid length" gauntlet works over lightweight summer mesh riding jackets, but a thicker sleeve type (or when the liners are inserted) can make it difficult to fit the gauntlet over a sleeve. The mid length makes it easier to wear the gloves under a sleeve cuff, however.
Again, the Spirit gloves feel comfortable and the leather seems like it will only get softer over time. The gloves are styled and sized like a pair of leather street gloves, which gives them a natural familiar feel.
The AGV Sport Spirit gloves are well made and the relatively simple all-leather construction is comfortable.
The leather isn't race thickness by any means, but there's probably enough abrasion protection here for basic street riding needs.
The biggest issue is the lack of any type of security system in the form of a wrist strap that will help to keep the gloves on the hands in a crash. That's worrying.
You also don't get any type of ventilation, although that feature is a tradeoff with any pair of gloves and the thin half liner helps to make the Spirit gloves livable in that regard.
Also, the price seems steep for what you get; these would be more reasonable at maybe $20.00 less.
Overall, we really like the AGV Sport Spirit gloves and with a little more security added, these could be a summer favorite. We'd gladly swallow the twenty bucks if they had that feature.
In the meantime, don't take our word for it. We're apparently in the minority, because the Spirit gloves were sold out as soon as they arrived and they have been moving off the retailers' shelves as fast as AGV Sport can stock them. So they must be doing something right…
w

BW

 Review: AGV Sport Spirit Gloves
List Price (2015): $89.00
Colors: Black/Red, White, Green
Note:
 For informational use only. All material and photographs are Copyright © webWorld International, LLC since 2000. All rights reserved. See the webBikeWorld® 
Site Info page
. Product specifications, features and details may change or differ from our descriptions. Always check before purchasing. Read the
Terms and Conditions
!