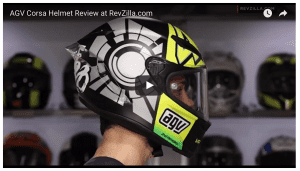 AGV is named after its founder and deals in motorcycle accessories. Amisano Gino Valenza founded this company in 1947, in Italy. The company is famous for producing high-quality bike gears. The company's merchandise is even widely used by MotoGP riders. It is one of the leading brands in motorcycle gear.
AGV has finally introduced Corsa in a wide range of choices. This classic helmet is a fiber version of AGV Pista, which is worn by Valentino Rossi in MotoGP. This composite fibered helmet comes in 4 different shell sizes with the unique self-adjusting feature. A Tri-Composite top of the line helmet, it costs a reasonable $700.
You are about to find out why we used the word 'reasonable' in our review of the AGV Corsa helmet.
Benefits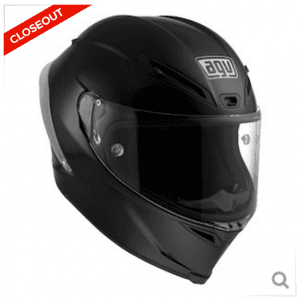 Corsa surpasses the Gtech of the AGV series. This Gtech was regarded one of the finest helmets with the latest technology produced by the company.
The helmet is an improved version AGV Pista which is used by Valentino Rossi himself. It makes this helmet a high-end professional choice for any rider.
The helmet built with SSL (Super Super slim) technology is available in a number of sizes and shapes as mentioned above.
The safety measures on which the company has worked out in detail can definitely prove beneficial for the rider.
Features
The helmet is composed of a combination of carbon fiber and aramid, which is combined from Kevlar and Resins making it even stronger to sustain any shock. It is a full face helmet that weighs around 3.45 lbs, making it one of the lightweight helmets.
The design has solid graphics, crafted with an aggressive profile. EPSs and comfort liner have an amazing feeling of satisfaction.
The main new feature of this helmet that makes it so special is the automatic shape-adjust from intermediate to neutral oval. You can adjust your helmet according to different facial structure, from an intermediate shape to an oval shape.
Its advanced ventilation system provides 190% more surface area for the ventilation to work well. The smaller visor movements have made its performance smooth, making it overall a great buy for a $700 price.
Shell Design and Build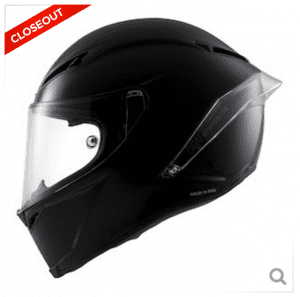 The helmet has advanced aerodynamics that showcases an aggressive profile. If you observe clearly, you can notice how they have integrated the external spoiler held on polyurethane bolts which shear off to extend the back. It helps to enhance the aerodynamic profile that gives a super performance while you are racing.
They have also successfully eliminated 44% of the Z-coefficient drag. A drag is basically a pseudo force that acts on the helmet while you are riding. Eliminating this Z-coefficient drag is nothing but neutralizing this pseudo force.
Its sizes vary from small, small-medium, medium, medium-large, large and also into XLs. The shell design is painted with solid graphics and also classic matte color. It also has the IVR systems like the previous models. The IVR system is nothing but a ridge system which flows and sweeps the air through the back.
Ventilation
A prominent feature in the helmets, ventilation area has increased by 190% in Corsa. It is comprised of exceptionally larger vents, chimney vents, and center vents.
Whereas the Pista has a ridged rubber inserts, Corsa vents come with closable and openable vents. It has two passive vents in the back which are responsible for producing the Venturi effect to suck the air through the back so that helmet remains cool and stable in place.
Even the chin vents can be opened and closed. The honeycomb weave structure or pattern of the vent has some ventilative properties which can be used only in injecting enough amount of air to provide proper oxygen flow.
Face Shield and Sun Visor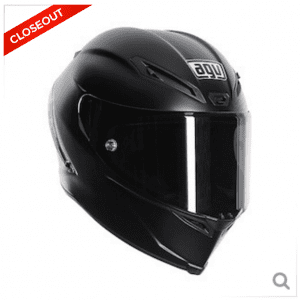 We have what we call the Race-2 shield of AGV as the protective shield. This shield has useful characteristics. One of them is that it is optically optimized. The fiberglass is 3.3 mm thick. This thickness supports the shock-absorbing property. It plays a great role in terms of safety. It has center lock mechanism as a standard inclusion.
The XQRA (Extra Quick Release System) is another useful mechanism of the shield which makes it easy to operate the shield with ease.
The fog can be eliminated by the pin-lock post inside. The eyes port has been stretched to an extra 9% wide. Also to facilitate bikers in racing, it has added a full 15 degrees of field of view, giving you the complete advantage of peripheral vision.
Interior
The inside of the helmet promises the supreme quality and comfort of AGV helmets. The cheek pads are soothing and have the striking comfort provided by two ergonomic foam pieces. They tune-up well with your cheek. The interior is also fitted with LYCRA lining that provides dry comfort along with sanitization.
AGV has performed a full zonal EPS along the crown area, cheekpads, side heads and back head so that they tune with your skull. The comfort liner is put together to match your head shape to provide a comfort fit.
Safety
The interior comfort liners are placed at the exact areas which are prone to get hit during any accident. AGV has taken care of every single aspect of interior to the exterior to make sure however harsh an accident you experience, your head will always be protected.
The helmets pass DOT standards and come with SHARP 5 star rating ensuring 100% protection. The Double D retention system also keeps you safe in case of any mishaps.
Other Factors for Consideration
The Ultra Solid graphics patterned with matte colors give them a fine metallic look. Moreover, the company has also started manufacturing models which are available with custom painting. The designs even feature the Rossi style and some even draw inspiration from bands like Pink Floyd.
The key features of this helmet are its fitment and well tuning with the head shape.
All in all, this helmet is specially designed for racers and is a modification of the MotoGP helmet. It can be a great deal for $700.