Women's R-3 One Piece Suit Hands Review Summary
Review Summary
The Aerostitch Women's R-3 one-piece suit offers a great many more features, functions and benefits than I ever expected. The only thing that surpassed my level of satisfaction with the R-3 suit was the unbeatable level of customer service and professionalism by the staff at Aerostich! After spending years in customer service and as a customer advocate, Aerostich is the epitome of great customer care in every sense of the word. This is a great company and they offer products that are of as high in quality as their customer service.
Pros
Excellent coverage
protection
Good abrasion protection
Full custom sizing
Adjustable armor mounting
Great airflow
Quality construction and materials
Ample storage
pockets
Waterproof
Full-length zipper access
Optional extra armor
Optional extra inner pockets
Cons
Requires some break-in time- but worth the investment of the time
Above some rider's budget
Lead time can vary so order before you plan a road trip
Piece Suit Hands Image Gallery
A Pleasant Suitprise
Looking for the Right One
I love trying out new gear and this was the first taste of riding suits for me with a long term hands-on test, so I will admit to being pretty excited. But as I looked at the website, my excitement began to wain as I discovered that I was a bit confused about what to order.
There is always a level of uncertainty when placing an order for an item without trying it on or having a great frame of reference, and with a price tag of over a grand, I wanted to make the right choice to ensure a fair test of their gear but also my continued fun and enjoyment of putting the R-3 to the test.
So this is my one ding on Aerostich and as you noted above, it accounted for .01% of my overall impression of the company. The online sizing guides are all for the Roadcrafter (the R-3 in my case) is all in men's sizes even though they offer ladies suits. In their defense, they do have a note in big red letters saying to call the listed 800 number for assistance with ladies sizing.
And I hate to admit it but I was reluctant due to my stubborn streak. But in fairness to the product, I made the mature choice and made the call.
Working With the Aerostich Team
In my opinion, every company and every person makes mistakes. That's just what happens from time to time as humans. But what really defines a person or a company in my mind is how they handle those mistakes. Granted, I would have loved a ladies size chart and the ability to click a button, order my suit and go on with my day but had that occurred I would have missed out on an awesome experience.
My call was answered by Jill, an awesome member of the Aerostich team. She was able to talk me through the initial sizing process as well as the overall ordering process. I must also add here that I was very happy to speak to about the sizing issues and questions that I had about their products.
I didn't expect to speak to a woman and was dreading trying to explain certain aspects of fit to a guy. Somehow I always feel like my concerns about pinching and tightness in the thigh and seat area don't compare to a guys concern with pinching in the crotch area.
Fortunately, I avoided that debate by speaking to Jill. And after we came to an agreement on the size that I needed, she asked to place me on a brief hold to double check out the selection with another lady on the team who has a great deal of experience in ladies sizing. It was a true team effort but we agreed and I was ready to check out the sample suit that was being sent to me.
Aerostich is really all about providing a custom fit for their apparel which is great for riders who are investing in these top quality pieces of gear. The first step was the sizing but the item that was being shipped to me was only a sample in a generic size that I was to test fit.
When it arrived I tried it on, sat on my bike and tried to decide exactly what I liked and didn't like about the fit. Again, Jill was a wealth of information in determining what I needed as opposed to what I thought I wanted.
She suggested that I send her pictures of me wearing the suit in a riding position as well as just standing so that her team could evaluate the fit. From those pictures and my comments about bunching and bulk in some areas, they were able to explain to me exactly what I needed.
Wearing the sample suit standing up and in a riding position
Custom Alterations for the Perfect Fit
As it turned out I needed the size that they recommended but with the following custom alterations:
Additional forward rotated sleeves
Custom sleeve length by adding .5 inches above and below the elbow
Custom leg length by adding .5 inches above and below the knee
When MY suit arrived just a short time later, I was blown away with the fit from the alterations that I thought were minor by truly created a customized suit for me. I have never had another gear experience that even came close to working with Jill and the entire Aerostich team.
The closest that I can come to comparing the experience is buying a Mercedes vs. a Maybach. Both are reputable products, but the level of customization and customer service provided with a Maybach is just in a class by itself. There are features and added extras that no one else offers and that is how I look at the R-3 from Aerostich.
Reasonable Pricing
The R-3 sells for $1,197.00 which sounds somewhat steep until you look at other riding suites from Klim or FXR that can range from $675 to $1,299.99 and you are buying an off the rack suit that will fit, um, ok I guess if you are lucky. And as you read on you will learn that the size is not all that you can customize on your R-3 suit.
But what it really comes down to is that for just under $1,200, you are getting a quality product for your money, and one that is made in the United States.
Aerostich R-3 One Piece Suit Features
The R-3 is a 100% waterproof riding suit that is designed to be worn over street clothes. This model is unlined for added comfort without sacrificing durability and waterproof quality.
The fabric is Aerostich's exclusive mil-spec 500d Cordura GORE-TEX which is highly abrasion resistant. There is also a double layer of this fabric across the seat for added protection. The elbow, should and knee areas are covered with an additional layer of 1000d to reduce the potential for injuries in the event of a slide.
Fit & Comfort
Fit and comfort are not going to get any better than with a custom-tailored riding suit. This feature eliminates a lot of the issues that many riders, especially the ladies encounter when buying gear. Most ladies find it challenging enough to find separate pants and a jacket that fit so the thought of a full riding suit is a bit unrealistic.
The challenge is normally large enough hips and bust area without sleeves and pant legs that need to be cut off or rolled up. But the Aerostich process provides a great alternative.
What I will add is that the fabric is thick and somewhat rigid when the suit is new. It's similar to wearing new blue jeans or a new leather jacket that needs to be broken in. But with more wear, the suit becomes more and more comfortable and customized to the shape of your body and its motions. Invest the time in breaking in this suit and barring an accident, you will have a great riding suit for life.
Starting At the Top
The R-3 offers a fold-down dual height collar that will tuck inside the back of a helmet on cold wet days and secure at the front with a velcro strap or it can be folded down in nice weather.
But you don't need to worry about that extra large collar becoming an annoyance in the wind thanks to the removable rare earth magnets that are in the collar and the chest of the suit. The collar tips lock in place and remain there even when you are enjoying a nice pace on the open road. Three additional snaps secure the rest of the collar when it is folded down.
The shoulders are the first place you will encounter the TF3 viscoelastic impact armor. This unique material provides more resistance to the harder and faster it is struck. This allows the armor to remain soft and pliable when riding but instantly become far more resistant on impact to provide you with maximum protection and comfort. The same TF3 armor is inserted in the elbows as well.
The cuffs offer zipper closures and ample velcro for adjusting to fit over any size or configuration on gloves that you might choose to wear.
Not Only Custom But Modular
As you might expect in a custom riding suit, the armor is also pretty easily customized as far as the locations of the shoulder, elbow and knee pads. A huge amount of velcro is offered in the suit to allow riders to relocate and refit the armor as needed. This not only adds to the comfort of the suit while riding but also the safety benefit in the event of an accident.
This is just one more feature that is not offered in most off the rack suits but is a part of what you get for your money with the R-3.
Ending on the Bottom
Due to the customized sizing, the seating area of this suit is amazingly comfortable when riding. Space is ample for a relaxed riding position as well as a more sporty racing tuck is you are intent on making up some time. There is also a panel of velcro for riders who would like to purchase the optional hip protection which is also a TF3 material.
At the back of the waist, there are large velcro adjustable straps for customization above and beyond the level of the elastic.
The knee protection mimics the elbow and shoulder protection in that it is TF3 and very adjustable to meet the needs of different riding positions on different bikes or even different street clothes worn under the suit. The pant leg cuffs offer a snap closure as well as velcro for a fully customized fit.
Easy Access
A big factor in the level of satisfaction with a riding suit is how easy it is to put on and take off. Aerostich did not miss this important bit of news. The R-3 offers a full zipper that runs from the collar to the cuff of the left leg. The right leg offers a zipper from the cuff to the top of the thigh.
The recommended "entry' into the suit is far less complicated than you might imagine. With both the full zipper and the right leg zipper fully open, simply step into the right leg and lift the suit up to put it on your upper body like a jacket.
The full-length zipper is actually a double pull zipper so that you can have an opening at the bottom of the leg if you wish as well as being able to zip down a bit from the collar. An unexpected bonus is that the zipper starts at the collar rather than the leg cuff so you are not trying to bend over and "start" the zipper down by your feet once you have the suit on.
Aerostich includes a page of tips with the suit and one of them advises to suit up a few times in front of a mirror so that you can develop muscle memory for starting the zipper.
Pockets & Storage
The R-3 is a little like one of those pictures where you have to find the hidden items only here you are discovering the amazing amount of storage and cargo space that are worked into this riding suit.
The pockets begin with an exterior chest pocket on the left that is secured by a reflective flap with velcro. This pocket also conceals a mini-carabiner helmet holder. The right chest area offers a large zipper pocket that offers a pocket within a pocket to keep your phone secure.
The two front cargo pockets offer velcro secured top flap closures and conceal side access pockets as well. And the final flap on each hip is a cover for the water-resistant zipper openings which allow access to pants pockets but block out any moisture.
There is also an additional outside pocket on the right leg just above the knee which is secured with a zipper. The final pocket is located on the right forearm and has a zipper closure.
In addition to the myriads of external storage, Aerostich offers a set of three optional inner pockets which attach to the velcro panels inside the R-3. These pockets can be purchased individually or as a set of three. All of these pocket offer velcro closures.
Ventilation
On the back of the R3, between the shoulder inset is a large reflective flap which doubles as the cover for the area air vent zipper (below). This zipper opens from both sides toward the center to allow for balanced airflow and to eliminate billowing in the back of the suit. The rear air vent along with the waterproof zippers under each arm allows for a huge amount of air flow to your upper body in hot weather.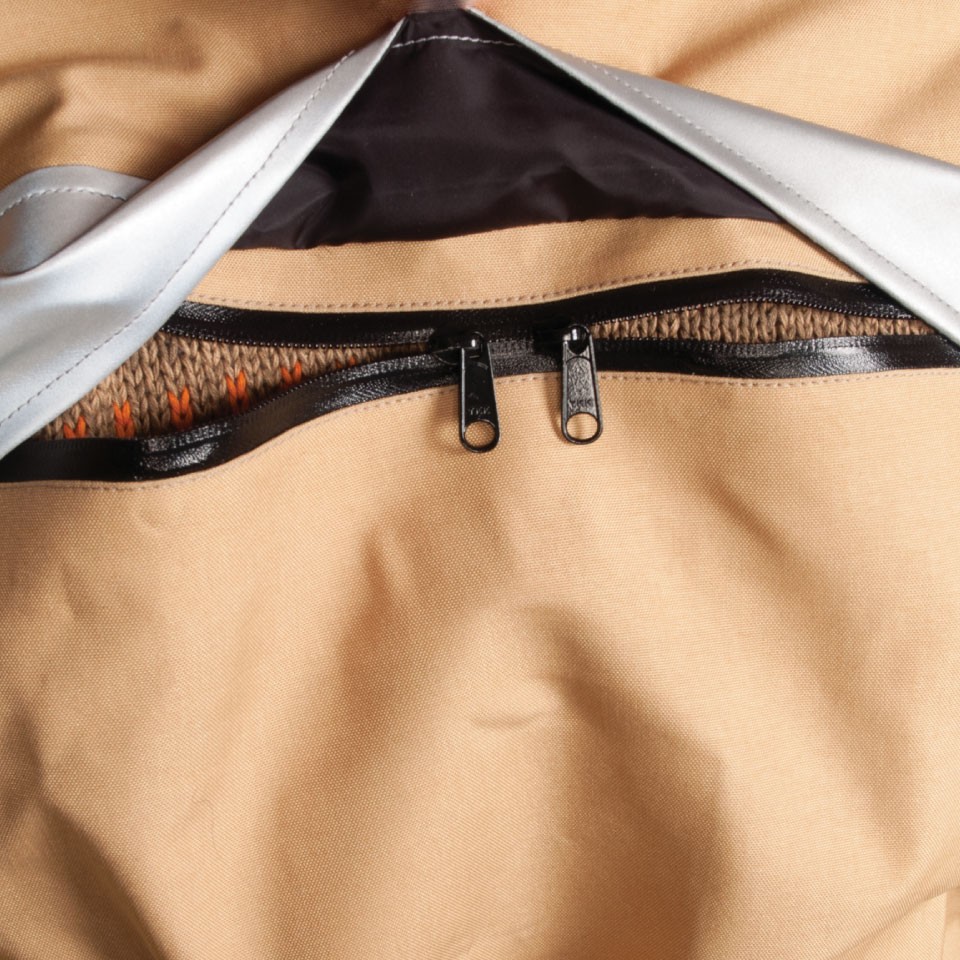 In cooler weather, all three vents can be closed for warmth and will remain waterproof until they are opened. The dual pull main zipper also allows you to open both the neck area and the lower left leg for added airflow. The right leg zipper can also be opened at the cuff to allow for more airflow.
The zippers at the sleeve cuffs allow you to have a custom tight fit in cooler weather using both the zipper and hook and loop closure tab. But in warmer weather, the zipper can allow the cuffs to open a bit for added air through the sleeves.
Additional Items
Aerostich has thought of pretty much every possible scenario and has you covered with optional armor and pads that you can purchase to add even more customization to your R3. Additional armor pads for the hips, chest, and back are offered as well as replacement armor for the elbows, knees, and shoulders.
Even more, there are a few weather specific features that can be added such as a chest insulation pad for cold weather and boot covers that can be stowed in pockets at the cuff of each leg for relief from wet weather.
When you look at the R3 you will notice that there is an abundance of hook and loop on the outside of the suit. These strips are to mount the extra pouches offered by Aerostich such as the sleeve window pocket and the thigh window pocket.
Adventure riders will love the sleeve pocket for a compass or even a watch. The thigh window pocket is perfect for a map or other notes that you want to be able to glance at while riding.
Below are the internal hook and loop strips for optional armor.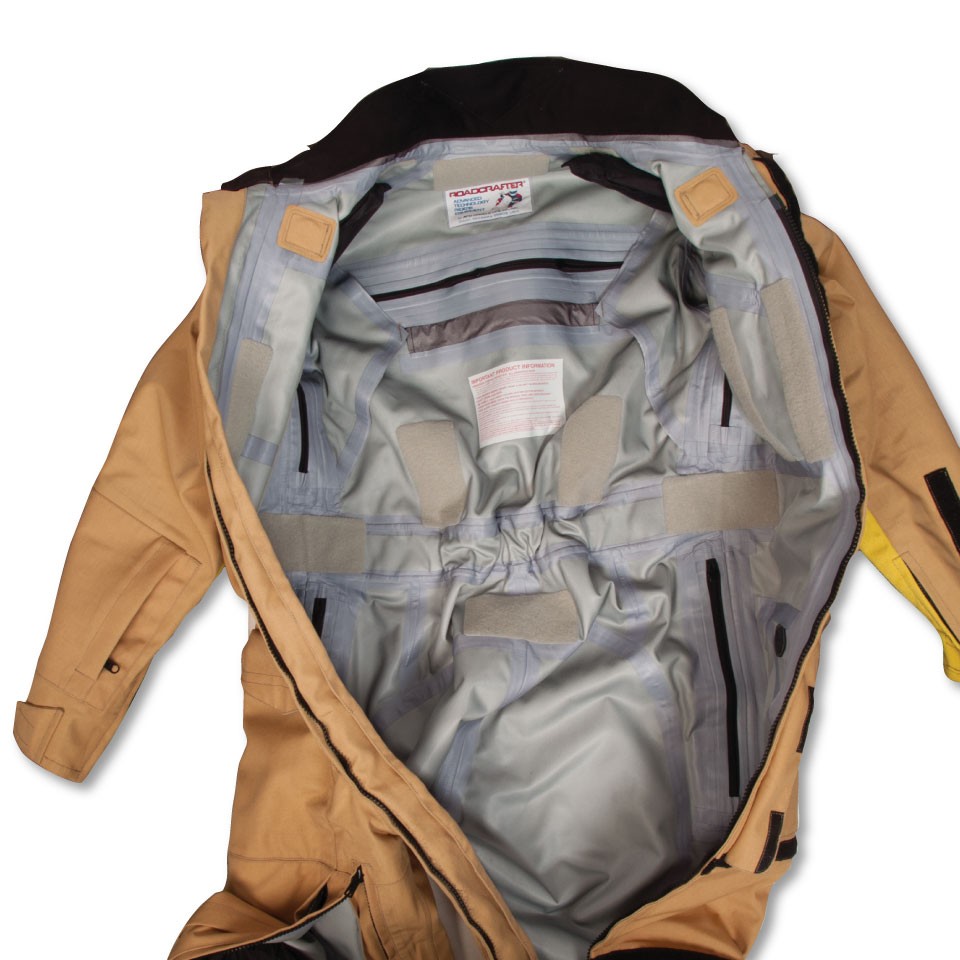 Possible Alterations
Aerostich offers a wide variety of alterations if you are interested in a truly custom fit. In my case, the sleeves and legs were where I required some help, but there are many more options to meet the needs of any and all riders.
The sleeves and legs can be altered both above and below the elbow and knee respectively up to 3 inches.
The sleeves can also be rotated forward for a more sport bike friendly riding position.
The upper body gusset can also be altered. The triangle from the waist to the sleeves and up to 2 inches can be added on each side.
A built-in ellipse can be added at the lower back to allow for a more forward lean for sport bike riders.
Finally, a jacket hem flair can be added to provide a looser fit at the hips.
While all of this information makes very little sense to most of us riders, it is helpful to know when you are trying on a standard size suit to know the areas which Aerostich can increase or decrease the size to accommodate your body size and shape.
It is also important to remember that a few quick pictures and the team at Aerostich will most likely know what you need in the way of alterations even if you are unsure.
Pre-Alterations
Post-Alterations
The Verdict?
Overall, my impression of Aerostich and the ladies R-3 one-piece suit is that I am very impressed with both. The company goes a step above when it comes to customer service which is what should be expected of a manufacturer of high-quality products.
Due to the required protection and durability of this suit, there is a bit of a breaking period with the material, not unlike any thick jacket or other types of suit. But as the suit is worn more, the fit and comfort level gets even better.
The Aerostich Women's R3 one-piece suit is definitely a product that is meant to be purchased and used for many, many years. There is a certain level of investment, but the cost buys a very high quality, American-made product, as well as a company that stands behind their gear.
I am very than impressed by the level of service and attention to detail from the entire staff of Aerostich and that attention to detail definitely shows in their products. For more quality reviews of Aerostich products visit our review page here.
Pros
Excellent coverage/protection
Good abrasion protection
Full custom sizing
Adjustable armor mounting
Great airflow
Quality construction and materials
Ample storage/pockets
Waterproof
Full-length zipper access
Optional extra armor
Optional extra inner pockets
Cons
Requires some time – but worth the investment of the time
Above some rider's budget
Lead time can vary so order before you plan a road trip
Specs
Manufacturer: Aerostich
Price (When Tested): $1,197.00
Made In: United States
Alternative models & colors: Black, Grey, Orange, Tan, Hi-Viz with Black, Blue, Grey, Pink, Red, and Hi-Viz Ballistic Color Choices
Sizes: Ladies 2-20 in Short, Regular and Long Lengths
Review Date: February 2019