Pump up your tyres and ride cautiously. That's the advice to riders of the new water-cooled BMW R 1200 GS.
There is no doubt that the new BMW R 1200 GS  is a much-improved machine, especially its on-road performance. However, there has been some criticism of off-road performance because of the wider tyres. It has now emerged that some owners have been buckling the spoked rims more frequently than on previous models. Rims were damaged to the point of deflation on the Australian press launch leading writers to question the rim strength and one owner is on his third set after 12,500km. Unlucky? Probably. More vulnerable wheels? Maybe. A combination of both? Quite likely!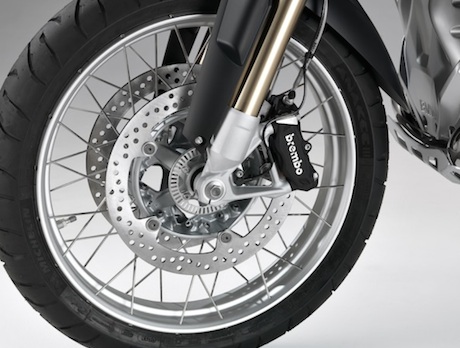 We asked BMW if the spoked rims are as strong as the previous model and they are adamant they are and dismiss claims that a new designed rim is on its way. However, they do agree the rims may be more vulnerable to impact because of the lower profile and softer construction of the tyres.
The previous BMW R 1200 GS had a 110mm wide front tyre and 150mm rear. These have been widened to 120mm and 170mm. At the same time, the profile, which is the height of the tyre, has been lowered from 80% (front) and 70% to 70-60. What this means is the wider tyre presents more opportunity to strike a sharp object and the approximately 4mm lower profile means there is less cushioning protection for the rim.
BMW Group Australia motorcycle marketing manager Miles Davis defends the bike's performance, but adds a cautionary note about riding off-road. In a written reply to my inquiries he adds some salient advice that he says is not only relevant to the new water-cooled BMW R 1200 GS, but also any bike with any rim and tyre combination.
"The lower-profile tyre provides significant improvements in performance on road as well as some off road situations. However, if riding over larger sharp-edge-type rocks or other obstacles the following three points are very important:
Navigate at an appropriate speed, reduce speed if impacts are likely to be significant.
Ensure tyre pressures are adequate. I would suggest increased from previous model. We run low to mid 30psi. (This is quite obvious, the same goes with enduro vs motocross rim/tyre sizes.)
The rider selects a good riding line, absorbing the impacts and not chopping the throttle or braking into larger obstacles. (This sort of off-road riding technique will always give the best result when riding in rough terrain)."
He also believes the Continental TKC 80 has a lighter construction than the previous tyre. "For riders who are looking for improved performance in rocky terrain another tyre choice may give a better result, but may not provide the same on-road performance."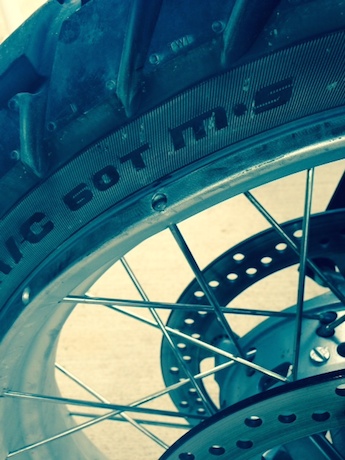 Miles says they have so far sold only six replacement front wheels to dealers from 462 water-cooled models sold. "So you can see that this is not a significant issue for BMW. Some of these could have been for accident insurance repairs etc, not necessarily off-road related," he says.
It may not be a significant issue for BMW, but it certainly is for owners at about $2334.25 per spoked rim. I also know that replacement rims have been purchased from overseas by owners seeking cheaper prices, rather than through BMW Australia, so there may be more than the reported six that have been damaged.
The problem could be exacerbated because consumer expectations of off-roading ability are very high on the BMW R 1200 GS. This is a result of several factors. Not least is all the hype around Charley Boorman and Ewan McGregor who took the Adventure models around the world. The bike's off-road expectation has been further backed by the proven off-road ability of the previous-model GS. The manual also advises to use the spoked rims for "severe off-roading". Meanwhile, BMW continues to advertise the bike as "Unstoppable" with images of the GS in mainly off-road scenarios.
However, consumers will clearly need to adjust their expectations of off-road ability for this bike as well as many of the other heavy adventure bikes on the market. They may look like indestructible tanks, but you also need to exercise some caution.
Meanwhile, BMW is in the process of initiating a service campaign to repair or replace fuel pumps on some models at no cost. Bikes affected are all K2x models which includes R 1200 GS, R 1200 GS Adventure, R 1200 RT, R 1200 R, R 1200 ST, R 1200 S & HP2; and all K4x models which includes K 1200 S, K 1200 R, K 1200 GT & K1300 R, K 1300 S & K1300 GT; the K46 ( S 1000 RR); and K48 (K1600GT & GTL).
Check out our latest motor bike news and motorcycle reviews.