Adelaide has joined a growing push to allow motorcycles and scooters to park for free on footpaths and free up parking spaces for other vehicles.
The Adelaide Council is seeking feedback from local businesses on their proposal to trial motorcycle and scooter parking in two designated areas of footpaths in the city.
It follows a recent move by the Gold Coast Council to also investigate the proposal.
Footpath parking has been legal in Melbourne and Victoria for some years and has been introduced in more recent years in parts of Sydney and Brisbane, although with varying restrictions.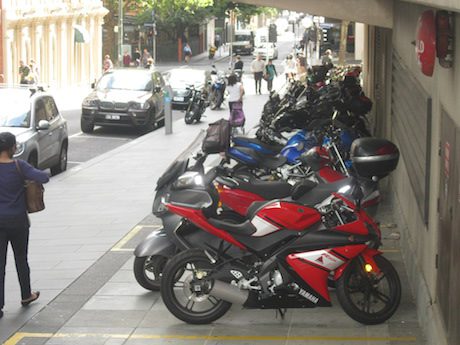 It is also common in many European and Asian cities and various New Zealand locations.
The two Adelaide footpath locations chosen for the trial are: the north-west corner of Victoria Square / Tarntanyangga; and the western side of Light Square / Wauwi (just south of Currie Street
Council says the trial may encourage more people to come into the city by motorcycles and scooters.
Council has been working with the Department of Planning, Transport and Infrastructure (DPTI) and SA Police (SAPOL) to set up the trial, given it is not currently practised in South Australia.
The council says benefits of trialling motorcycle and scooter parking on footpaths in the city include:
Meeting existing demand for motorcycle and scooter parking spaces,
Encouraging more motorcycles and scooters into the city, and
Explore the potential to set up other locations based on the trial outcomes/feedback.

Brisbane free motorcycle footpath parking
Their principles in identifying suitable locations are low-pedestrian volumes, places where it won't impede pedestrians, where there is demand for such parking ( such as near offices and commercial precincts and "left-over spaces" with low potential for other uses.