Readers are invited to tell us about their addiction for motorbikes, their collection or their custom project. Send your photos and details via email.
Today retired Sydney school principal Jim Delaney tells us how he is addicted to restorations with one from every decade of his riding life.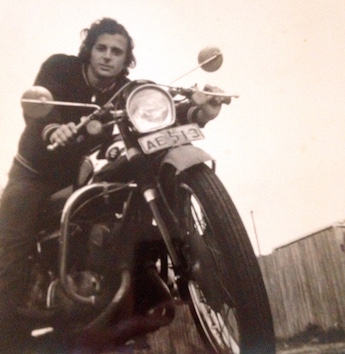 "Restorations are time capsules. We all need history and a source of our past," Jim says.
"I have a bike from each decade to remind me of how long I have been riding bikes. It also lets one see how they have developed."
Jim began his riding addiction in the '60s, so he bought a 1969 Yamaha CT1 through eBay and started a "nut-and-bolt restoration". 
"The cackle of the two-stroke single brings back lovely memories," he says.
"Not an easy restoration as Yamaha does not stock parts for them anymore. Just searched the internet over and over again until the right part appeared."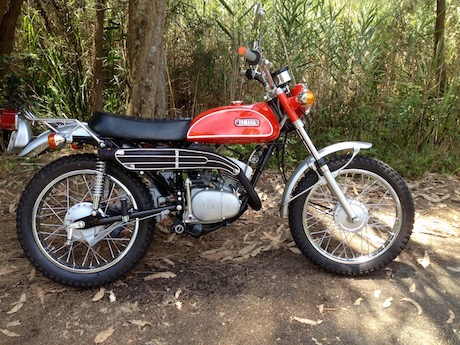 His '70s project is a 1973 Hodaka Wombat also bought off eBay and currently in pieces while parts are being sandblasted.
The '80s bike addiction is represented by a 1985 Honda GB400 TT.
His first project was a 1990 Suzuki RGV vj22 M series, again bought off eBay.
It involved a full nut-and-bolt restoration with "sensible upgrades" and a rebuild at Surfside Motorcycle Garage.
"The RGV cost a bomb to restore. I always wanted one when they first appeared as I had an RG250 and loved that but could not afford an RGV on a teacher's salary with three kids. So now I have one."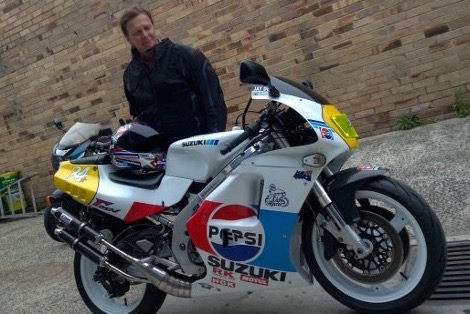 He rounds out his collection with an immaculate 20-03 Buell Firebolt 984 and a slightly modified 2012 Honda CBR 125 for running around the northern beaches of Sydney.
Now approaching his 63rd birthday, Jim seems to have largely satisfied his motorbike addiction.
"I now have a bike from every decade of my riding years. Should be time to draw breath and stop, I hope.
"It's hard work, but the end product can be worth the effort."
Jim says his partner, Lynnie, never asks how much his addiction costs.
"She guesses but never gets it right. She is always way low in her estimation. I never let that info out," he says.
"I just bought her a Sachs Mad Ass 125 to learn on. Time for her to learn to ride or give up the pillion seat."
When he retired, Jim went out in a blaze of motorcycling glory.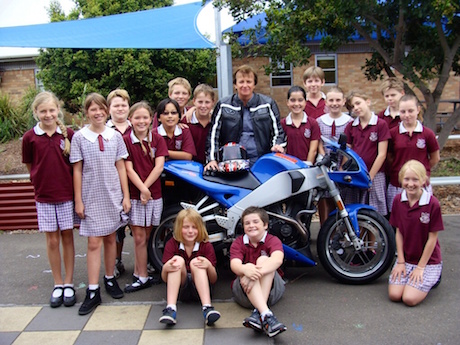 "I used to ride to work on my Buell Firebolt or my Honda GB400 Mark 2, so when I retired, we rode the Buell across the school playground with Born to be Wild playing over the PA system," he says. 
"All the students, staff and groups of parents formed the corridor for the bike to ride through. 
"Not the average way to retire. We waved and headed off for a coffee. Retirement had come."
Now he's spreading his bike addiction to family and friends.
"I bought a Sky Ace 125 for my son-in-law as he liked them, plus I wanted to embed bikes into the family. The eldest grandchild received a Pee Wee 50 for his fifth birthday. 
"I want my grandchildren to know to fun and love of bikes. As time goes by each grandchild, once reaching five, will get a Pee Wee."
He has also convinced a mate to restore his 1984 Kawasaki 600 trail bike. 
"He was the person I used to convince my father back in 1969 that I could purchase a motorcycle and not be a temporary Australian," he says. 
"Still mates to this day! He was the original owner of the Kawasaki and has now torn it down and is in the full flow of the restorer."
Jim says all his bikes are ridden, but confesses he is a "sunny day rider these days".