There is no longer any need to buy an expensive motorcycle to have adaptive headlights that illuminate the inside of a corner.
American lighting company of Wisconsin, J.W. Speaker Corporation, has released the world's first aftermarket adaptive motorcycle headlights that fill in the dark void of a corner.
The adaptive headlights are now imported into Australia by Invision Sales at $1200 for the 8790A 7-inch model and $999 for the 8690A 6-inch version. They are available at Autobarn, Supercheap and Burson, and the importers will soon have them available in some motorcycle shops.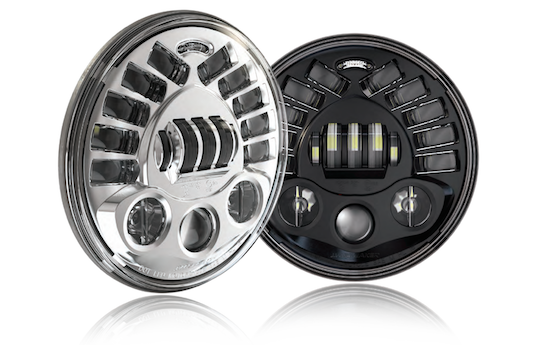 They use sensors to calculate bank angles up to 30 degrees and automatically direct a light array angling up or down in the foreground as the motorcycle leans.
The adaptive headlights also "tune" the low beam and banking optics in a way that maximises visibility in corners.
Over 30 degrees the light is still there, but it doesn't intensify any more.
J.W. Speaker co-president Tim Speaker says the light solves a fundamental problem of night-time visibility that current aftermarket and OEM motorcycle headlights are not able to address.
The unit is designed to "plug and play" into many styles of motorcycle via a H4 connector and the position light via a flying lead.
However, he says the LED lighting innovation is also being considered by motorcycle manufacturers for inclusion in upcoming models.
The Model 8790 adaptive headlight platform features J.W. Speaker's innovative low-beam solid-optic technology and ComfortLite high beam.
The light has a fully legal symmetrical beam pattern which is approved for DOT, SAE and ECE.
The outer lens is made of clear polycarbonate and the rear housing is die cast aluminium. It is available in black and chrome internal finish.
The lamp has ECE 113 approval which means it is compliant for use in Australia as ADR or CRN are no longer require if the product has ECE approval.
The lamps will fit any motorbike with 7" or 5 3/4″ housing. Some Harely-Davidson motorcycles may require an adaptive ring which is also available.
Adaptive headlight tech specs
Minimum operating temperature: -40 °C / -40 °F
Maximum operating temperature: +65 °C / +149 °F
Input voltage range: 9 – 16 volts DC
Front Position / Side Light: 0.092 Amps @ 13.5 volts DC
High Beam current draw: 2.9 Amps @ 13.5 volts DC
Low Beam current draw: 1.9 Amps @ 13.5 volts DC
Low Beam with full lean function on: 3.5 Amps @ 13.5 volts DC
Raw Lumen output 2250 on High Beam and 2025 on Low Beam
Effective Lumen Output 1150 on High Beam and 850 on Low Beam
Candela Output 48,000 on High Beam and 11,500 on Low Beam
Nominal LED colour temperature 5000K