Accutire Tire Pressure Gauge Image Gallery
Yikes! Here we go again, yet another motorcycle tire pressure gauge review.
Will the perfect gauge ever arrive?
The good ol' original Roadgear Digital Tire Gauge (review) is still a favorite, because its "L" shape fits every motorcycle tire I've tried.
Sportbikes have big disks covering most of the front wheel, making it very hard to fit a gauge on to the valve stem.
And spokes make it that much more difficult.
The GT1000 is a case in point (see photos below) and the "L" (or is that "7"?) shape of the original Roadgear gauge can usually be manipulated to fit over, around and through the spokes to seat firmly on the valve stem.
The perfect tire pressure gauge would have a more radical "L" shape that would, now that I think about it, be shaped just like the number 7, but with a longer, even more curved tail.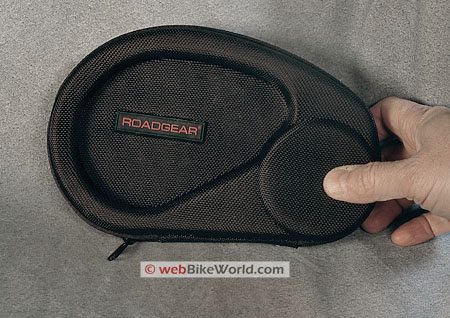 Show Us the Cash
Anyway, Roadgear sent us their "Ultra Hi-Tec Digital Tire Gauge" to try, which is a super-nice precision instrument — almost too nice to get dirty.
I have a love/hate relationship with tools like these.
They're so well made and they have that extra je ne sais quoi that gives them that silky feel of precision.
If they told me that the thing was made in Germany, I wouldn't blink.
But, believe it or not, it's made in China, and although I'm a big believer in buying the output of your fellow citizens' labor, I have to admit that Accutire did a bang-up job on this gauge.
I'm assuming that like nearly everyone else nowadays, Accutire doesn't actually own the plant but probably has the gauge made under contract, but who knows?
Now hold on to your hats and make sure you're sitting down, because I'm about to tell you that this Roadgear-labeled Accutire gauge costs — gulp! — $69.90!
Blimey, that's a lot of dosh!
You have to be one of three things not to think so:
1) A serious tool freak; 2) A seriously anal-retentive tire pressure freak; 3) A Sybarite. Yeah, that's me. #1 and #2, that is.
Yep, the first step to the cure is admitting it — but that's as far as I'm willing to go just yet…
How to justify the cost of this baby?
Here's my logic:
A) The serious mechanic owns the best tools they can afford. B) Tools from "the old days" always seem better/more robust/higher quality than most of the stuff made today. C) The stuff from the old days was expensive at the time, so D) If you want good quality stuff made like it was in the old days, you're gonna pay for it.
Ergo, 70 bucks for a super-high-quality tire pressure gauge is no problem. Now I'm sure not everyone (anyone?) will agree with me, but hear me out…
The case that perfectly surrounds the Accutire gauge tells you that you're about to bear witness something special. It's a beautiful Nylon (Cordura?) case that's molded to fit.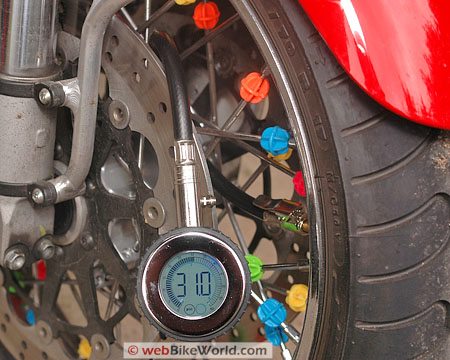 The Details
Open the nearly-full-length zipper around the outer edge and it folds open to expose the beautifully chrome-plated gauge, gently tucked in, nice 'n' comfy in a velvety lining.
The gauge and the hose are a perfect fit. This alone is enough to give a tool freak a Certified FBT (Full Body Twinge).
The Accutire gauge itself is a hefty 65mm diameter by 35mm thick. It's a rubber covered metal and glass instrument. It looks just like something out of the Olde Dayes, but it has — what's this? — a round LCD display!
Press the "On" button on top and the gauge lights up with a cool blue backlight, centered in a ring of metal and chrome. The face stays lit for about 20 seconds and will turn off automatically.
This is a modern take on a classic "Racing" gauge; its simplicity is a perfect match for its ambience.
None of that talking in 7 languages nonsense — all you get here is a digital readout with numbers from 0 to 60 PSI (it can be switched to BAR readings by holding the "On" button for 3 seconds).
It's claimed accurate to plus or minus 1/10 of a PSI, which is pretty darn good. And the LCD hash marks around the outside of the gauge face that darken to match the pressure are a cool bonus.
The 35 cm long hose has a metal tip with a spring-loaded lever that must be placed over the valve stem to take the reading.
This is one of the downsides for using the Accutire gauge on a motorcycle; the metal tip, or nozzle, doesn't have a 90-degree bend, so the hose must be threaded through the spokes so that the tip can fit vertically on the valve stem.
But, believe it or not, it can actually work better on some tires.
I found that it's easier to poke the hose through the middle of the wheel in back of the spokes than it is to get some other tire pressure gauges to fit around and through the spokes from one side of the wheel.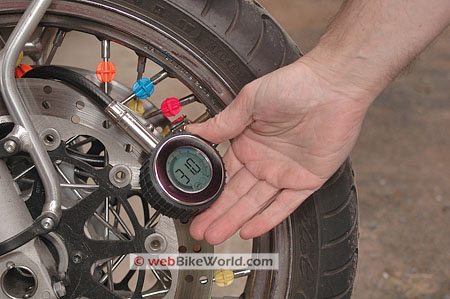 Press the spring-loaded lever and shove the tip home over the valve stem and it seems to clamp on with less air leakage than just about any other gauge I've tried. And it stays on, too, which is a plus.
The gauge simply reads the pressure and that's it.
The entire process is so silent — so eerily silent — that I didn't even realize the thing was working the first time I used it. I thought it was broken… Weird, but the silence gives it that extra air of quality.
The gauge features a bleed valve underneath the readout and the hose also rotates 360 degrees if necessary.
It takes 3 LR44 batteries, a relatively common miniature watch and instrument battery but way more difficult to find than, say, an AA battery.
I have no idea how long the batteries will last, but I assume a long time, because solid-state electronics nowadays seem to need very little electricity to keep running.
The Accutire gauge seems pretty accurate; I compared it to a couple of other gauges and got basically the same readings, give or take.
The gauge maintains air pressure in the hose after it's released from the valve stem because of the spring-loaded clip on the end.
This makes it hard to compare with other gauges, because as soon as the Accutire gauge is removed, it takes some of the tire's air with it, decreasing the pressure.
Do this a couple of times with a couple of gauges, and enough air will have leaked out of the small capacity motorcycle tire to show quite different levels of pressure.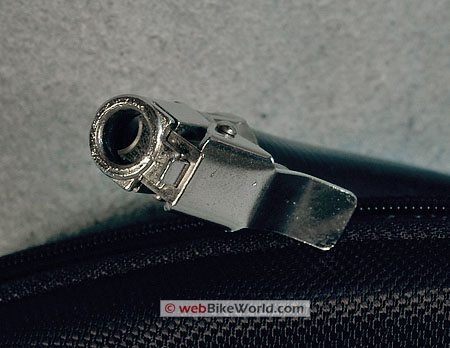 Conclusion
Probably the ultimate motorcycle tire pressure gauge for serious gadget freaks, but hey — you only live once!
w

BW

 Review: Roadgear Ultra Hi-Tec Digital Tire Gauge
List Price (2007): $69.90
Made In: China
Colors: Metal, Chrome with black rubber-like surround.
Sizes: N/A
Review Date: April 2007
Note:
 For informational use only. All material and photographs are Copyright © webWorld International, LLC since 2000. All rights reserved. See the webBikeWorld® 
Site Info page
. Product specifications, features and details may change or differ from our descriptions. Always check before purchasing. Read the
Terms and Conditions
!
Owner Comments and Feedback