About Cary Martynuik
Hello! My name is Cary Martynuik and I am a 28-year-old motorcycle junkie who has been riding for a total of about 6 years now.  My first bike was a HONDA CBR 600F2, which I purchased from new.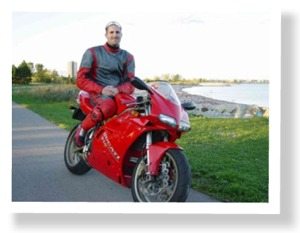 I enjoyed that bike so much that a few years later I bought the next-generation CBR 600F3, as well as an older FJ1100 and drove them both everywhere I could, racking up between 40,000 & 50,000 kms between the three bikes in a little over 5 years!
On February 10th of 1996, I was working as the General Manager and Instructor at a skydiving school in Tillsonburg, Ontario, Canada, when literally in the blink of an eye my world changed forever.  It was on this date when a friend who was driving me to work lost control of his car and sent us careening into oncoming traffic, resulting in a devastating head-on collision in which I was critically injured.
Due to the wide assortment of injuries I suffered as a result of this accident, I was forced to put my life and all my plans and my dreams on hold for over 5 years, and it was really only this past spring when I had reached a point in my recovery that I felt well enough to attempt to engage in some of the recreational activities which, prior to the accident, had made up such a large and exciting part of my life.  Certain activities, such as skydiving, are totally out of the question, as the nature of my injuries simply does not make it feasible to safely participate in this sport any longer.  Motorcycling however is one hobby that I am pleased to say I have been able to return to with vigor!
This spring I started looking for a bike, and having been out of the loop for a few years, I noticed immediately that things had changed quite a bit since the last time I had rode.  My personality is such that when I have a strong interest in something, I must learn as much about that interest as possible, and I absorb information like a sponge.
I spent hours researching the different bikes; fighting over pros and cons, speed versus handling, analyzing torque curves and Dyno runs, reading about reliability and maintenance issues, trying to find the perfect machine for me.  I narrowed the field down to the Yamaha R1, the Suzuki GSX-R 1000, the Honda 929 or 954 RR Fireblade, and the bike which was at the top of my list, the Honda RC51. Having gone through 2 CBR600s and never having even the slightest maintenance hiccup, the legendary Honda reliability was looking more and more appealing from a practical standpoint.  It seemed only to be a question of deciding between either the 929/954RR or the RC51.
I heard that the 929/954RR was a surprisingly comfortable bike to ride for long distances, and I had also heard the exact opposite about the RC51.  Both bikes had phenomenal power on tap, yet both delivered that power in completely different ways.  The in-line four cylinder powerplant of the 929/954RR 'Blade seems to pull forever, and delivers a totally different riding experience from the whiplash-inducing V-Twin engine of the RC51.
While the FireBlade clearly had rider comfort in mind during its development, mixing the massive power with back, leg, and neck-friendly ergonomics, the RC51 pilot was afforded no such luxury.  A seat with only slightly more padding than a slab of concrete and rearsets that brought your knees towards your ears did not make the '51 a comfortable bike to ride long distances, but when you climbed aboard, you KNEW you were on a rocket ship.
A complaint many had was that the RC51 seemed to have an on/off switch instead of a throttle.  The throttle on the year 2000 model I tested was indeed super-sensitive.  It seemed like it was either all or nothing with this bike, and let me tell you, it sure was easy to select "ALL" instead of "NOTHING"! (F.Y.I., a couple months later I tested the same bike after it had a POWER COMMANDER II and a MIG slip-on exhaust system installed, and this brought on a marked improvement in throttle smoothness from the stock setup).
These two bikes could not be more different.  They sported totally different power delivery and totally different ergonomics.  They both seemed to have way too much power on tap and if not treated with respect, they could reach up and bite you, HARD!  Neither the RC nor the 9RR comes stock with a steering damper, which in my mind was a major faux pas by Honda.  Unfortunately, it would be very difficult for Honda to begin putting dampers on newer models because of the legal implications such a move would bring about.  I firmly believe that if you own one of these bikes, the 1st thing you should do before anything else is dampen that steering, because as it is out of the box, it is too easy to get into tankslapper trouble with both of these bikes.
If my bad back (courtesy the automobile accident) had any input at all on my final decision of which bike I would choose to ride off into the sunset on, I would soon be piloting a Fireblade.  If I went with my heart however, the RC-51's Superbike stature would win out, and I knew deep down that I really couldn't go wrong with either one.  I figured it would come down to which one of those two I located for a good price first.
I was flipping through the latest "BOAT, BIKE, & RV TRADER" (a province-wide rag-tag weekly publication) which contains the latest and greatest in "RECREATIONAL" vehicles (new and used) for sale both privately and by dealers.  I was busy looking to see if there were any 9xx Fireblades or RC-51s for sale, when I turned the page and I suddenly forgot all about Honda!  What I saw caught my eye AND my heart at the same time.
Instantly, the "Honda option", which only milliseconds before seemed to be the only choice, was gone and forgotten.  I had never really taken much stock in the term "love at first sight" before, but as my gaze fixated on the bottom of page A53, I became a firm believer.  It sat between an ad for a 2001 KTM EXC400 dirt bike and a '99 Kawasaki ZX6R sport bike.
Sure, it was a bit more money than I had wanted to spend (ok, more than a bit more), and all my hype of 2 minutes earlier about practicality and comfort was washed away by the massive puddle of drool forming at my feet.  Let me tell you, I was surprised how easy it was going about persuading myself that I deserved something special for enduring 6 years of hell and a life turned upside down and inside out.  Yeah, that's right! I earned this!  It's interesting how easy it is to convince yourself of how much you deserve something when you really, really, want it.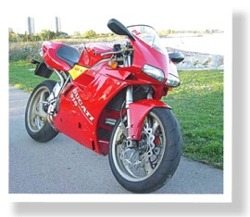 Less than 24 hours later, I was the very proud owner of a 1998 DUCATI 916 with 7000 miles on the clock. Not only was the term "love at first sight" an accurate description, but I also believe that the term "love at first sound" was very appropriate as well.
I made up my mind to purchase the bike the second the salesman put the key in, turned it, let the fuel pump prime up, and hit the starter button.
The growl of the 90-degree DOHC desmodronically valved V-TWIN being directed through the Carbon Fiber "VANCE & HINES" exhaust cans, combined with that distinct rattle of the dry clutch immediately had me hooked!  With a smile from ear to ear, a strange thought flashed through my mind.  "If the drug HEROIN made noise, this is exactly what it would sound like!"
To start the bike up, blip the throttle once or twice, then shut it off 10 seconds later was like cruel and unusual punishment to all those within earshot.  You want…. No…. you NEED another hit or else you will be going through withdrawal symptoms.
"Come on," you say, "just blip it once more! 3500 rpm is all I want to hear!  You don't have to go any higher than that!  Please!  PLEASE!"
Like I said, it's audible heroin baby!  You WANT to hear this thing idle.  You WANT to hear this thing rev up.  As you pull the clutch in, you listen to that distinctive rattle of the clutch plates change pitch slightly.
You engage first gear, slowly letting that clutch out as you bleed on the throttle, and once you're rolling, you kick open the stable doors and 104 stallions come stampeding out! A 90-degree V-Twin, spooling from idle all the way up to redline and bouncing off the rev limiter, is one of the most powerful and awe-inspiring aural experiences I have ever had the honor of opening my ears to, and it is made all the more impressive when you think about just what is going on inside that crankcase and how fast it is occurring.  It is a living, breathing creature that goes from a low purr to a deafening roar with the simple twist of the wrist.  It is a snarling beast that is capable of reaching out and biting its master if you are not careful.
As you smoothly feed the power on, the front wheel seems to defy gravity and climb skyward, and all the while the tach needle continues its climb upwards unabated towards and beyond the 10,500-rpm mark.  So smooth is the power delivery that it feels like the engine can continue to rev onwards and upwards forever, but you are soon snapped back into reality when, before you know it, the on-board computers cruelly and deliberately smack you into the rev limiter before your overzealousness can threaten the engine components.  Grab the clutch, pop up into second, and your looking God in the face again as the suspension unloads and the front wheel breaks contact with the ground and rears up again before slowly settling to earth.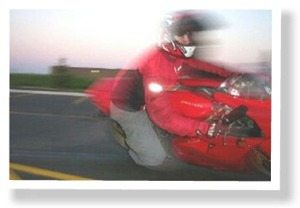 An unbelievable cacophony of sound seems to permeate every pore of your body, all the while the sound of the cam belts whirring, the valves opening and closing and the pistons firing seem to be in direct competition with the ram air induction roar coming from the airbox underneath the tank.  I crank on it all the way through 4th gear, and then grab a handful of front brake and see if this bad boy can slow down as fast as it can accelerate.
There is not even a hint of fade as the 4 piston calipers mesh beautifully with the aftermarket Galfer Wave rotors and pads, sending the speedo needle hurtling backwards, plummeting towards the 0 at the bottom of the dial.  You downshift as you decelerate, blipping the throttle to match RPMs and prevent the rear from locking up, swiftly and safely bringing the 916 to a halt.
I was always in awe of the Ducati 916 since I first laid eyes on it back in 1994.  Not only is it one of the sexiest motorcycles on the planet, but its performance puts it right in the same league as any of the other "liter" bikes available now.  The Ducati 916 (and its newer variants the 748, 996, and 998) is an awesome bike, and wherever you go with it, it commands attention.  It has those "exotica" type looks that draw crowds wherever you park it and it seems to draw murmurs of approval from other bikers.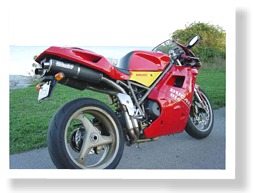 One of the neatest things about this bike however, is the fact that even people who have no interest in motorcycles tend to stop and do a double take when they see it parked.  For some reason, the bike just commands respect.  There is really no other machine quite like it.
The beautiful flowing lines of its bodywork; the spaghetti-like string of pipes leading into the underseat exhaust system; the single-sided swing arm; the unique V-TWIN rumble; the clang-ditty-clang of the dry clutch; they all combine to create a bike that screams, "Look at me. I am special!"
I guess that is part of the mystique about this bike.  I have never heard anyone claim that the Ducati Superbike is an ugly machine.  Not only is it a pretty, but also it is one of the best handling motorcycles on the planet, and the different powerplants that have graced this bike since it debuted in 1994 have been excellent as well.  If the bike did not handle exceptionally well and only had a mediocre engine, it never would have been as successful as it was. In the head-to-head, hyper competitive world of liter class superbikes, the Ducati has more than held its own for over 8 years, and I for one am proud to say that I now own one