World's First 3D Motorcycle Helmet Video!
3D is the wave of the future and it's about to break!
3D computer monitors, TV sets and displays are starting to come online and the best part is that with the most recent technology, you won't need those goofy glasses to get the full tri-dimensional experience!
To get ready for the 3D revolution, we've been experimenting with a Fuji W3 3D camera. It has a 3D LCD display that's pretty amazing because no special glasses are needed to view the 3D photos and videos.
That's right — it even takes 3D video!
Displaying the 3D photos and videos on the average computer monitor is a bit tricky, however.
Most viewers will still need a pair of special glasses. Anyone with a brand-new 3D TV though should have no problems viewing the photos and videos without the glasses.
Converting the files for display on non-native-3D monitors also takes some finagling. As of this date, Adobe Photoshop doesn't recognize the new .mpo (multi-picture object) file format used to save 3D photos.
But new software applications are coming online that allow the conversion.
We've been using the free Stereo Movie Maker and Stereo Photo Maker from our friend Muttyan in Japan to convert the .mpo photos and the 3D video to red/cyan anaglyph format for viewing on non-3D monitors with red/cyan glasses.
Muttyan's software works very nicely for basic editing once you figure out the user interface and what all the buttons do.
Another problem is parallax, the "apparent displacement or difference in the apparent position of an object viewed along two different lines of sight".
This is a sort of depth-of-field issue, where the items towards the rear of the 3D photo seem slightly out of focus because the two images that make up the photo aren't aligned.
In other words, at close distances such as in the photo below, the object towards the front can be in "3D focus" but the object in the rear will have some parallax distortion.
We haven't quite figured out a way to get around this with the shallow focal area depth we need in the studio for motorcycle helmets.
The Fuji W3 allows two separate images to be taken from either lens at different times, so the camera can be moved horizontally between shots to try and account for parallax.
Hopefully we'll come up with a formula that works. In the meantime, once you put on your red/cyan 3D glasses, you'll see a slight misalignment of the HJC helmet and the Zox box in the rear of the photo.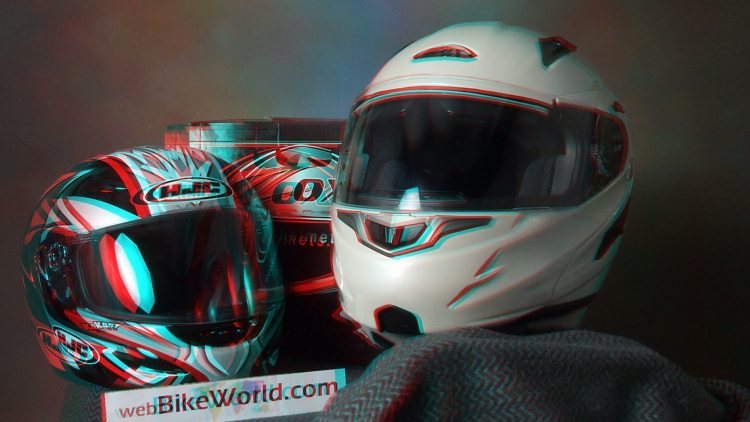 3D Photo and Video Samples
Shown above is a cropped (750×422 HD format) anaglyph version of a .mpo photo, taken to illustrate the Zox Genessis helmet review.
I also uploaded the original .mpo file, so if you have one of the new 3D monitors that display 3D without the need for special glasses, you can download the file (.zip format) and try it.
If you have a 3D monitor and would like a copy of the original 3D video, let me know and I'll send you a link where you can download it via our ftp site. Note that without a 3D monitor, the .mpo files can't be displayed.
We also converted the original (and brief) 3D version of the Zox Genessis helmet rotating on the display base and uploaded it to YouTube.
The file was converted with Stereo Movie Maker, the parallax was tweaked a bit and it was saved as an uncompressed .avi file as a red/cyan anaglyph.
The file size for this very brief video was a huge 1.8 GB, so it was further compressed with DivX, bringing it all the way down to an incredible 8MB!
To see the video in 3D, you'll need red/cyan glasses (see below for suggestions).
The quality of the video and the 3D effect is somewhat degraded by the YouTube and DivX compression algorithms, but nevertheless, it's pretty cool.
w
BW
Video: 3D Video of the Zox Genessis Motorcycle Helmet
For More Information
We're definitely squids when it comes to 3D, so if you have any tips on taking and processing 3D photos and videos, feel free to let us know via the email address in the Comments section below.
Here are some sources for 3D photo and video enjoyment:
3D Glasses: We're using the Pro-Ana PRO-X Style 3D Red/Cyan Glasses to view these files on a regular flat screen computer monitor. They're only $5.00 and are pretty decent quality, although they don't fit well over eyeglasses, contrary to the description.
3D Clip-ons: The Clip On 3D Glasses With Red/Cyan Lenses are excellent. They are very high quality for the price and have a strong metal spring-loaded clip to fit over your prescription eyeglasses.
3D Camera: The Fujifilm FinePix Real 3D W3 Digital Camera is a solid and well-built device. It has an incredible 3.5″ autostereoscopic 3D display that allows you to view your 3D photos and 720p 3D videos without glasses. It takes normal 2D photos and video also, but the photos quickly degrade at anything over 200 ISO or so. But this is a fun camera and a good way to get into 3D. Believe me, your friends will be amazed when they see the photos and video on the display. The images pop out of the screen with a deep 3D effect and excellent color rendition.
3D Photo and Video Processing: Muttyan has all sorts of free software that allows you to process your 3D photos and videos and to display them in your browser, a special 3D browser and even 3D slide shows. And it's all free on his Stereo Movie Maker and Stereo Photo Maker website!
Note:
 For informational use only. All material and photographs are Copyright © webWorld International, LLC since 2000. All rights reserved. See the webBikeWorld® 
Site Info page
. Product specifications, features and details may change or differ from our descriptions. Always check before purchasing. Read the
Terms and Conditions
!
Owner

 Comments and Feedback
Other WebBikeWorld Video Posts