The Harley-Davidson Ultra Classic is unusual for a couple of reasons – Harley asked riders some questions and found the answers blowing in the wind.
Sorry about being a bit cryptic, but Harley asked its riders what they wanted and some of the resulting updates were developed in a couple of university wind tunnels.
Motorcycle manufacturers rarely use wind tunnels and often don't listen to their customers, just assuming they always want more power and performance. However, Harley's Touring customers said they wanted more comfort and convenience.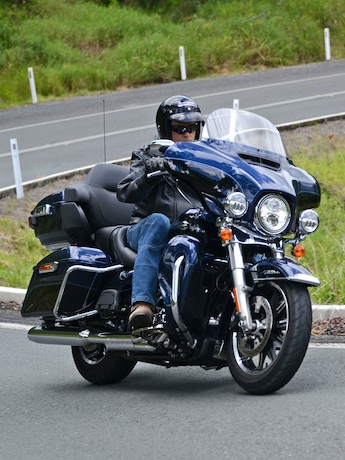 To remedy some of the comfort concerns, Harley engineers went to the wind tunnels to reduce buffeting, improve cooling airflow and make the cockpit a quieter place in which to enjoy the exhaust note and the music on their audio systems. The result is the 2014 Harley-Davidson Ultra Classic, a bike you can ride all day in supreme comfort.
Some of the other convenience updates include:
Ergonomic switches that are easier to use;
Bigger instruments that are easier to read;
Cruise control on the left switch block rather than the right so you don't have to grapple with the throttle and switch with the same hand;
Five-way toggle to easily navigate your way around the on-screen infotainment system;
Sleeker top box that actually holds 10% more luggage;
Narrower-profile air filter so it doesn't rub against your right knee;
Sideways-opening top box so the pillion doesn't have to get off; and
Outward-opening panniers that you can access with a flick of a switch with one-hand while remaining seated. How good is that!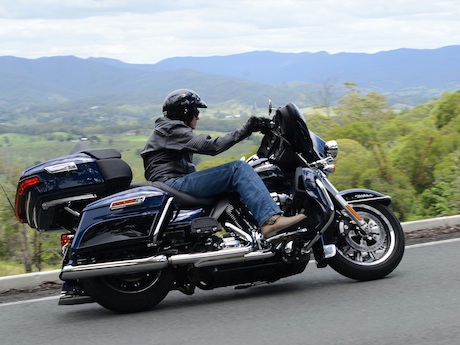 Together with better audio systems, more comfortable seats, lighter-pull hydraulic clutch, linked brakes and LED and halogen headlights, it makes the 2014 Harley-Davidson Ultra Classic the ultimate touring bike.
Harley also had to listen to the bureaucrats who have been calling for greener motorcycles with better fuel economy and lower emissions. Harley's answer was the 103 Twin-Cooled High Output engine with partial water-cooling. It is only available in the Ultras in the Touring range because the lower fairings can disguise the two small and discrete radiators.
What it means for the riders is greater fuel range for touring, effortless roll-on overtaking and more comfort from the slightly cooler-running engines. Out on the road, all these updates combine to make a great touring package. I've ridden the bike mainly in hot conditions in Colorado and Queensland and the aero updates and Twin-Cooled engine make it a slightly cooler proposition. Can't wait to ride one in winter! The new "wet" engine is livelier and more fun, the updated features more comfortable and even at high speed the audio system is as clear as a bell; the best I've heard on any bike.
Point me toward the horizon!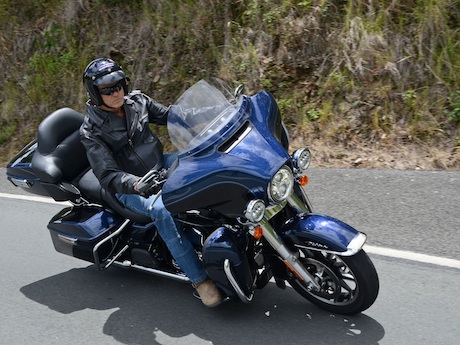 Harley-Davidson FLHTCU Ultra Classic tech specs
Price: $37,250 rideaway
Engine: Rubber-mounted, Twin-Cooled 1690cc High Output Twin Cam 103
Compression: 10.1:1
Headlights: LED Daymaker
Panniers: one-touch latch opening, Tour-Pak topbox with one hand opening
Transmission: 6-Speed Cruise drive with hydraulic clutch

Suspension: 49mm forks, dual air adjustable shocks

Tank: 22.7 litres

Brakes: Reflex linked system with ABS

Wheels: 130mm, 17-inch front; 180mm,16-inch rear