The 2023 Zero DSR/X Introduces Riders To Thrilling Electric Motorcycles
Contents
Zero Motorcycles is an American motorcycle brand that has made quite a name for itself in the field of electric motorcycles. The Zero DSR/X is a great example of their pursuit of excellence, combining the thrill of off-road riding with the comfort of a city cruiser. It is at the top of the food chain as far as Zero's 2023 dual sport line.
Boasting a top speed of 112 mph, the DSR/X is a beast on both tarmac and trails and is powered by Zero's newest direct drive motor, the Z-Force 75-10X. This motor configuration produces an impressive 166 ft-lb of torque, allowing it to effortlessly power through a variety of terrains​1​.
Notably, the DSR/X can cover up to 180 miles on a single charge, making it ideal for long excursions. A full recharge takes approximately an hour, ensuring minimal downtime during adventures​1​.
Safety is a key focus for the DSR/X, as seen with its integration of Bosch's Offroad Motorcycle Stability Control (MSC). This advanced system enhances rider safety by assisting during acceleration, braking, and cornering, regardless of the terrain. Combining this with Zero's Cypher III+ system, riders experience improved straight-line ABS, cornering brake control, traction control, and drag torque control, providing maximum control and safety on their journeys​1​.
The DSR/X provides a comfortable and controlled ride like other Zero motorcycle models by equipping this Showa Suspension System. This system offers 7.48 inches of adjustable travel on both ends, keeping the bike steady and comfortable regardless of the road surface. Furthermore, the rear shock features a hand-adjustable preload, allowing on-the-fly adjustments based on load and terrain​1​.
The DSR/X takes advantage of regenerative braking technology, which captures momentum from the motor to recharge the battery during operation. This system operates between speeds of 12 mph and 70 mph, effectively turning energy otherwise lost during braking or deceleration into usable power.
The Zero DSR/X is a testament to the future of motorcycling, blending high performance, advanced safety features, and remarkable efficiency. Whether you're a city commuter or an off-road adventurer, the DSR/X offers a unique riding experience that sets new standards in the world of electric motorcycles.
The 2023 Zero DSR/X starts at $19,995 USD/$25,595 CAD
On this page: we've curated specs, features, news, photos/videos, etc. so you can read up on the new 2023 Zero DSR/X in one place.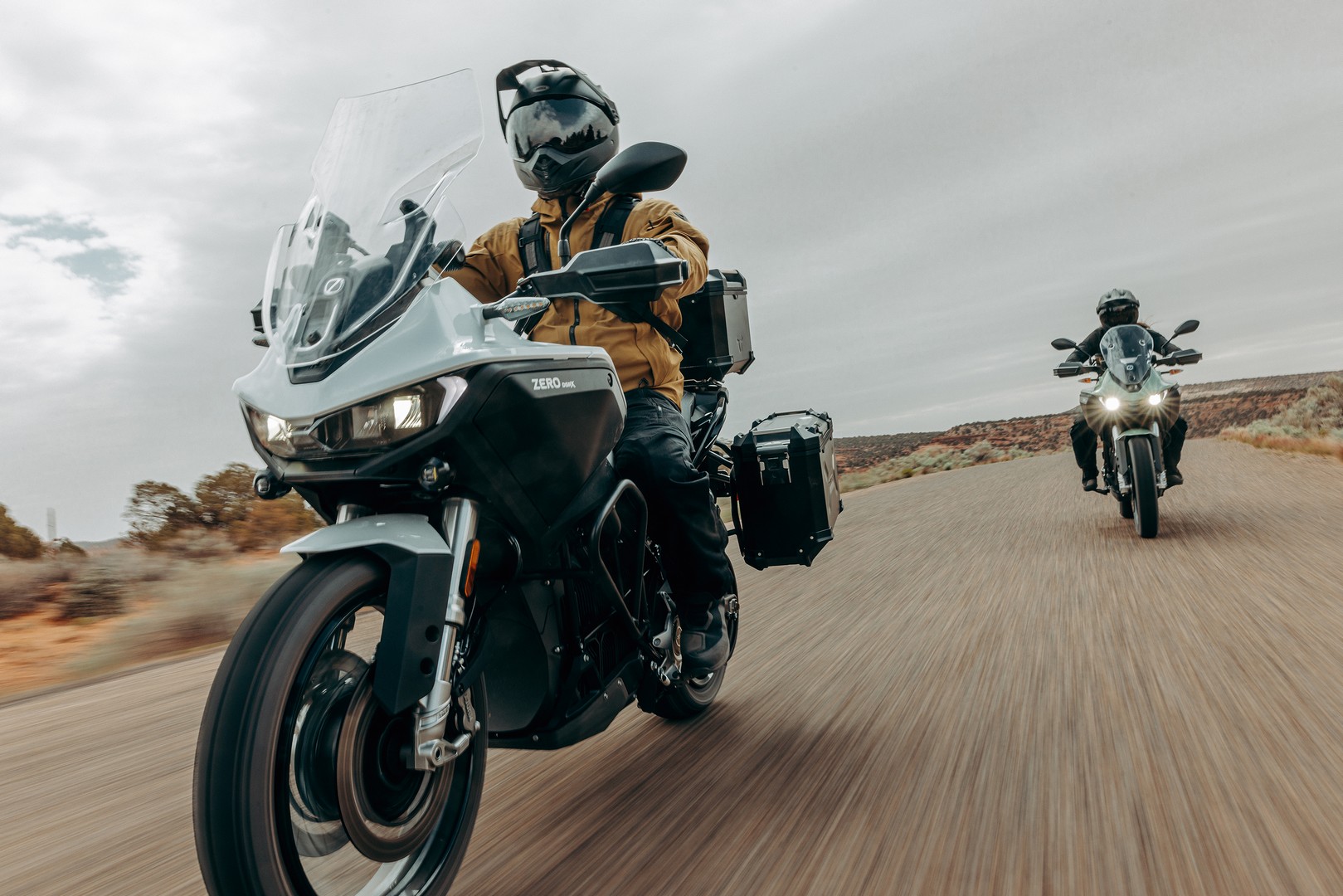 ---
Motorcycle Overview
General Info
Price: $19,995 USD/$25,595 CAD
Key Features:

180 city mile range
112 mph top speed
166 Ft-Lb torque
Zero App and Cypher Store
Main Specs
Engine: Z-Force® 75-5 air-cooled, radial flux, interior permanent magnet, brushless motor
Power: 100 horsepower
Torque: 166 ft-lbs
Weight: 544 lbs (247 kgs)
Seat Height: 32.6 inches (828 mm)
Competitors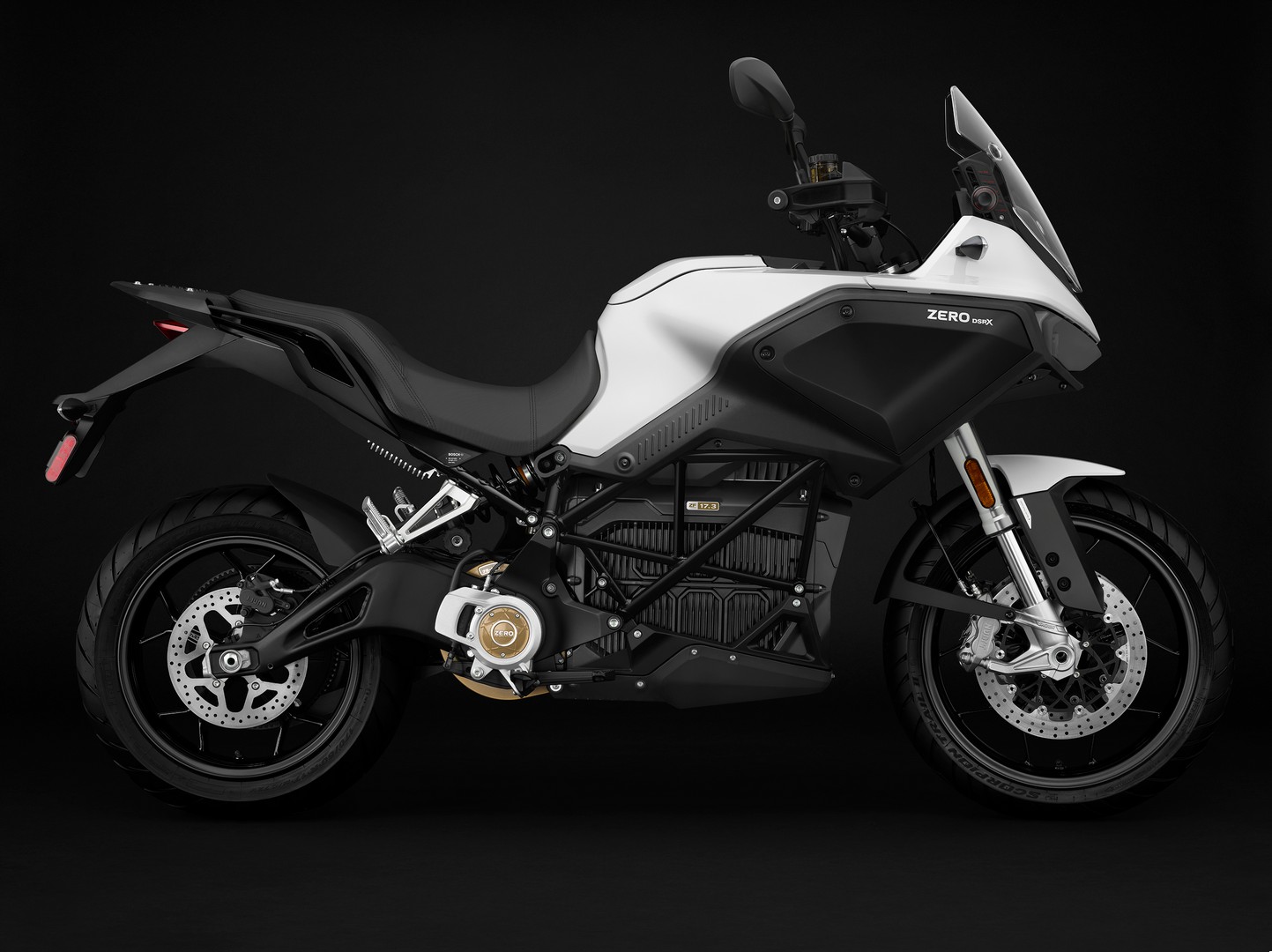 ---
2023 Zero DSR/X Specifications
| | |
| --- | --- |
| Motor | |
| Peak torque | |
| Peak power | 100 hp (75 kW) @ 3,650 rpm |
| Top speed (max) | |
| Type | Z-Force® 75-10 enhanced thermal efficiency, passively air-cooled, torque optimized interior permanent magnet AC motor |
| Controller | High efficiency and power dense, 900 Amp, 3-phase AC controller with regenerative deceleration |
| Lubrication | |
| Drivetrain | |
| Transmission | Clutchless direct drive |
| Clutch | |
| Final Drive | 90T / 22T, Gates Carbon Drive Moto X9™ belt, 25 mm wide |
| Chassis | |
| Suspension Front | Showa 47mm Separate Function Cartridge Forks with adjustable spring preload, compression, and rebound damping |
| Suspension Rear | Showa 46mm piston, piggy-back reservoir shock with adjustable tool-less spring preload, compression, and rebound damping |
| Brakes Front | Bosch Advanced MSC with Combined Braking (eCBS), Vehicle Hold Control (VHC) and Off-Road mode, dual J-Juan radial 4-piston calipers with radial master cylinder, 320x5mm discs |
| Brakes Rear | Bosch Advanced MSC with Combined Braking (eCBS), Vehicle Hold Control (VHC) and Off-Road mode, J-Juan 2x25mm piston floating caliper, 265×4.5mm disc |
| Tires Front | Pirelli Scorpion Trail II 120/70-19 |
| Tires Rear | Pirelli Scorpion Trail II 170/60-17 |
| Fuel Tank Capacity | N/A |
| Color | |
| Power system | |
| Power pack | Z-Force® Li-Ion intelligent integrated |
| Charger type | 6.6 kW integrated |
| Charge time (standard) | 2.7 hours (110% charged) / 2.0 hours (95% charged) |
| Dimensions | |
| Wheelbase | 60.0 in (1,525 mm) |
| Overall Width | |
| Trail | 4.3 in (109 mm) |
| Rake | 25° |
| Seat Height | 32.6 in (828 mm) |
| Curb Weight | 544 lb (247 kg) |
| Warranty | |
| Warranty | 2 years |
| Power pack warranty | 5 years/unlimited miles |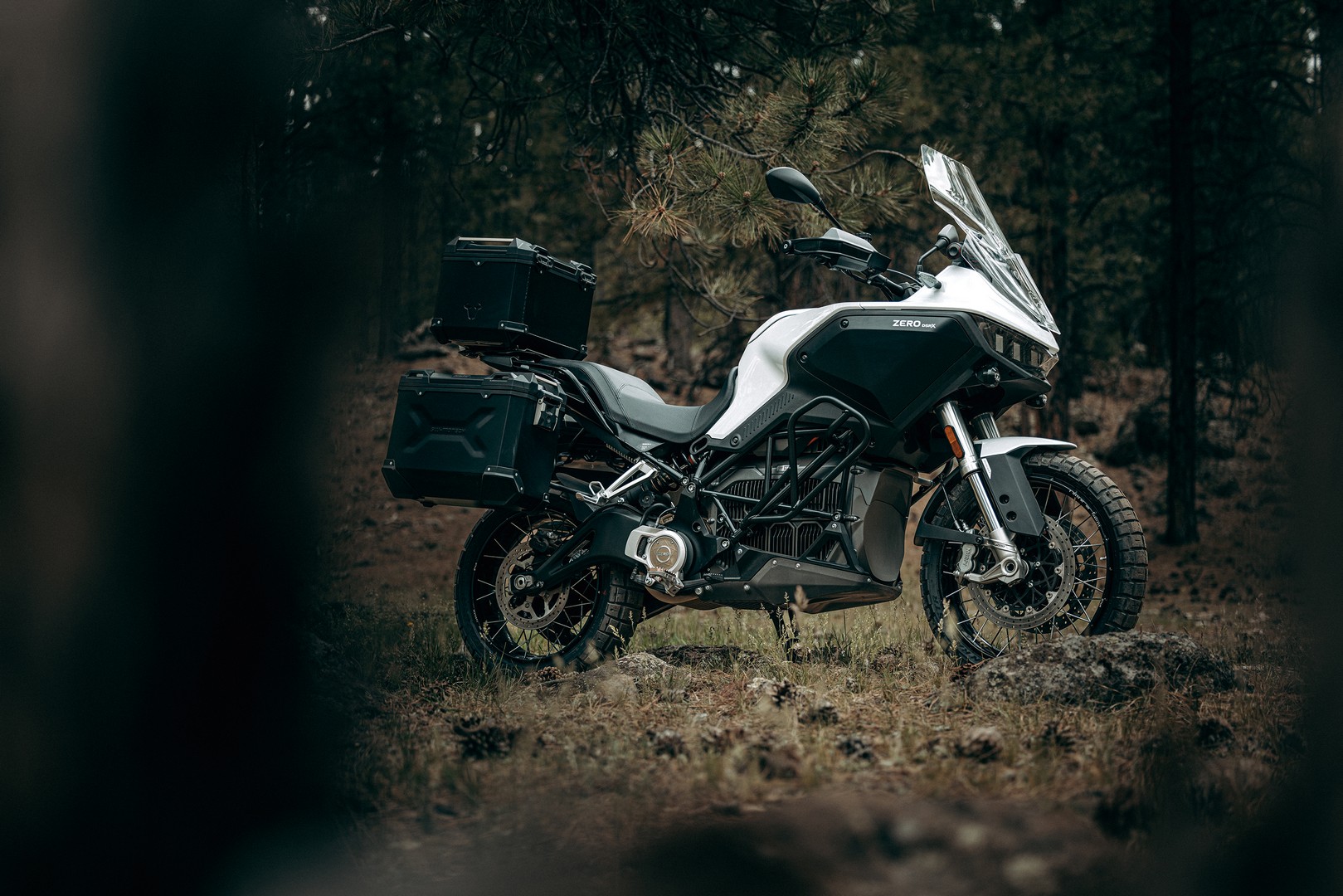 ---
2023 Zero DSR/X Features
BOSCH MOTORCYCLE STABILITY CONTROL (MSC)
Through continuous sensor input monitoring, the DSR/X's on/offroad MSC supports the rider by assisting during acceleration, braking, and while cornering or riding straight, regardless of terrain and conditions. Combining Bosch's MSC System, renowned for dynamic acceleration and improved stability, with Zero's Cypher III+, the offroad MSC's full capabilities are unleashed. This marriage of leading technologies results in best-in-class straight-line ABS and cornering brake control, traction control, and drag torque control all to provide maximum control and safety for riders.

BOSCH VEHICLE HOLD BRAKING
Vehicle Hold braking is engaged when you come to a stop on a steep slope by clamping the brake lever all the way down and releasing it. Serving as a temporary parking brake, it frees the rider to make any adjustments needed on a steep pitch. When the throttle is engaged, braking automatically deactivates allowing for a smooth start on a steep incline. Bosch Vehicle Hold Braking is auto-canceling and will release brake pressure after three minutes have passed.

SHOWA SUSPENSION SYSTEM
An all-new front and rear suspension tuned to keep the rubber in contact with the road provides a controlled, comfortable, and agile ride down the highway, with unprecedented capability in the dirt. Fully adjustable 7.48 inches of travel up front and 7.48 inches in the rear provide the added travel needed for offroad terrain. The rear shock features a hand-adjustable preload to dial in the perfect ride height based on load for on-the-trail adjustments.

RIDE MODES
A full suite of preprogrammed ride modes including Sport, Street, Eco, Rain, and Canyon mode are selectable on the fly through Zero's dash interface and customizable through the Zero NextGen app. Along with these included modes, the ability to create custom modes allows for virtually infinite ride profile options to cater to individual riding styles or conditions. With the all-new offroad capabilities you can also add offroad traction to any one of the preprogrammed modes which achieve a new level of control in low or variable traction conditions. Each mode has a different performance profile in key areas such as top speed, torque, braking, and neutral battery regeneration.

CYPHER III+
The most intelligent motorcycle operating system available today is at the center of the Zero Adventure experience. In addition to the numerous customization adjustment options included there is a suite of features that allow for deeper customization of various performance criteria. The DSR/X comes with all Cypher III+ features included. Features include faster charging and increased battery capacity, turn-by-turn on dash navigation, and Parking Mode that provides a slow reverse gear to aid in getting over a critical obstacle or parking in a tight spot.

---
2023 Zero DSR/X Photos
---
2023 Zero DSR/X Videos
2023 Zero DSR/X Review by Motorcyclist Magazine:
2023 Zero DSR/X review by Chase on Two Wheels:
---
Links