KBO Bikes is a relative newcomer to the eBike world, started in the late 2010s and focusing on the urban rider almost exclusively. While other companies will have a variety of bikes from compact folders to full on MTB off-roaders, KBO has eschewed that line of thinking and asked one simple question: Where do most consumers of eBikes traditionally live?
If your answer to the above was "The City," then your thinking aligns with KBO. By having this laser driven focus, the bikes on offer from this newcomer are both very well equipped, with almost all of the features needed for city riding, while also remaining remarkably affordable. The fact that their most expensive bike is just $1,699 and challenges the features and capabilities of bikes of its class that cost twice as much is just a testament to KBO's efforts to get the best bikes to the most customers without breaking the bank.
For 2022, KBO has not changed their lineup from 2021. They have, however, iterated on their models, updating the firmware of the drive controllers, building with the latest and greatest motors and materials, and never stopped pursuing the best components at affordable prices so that when you receive your eBike, you have the best bike it can be at the time.
2022 KBO Hurricane: Traditional Bike Style, eBike Functionality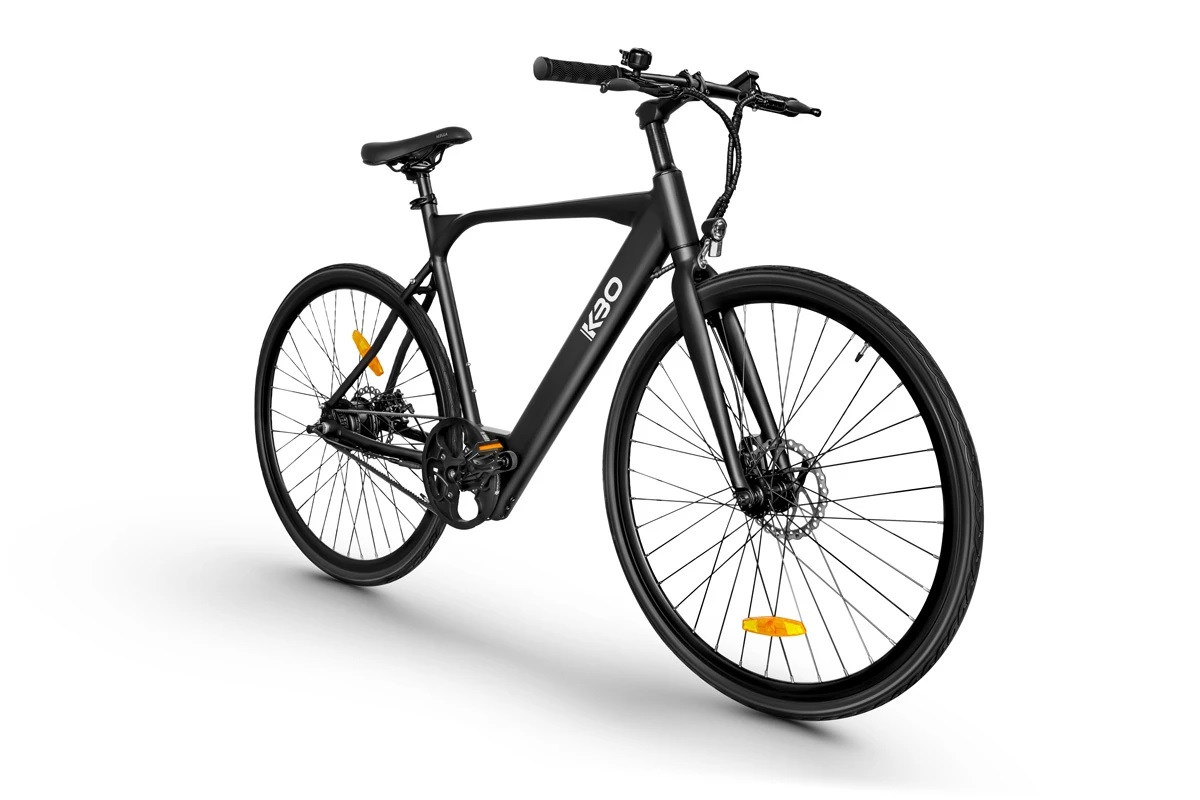 2022 KBO Hurricane Key Specifications
Price: $1,599 USD / $1,935 CAD
Buy: KBO Bikes
Motor: 250W sustain, 350W peak Brushless Gear Hub Motor
Est. Range: 45 mi / 72km
Top Speed: 15 MPH / 25 KMH
Pedal Sensor: Cadence, 3 levels PAS
Battery: 36V 9.6Ah Samsung Lithium Battery (345Wh)
Many eBikes you can buy on the market these days have fat tires or big batteries sticking out of their frames, practically shouting that they are electric. While this isn't a bad thing, there are still those riders that appreciate the look and feel of a normal road bike, yet desire to have the advantages of an eBike when needed to combat climbs, commuting, and traffic congestion.
KBO has heard these riders loud and clear, and the Stealth Urban Hurricane is their answer. It takes the best parts of a road bike, namely light weight, fixed gearing, and disc brakes, and adds a 350W peak rear hub drive motor to give you pedal assist in a smooth, almost invisible manner. Depending on which of the 3 pedal assist levels you choose, the motor will help with moving off and cruising up to 15 MPH, for anywhere from 18 to 50 miles. A belt drive from pedals to rear hub eliminates the need for chain tensioning and lubricating, and is robust enough to last thousands of miles.
What is most important about the Hurricane, however, is its battery pack is hidden inside the front upright, seamlessly integrated into the frame so that it looks like your everyday standard road bike. The only giveaways that there is even an electric component to this bike is that there is a small LCD display on the handlebars, and the hub motor is slightly larger than a normal rear hub for a bike is. Otherwise, it lives up to the name, and is about as stealthy as a modern eBike can be!
2022 KBO Breeze Step-Thru Commuter: Convenience & Ease Of Use In One Package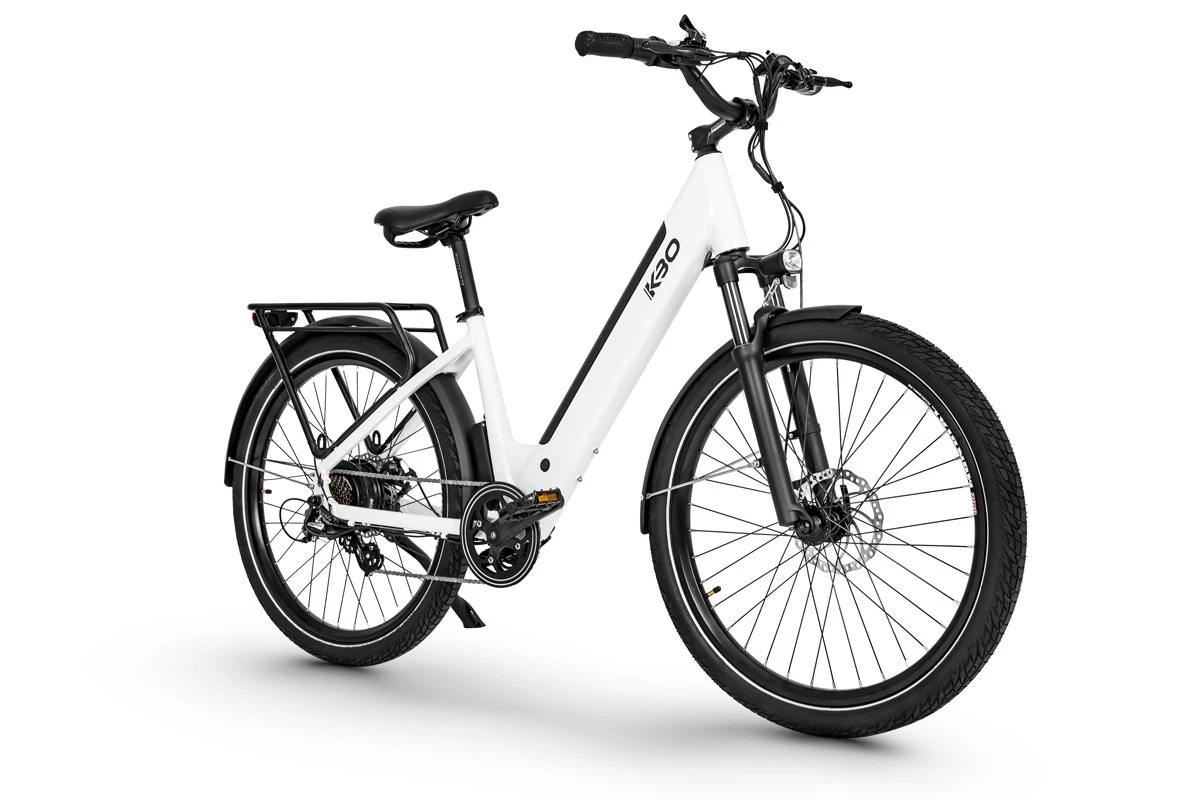 2022 KBO Breeze Step-Thru Commuter Key Specifications
Price: $1,499 USD / $1,915 CAD
Buy: KBO Bikes
Motor: 500W Brushless Rear Hub Motor
Est. Range: 55 mi / 88 km
Top Speed: 28 MPH / 25 KMH
Pedal Sensor: Cadence, 5 levels PAS
Throttle: Half-grip twist up to 20 MPH
Battery: 48V 18Ah Samsung Lithium Battery (768Wh), removable
Transmission: Shimano 7-speed
As we talked about in the introduction, KBO's primary focus is on the urban landscape and, more specifically, the urban commuter. It is no surprise, then, that the Breeze eBike has been engineered and designed to give you maximum comfort, ease of use, and range inside of almost any city's limits.
This starts off with a sustained 500W rear hub motor paired with a 48V 18Ah Samsung battery. When used with the five levels of pedal assist, you can easily cruise at up to 28 MPH, making this a Class 3 eBike. In keeping with the laws and regulations tied to Class 3, the top tier of eBikes, there is also the option of using the bike on hand throttle alone, with a half grip twist throttle on the right hand side, but it is limited to 20 MPH.
Other features that commuters will enjoy include an included wide and long cargo rack that can either be used as a pure tie down shelf, or have saddlebags slung over it, or even have a cargo basket firmly attached. With a maximum payload rating of 300 lbs, this gives a lot of options for the average rider to use the cargo rack for, from carrying a briefcase, backpack, or even the weekly groceries if using a cargo basket.
The best part of all, however, is that at the price of $1,499, there are not many other bikes out there that can compete against the Breeze, especially once you consider that a 3 amp fast charger is included. While other bikes come with 1 or 2 amp chargers, the KBO can be charged from empty to full in just over 5 hours on a 120 V outlet, which is well within the work day if you ride to and from work!
2022 KBO Breeze Commuter: The Brother To The Breeze Step-Thru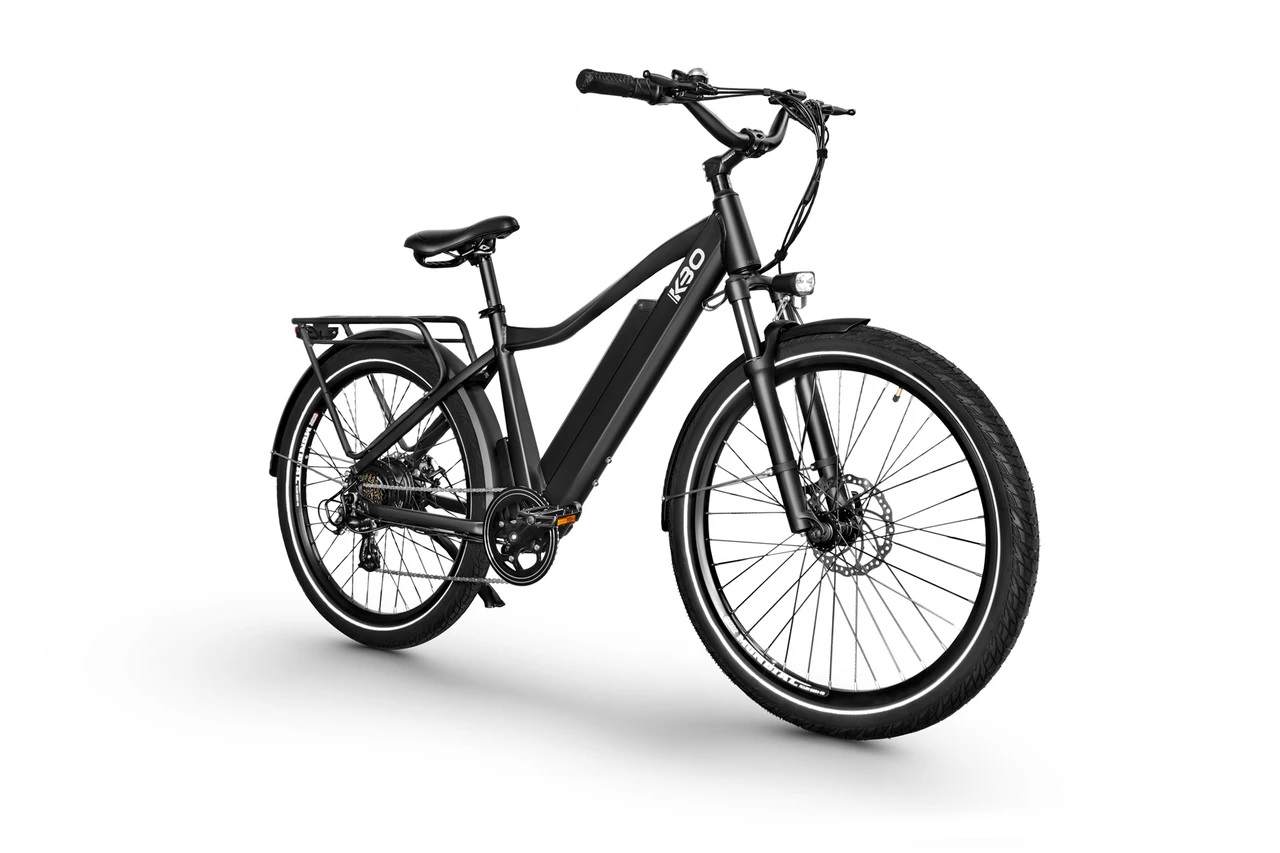 2022 KBO Breeze Commuter Key Specifications
Price: $1,499 USD / $1,915 CAD
Buy: KBO Bikes
Motor: 500W Brushless Rear Hub Motor
Est. Range: 55 mi / 88 km
Top Speed: 28 MPH / 25 KMH
Pedal Sensor: Cadence, 5 levels PAS
Throttle: Half-grip twist up to 20 MPH
Battery: 48V 18Ah Samsung Lithium Battery (768Wh), removable
Transmission: Shimano 7-speed
KBO heard their customers loud and clear, and recently released the top-bar-frame version of the Breeze Step-Thru Commuter. Featuring the same Class 3 powertrain of a sustained 500W rear hub motor that works with 5 levels of pedal assist or a half-grip twist throttle, the only major difference between the two bikes is the addition of the top bar to the 6061 aluminum frame.
While all step-thru commuter eBikes are designed to handle the rough and tumble that one might encounter on a city street, some riders do prefer the extra rigidity that having a top bar inherently gives the bike. As part of the design, this also allows the down bar of the frame to be thinner, making battery installation and removal just a little easier.
Like its brother in the Step-Thru, the Breeze Commuter also has front suspension to absorb the bumps of the road, while the solid frame rear triangle keeps the driving wheel planted on the road for superior grip. It also carries the same easy to read backlit LCD display, showing power remaining, current speed, level of pedal assist, and odometer, all packaged nearly beside the left-hand grip.
Both the Breeze Step-Thru and the Breeze Commuter share the same $1,499 retail price and all features, meaning that the only decision that any customer needs to make is if they want the mounting ease of the Step-Thru or the extra rigidity of the Commuter.
2022 KBO Ranger Cargo: The Cargo Bike You Have Been Looking For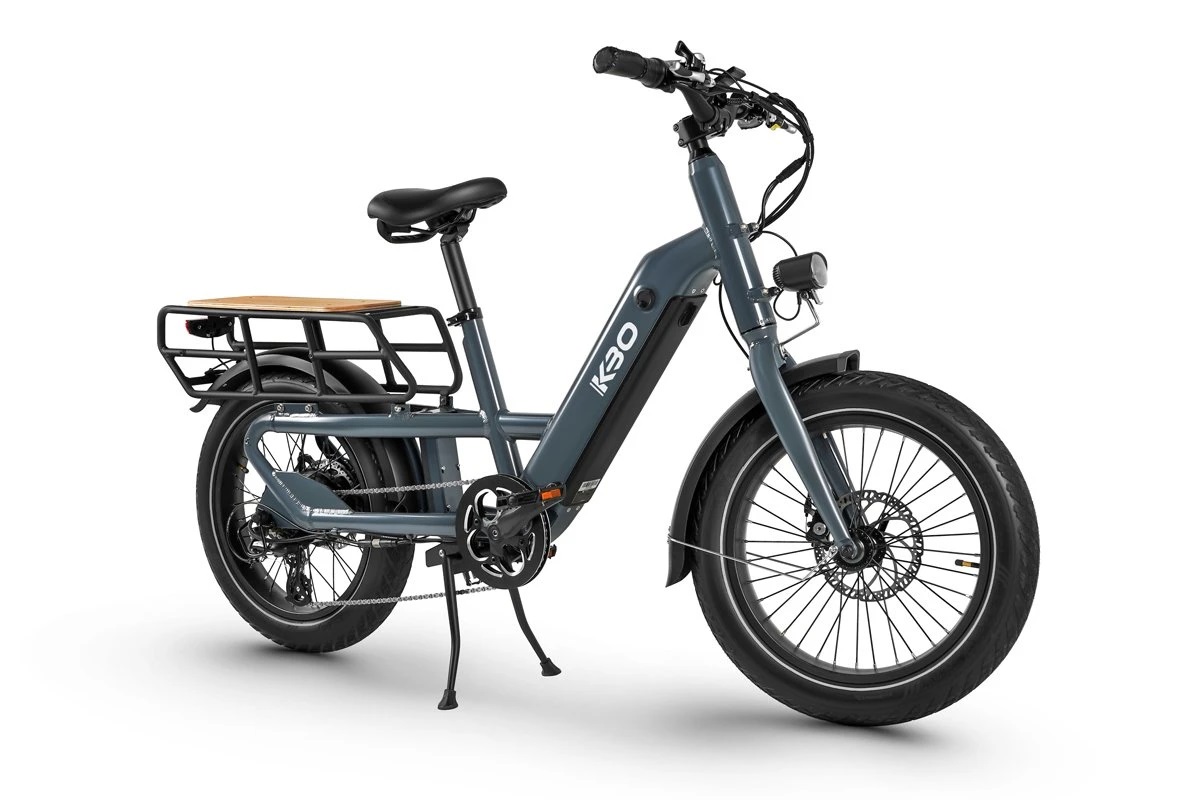 2022 KBO Ranger Cargo Key Specifications
Price: $1,699 USD / $2,175 CAD
Buy: KBO Bikes
Motor: 750W Brushless Rear Hub Motor
Est. Range: 60 mi / 96 km
Top Speed: 28 MPH / 25 KMH
Pedal Sensor: Cadence, 5 levels PAS
Throttle: Half-grip twist up to 20 MPH
Battery: 48V 17.5Ah LG Lithium Battery (840Wh), removable
Transmission: Shimano 7-speed
Welcome, everyone, to KBO Ranger Cargo, quite possibly the cargo bike you've been searching for but could never find. Need a total payload capacity of 400 lbs? The Ranger can do that easily. Want a twin-foot center stand so the bike is upright when you're loading it up? The Ranger's center stand is strong enough to handle all 400 lbs of its capacity. Want integrated head and tail lights for dawn/dusk/night time riding? Guess what the Ranger comes with as standard.
The biggest draw to the Ranger Cargo, apart from being intelligently designed around the urban cargo riders' needs, is that those engineers and designers slung most of the bike's 77 lbs down low, lower than the riders' knees. For anyone that has driven a car with a low center of gravity, or ridden a motorcycle with a low mounted boxer engine, the inherent stability of having that weight down close to the ground means that balancing the bike, even with a maximum load, is much easier than on cargo bikes that have a mid-height center of gravity.
The Ranger Cargo also comes with a variety of options in how you want to configure it. A front mounting system allows for a front basket or platform to carry up to 50 lbs. The rear rack can be topped with a wooden plank for a solid surface to sit equipment and cargo on, can have floorboards slung either side to make it a passenger seat, has child seat mounting points so you can take a family ride, and the frame bars along the sides have multiple mount points for saddlebags. With a 120 lbs tolerance rating, the rear cargo area is yours to configure as you wish.
The 750W rear hub drive motor also has a little secret hidden within, as it is a 1,000W motor that has been de-tuned to 750W. When you need it, such as moving off from a stop, or climbing a steep hill, the motor will intelligently switch over to give you a peak 900W of power and torque for short periods, right when you need it. That is more than enough to keep the 3 inch wide, puncture resistant, aramid lined half-fat tires turning and keeping you on the way to your destination!