Electric Motion (EM) is a French company specialising in electric dirt and trail bikes. Founded in 2010, EM has quickly expanded into one of the biggest dirt eBike producers. Hi-Torque Motors have partnered with EM to provide these bikes within North America, operating as the primary distributor of these bikes within Canada.
In June of 2021, EM released a 2022 model lineup of their upgraded dirt eBike range. Consisting of 4 models, this lineup possess many exciting updates over the previous year; offering innovative ideas to further advance the electric offroad sector.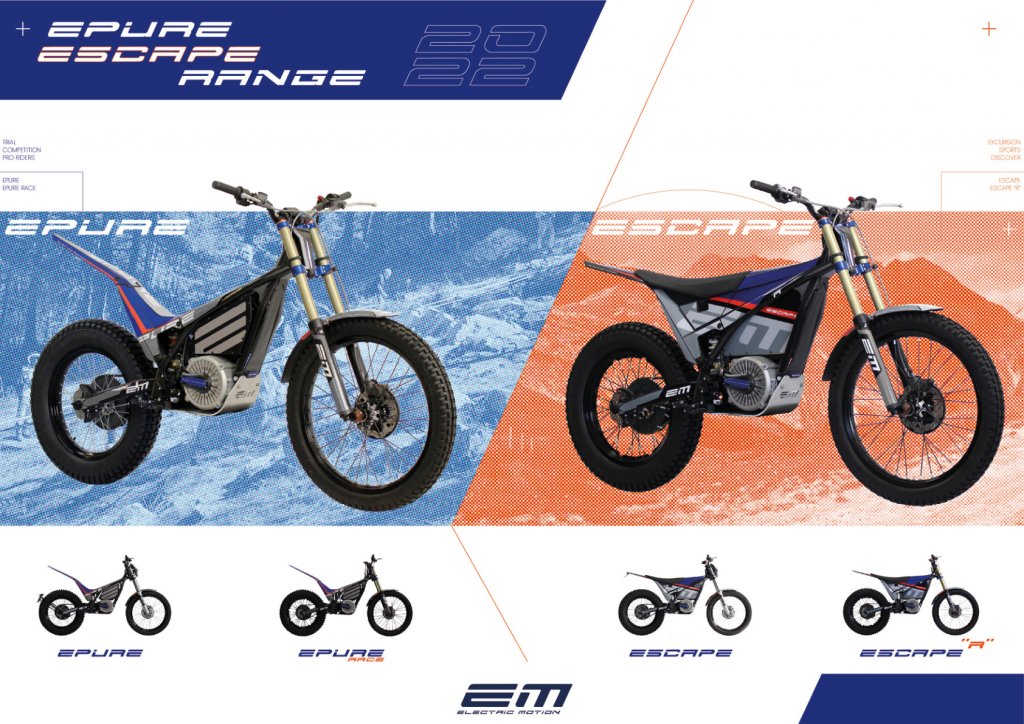 Their range consists of two main model types, the 'ePure' and 'Escape', each with their own upgraded 'Race' options. The ePure is a pure trial set-up, which of course performs double duty as a trail thrasher. The Escape models use the same chassis and frame as the ePure, whilst adding additional battery range and a comfortable seat for a more single-track trail bike.
The Escape models are the most popular for their ease of use and comfort, as well as benefitting from an extended range. This article will cover each of these models, their upgraded variants and the differences between them. First, we will start with the features added to every model in their new and improved 2022 range:
ePure & Escape 2022 Stock Model Upgrades
Updated with toggleable traction control.
Reinforced transmission & belt drive.
New CNC battery casings.
Upgraded Galfer FIM disks.
New setting for forks and shocks.
Charger now comes with a case for storage.
Factory-installed 'Progressive Regenerative Braking' (PRB) system on the left side of the handlebar.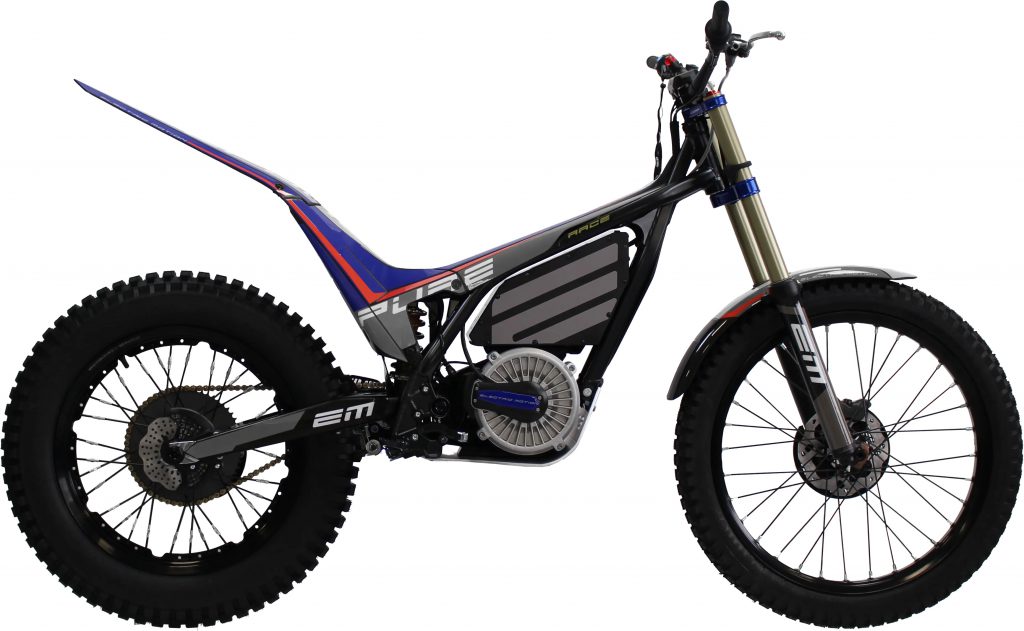 All of these improvements make for a significant boost in rider comfort, control, safety and more. The new belt drive is essential and greatly improves overall torque. Although all models offer near-identical performance to their Race' counterparts, the latter includes 4 main features improving ease of use and utility.
Here are some of the highlights of what's new for the 'Race' models in 2022:
ePure "R" & Escape "R" upgrades:
Tick Over: An idle mode allows the bike to function like an idling gas bike, easily turned on or off.
PRB lever: Now available as an add on accessory, sits on top of clutch perch.
Standard factory FRB button: Toggleable battery regeneration button.
New fork setting and new 3-way shock adjustment on the ePure "R".
6 maps (3 race/3 standard) over the standard 3 offered by their predecessors.
These additions make for some great quality of life improvements when riding off-road or for long periods. Whilst it appears that all models possess a PRB system, only the 'Race' variants may toggle this feature on/off. Alongside this, the ePure 'R' appears to be the only model utilising a 'three-way' rear brake, with the rest sticking to dual disc brakes.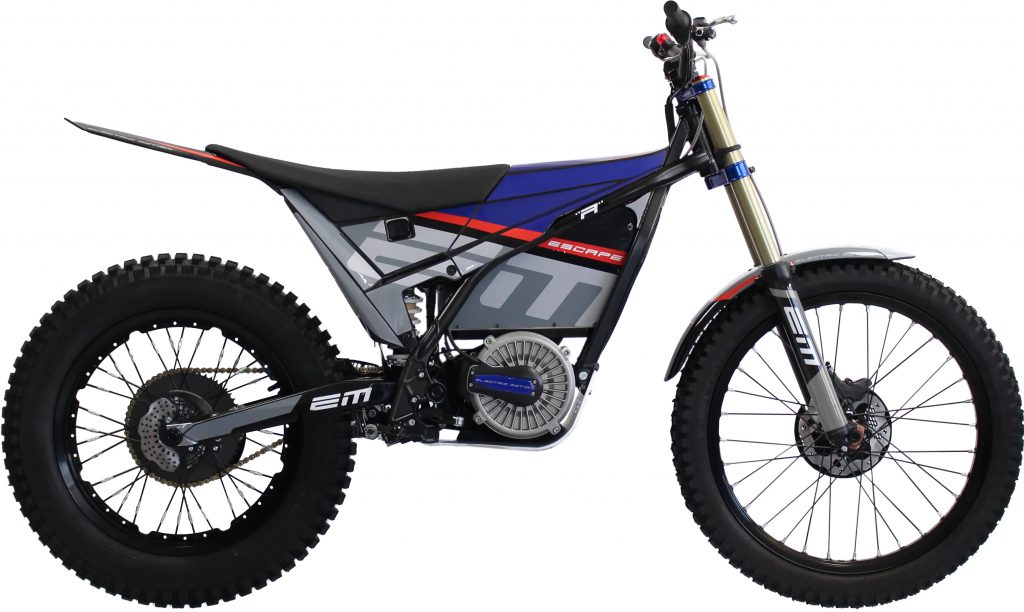 One of the most innovative advances from EM was when they introduced the hydraulic clutch on their "Race" version. The ePure "R" and Escape "R" come standard with a hydraulic wet clutch that functions exactly the same as the clutch on gas-powered bikes. For more outstanding off-road models, read through our best electric ATVs of 2021 article; in which the Escape 'R' claims 3rd place in our dirt eBike category.
Both 'Race' models come with an extra 2kg of weight and a higher price tag, so it's up to you to decide whether these upgrades are worth it. With those updates out of the way, we will now dive into the specifications and features of each model, starting with the ePure & ePure 'R':
ePure & ePure Race
Described as the 'perfect mix of performance and ease of use', the ePure offers a superbly silent riding experience. It offers more than enough power to tackle trails in both style and comfort. Both ePure models weigh 10kg less than the Escape, although possess a smaller battery and reduced range. Due to this, the price is approx. ~$1,300 lower than the Escape models.
ePure & ePure Race Key Specifications
ePure MSRP: $9,072 USD ($11,540 CAD)
ePure Race MSRP: $10,869 USD ($13,820 CAD)
Buy: 2022 ePure / 2022 ePure Race
Motor: 6Kw (11Kw peak output)
Top speed: 70 km/h (43.5 mp/h)
Est. Range: 43 km (26.7 miles)
Weighs: 73-75kg (160-165 lbs)
Torque: 600 NM
Battery: 50.4V/1875Wh Lithium-ion
Charge time: 3h 20m
Brakes: Dual disc/piston braking (three-way rear brake on 'Race' variant)
Suspension: 175/170mm front & rear
Escape / Escape Race
Although all models remain strikingly similar in design, the EM Escape boasts a bigger battery and a vastly increased range. The 'Escape' is approx. 5 km/h faster than the ePure, despite possessing the same peak motor output of 11Kw. The 'Race' model offers the same performance whilst utilising the new features mentioned above, such as traction and tick over controls.
Escape / Escape Race Key Specifications
Escape MSRP: $10,352 USD ($13,160 CAD)
Escape Race MSRP: $11,375 USD ($14,460 CAD)
Buy: 2022 Escape / 2022 Escape Race
Motor: 6Kw (11Kw peak output)
Top speed: 75 km/h (46.5 mp/h)
Est. Range: 61 km (37.9 miles)
Weighs: 83-85 kg (183-187 lbs)
Torque: 600 NM
Battery: 50.4V/2690Wh Lithium-ion
Charge time: 4h 15m
Brakes: Dual disc/piston braking
Suspension: 175/170mm front & rear
Closing
We always love it when a PLEV brand reviews and updates its range with cutting-edge components. It showcases a real dedication to their product line, quality control and customer experience. Whilst the jump in speed and power is very small this year, the utility upgrades are essential, putting these models back on par with other top contenders in the market.
The electric off-road sector is growing rapidly and EM looks poised to become a well established, staple brand in the sector. However, they will still have the likes of Segway and Zero to compete with. Worth noting is that these models come with a 'road legal' package containing front and rear lighting, which we heavily recommend attaching before riding.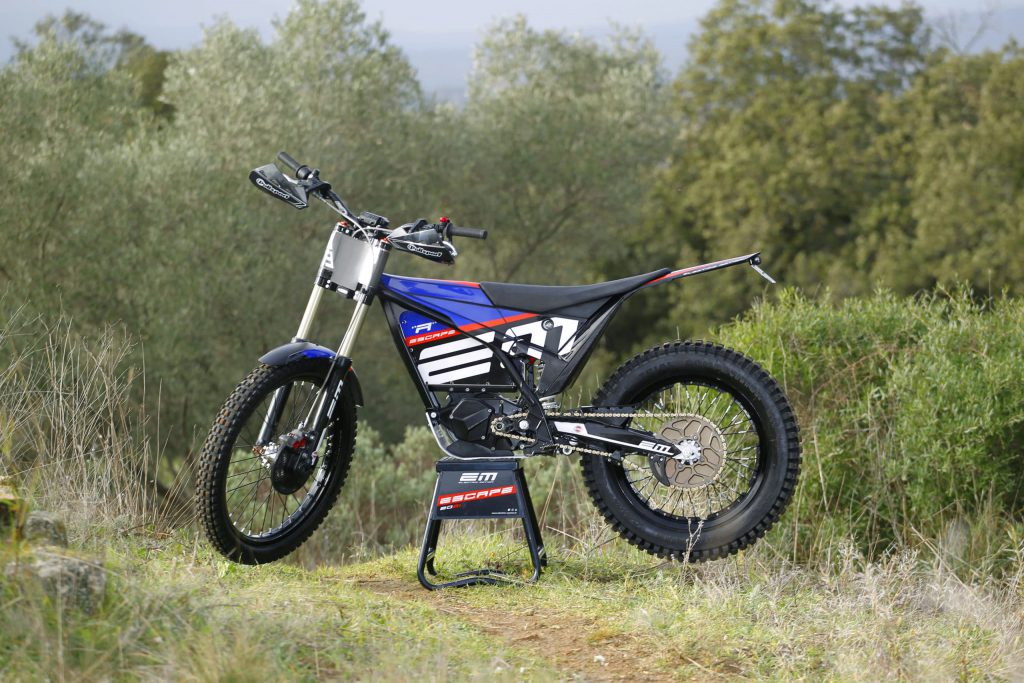 The Canadian dealer network is growing each year and these bikes are now available from dealers in British Columbia, Alberta, Ontario, and Quebec. Canadian Importer Hi-Torque motorsports arranges shipping to residential locations from coast to coast, with demo rides available throughout the country.