Varla Scooters
If you live in a metropolitan, chances are you've seen various electric scooters available for rent. They're a cheap alternative to transportation and fun to boot. With battery technology becoming increasingly prevalent, it's no wonder that they're becoming ever-popular. In 2018, there were a total of 38.5 million e-scooters shared trips across the USA.
You'll find any number of electric scooter manufacturers with their own offerings online, but which ones will be here to stay 5, 10 years from now?
Varla Scooters is an electric scooter manufacturer with 2 offerings in their 2021 lineup: the Eagle One and Pegasus.
The Eagle One is their premium off-road model (read our review here) while the Pegasus delivers a commuter-style experience.
2021 Varla Pegasus Specifications
The Eagle One is equipped with the following features:
Motor: Dual 500w Hub Motor
Battery: 48V/15.6Ah Lithium-ion battery
Range: 28 Miles / 45 KM
Top Speed: 28 MPH / 45 KMH
Display: LCD backlight
Brakes: Dual Disc Brake
Tires: 8" Solid Fat Rubber Tires
Weight (w/ battery): 30 kg / 66lb
Charging Time: 7-8 hours (single 2.0A charger)
Waterproof Rating: IP54
FedEx delivered the Pegasus scooter in mid-November as our weather was cooling down and preparing for the Canadian winter to come.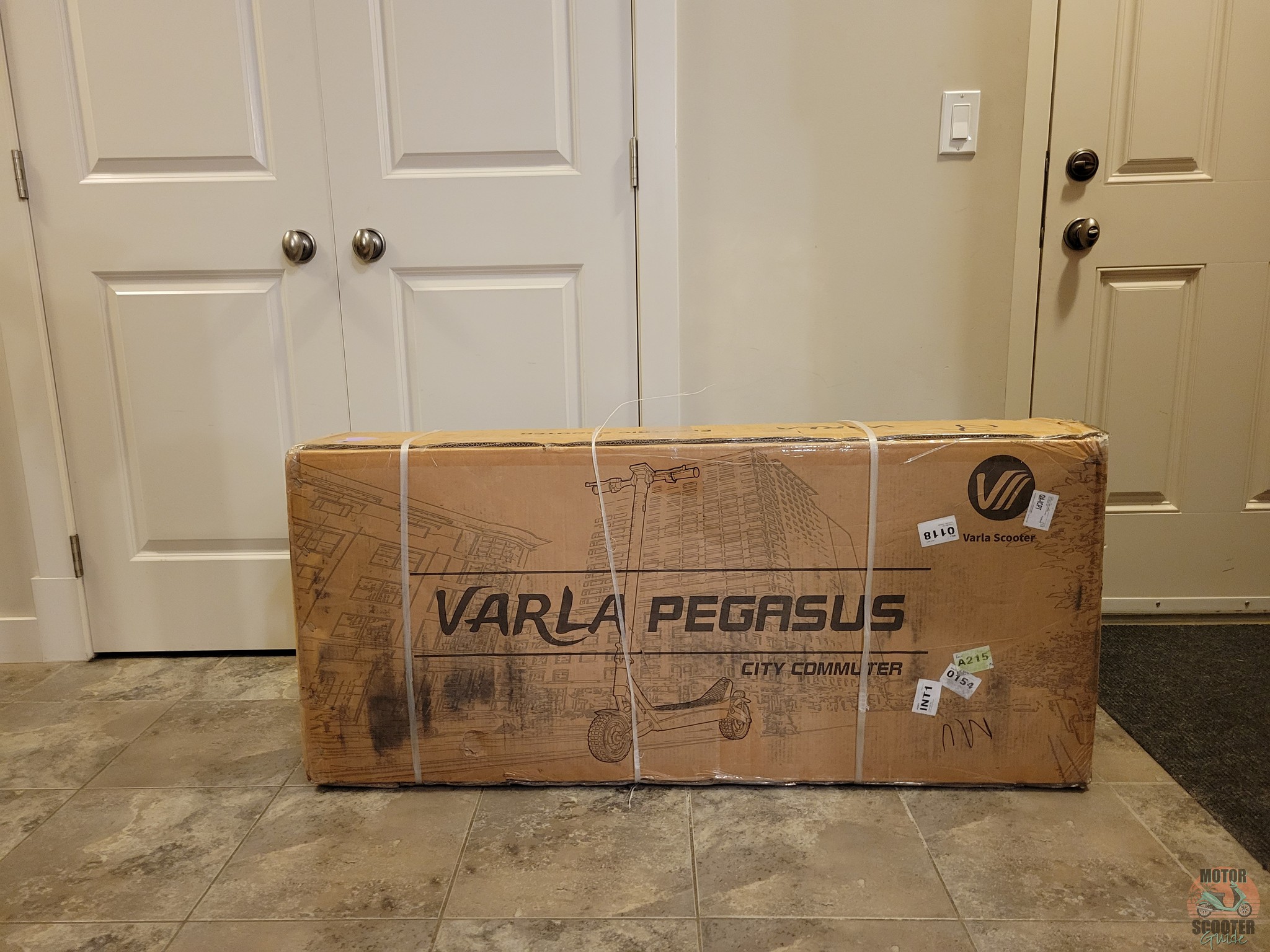 As with the Eagle One, the Pegasus comes ready out-of-the-box save for some minor setup such as attaching the handlebar and adjusting your ergonomics. It's always a good idea to double check and ensure that all nuts and bolts are tightened from the factory.
Varla Pegasus Assembly and Box Contents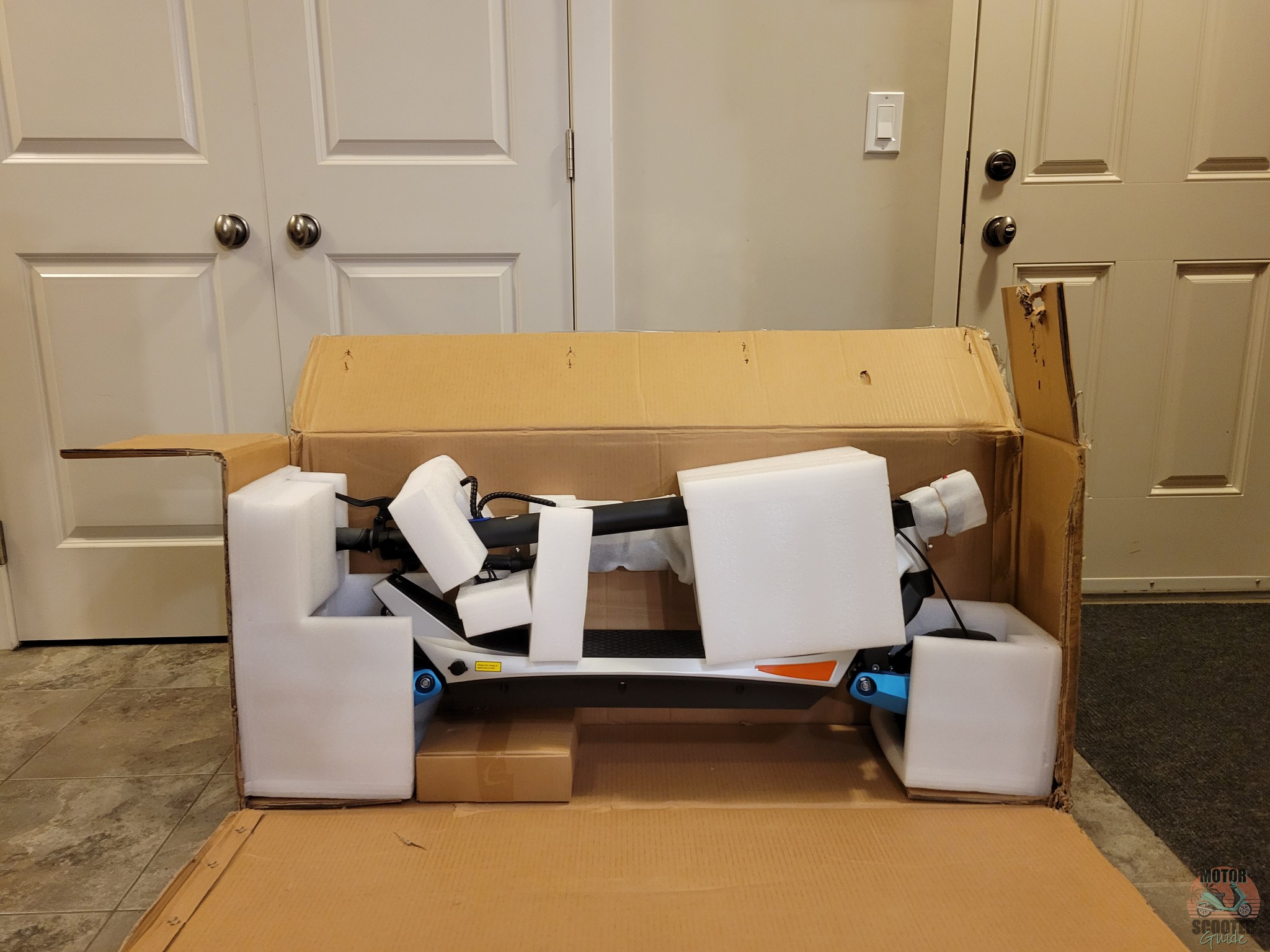 The scooter comes nicely packaged in styrofoam and comes with the following:
User Guide Manual
2.0A Charger
Assembly Tool
Extra kickstand
Bike lock (nice!)
Extra hardware such as nuts and bolts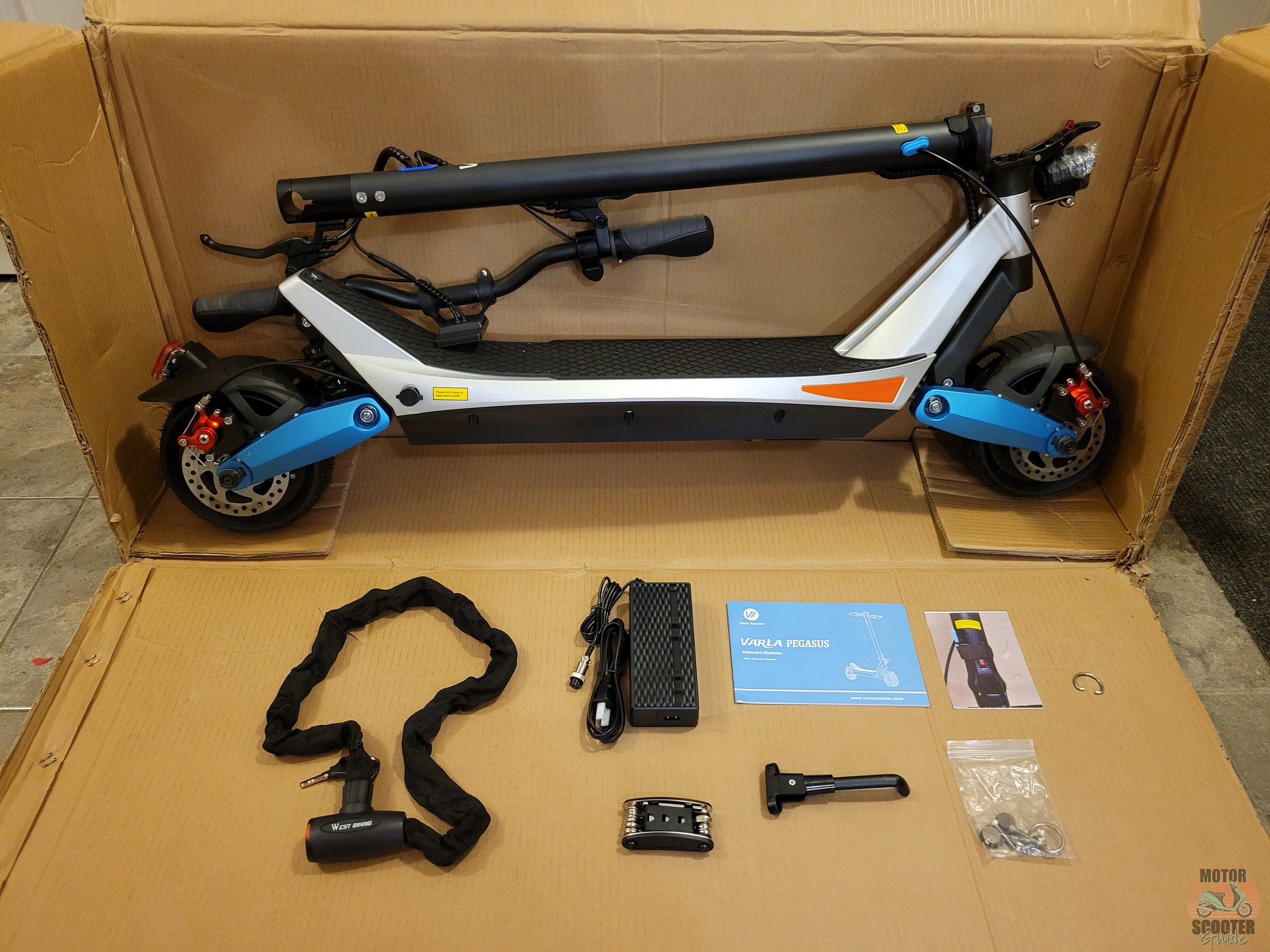 Unfortunately, I noticed that the quality assurance wasn't quite there as various pieces of the scooter had fallen off. The rear brake light had come loose, rubber grommets had worked their way out of position, and the deck loop for latching onto the handlebar was no longer attached.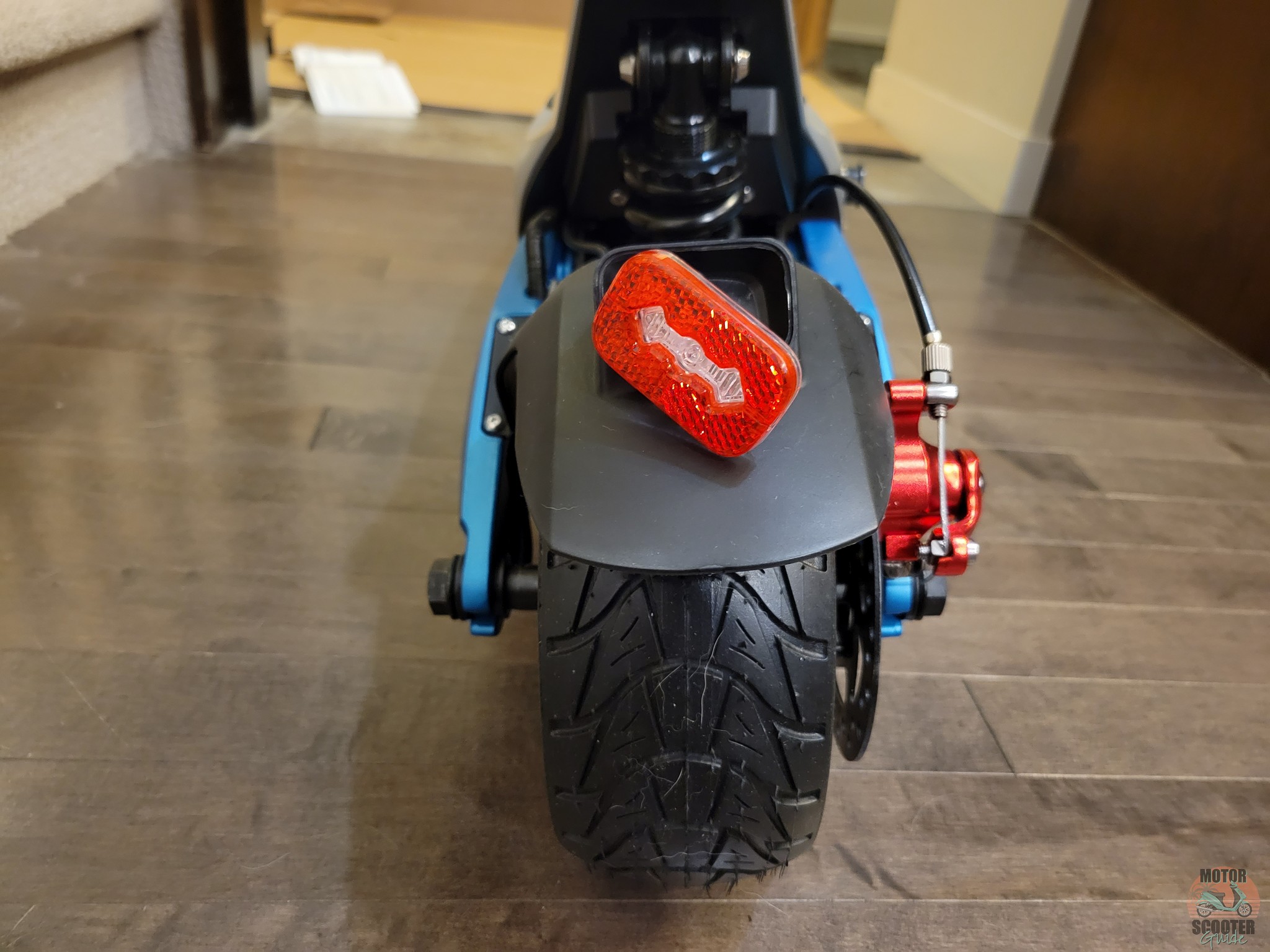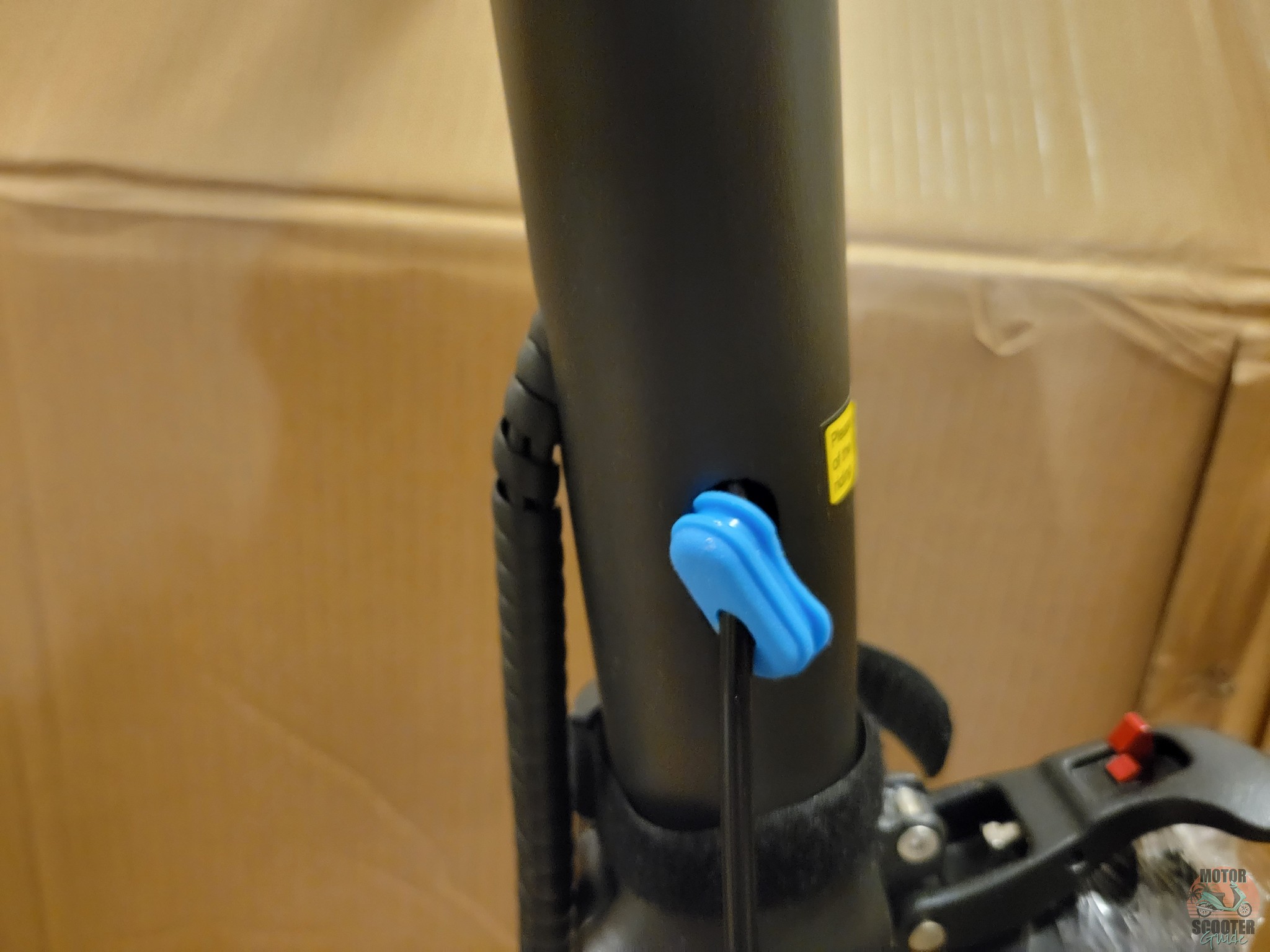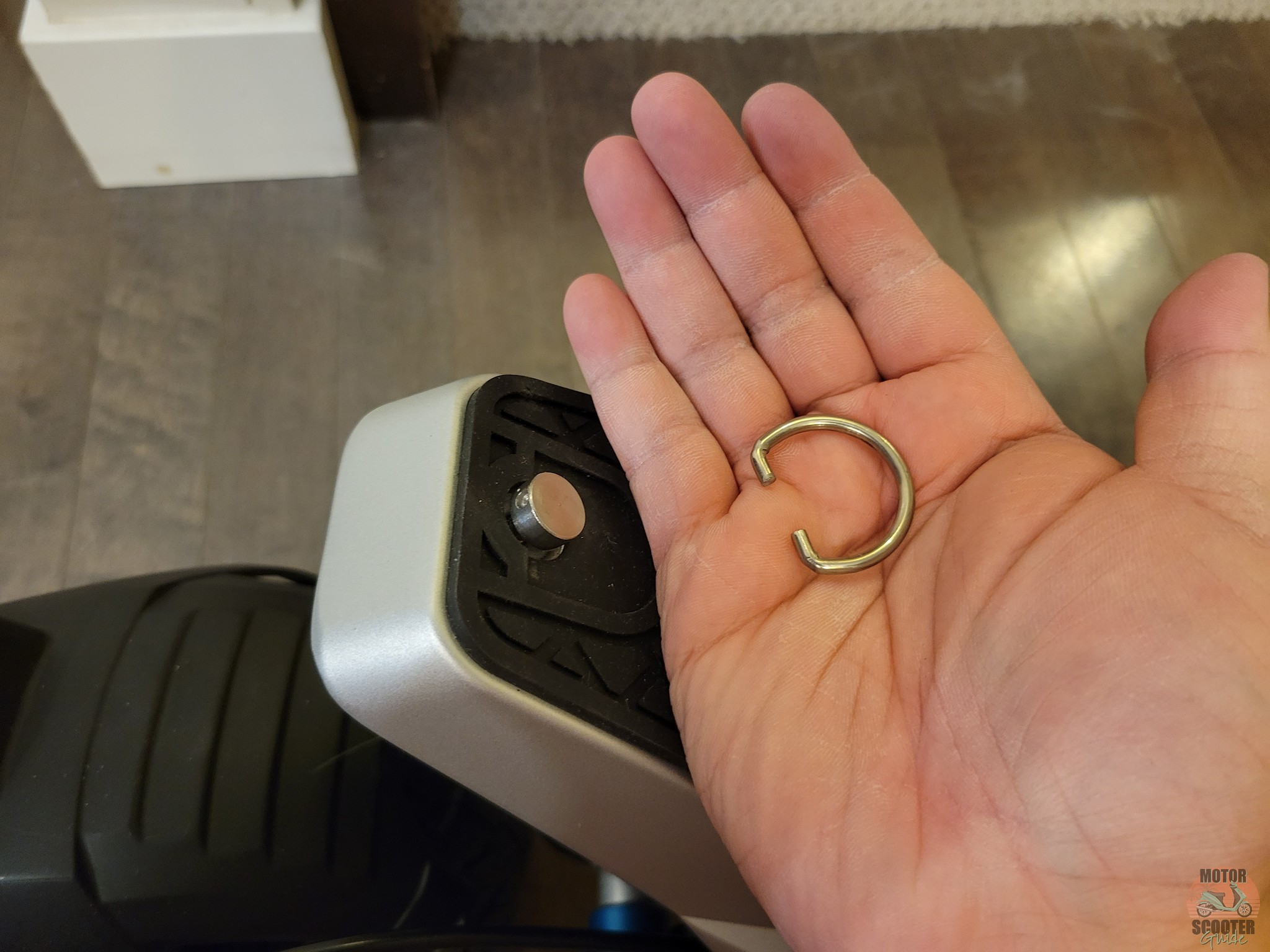 There were logistical issues with getting this scooter to Calgary and it had spent several weeks in other provinces as FedEx tried to figure out exactly where this scooter was supposed to be delivered.
However, despite the extra handling, I don't think that it would have caused these pieces to fall out of place and there was no visible damage to the cardboard packaging.
The rear brake light was an easy fix, I applied some superglue around the edge and fit it back into the bezel. The rubber grommet was pushed back into position and a negligible issue. The scooter came with extra hardware so I unscrewed the metal bolt and replaced it with the other one.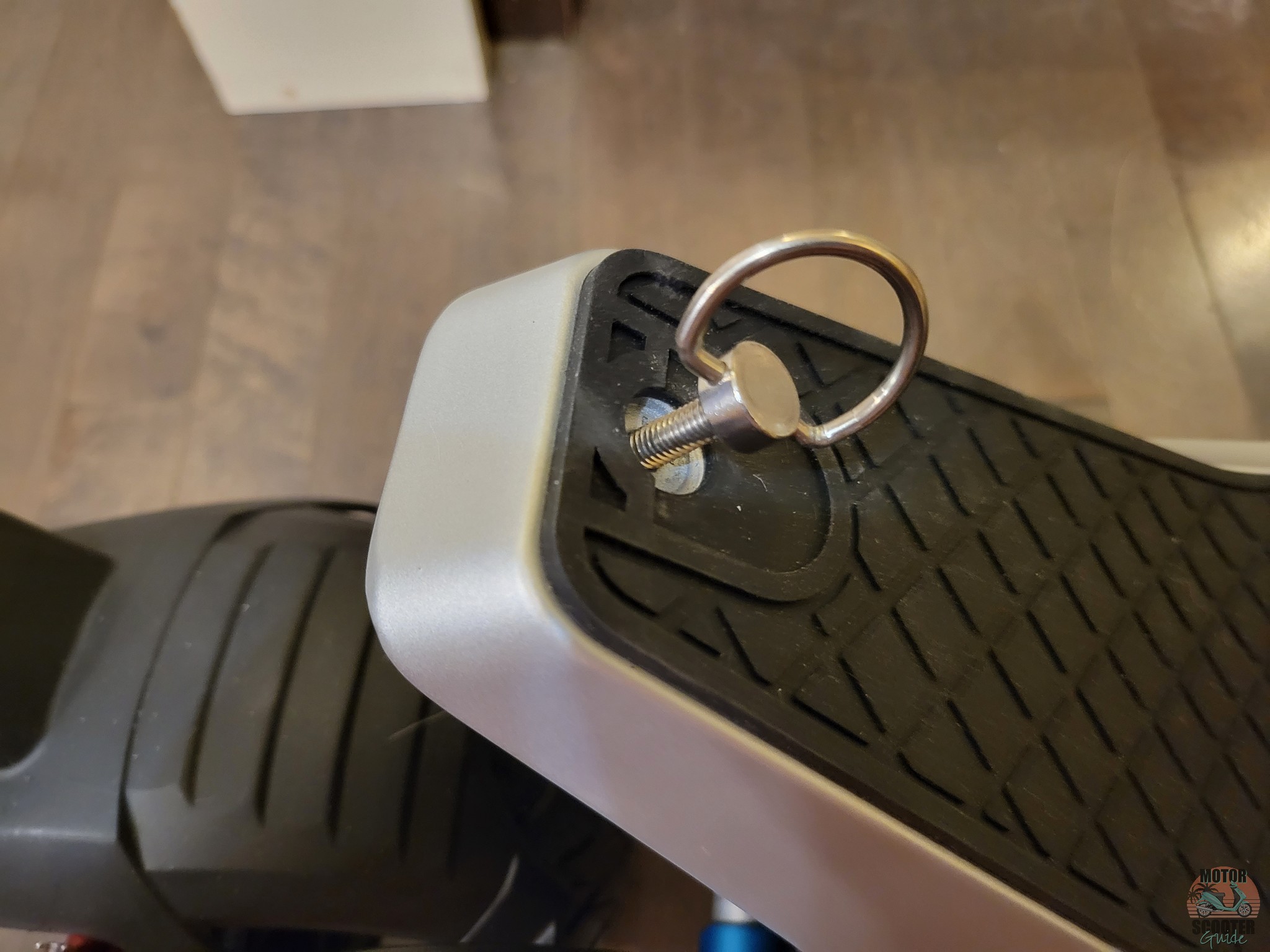 Push the handlebar stem into an upright position and use the lock clamp to secure it in place. There is an additional velcro buckle that you can use to wrap it around button release. The velcro strap is a design element that I'm not sure is necessary.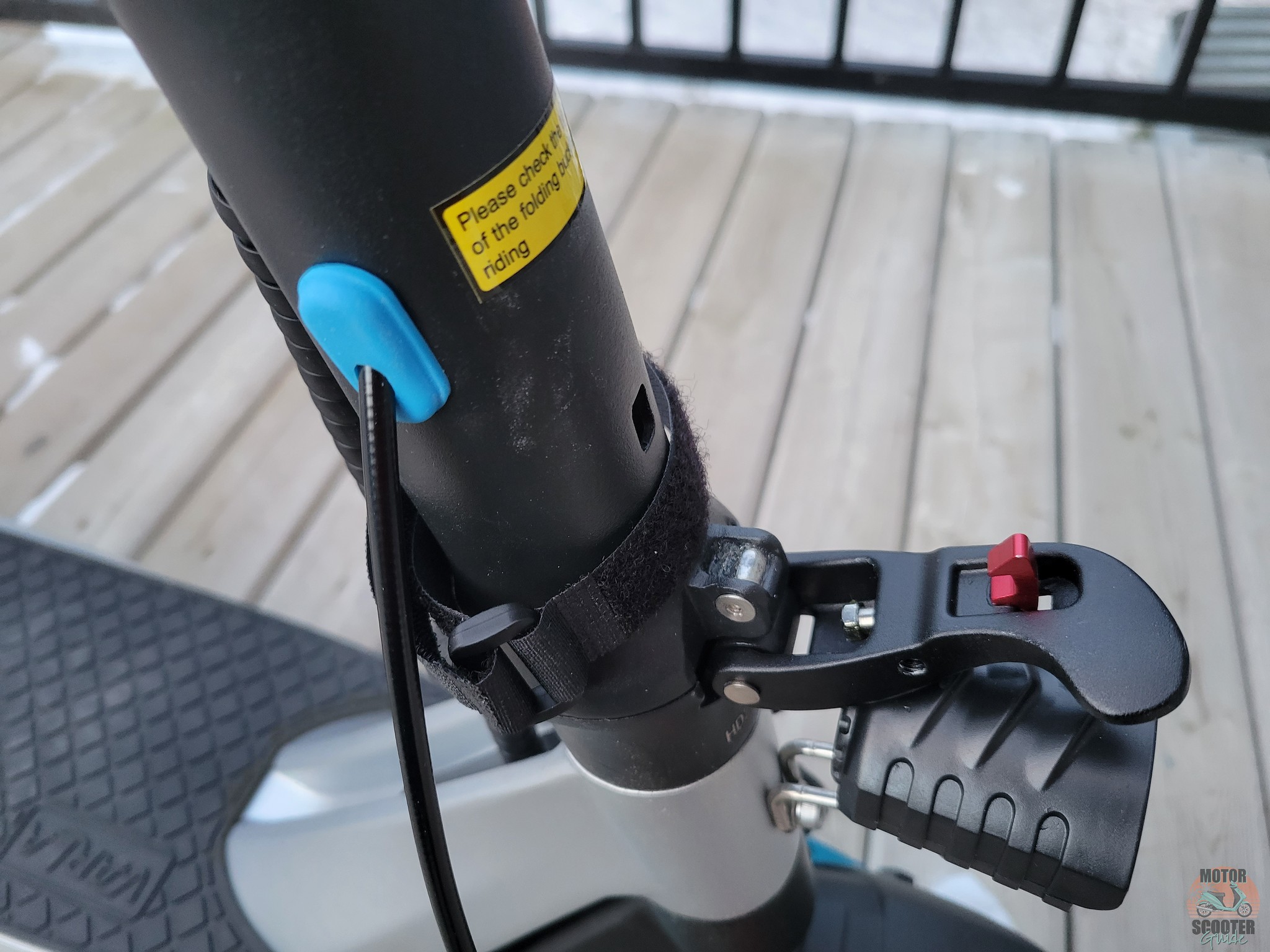 About 10 minutes later, the Pegasus was ready to fly.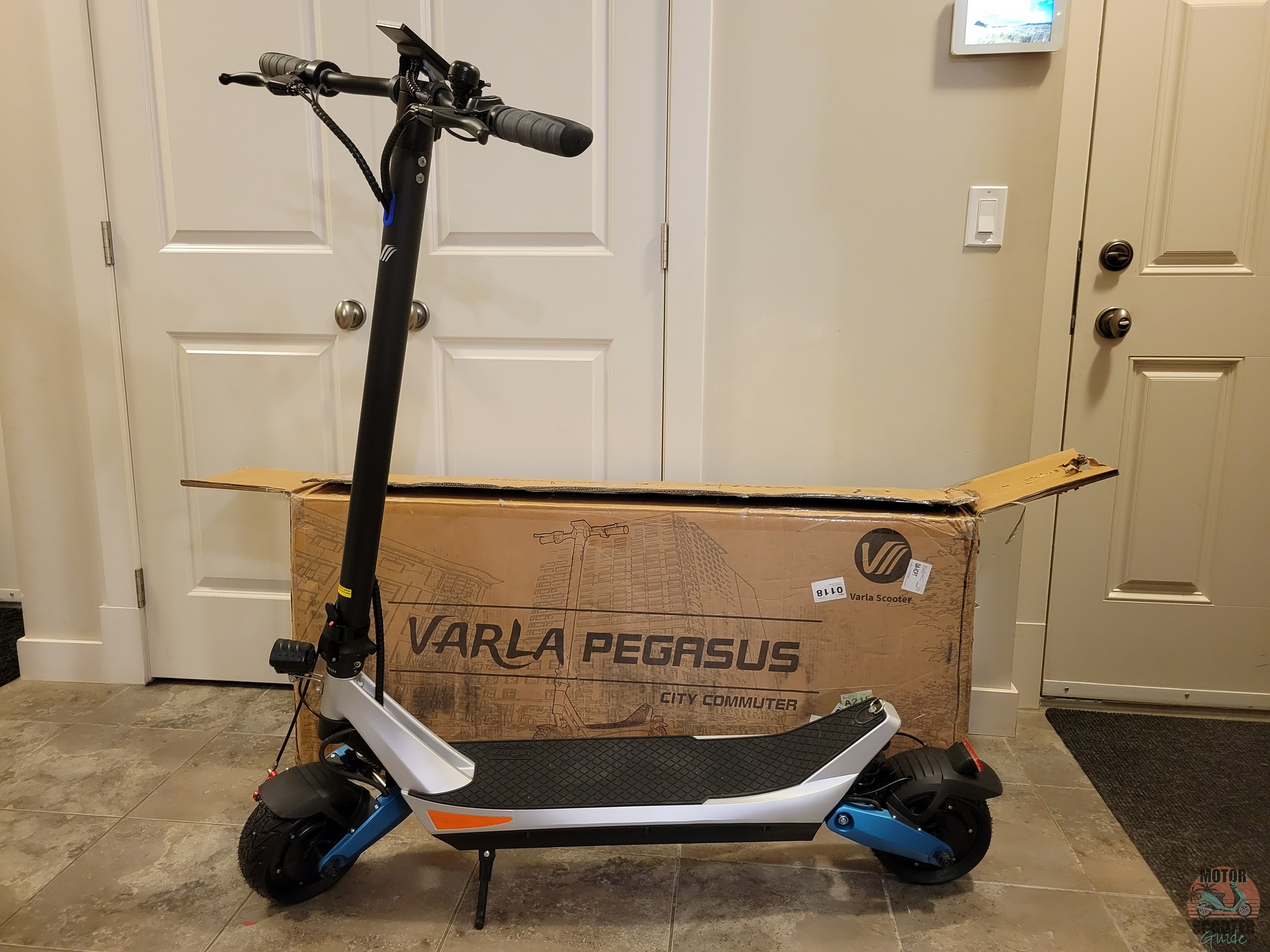 Varla Eagle One Components
48V/15.6Ah Lithium-ion battery
The Pegasus comes outfitted with a 48v/15.6Ah lithium-ion battery located underneath the scooter within the deck. While its older brother has a 52v/18.2Ah battery, the Pegasus delivers 28 mi / 45km of range on a single charge.
There is a single charging port on the right side of the deck and takes roughly 7-8 hours for a full charge.
Dual 500w Motors
This commuter scooter is powered by dual 500w motors with a peak output of 1600w, rated for riders up to 280lb and has a max incline climb of 25 degrees. It can reach a maximum speed of 28 MPH / 45 KMH.
If there's one thing that I like about Varla's electric scooters, it's that both of their models come with dual hub motors.
LCD Display, Settings Menu, and Accelerator
I am a BIG fan of the LCD display that comes on the Pegasus. Mounted right in the middle of the handlebar, it has an easy-to-read display that shows your remaining battery life, speed, PAS level, and odometer.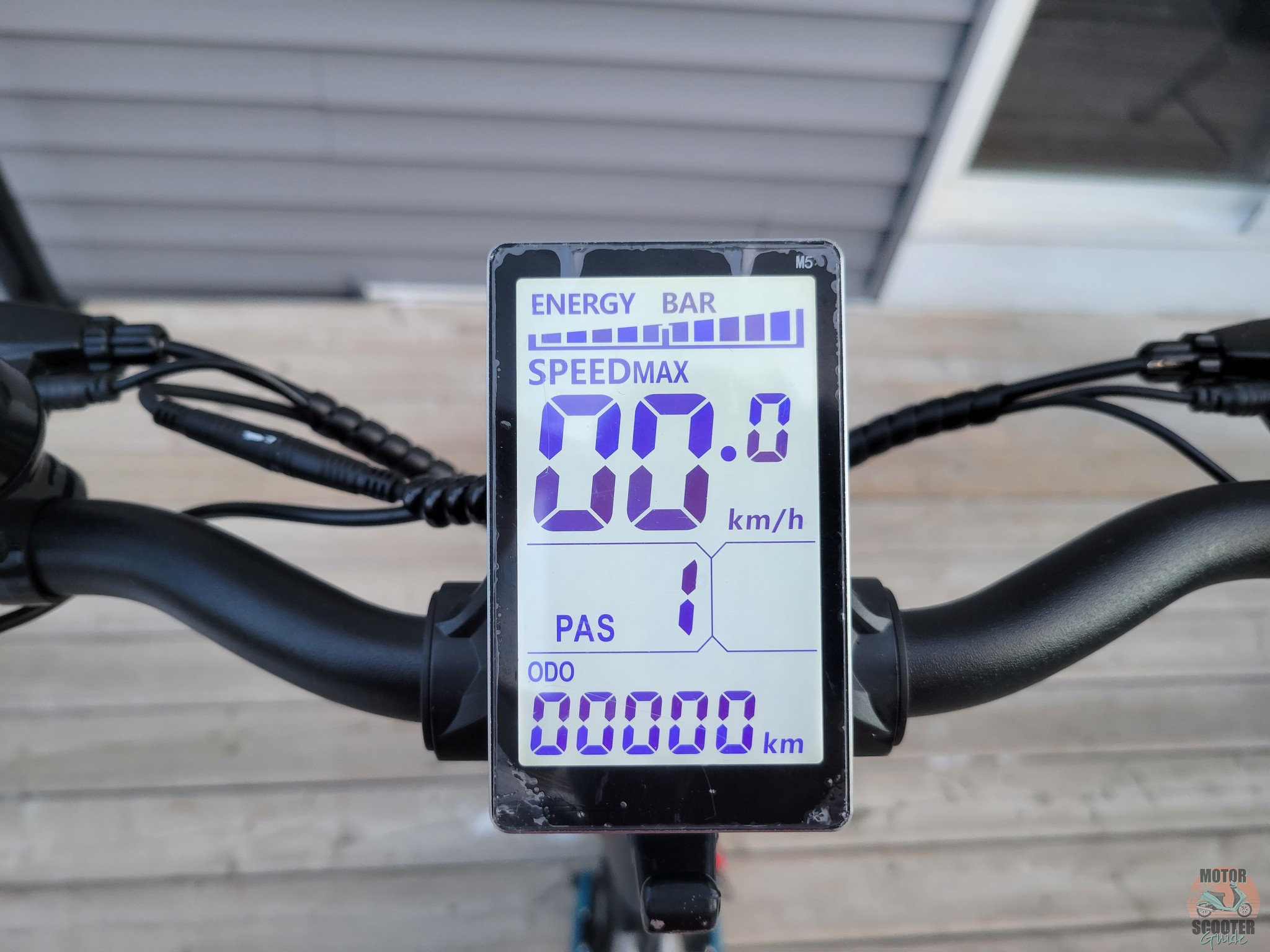 Just like the Eagle One's QS-S4 display, you can toggle P-settings which let you customize your odometer/speed readout, acceleration, braking, and a litany of other features such as LCD brightness.
A full list of the P-settings can be found in your user manual. Don't muck around with them until you've had a chance to look through the list as Varla recommends not adjusting certain settings.
At the highest brightness level, the display is crystal clear in overcast daylight.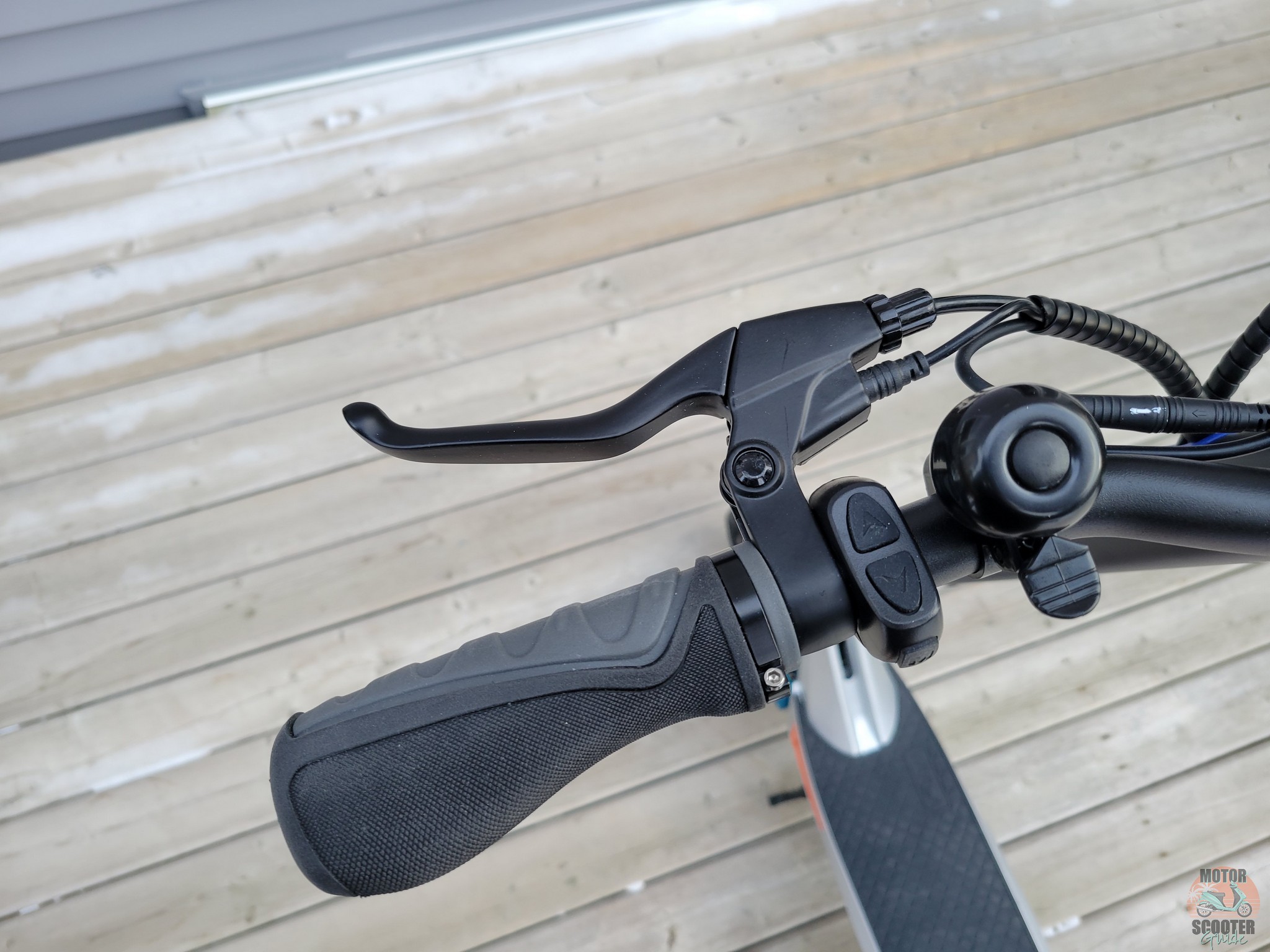 The left-hand brakes operate the rear discs. There is a upward and downward arrow for changing your PAS levels while riding, and an M (mode) button that allows you to change your LCD screen to display various views.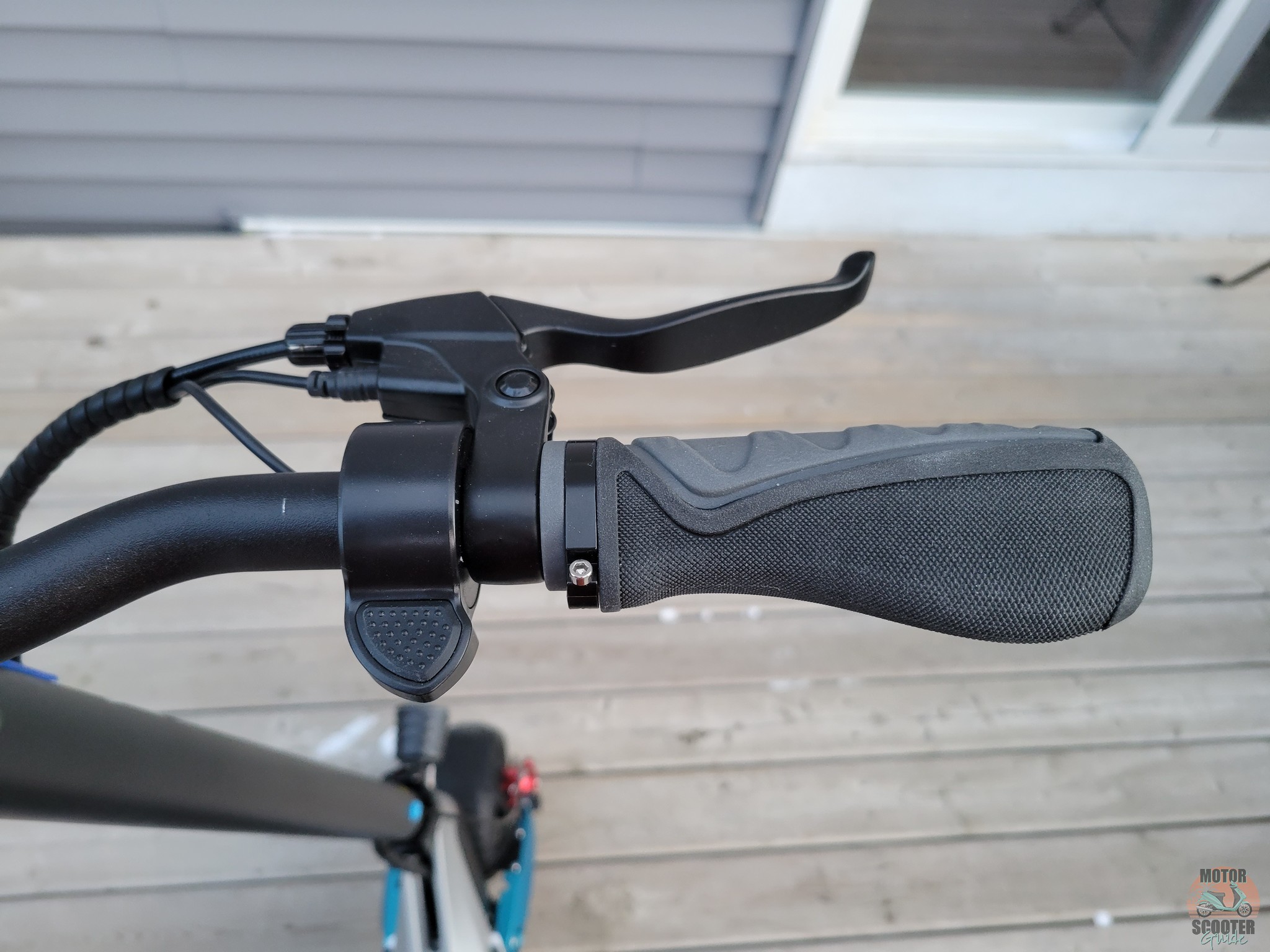 The right-hand brakes operate the front discs and has an easy-to-reach thumb throttle for acceleration. Both handlebar grip sleeves are molded from rubber for an ergonomic grip that is comfortable to hold.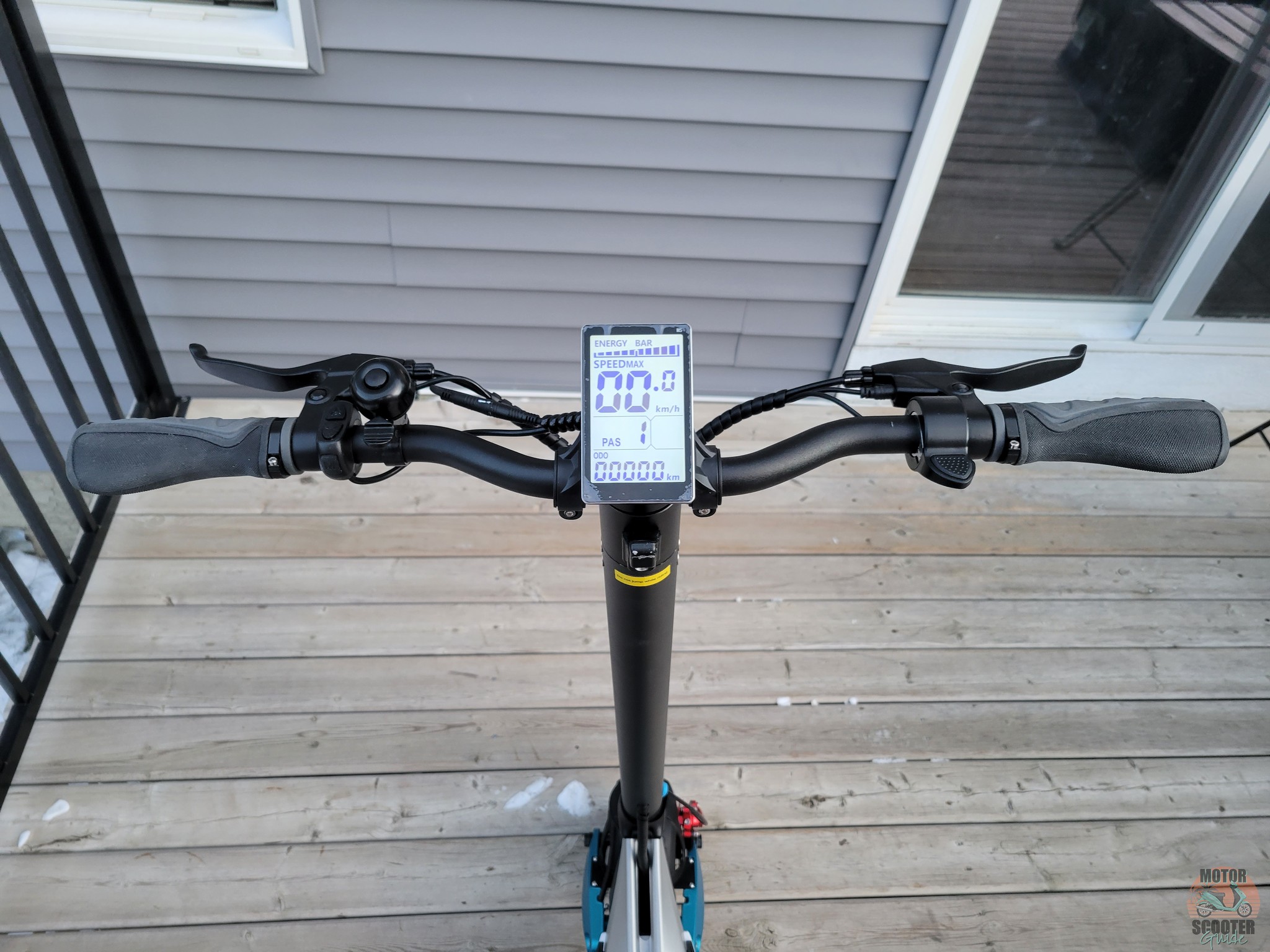 Tires, Brakes, and Suspension
The Varla Pegasus comes with 8" x 3.5" (approx.) fat tires. Unlike the Eagle One's pneumatric tires, these are solid rubber aimed at ease of maintenance. The added benefit to solid tires is that they are puncture resistant to objects such as nails and sharp rocks which means punctures won't leave you stranded without a scooter until you get your hands on replacement tire tubes.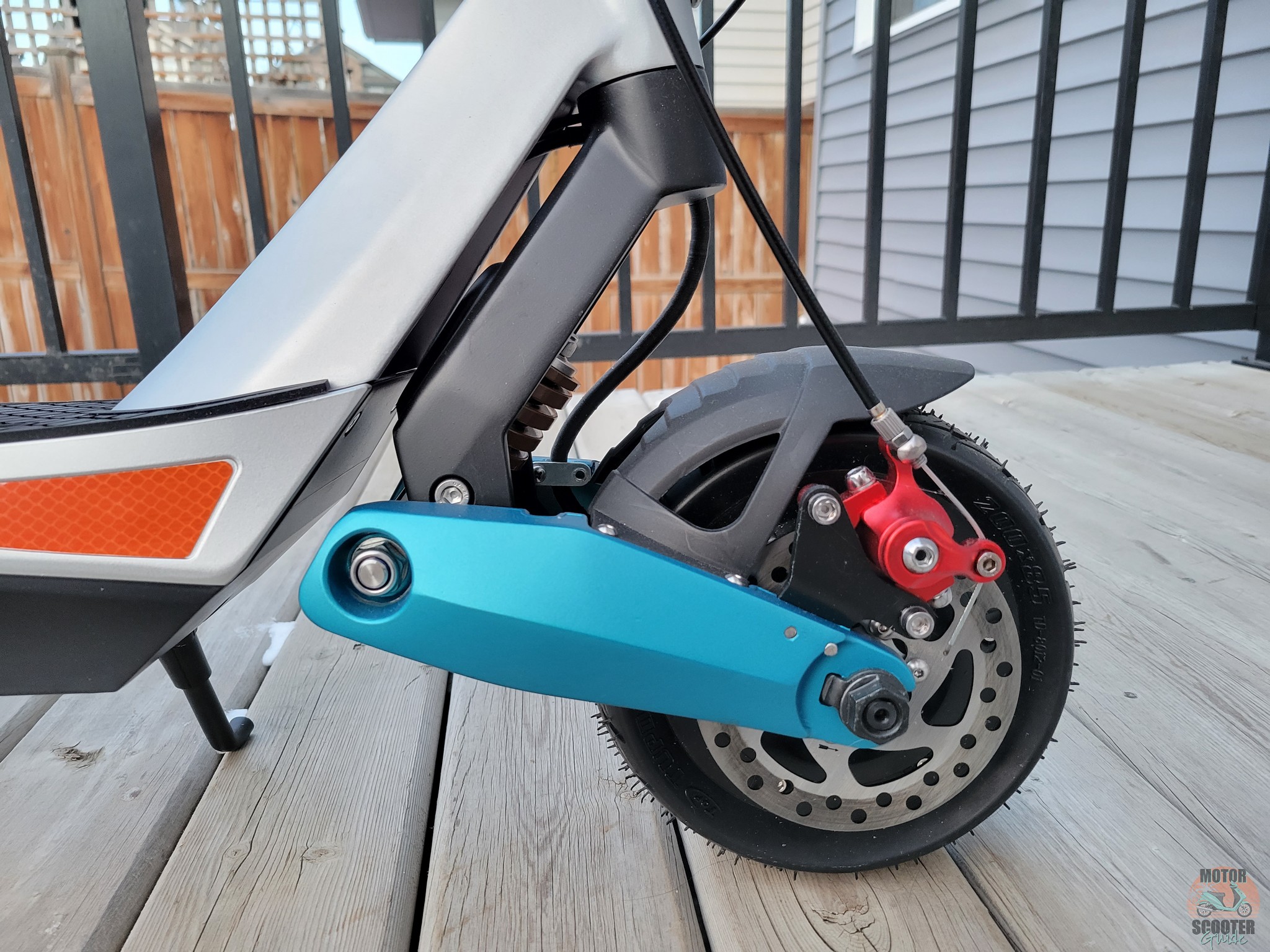 The front and rear discs are operated by a cable braking system. The left-hand grip actuates the rear disc and the right-hand grip operates the front discs.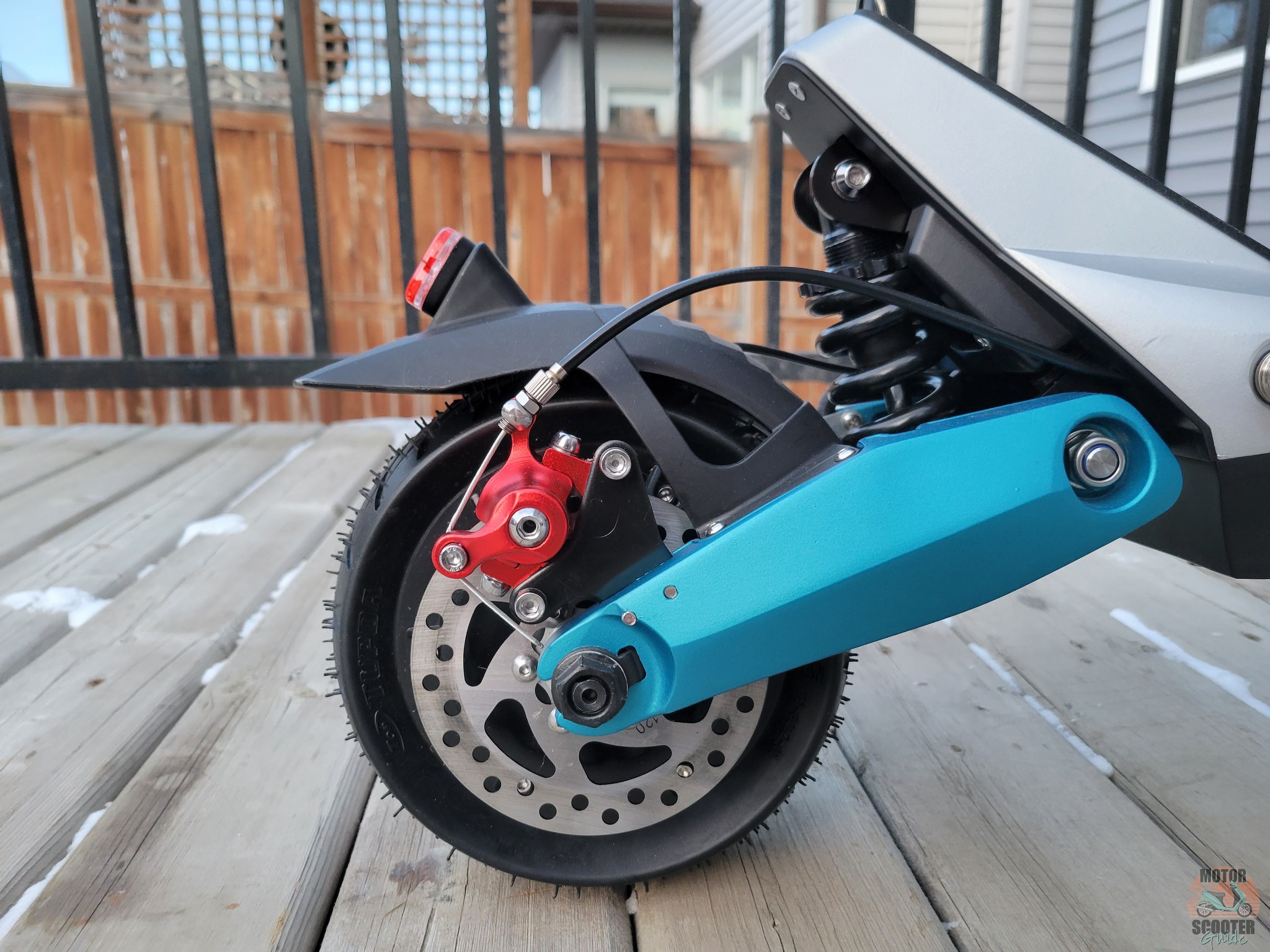 The suspension system leverages a combination of dual swing arms and single spring suspension.
Deck, Charging Port, and Front/Rear LED Lights
The Varla Pegasus has a gorgeously sleek deck which measures 20" by 8" at the widest width and the surface is covered with silicone rubber that provides a strong grip on your shoes. It is accompanied by a single charging port on the right side of the deck towards the rear.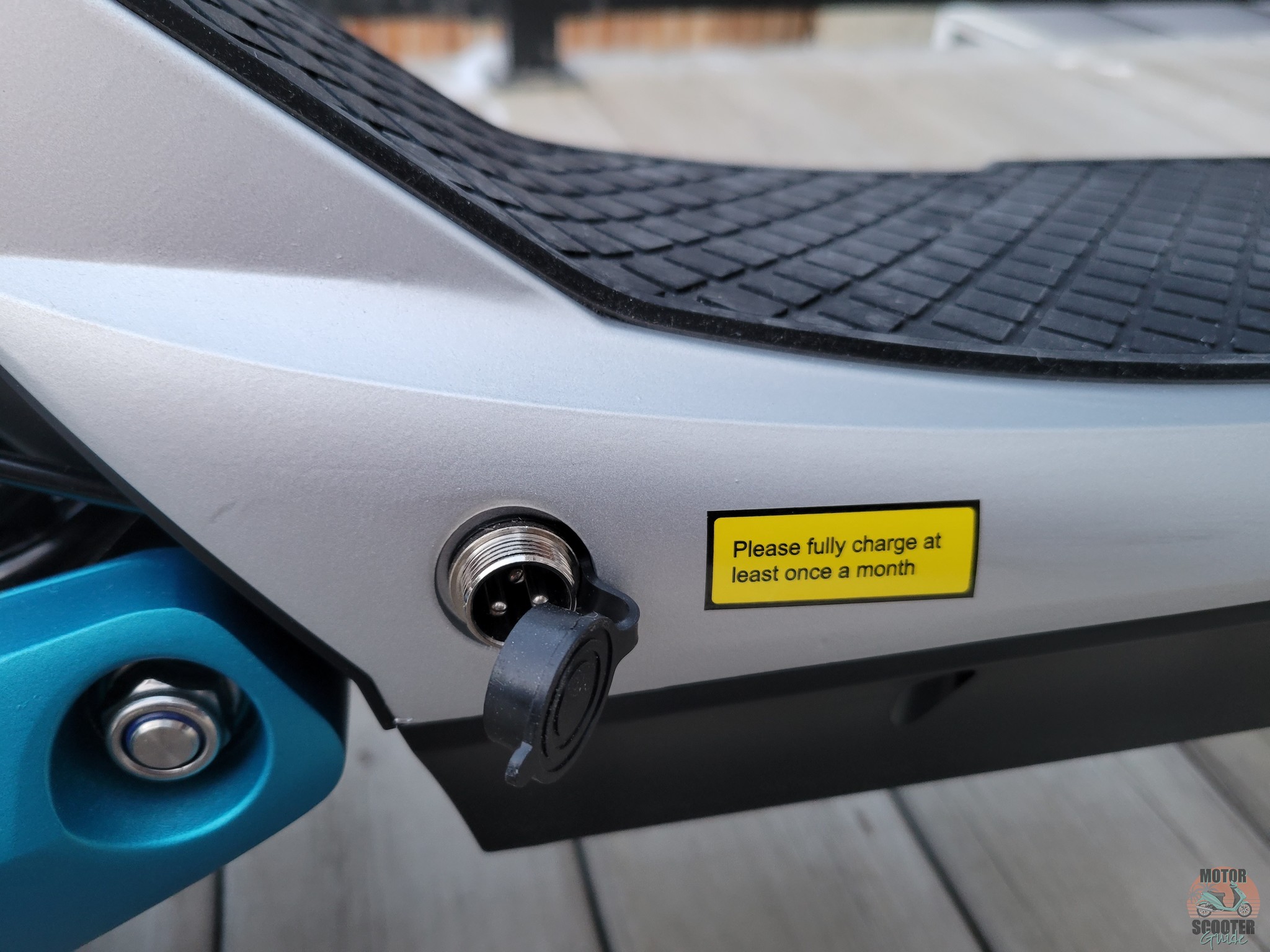 LED light outputs are located at the front of the handlebar shaft and on the rear fender. The headlights can be turned on by holding the up-arrow button on the left side of the handlebar. The light output is poor and scattered, so it is likely functional by way of alerting other motorists of your road presence.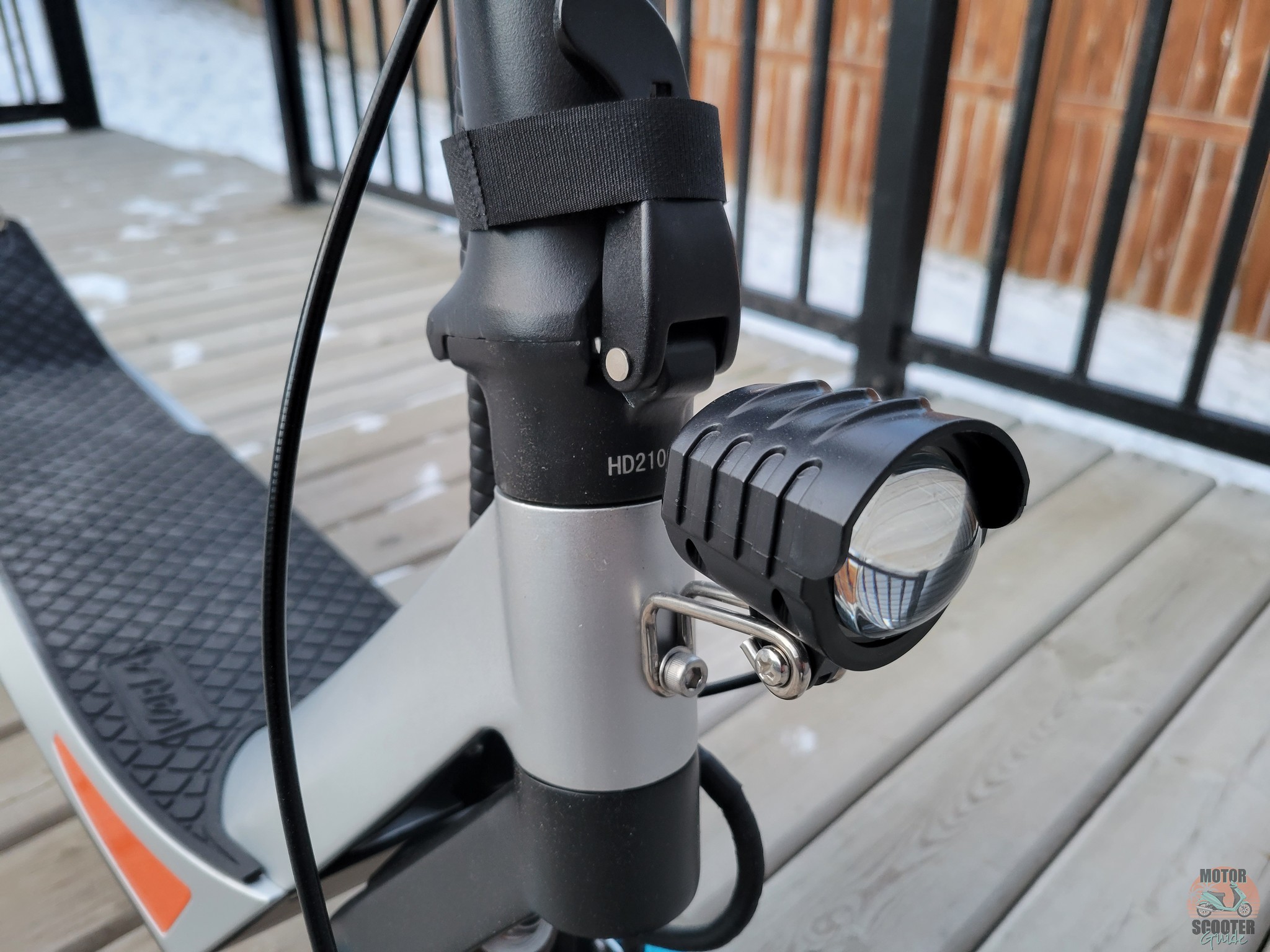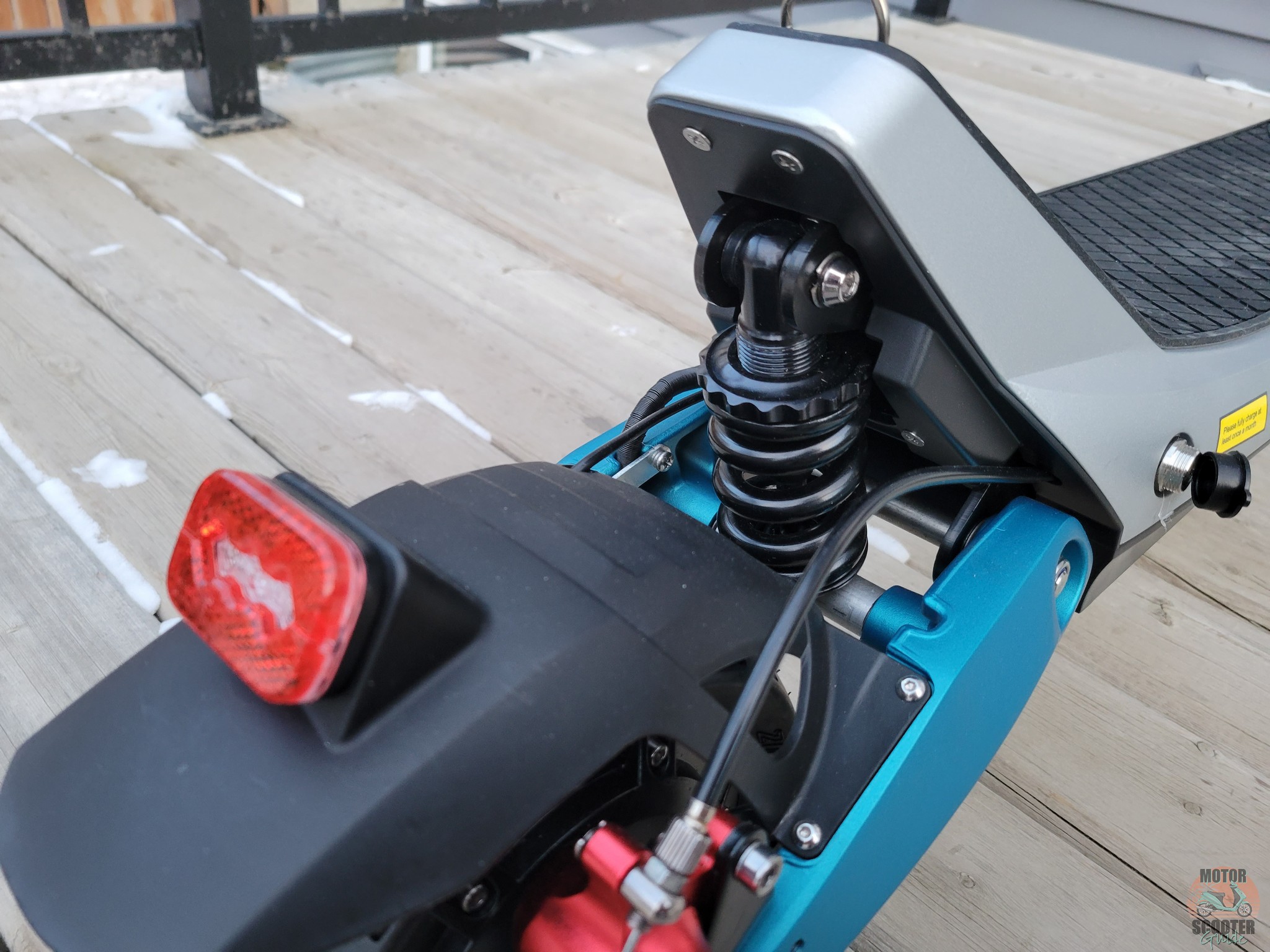 Varla Pegasus First Impressions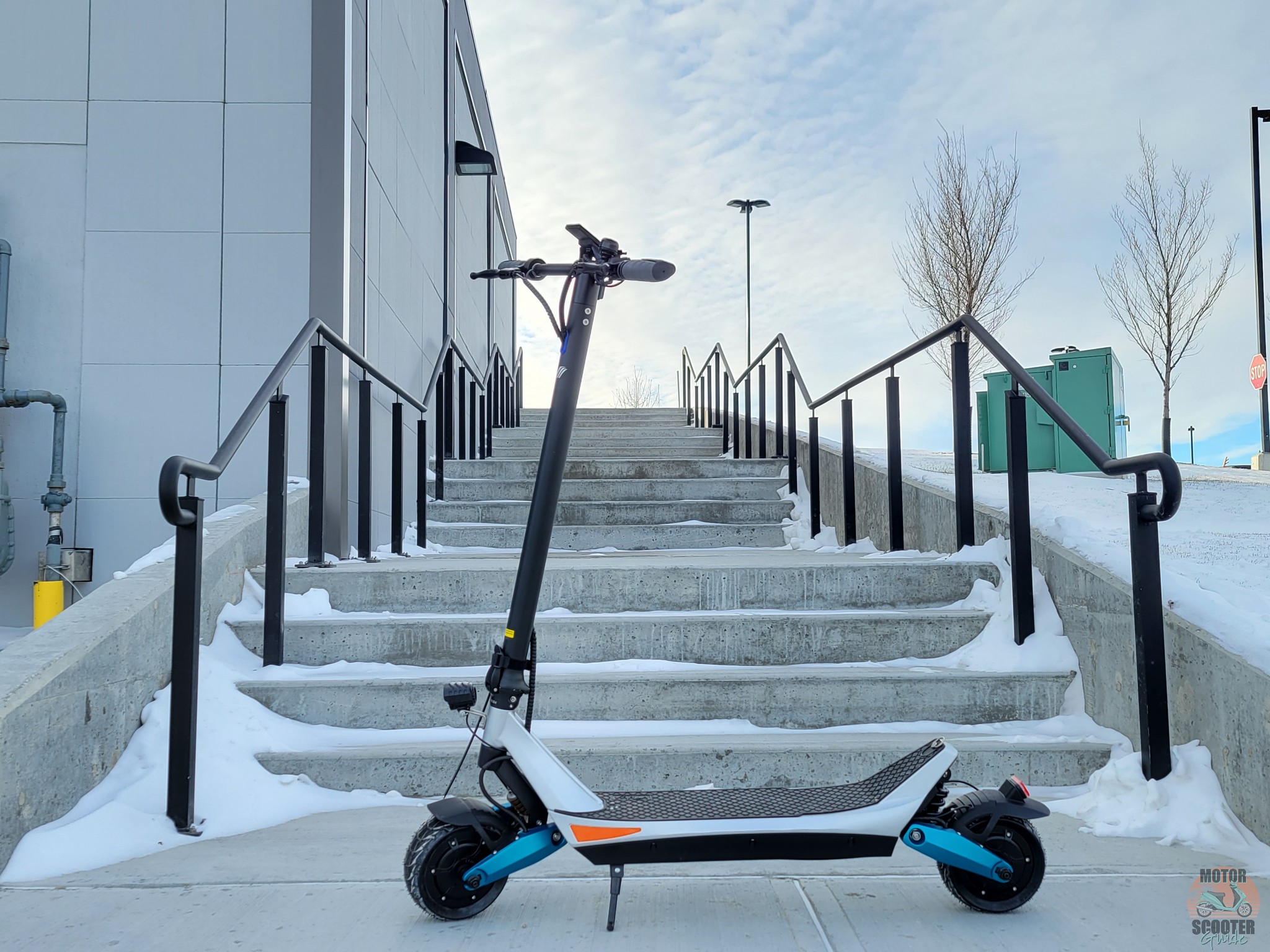 It is currently winter in Canada but that didn't deter me from taking it out for first ride. There is a complex nearby with amenities so I took a short trip to test out the capabilities of the Pegasus scooter. The formed rubber handles provided a comfortable ergonomic grip and as usual, the spacious deck was sturdy to stand on.
Ride Quality
The difference between solid rubber tires and pneumatic tires is night and day. I felt more bumps on the sidewalk and the tires thud when I went over uneven concrete.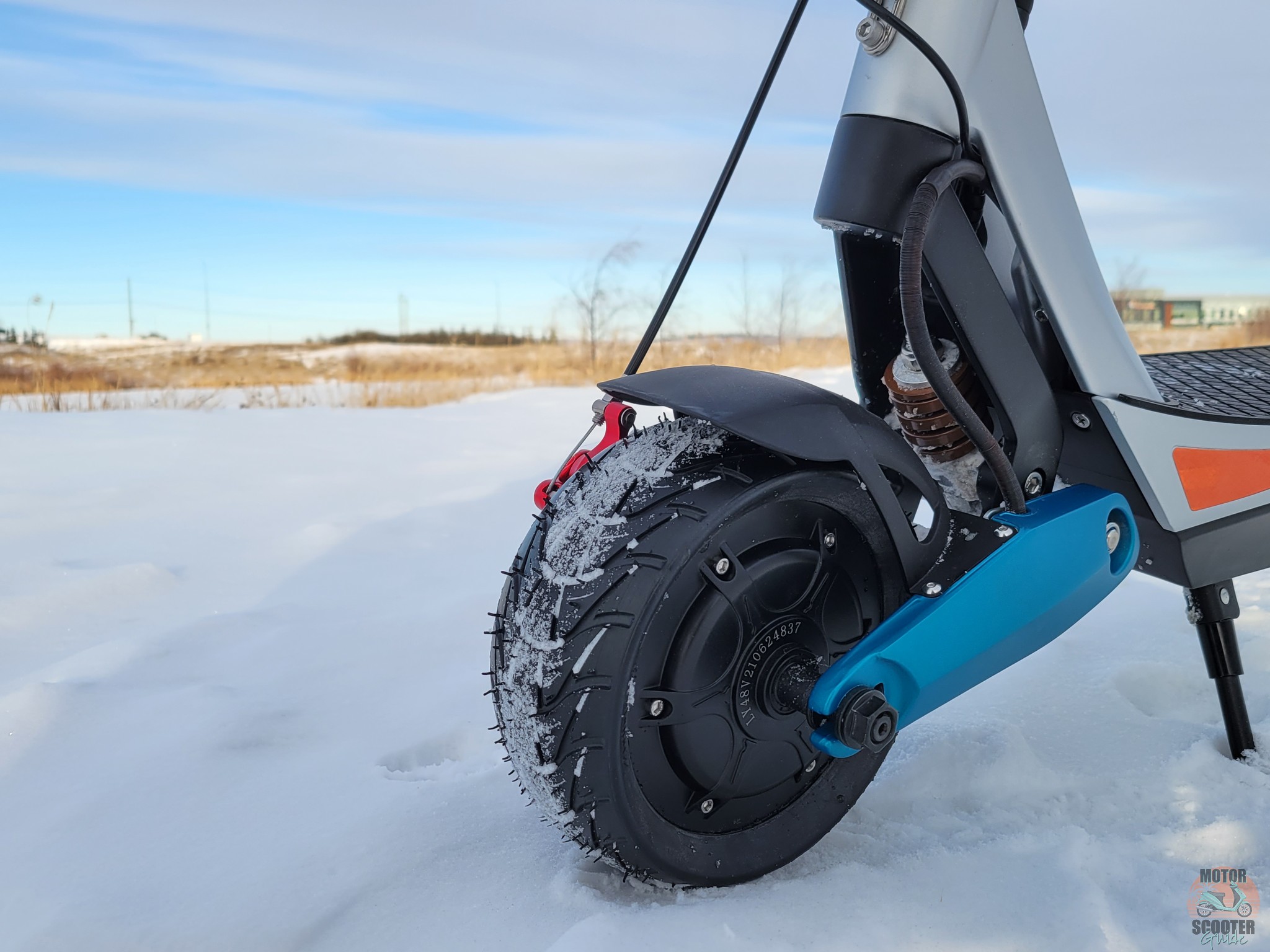 While the Pegasus employs spring suspension, the ride quality cannot be compared to their offroad Eagle One. The wider tires used on the Pegasus also made it more difficult to turn corners and I had to turn the handlebars way more. Braking was as expected and I was able to come to a full stop going 10mph / 6.2mph in about 3 feet.
Acceleration
The Pegasus is rated for 28mph / 45 kmh. I am a 205lb rider and rode on the sidewalk at a leisurely 15 mph / 24kmh. I did find that the thumb throttle was quite sensitive when regulating my speed and acceleration could be more progressive. Overall, the 500w dual motors offered plenty of moving power.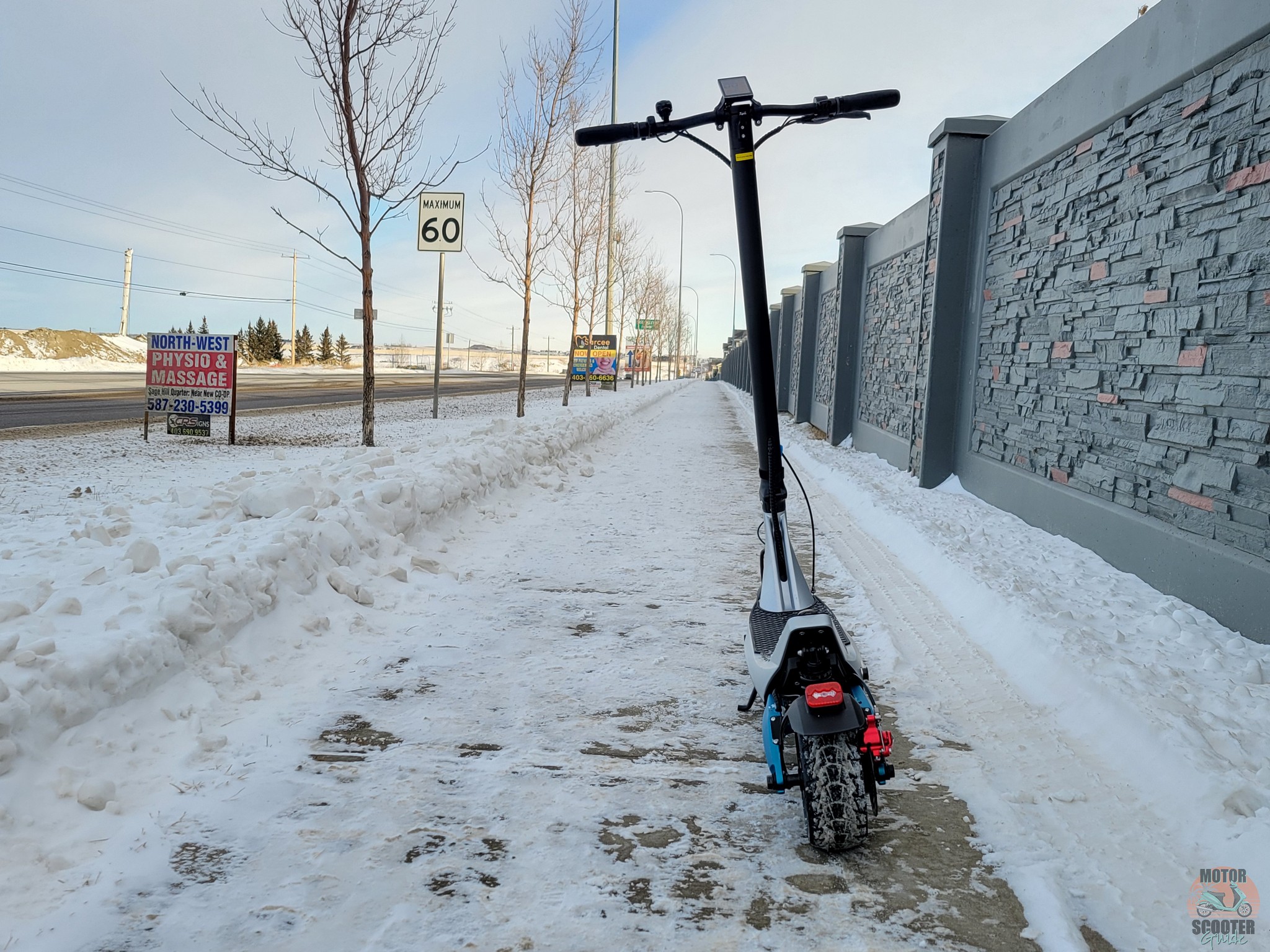 The sidewalks were a blend of exposed ground and packed snow which the Pegasus did an admirable job of traversing. This scooter is meant for dry roads but with its IP54 rating, I felt that some snow on the ground was still reasonable enough to ride. Heading into a walking path, the snow was thicker and this is where the Pegasus struggled to maintain traction.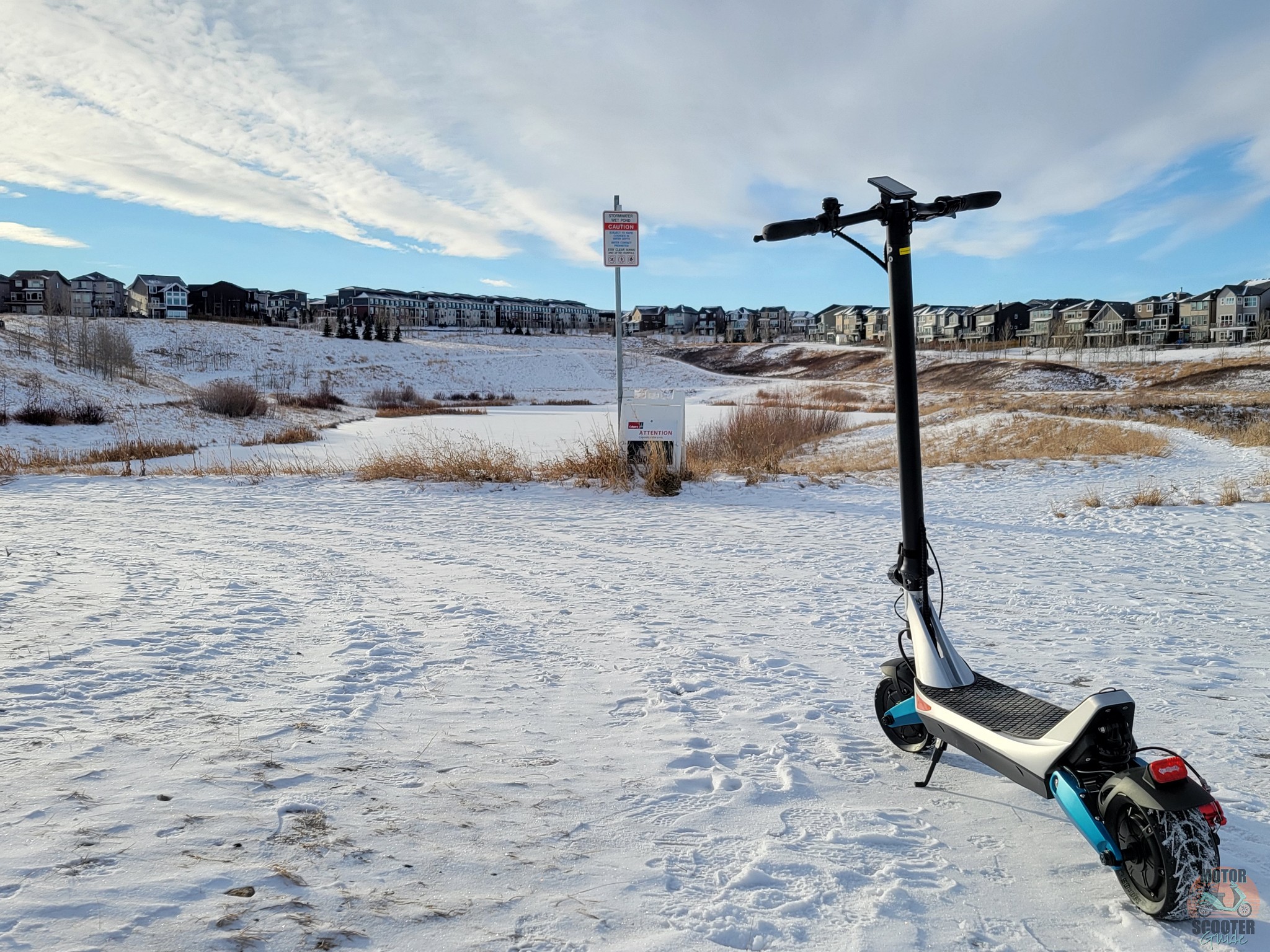 I got halfway into this walking path and decided that the snow was too thick for the scooter to handle. I felt the scooter fishtail as it struggled to gain traction, so it was time to turn back. If we get a clear day where the snow melts away and walking paths are exposed, I will take it out for another ride as there are multiple paths with different inclines/declines. Despite this, it handled packed snow with no issues at all, so I would consider riding the scooter during winter and storing it indoors.
Aesthetic and Design
As I mentioned, the large LCD display is easily my favorite aspect of the scooter. It's easy to read even in bright daylight. The cockpit is a simple, functional design with everything accessible at your fingertips.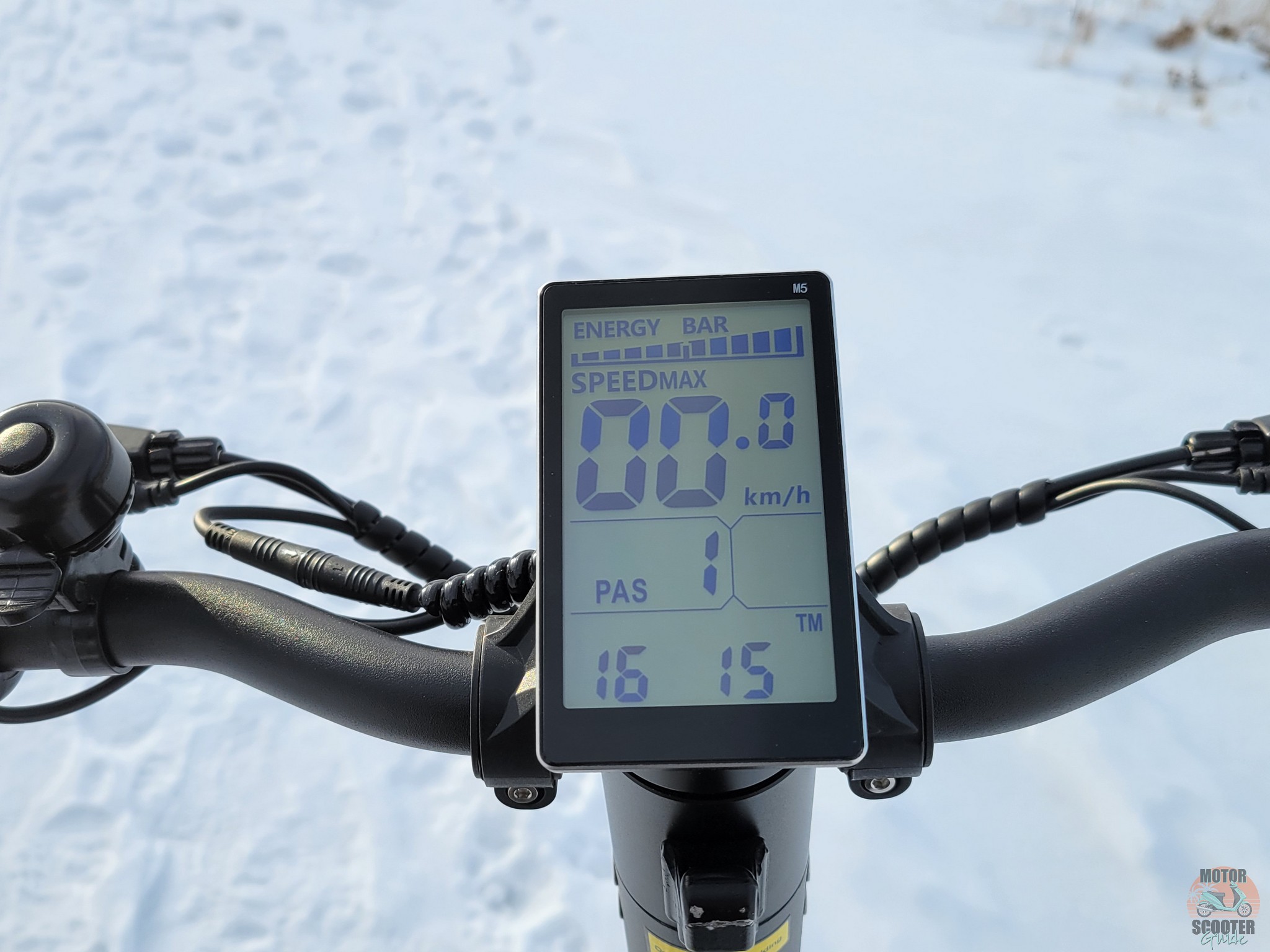 I particularly like the colour design as Varla moved away from cheesy deck grip tapes with flaming skulls of the Eagle One. Instead, the brushed aluminium aesthetic on the silver accents and the teal blue front/rear swing arms help the scooter stand out in the sea of competitors.
The overall colour scheme gives the Pegasus a personality without being overbearing and busy in its appearance.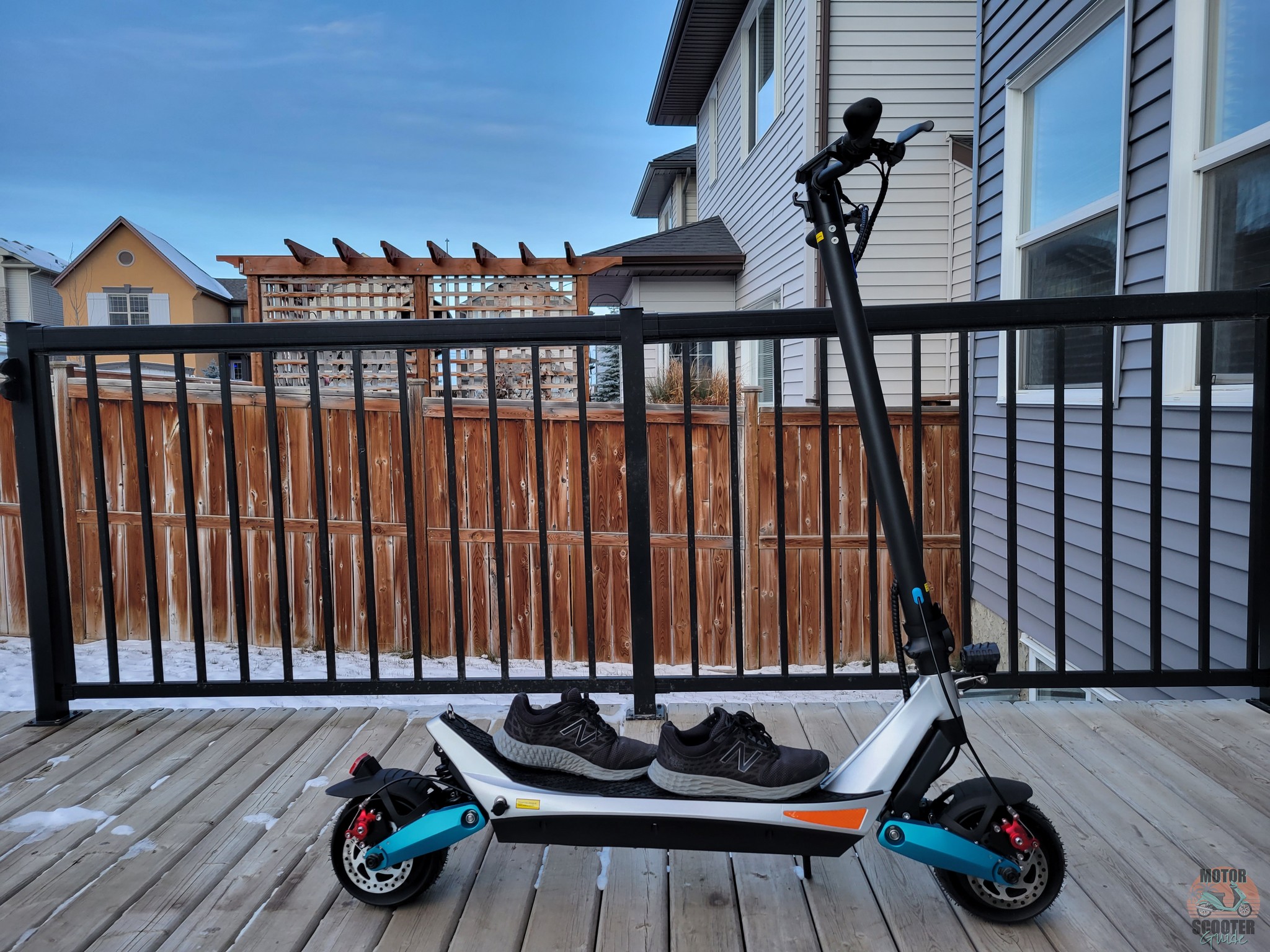 Other small additions such as the deck loop are appreciated as the Pegasus weighs nearly 70lb / 31kg and measures close to 50 inches in length. Carrying it around is cumbersome and being able to lug it securely by the stem is a boon.
Their offroad scooter suffered from this lack of feature and it seems that Varla has made a deck hook for the Eagle One available for purchase.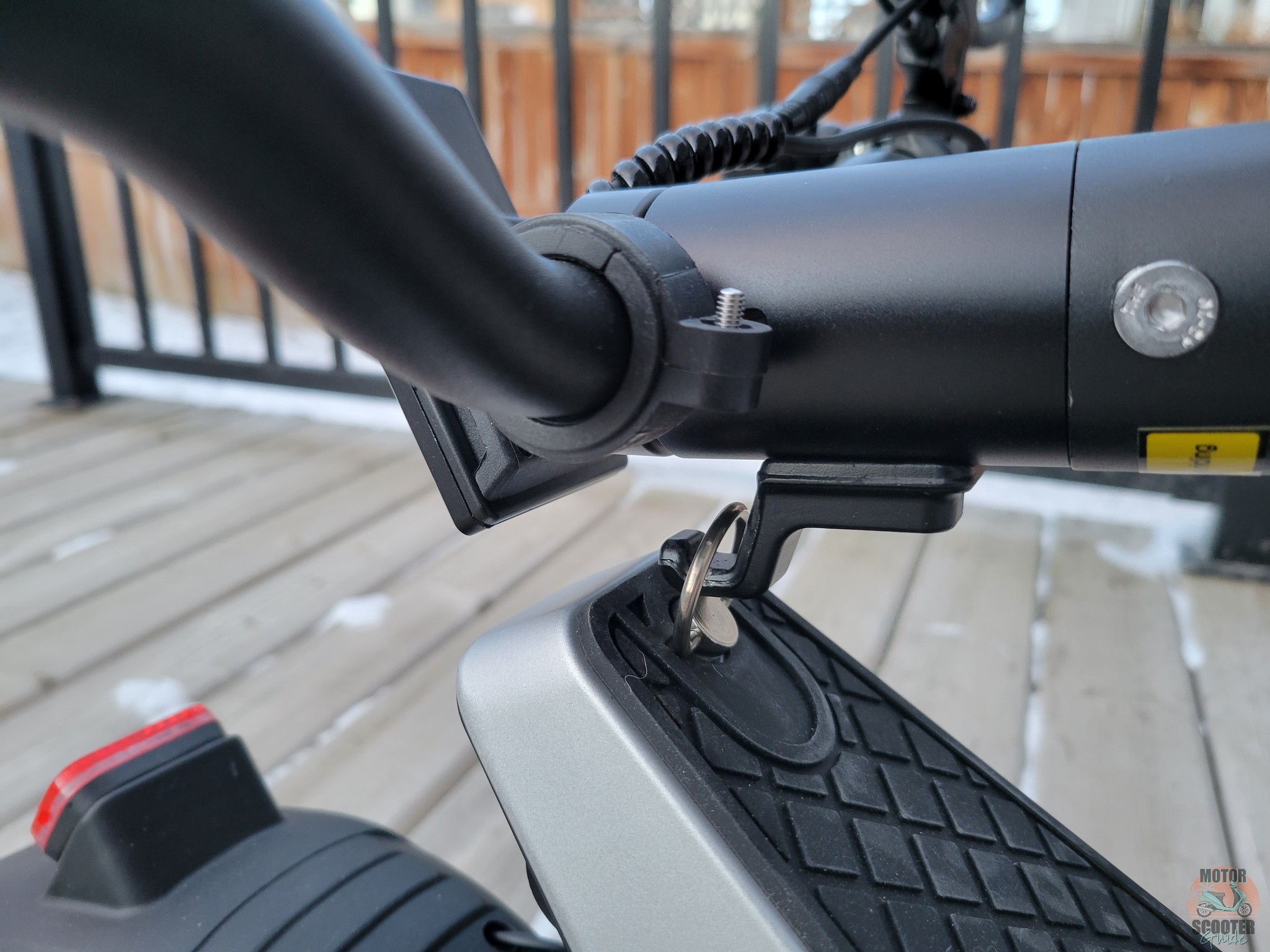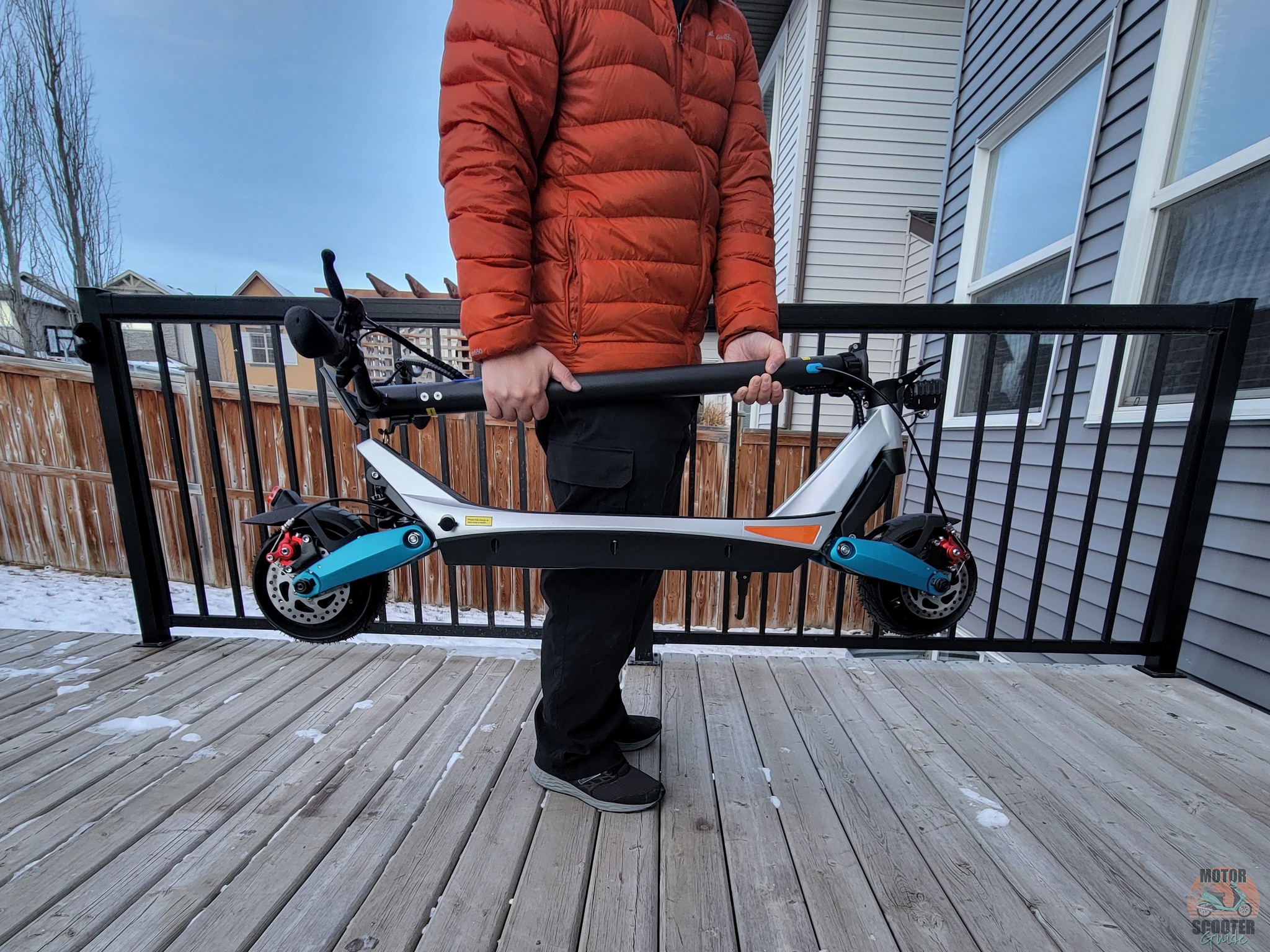 The Varla Pegasus is marketed as a long-range commuter scooter which offers a spicy amount of power for those that want just a little bit more excitement out of their commute.
As a relatively inexpensive dual-motor scooter, the Pegasus is currently available for $1199.99USD. For a limited time, Varla has offered a coupon code on their website (VARLA100) for an additional $100 off on a single scooter.
Varla Pegasus Photo Gallery