Video Review
Introduction
If that video from Royal Enfield isn't enough to make you want to ride these bikes, I'm afraid the motorcycle rider part of your soul must be dead. The only way to resurrect it is to take one of these retro-styled bikes from India out for a few hours of unbridled two-wheeled therapy.
AimExpo 2019: Columbus, Ohio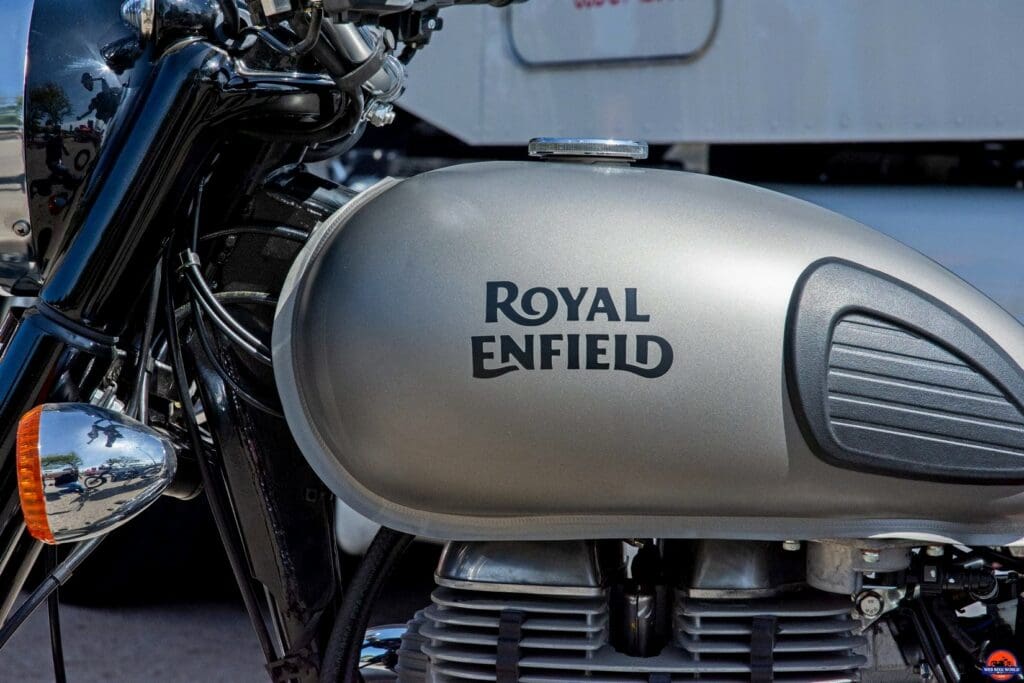 I'm standing in the demo rides parking lot at AimExpo 2019 with Wade Thiel and Cameron Martel.
We're sizing up all the available motorcycles beckoning to us, desperately trying to choose the wisest use of our time here in Columbus, Ohio. We've only got two short days to work with to cover this 2-wheeled extravaganza, shin-dig, ho-down, hootenanny, and there are 9 different manufacturers here to choose from.
KTM, Husqvarna, Honda, Harley Davidson, Kawasaki, Suzuki, Yamaha, Vanderhall, and Royal Enfield are all in attendance with numerous bikes on hand to test out. As I take inventory mentally, I'm struck by the fact that two of these builders are not like the others and that immediately makes the choice clear to us.
Vanderhall and Royal Enfield both stand out from the others and since this is about motorcycles and not "autocycles" (despite the Vanderhall WOW factor) our gaze settles on the Royal Enfield tent.
"Wade… I think we better try out one of these new 650cc twins from Royal Enfield."
"We definitely should. Oh man, I forgot my helmet back in the car… Do you think they have a loaner for me to use?"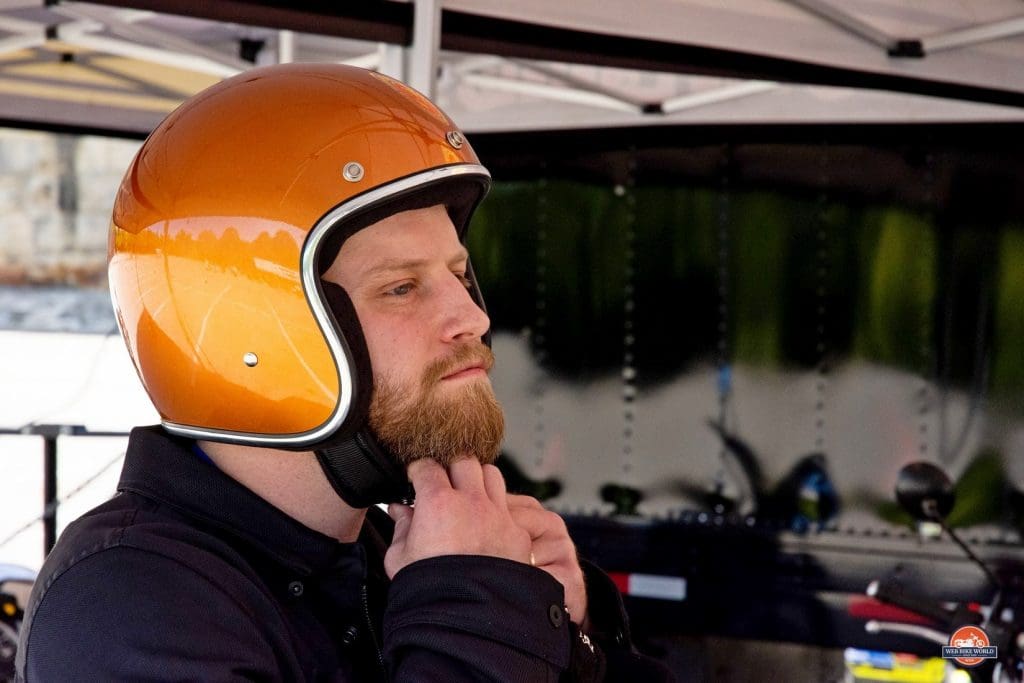 They sure did.
Not only did they have a loaner helmet for him, but it was a color matching helmet for the bronze-orange colored INT650 bikes we were offered by the RE (Royal Enfield) reps.
Nice touch, eh?
Specifications
2019 Royal Enfield INT650 (Interceptor)
Price: $5,799 USD (that's brand new… not used pricing)

Engine: Air/oil-cooled 648cc SOHC parallel twin

Bosch fuel Injection via dual Mikuni throttle bodies

Firing Order: 270-degree

Fuel Capacity: 3.6 gallon/13.7 Liter

Fuel Economy: 58mpg or 25kmpL

Horsepower: 42.5 hp @ 6,820 rpm

Torque: 37.5 lb.-ft. @ 5,010 rpm

Top Speed: 100mph or 161kph

Transmission:    6-speed with cable-actuated slipper clutch

Final Drive: Chain

Seat Height: 31.6 inches or 804mm

Brakes: Twin-piston ByBre calipers on 320mm disc front & 240mm disc rear

Dual channel ABS Standard

Front Suspension: 41mm forks with 4.5-in., travel non-adjustable

Rear Suspension: Dual coil spring gas shocks, 5 position, preload adjustable with 3.5-in. travel

Front Tire: 100/90-18 (tubed) Pirelli Phantom Sportcomp

Rear Tire: 130/70-18 (tubed) Pirelli Phantom Sportcomp

Claimed Wet Weight: 445 lb.

Made in India
*** 3-year unlimited mileage warranty with roadside assistance***
First Impressions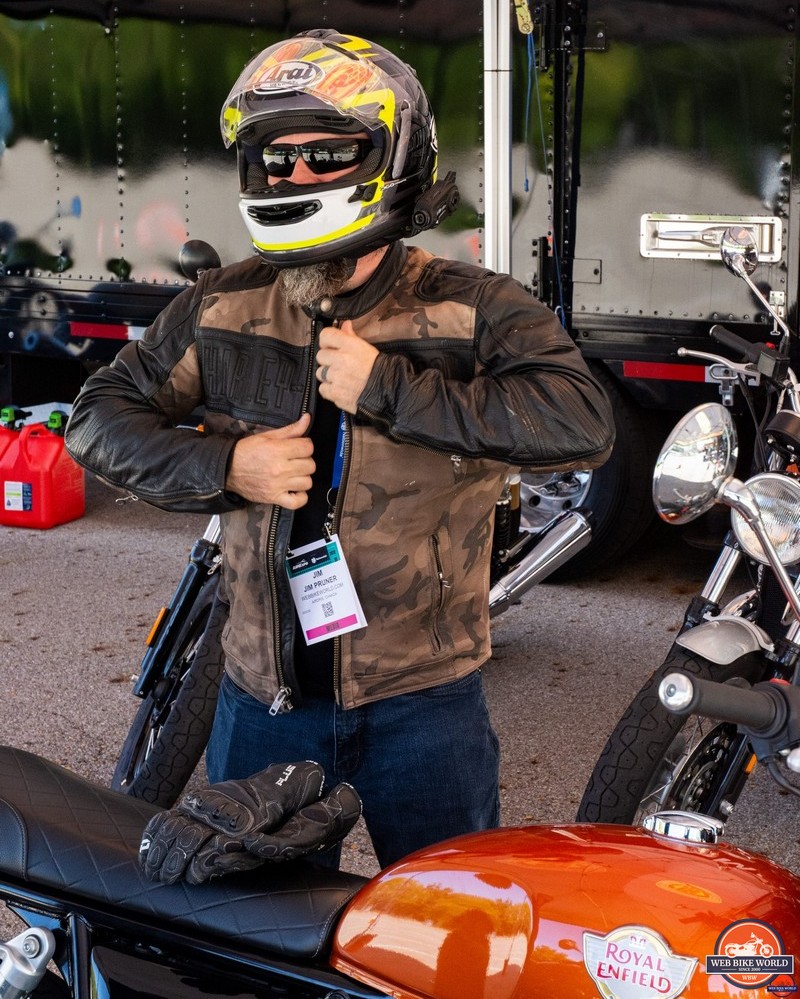 Jim says:
The mechanical simplicity and appearance of this retro-styled cruiser are what appeals to me most. It takes me back to the first motorcycles I ever saw or rode back in the 1980s. My Dad owned several different model years of Honda CB750 Four motorcycles that I rode on as both a passenger and a rider while growing up.
Royal Enfield has perfectly captured that 1970s look with this INT650 (Interceptor) and I especially fawn over the glittering orange gas tank on it coupled with the twin chrome exhaust pipes. From what I know these gas tanks and body panels are hand-painted in India at the factory.
***Edit: After publication I heard from a Royal Enfield rep that only the Bullet model gas tanks have hand-painted pinstriping done on them by two brothers who work at the factory.***
I'm instantly charmed and can't wait to demo a RE for the first time.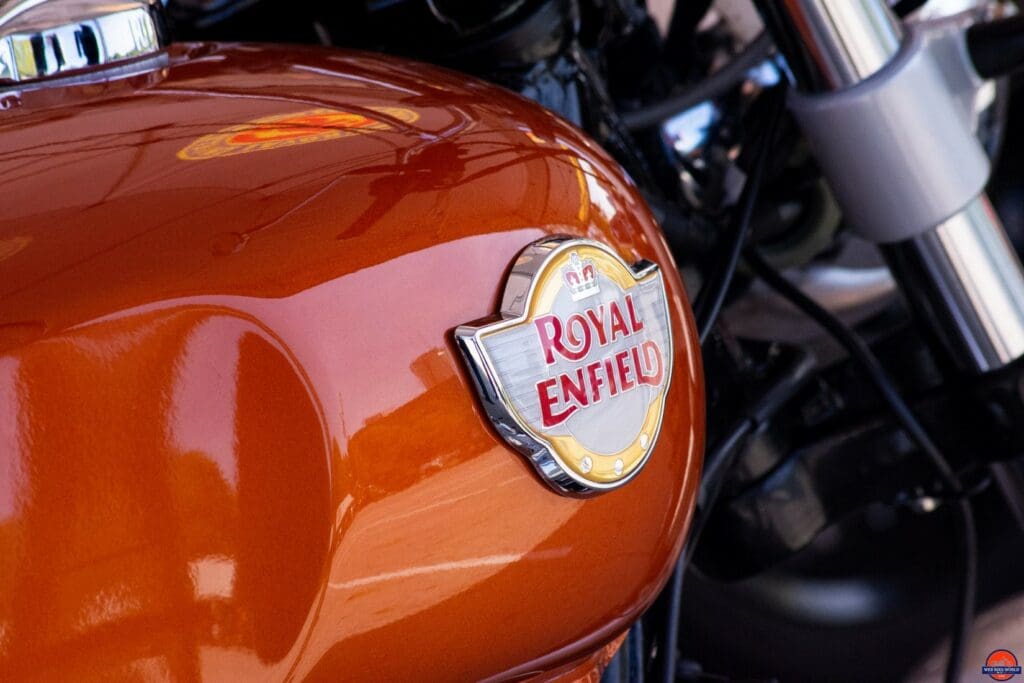 Wade says:
Royal Enfield has always had a special place in my heart. My grandfather owned a Bullet a long while back. I never saw the bike in person, but I have seen pictures, and he talked a lot about it. I'm glad there's still a classic look to these new bikes, and the simplicity of the thing had me grinning before we even walked over to the company's tent.
Up close, these INTs look great. They're properly proportioned and the bright orange tank and classic looking badging give the bike an old-school feel. They look good from every angle, too. It's a bike I would love walking out to every time I go for a ride. 
Ride Report
Check out the video ride review here which I filmed using a SENA 10C Pro (review).
Engine
Jim says:
This twin-engine is lovely in several ways.
The Bosch fuel injection provides easy starts, smooth idling and precise, yet measured acceleration. I like the immediately responsive, user-friendly torque and horsepower typical of all 270-degree firing order inline twins I've ridden. That tuning also blesses this Interceptor with a gurgling exhaust note many people often compare to a high-revving V twin if you can believe it.
Exhaust Choices:
The RE rep told us there's optional S&S exhaust available from the factory to liven things up if you are so inclined. If I buy one I will definitely go that route. Here's a video to show this bike's potential voice:
Maintenance:
There's no manual cam chain tensioner to worry about adjusting in this pleasantly basic SOHC engine. Instead, you'll find an auto-tensioning system that should be maintenance free.
Even better, no shim and bucket system to fuss with when adjusting the inlet/exhaust valves. True to the retro design you'll find the old fashioned threaded adjuster rod and jam nut design which makes engine maintenance do-it-yourself.
Versatility:
The 42 hp it provides is just right for in the city or on highway cruising without being boring for a seasoned rider and yet would also suit a beginner rider's needs. It's no Triumph Bonneville T120 or Thruxton to be sure, but why does it need to be?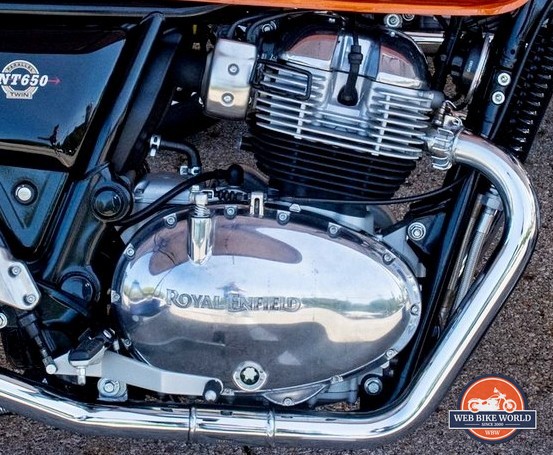 Wade says:
The 648cc parallel twin engine looks mighty handsome in the Interceptor's frame, and it delivers power in an equally satisfying way.
Throttle Response: 
The throttle response thanks to the fuel-injected engine is smooth and linear. There's plenty of torque at the low end and there's enough power on the highway, too.
Mind you, this isn't going to blow the doors off the cars and around you, but it'll keep you right up with them, and the engine even gives you a little extra oomph to shoot around or past them when needed.
Ease of Use:
The engine isn't overly complicated. Royal Enfield has focused on making the engine nearly as much of a throwback as the overall look of the bike.
With that said, the Bosch fuel injection eliminates the need for a pesky carburetor, something I'm sick of dealing with on older bikes. Essentially with this engine, you get easy to use and control power in a simple package you can easily do most of the maintenance on yourself. That's a win in my book.
It's a hearty little engine that idles smooth and sounds good, too.
Handling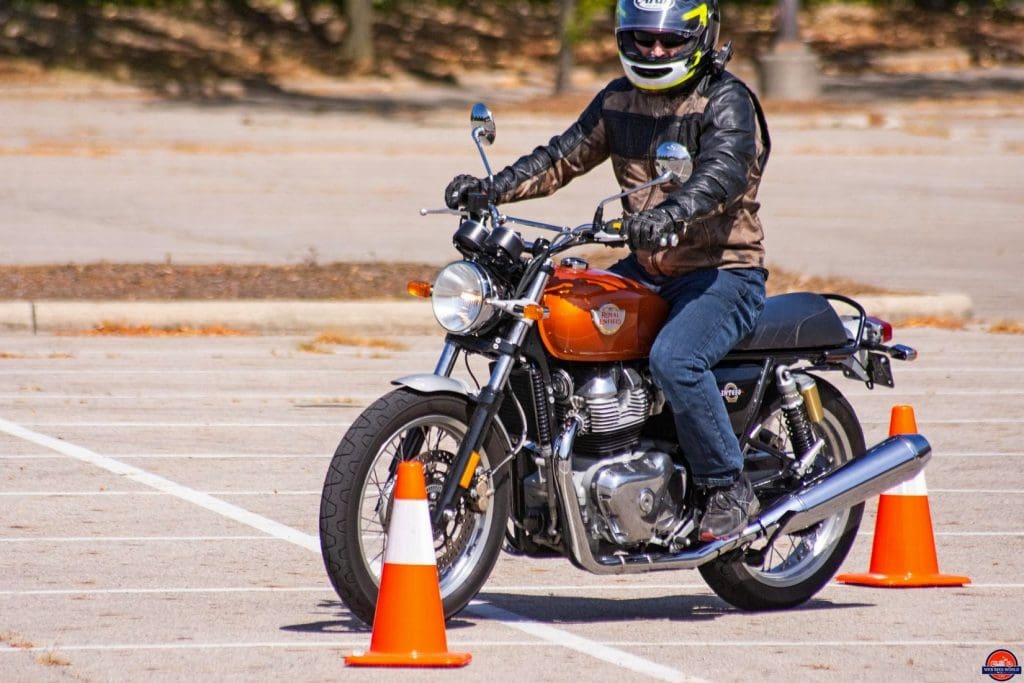 Jim says:
Those pylons didn't stand a chance… I rode circles around them.
I decided to see how the bike did on slow speed turns in the parking lot by weaving through the sets of orange cones scattered here and there. It was a breeze and the INTerceptor was equally agile out on the streets over varied terrain.
Weight: 
The wet or curb weight of this bike will be closer to 470lbs, but that's lightweight enough for my liking in almost any riding environment. It has a perfect amount of rake to corner well and in general, the bike made me want to ride all-out IF I had better rubber on it.
Tires:
The Pirelli tires that come stock with it aren't my cup of tea. They didn't feel like they were hooking up as well as I would have liked in hard cornering. I would exchange them for something either sportier or possibly adventure/dual sport to cure that small irritation.
Wade says:
We rode a bit both in town and on the highway and the bike performed admirably in both areas. Are there better city bikes? Yeah, I could name a few. Are there better highway bikes? I could name dozens. What makes this bike good is that it does both pretty well. Its handing is well-suited for pretty much all types of roads.
Maneuverability:
The Interceptor isn't a heavy motorcycle. At 470 pounds it's very easy to maneuver at both low speeds and high. I wouldn't call it flickable, but it's definitely easy to put this bike right where you want it.
The bike doesn't feel too light or quick. Some smaller machines have a tendency to feel a little flighty at speed and the Interceptor didn't. It was a splendid middle of the road. The company has done a great job of making a motorcycle that's very easy to maneuver without it going too far.
Tires: 
The tires on this bike are some Pirelli Phantom Sportcomp tires. You get 18-inches upfront and in the rear. Royal Enfield's spec sheet says they were "specially developed for Royal Enfield to complement the chassis and suspension in all riding conditions."
I didn't find these tires to be anything special. They were the only thing that gave me pause while riding the bike. I'd prefer something a bit stickier. However, I'd probably run these tires ragged before trading up.
They weren't great, but they performed fine for around town and during mild highway duties. I'd ride them until they needed replacing and then upgrade to something better.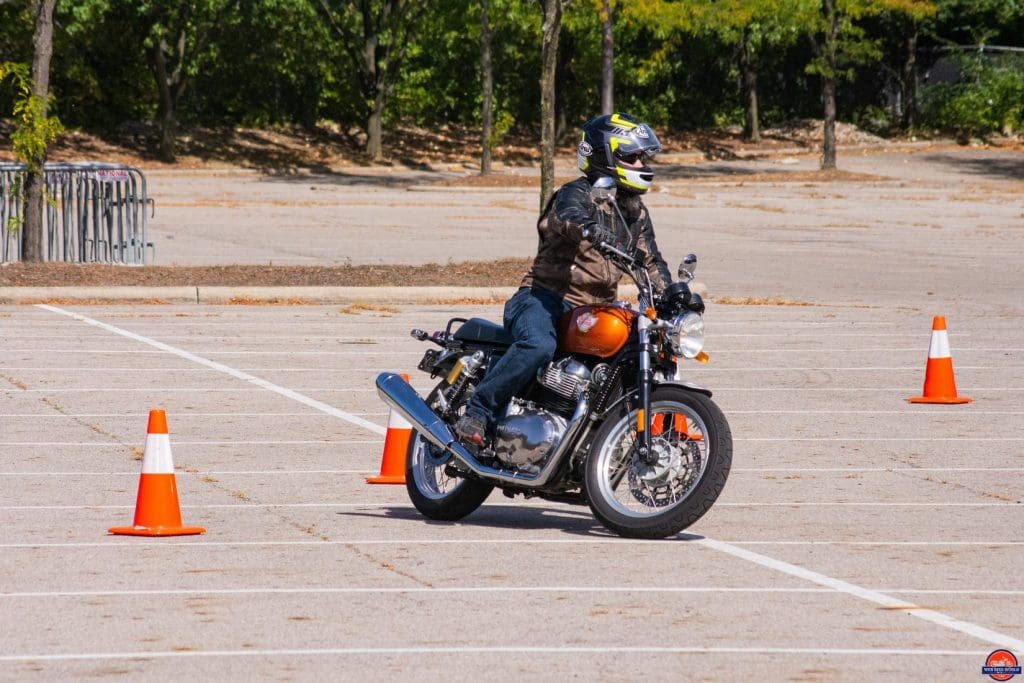 Braking
Jim says:
After our ride, Wade remarked that he didn't like the brakes very much which was very different than my thoughts on the matter. I actually said in response to his comment "they're not Brembo, but I doubt Royal Enfield would ever claim them as such."
As it turns out I was wrong! The "Bybre" calipers on the INT are built by… Brembo! How about that? ByBre = ("By-Brembo").
They don't have quite the same degree of luxurious, one finger modulation that comes with the usual Brembo products, but they work plenty good for a single disc front and rear setup in my hands.
Maybe Wade's bike didn't have the pads seated quite yet and mine did? You never know what exactly the state of existence will be on any given demo bike after all. I've been given demo bikes in the past that weren't even broken in yet.
Wade says:
The brakes on the Interceptor worked fine, but they didn't offer much feel and they could have been stronger. I didn't have to do any panic stops—thank the Motorcycle Gods—but I wonder what would have happened if I did.
Like I said, the brakes stopped the bike fine, and I didn't have any major issues, but I wanted more bite from them. Each time I touched the brakes it took a little more pressure than I expected.
Jim and I thought they weren't Brembo brakes, but… whoops. They are—kind of. The ByBre are made by Brembo. There's a 320mm floating disc in the front and a 240mm at the rear. There's also BOSCH dual-channel ABS.
The not-Brembo-but-made-by-Brembo brakes are something else I might consider updating if I were to buy one of these. There's always the chance that you'd get used to squeezing that brake lever hard, though, and not feel the need to upgrade in the end. I'd need more time with the bike to really make that decision.
Comfort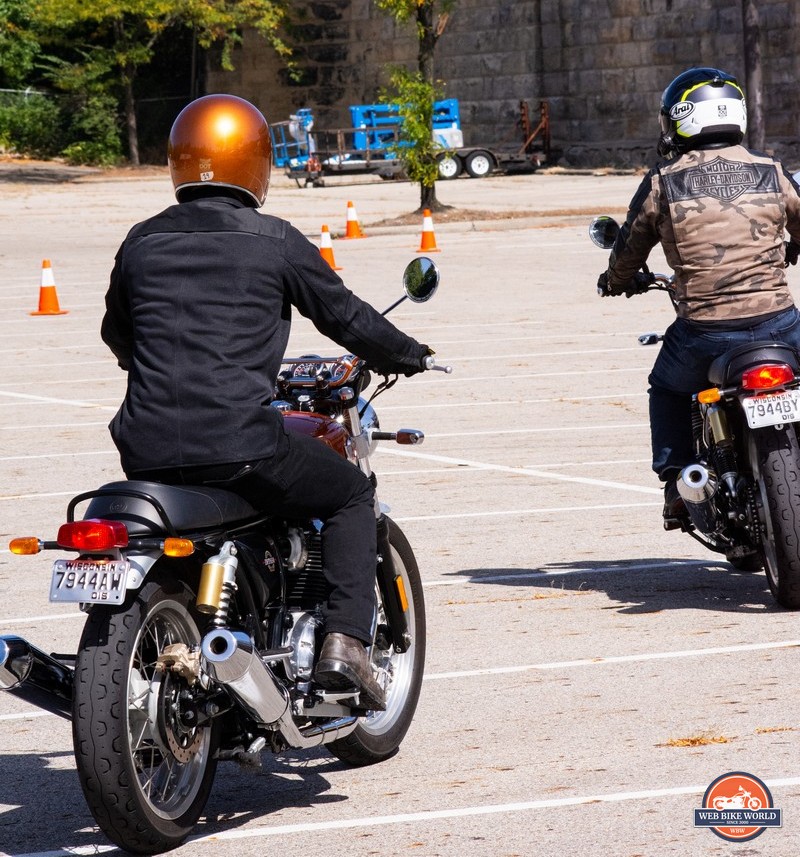 Jim says:
The upright seating position, width of the handlebars, footpeg location, and seat all add up to a perfectly comfortable ride.
The seat could perhaps be slightly curved and wider to better "cup" the rider's backside more ergonomically, but that would spoil the retro bench style of it. The 31" height works fine for my 5'7" height and 27" inseam when it comes to reaching the ground. I can't flat foot it on both sides, but I'm close because of the narrow midsection of this Interceptor.
I have no legitimate complaints about this motorcycle from a comfort perspective, although I can't completely gauge it after only a 30-minute test ride to be fair. Full marks to RE for this traditionalist look and feel of a "standard" motorcycle template.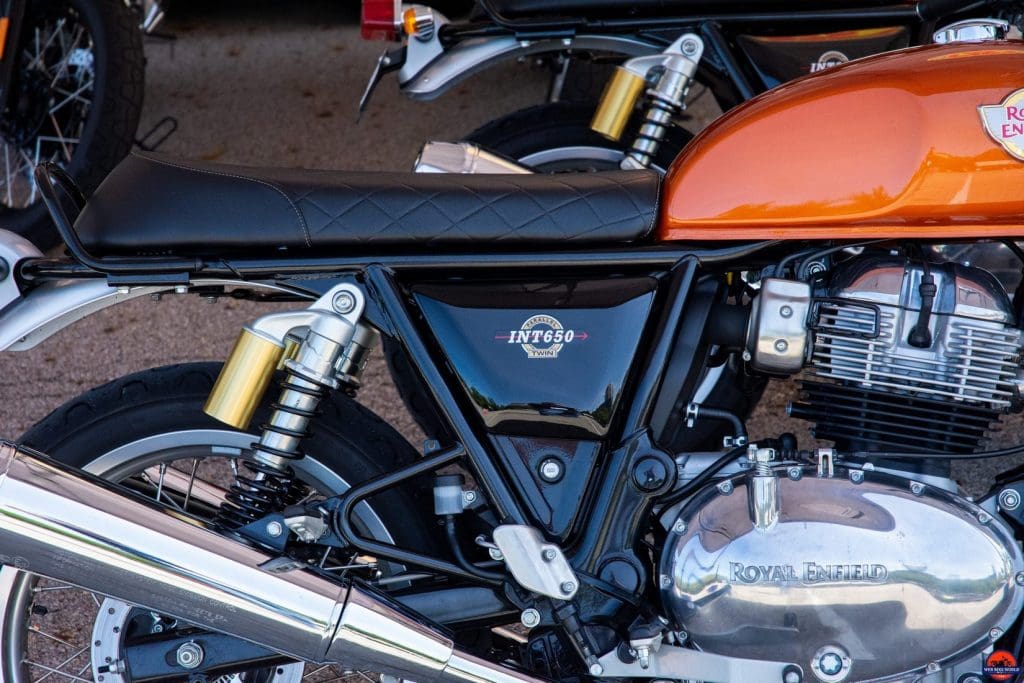 Wade says:
The ergonomics of the bike are spot on. I like a good upright riding position. The footpegs are appropriately placed and not too high or low. Pair that with the wide handlebars and flat seat and you have a comfortable riding position. It's one that doesn't put too much strain on any part of your body.
The 31-inch seat height was no big deal. I have a 30-inch inseam. I couldn't flat foot the bike, but I definitely had both balls of my feet firmly planted. The thing that I actually really liked about the bike was the fact that the bench seat wasn't too wide. Some other bikes with a retro-look have a too wide and squared-off seat. The Interceptor's felt fine.
It's a little on the firmer side. The company could soften up the foam on the seat and let the padding really conform to your backside, but honestly, it was not a bad place to sit.
Styling: 6 Different Paint Schemes
Gas tanks have 6 different paint options: Silver Spectre, Baker Express, Mark Three, Ravishing Red, Orange Crush, Glitter & Dust
Jim says:
As I already mentioned these gas tanks are rumored to be hand-painted at the factory in India, which appeals to me. There are six different styles to choose from and I enjoy the thought put into every one. There's quite a spread in price depending on which way you go with the paint as you'll note by clicking on the link above to check them out on RE's website.
The Orange Crush or Ravishing Red would probably be my pick of the lot.
Wade says:
The Interceptor is a truly handsome classically styled motorcycle, and the paint on these tanks is a high point for the bike. The six different color schemes all legitimately change the look of the motorcycle.
There's a pretty good differentiation in price too, but then these things are supposed to be hand painted, so I guess I get that. The Orange Crush on the bikes we rode looked very good, but if I was buying one I'd pick the Baker Express.
Value For The Money?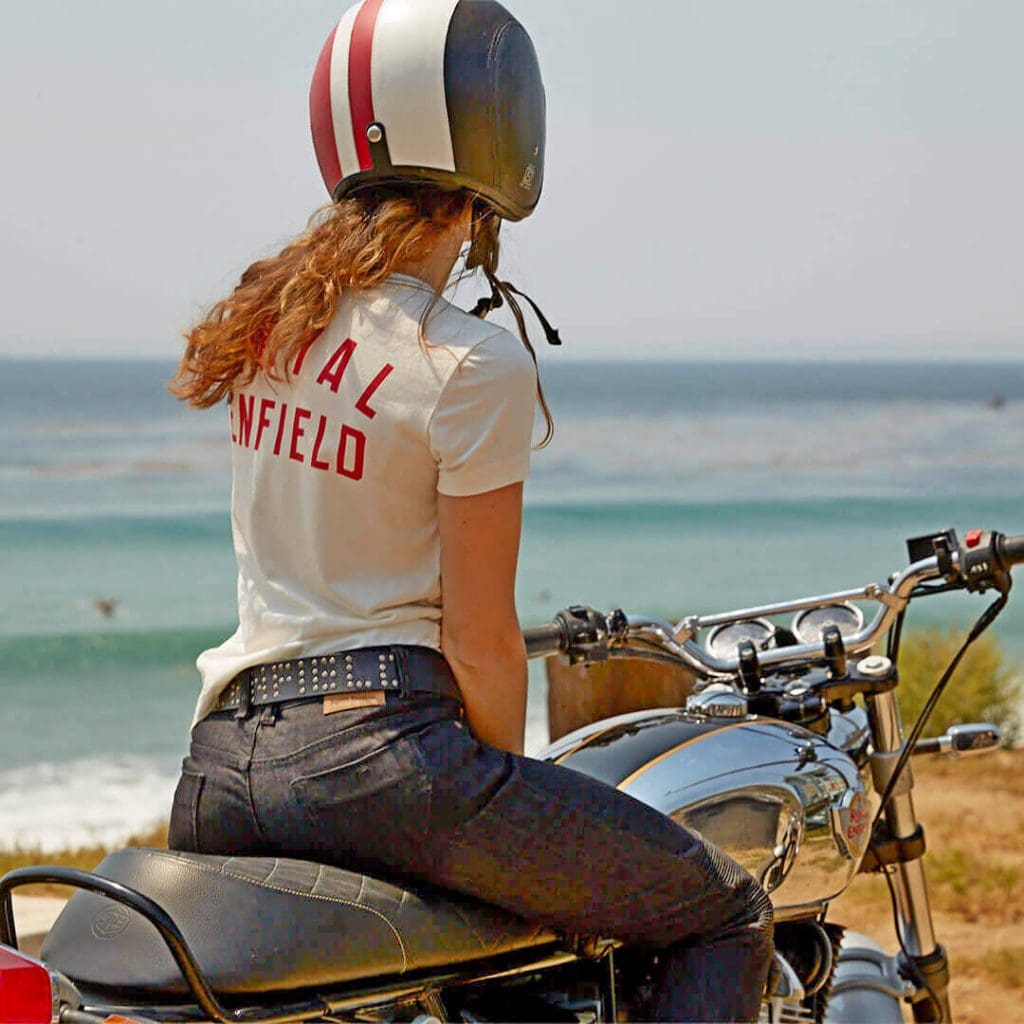 Jim says:
It Makes "Cents":
What a bargain these bikes are! Granted $6000 USD is nothing to sneeze at, but compare that to other retro cruisers on the market from Kawasaki or Triumph costing several thousand more and in some cases almost double.
It's true those more expensive bikes have higher engine displacement with fancier features and technology, but the Interceptor does at least come with fuel injection and ABS as a standard feature so it's not a total dinosaur.
Roll The Dice?:
Reliability is the main question brought up when it comes to RE bikes and rightfully so. I'm the first person to laud Japanese engineering and consistency/quality of build… but DOUBLE the price makes it pretty easy to roll the dice on these new Twins from India.
Peace Of Mind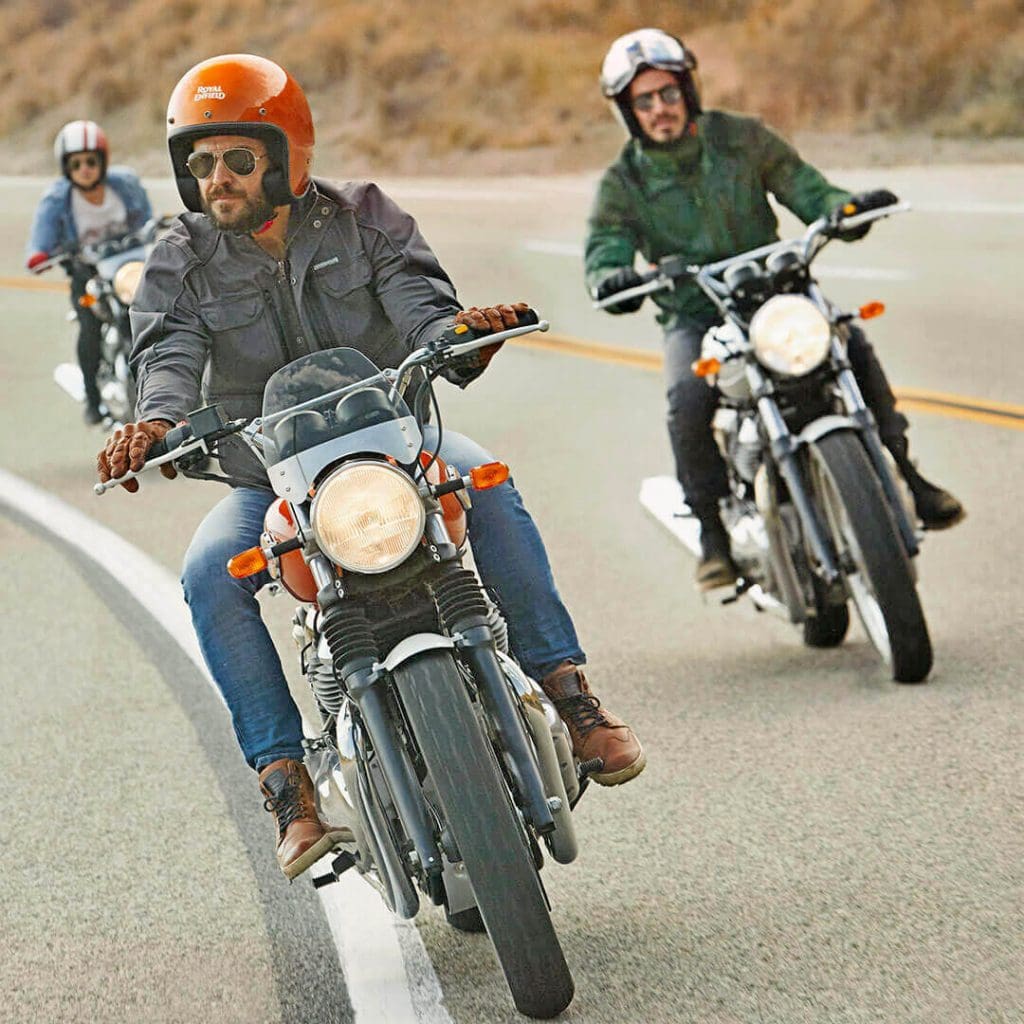 Still waffling? Ok here's the ace in the hole: Royal Enfield offers a 3-year unlimited mileage warranty on any newly purchased 650 Twin AND roadside assistance. That's putting their money where their mouth is.
Shots fired for sure in every other manufacturer's direction on that move. Bravo!
Here's a long term review video from YouTuber stuart fillingham to explain possible issues he's encountered with ownership of an INT650.

Wade says:
The fact that you can get one of these motorcycles for under $6,000 is fantastic. If you'd told me these things cost $10,000 I'd have said they're too much. But for $5,799 or $5,999 depending on the paint? Royal Enfield will be collecting money from a lot of really happy riders.
And for good reason. The performance, aesthetic, and comfort are all there. The only real question with these bikes is how they will last. Royal Enfields have a somewhat dubious reliability history. One of the first things that people say to me when I talk about them is, "Yeah, but what's the reliability like?" Honestly, I don't know.
What I do know is that Royal Enfield is offering a 3-year unlimited mileage warranty on their new 650s. You also get roadside assistance. That and the much lower price than the Japanese and European counterparts are enough for me.
I do have to note that one of the guys who works at the Honda dealer near me used to work on Royal Enfields. He said the issue with them is not reliability so much as parts availability. He did say that it has been several years now since he worked on them and that Royal Enfield should be better about this.
With that said, he told me a story of a guy waiting for a gasket for six months only for it to come and be the wrong gasket. Hopefully, parts availability isn't an issue anymore. Also, he works at a Honda dealer now, so I didn't really expect him to say nice things about the competition, especially when these bikes are so affordable.
Final Thoughts? Score Out Of Five Stars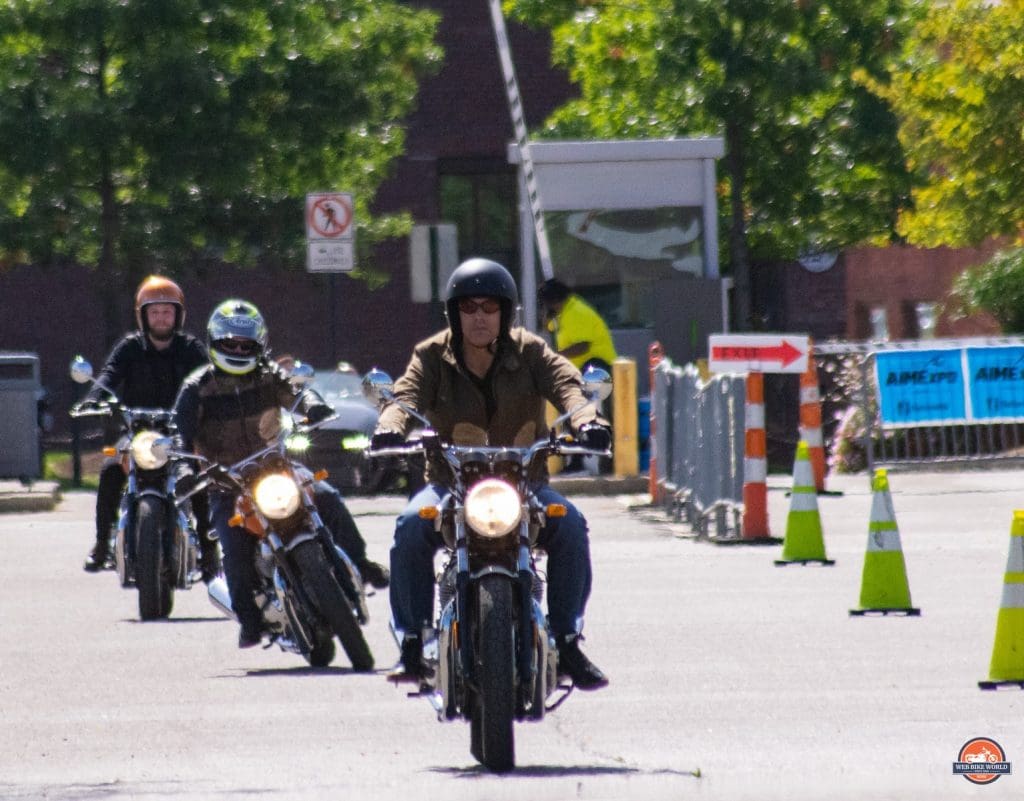 Jim says:
When these new models were announced, I remember the excitement on our FaceBook group amongst the regulars. I myself wasn't overly pumped about them at the time, but as I took in the specs and price things began to grow more appealing. Riding one sealed the deal so to speak.
The motorcycle market today is flooded with expensive machines imbued with high tech gadgetry. They're wonderful and performance has never been better thanks to that technology, but I'm certain most riders occasionally yearn for a basic bike to move them around.
This is the machine needed to fill that market niche perfectly if Royal Enfield chooses to stand behind their product. Additionally, this bike can easily serve as one to learn on for newbies further compounding its value to the motorcycle market everywhere.
I think Royal Enfield has made a brilliant move here. I'm a big fan and would give this Interceptor a solid 4.5 out of 5. There really are no negatives other than tires for me but I would need to ride it a lot longer than I did during this 30 minute demo to score it any higher.
Here are some other concerns I need addressed in order to give it a higher score;
What will long term reliability look like?
How well will Royal Enfield honour that 3 year warranty?
How quickly and how often will these bikes need repairs.
The dealer network is still very sparse across North America, so if you're a long way away from one that will play heavily into ownership.
Having said all that, I would be up for it. Easy for me to say since I have a dealer only 20 minutes away from my home.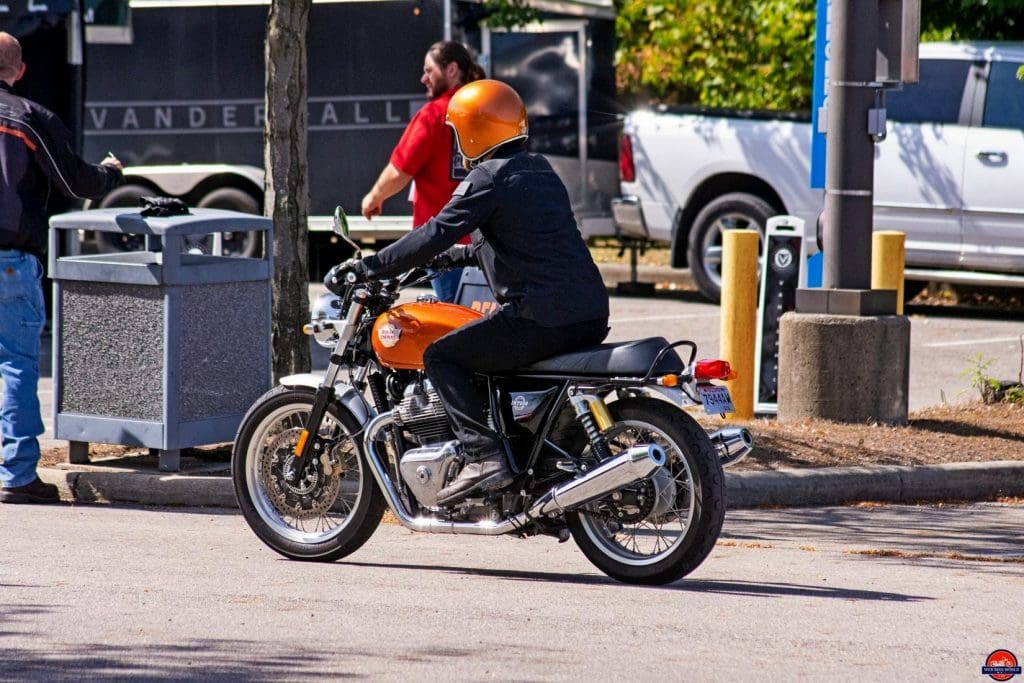 Wade says:
There's a Royal Enfield dealer about a 15 minute drive from my house. After riding this bike I was tempted to go down there and buy one. I wasn't totally enamoured with every little bit of the Interceptor. The tires and brakes left a little to be desired for me.
However, I'm a huge fan of simple machines. In the age of overengineered and high-tech motorcycles, the Interceptor is a breath of fresh air. It's a cool-looking bike with relatively modest power and capabilities. It's a bike that knows what it is, and what it is is a kind of street bike jack-of-all-trades.
It would work as a starter bike, it works as a commuting bike, and you can legitimately ride it on the highway. It also would look darn good outside a restaurant, cafe, or wherever you go to hang out with your buddies and try to woo whomever you try to woo.
I like smaller displacement bikes, too. Honestly, a 650 is about as big as I plan on going for my next bike, and I love the retro styling that many manufacturers are coming out with. The Interceptor fits into a slot in the market that's honestly somewhat empty. It's a unique package and as long as these things aren't basket cases when it comes to reliability, I'd expect the company to sell plenty.
I would give this bike a 4.3 out of five stars. I have few complaints about it. The tires and brakes could be better, but for a simple machine in a unique area of the market at a low price, this bike is a winner in my book, at least after only a short ride around Columbus, Ohio.
CopyCat Opinion?
You may find Wade and I echoing each other on this review for the most part and begin to wonder if we're actually the same person.
We aren't and in reality, we look for different things in a motorcycle. If you check around with other reviewers that have tried out these Twins you'll see that we aren't the only ones gushing about these new Royal Enfields.
I did a fair bit of searching myself after writing this piece to make sure I hadn't missed something and found a solid consensus amongst reviewers on the INT650.
They're legitimately good!