Indian Motorcycle has introduced new features to make their Thunder Stroke 111 models cooler – rear cylinder deactivation and low fairing ventilation.
Indian Motorcycle Australia has not yet released 2019 prices or when the models will arrive, except to say "later this year".
Check out the new colours for the 2019 Scout and Scout Bobber here. 
We were expecting the Thunderstoke engine would be increased from 111 cubic inches (1818cc) to 116 cu in (1900cc) like their big-bore kit, but that did not happen. Maybe next year.
Instead, they say they have listened to customers and introduced new technology, improved audio, Dark Horse style updates and more colour options.
Cooler engine
Instead they have introduced rear cylinder deactivation which stops the rear cylinder while you are stationary at the traffic lights to decrease heat on to the rider's legs.
Harley-Davidson introduced the feature in 2014 in their Rushmore range and it is now available in all their Milwaukee Eight engined models.
On the Harley models, you have to roll the throttle forward twice to engage the deactivation feature.
On the Indian models, when the engine reaches operating temperature and the ambient temperature exceeds 15C, the rear cylinder will automatically deactivate when the bike is at a standstill. The rear cylinder instantly reactivates when throttle is applied for a seamless transition to full power. 
Ride modes
Indian has added three throttle-map  ride modes that riders can select on the move – Tour, Standard or Sport. 
They say Tour mode features a smooth throttle response for relaxed cruising, Standard has a a crisp throttle response and "well-balanced power delivery for responsive passing power and predictable, slow-speed handling". 
Sport mode features full power and instant throttle response for "aggressive power delivery for head-snapping acceleration".
Cooler airflow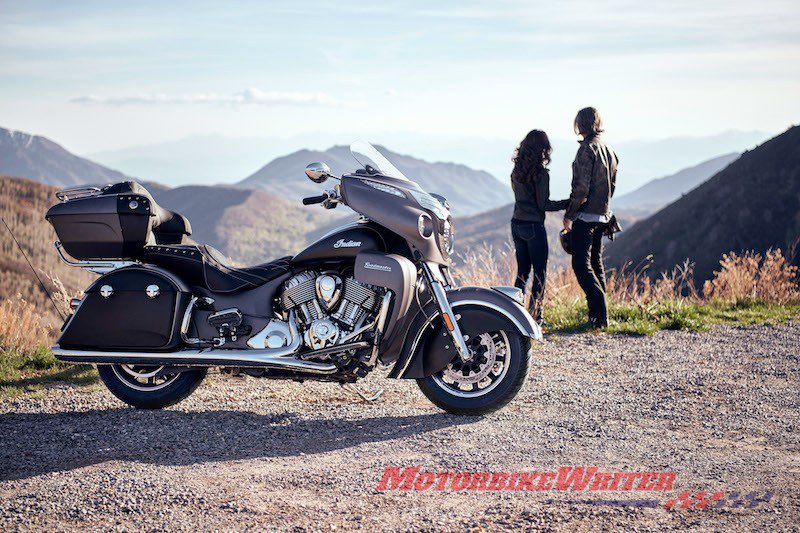 The lowers on the 2019 Roadmaster have been redesigned with new vents for more airflow.
They can be retrofitted with the addition of new highway bars. 
Audio upgrade
The audio system now has separate tweeters and the dynamic equaliser adjusts specific frequencies at different vehicle speeds to compensate for road, wind and engine noise. 
"The result is crystal clear, 100-watt premium audio at all speeds," they say. 
Darker horse
Chief Dark Horse and Springfield Dark Horse now have gloss black finishes on the engine including the primary, valve, and cam covers, push-rod tubes, and saddlebag hinges. The exhaust has also been fully-blacked out.
Springfield Dark Horse now comes in Thunder Black Smoke and a new White Smoke option. It also adds the iconic Indian headdress on the front fender and has a 19" contrast-cut wheel.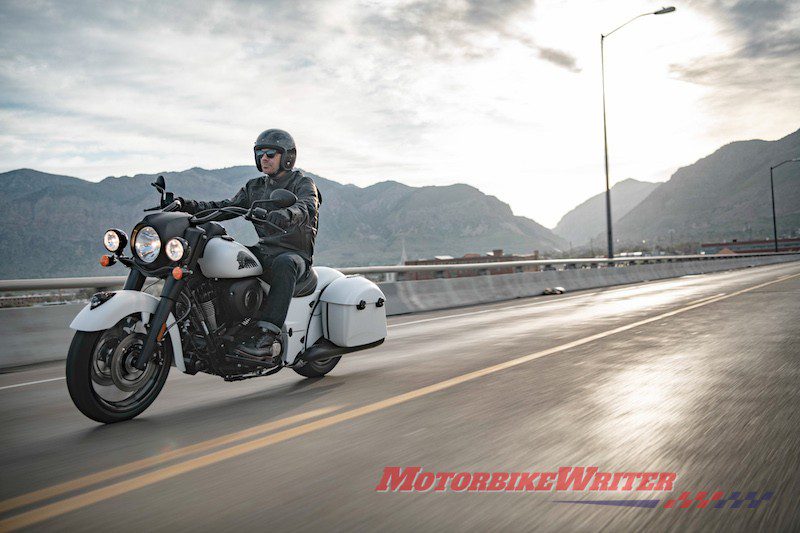 The front highway bars and windshield have been removed.