Honda CRF450L Test Ride Review Summary
Review Summary
In a nutshell, this is a CRF450X with lights and blinkers on it. This modern dual sport should have been built long ago by Honda and it won't disappoint. A bike that will comfortably do 75 mph on the highway to get to the single track wilderness and then play in the mud all day. Honda has finally given the people what they want and at a competitive price.
Pros
Lightweight
nimble
good power and easy to ride in all conditions
Modern look with excellent build quality and priced competitively
LED lights all around with nearly unbreakable turn signals
Perfectly fills the gap between the less expensive DRZ400 and the more expensive KTM and Husqvarna competitors
Cons
Grips and seat buzz uncomfortably at highway speed
Tubed tire rims (some may see this as a pro)
Expensive to buy compared to DRZ400
I Love It!
I admit freely to generally liking all Honda motorcycles. Not that I won't criticize shortcomings on them, but overall I just like the cut of their jib.
They build bikes that make the rider feel more confident in their ability. They focus on imbuing their bikes with user friendly torque curves and power bands tailor-made for specific applications. Honda bikes have a unique design and sound aspect too. I can almost always tell I'm riding one instinctively.
I swear they even smell different than other motorcycles…
My Friends at Adventure Honda
I bonded with the 2017 Africa Twin I rode over 1000 miles to Tuktoyaktuk in June and I was pretty confident the new CRF450L would be a friend too. I literally jumped out of bed yesterday morning when I saw a FaceBook post from Adventure Honda in Calgary proclaiming that they had just received a demo unit in house I could try on asphalt (sadly no dirt demo).
The 2019 CRF450L isn't perfect, but it's damn close.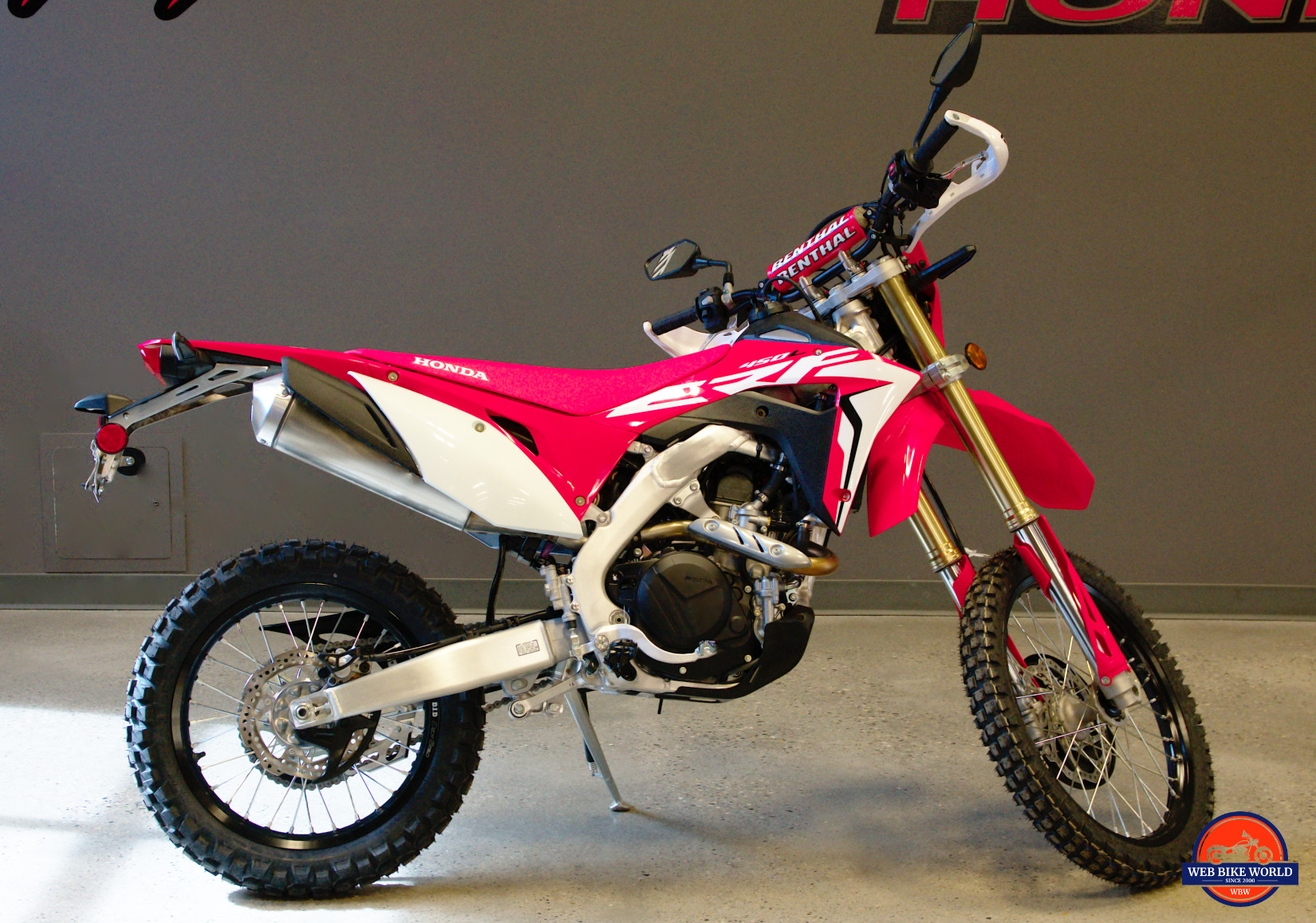 Dead sexy.
This is a very attractively styled dual sport bike whose ample ground clearance, high fenders and plush suspension cry out "take me to a muddy or sandy place to play!!!". The finish quality is second to none. Everything is as it should be in a high level off road bike.
There is an abundance of aluminum, stainless steel and other expensive metals like titanium laid out on the bike which contrast the fiery red and white plastic panels along with stark, black aluminum rims. Honda claims the graphics were designed to be more resistant to peeling caused by abrasion or pressure washing. I'll believe that when I see it!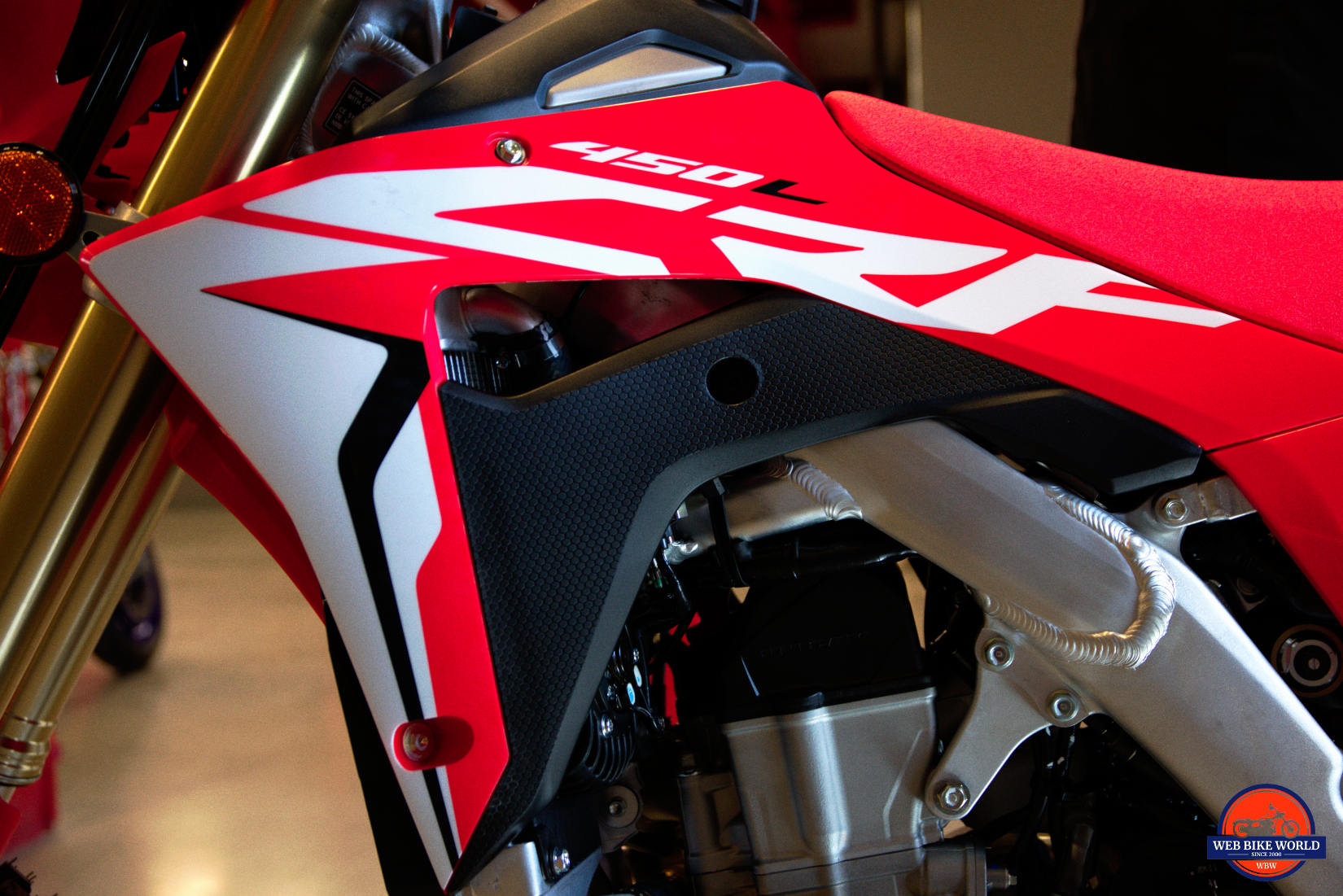 The headlight is tinted as if to imply this is bike so cool it has to wear shades all the time.
Tall!
The seat height is a terrifying 37.1 inches for anyone only 5'7" tall with a short 27" inseam. How am I going to comfortably control this bike? There's no way I'll come anywhere close to flat footing it, but can I even reasonably reach the ground? I nervously swing an arcing roundhouse kick up and over the saddle while standing on the left footpeg to find out.
As it turns out, yes!
Brilliantly, Honda purposely narrowed the cross-section of the frame and seat to a taper thin enough over the pegs that I can comfortably rest one foot on the right peg and the other ball of my foot on the ground. It's not ideal, but I feel comfortable enough. Still, I would definitely carve at least an inch off the seat foam if I owned one.
Other bikes like the Husaberg 570 and Yamaha WR250R haven't been narrow enough for me to ride confidently due to the thick middles on them.
Let's Dispel Some Ugly Rumors
I'm positive there's never been a more unjustly maligned motorcycle than this new CRF.
It first appeared on my radar back in March when there was a lot of excitement in the dual sport motorcycle community at the time of its announcement. Everyone and their dog was keen to get the deets on this rig right away (myself included). Almost immediately there seemed to be a smear campaign launched against it online even though no one had even seen one in person yet.
It only has 25 horsepower
It's going to be built in Thailand instead of Japan
It's going to cost $19,000
It's going to have motocross racing equivalent service intervals
Whenever I hear outrageous claims like these I immediately get suspicious. Happily, NONE are true.  Let's look at the facts… the real ones.
Engine/Drivetrain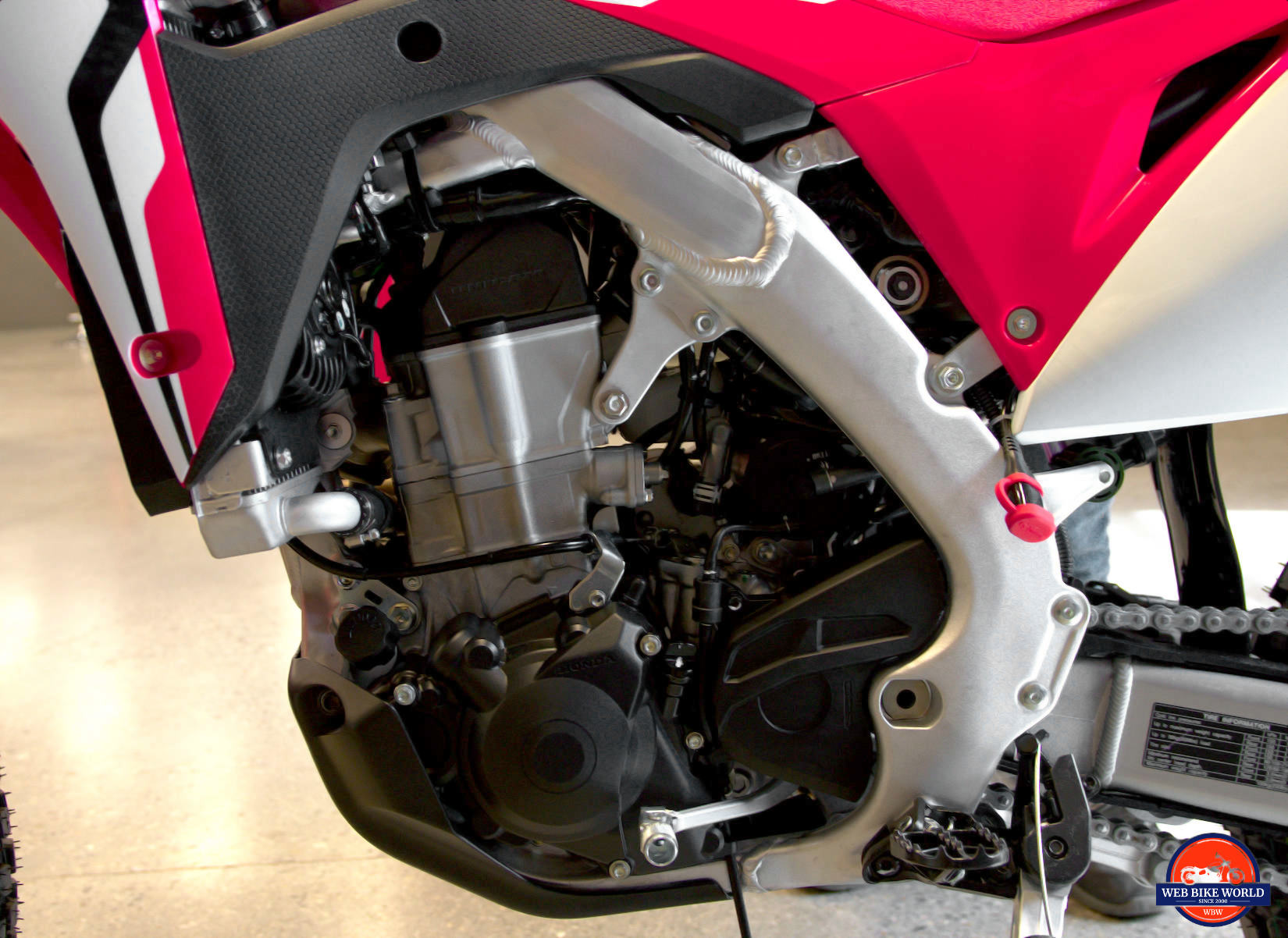 449.7cc Unicam® liquid cooled, fuel-injected engine specially tailored for trail-to-trail riding

Finger rocker arm contributes to compact layout with DLC surface treatment to reduce friction

Smooth power delivery and heavier crank/flywheel (12% heavier than CRF450R) to prevent low-speed stalls

12:1 compression ratio so you need to run high octane gas

New piston with three-rings built for longer durability (vs CRF450R/X)

Wide-ratio six-speed transmission

New diaphragm clutch spring design gives lighter lever pull

Dedicated single-muffler exhaust system meets emissions requirements in all 50 States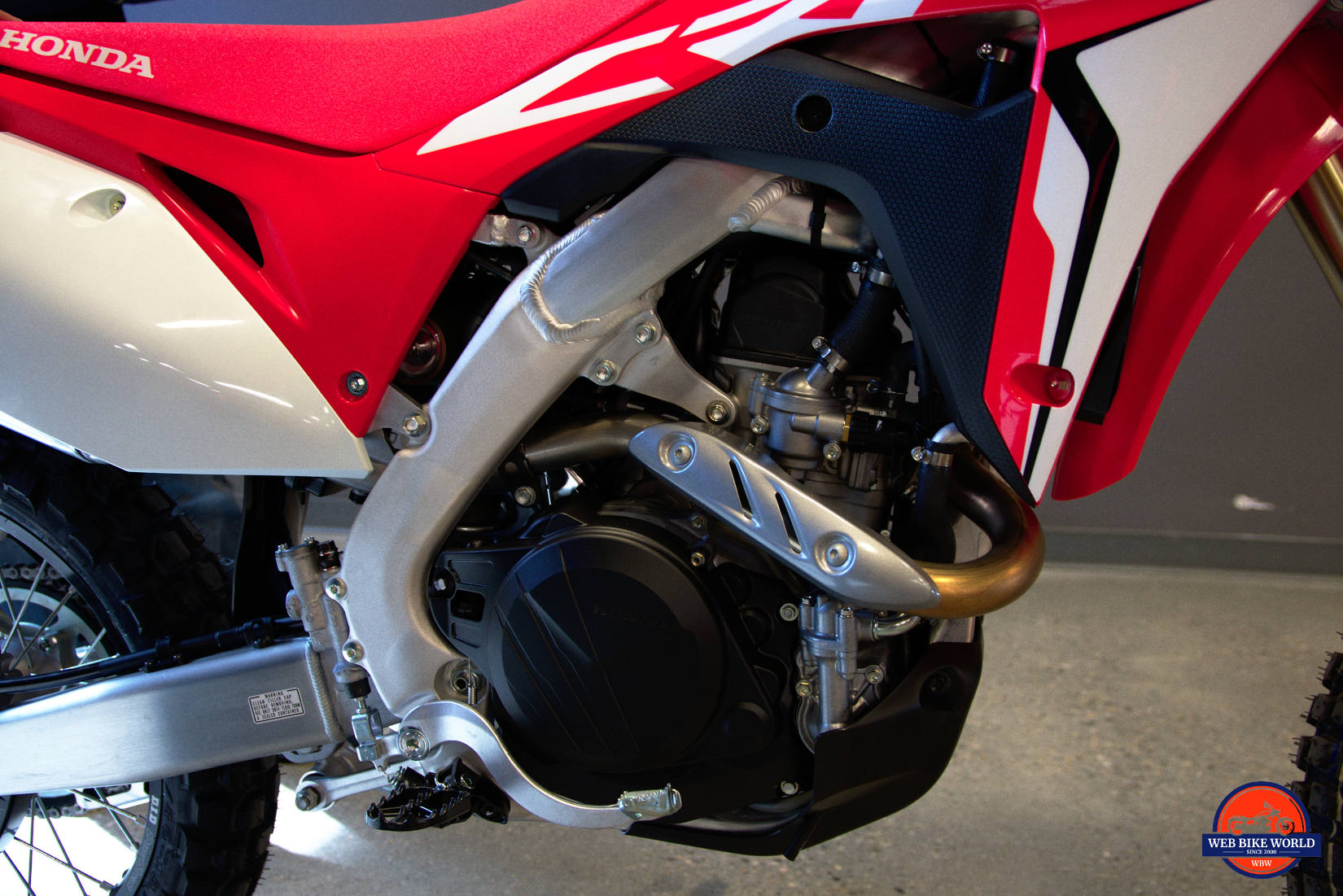 This Bike Has 45 Horsepower, Not 25
Even the DRZ400 has around 40 right from the factory. Let's be real… there's no conceivable way Honda would allow their flashy, premier-quality dual sport to play second fiddle to the undeniably good, but very old-fashioned Suzuki DRZ design.  People still clinging to the notion there's any less than 40 hp in the 450L should use a modicum of common sense to realize that's balderdash.
There could possibly be about 25 foot-pounds of torque judging from my test drive experience. I couldn't find any solid numbers from Honda that make sense to me, but on my ride, I was able to lift the front wheel off the ground in first gear by snapping open the throttle without tugging on the handlebars or popping the clutch. That and the fact I was keeping up with a 2018 Africa Twin in the city tells me there's 40+ horsepower and 25+ torque as anyone would logically suspect from a modern, high-performance 449cc dirt bike engine.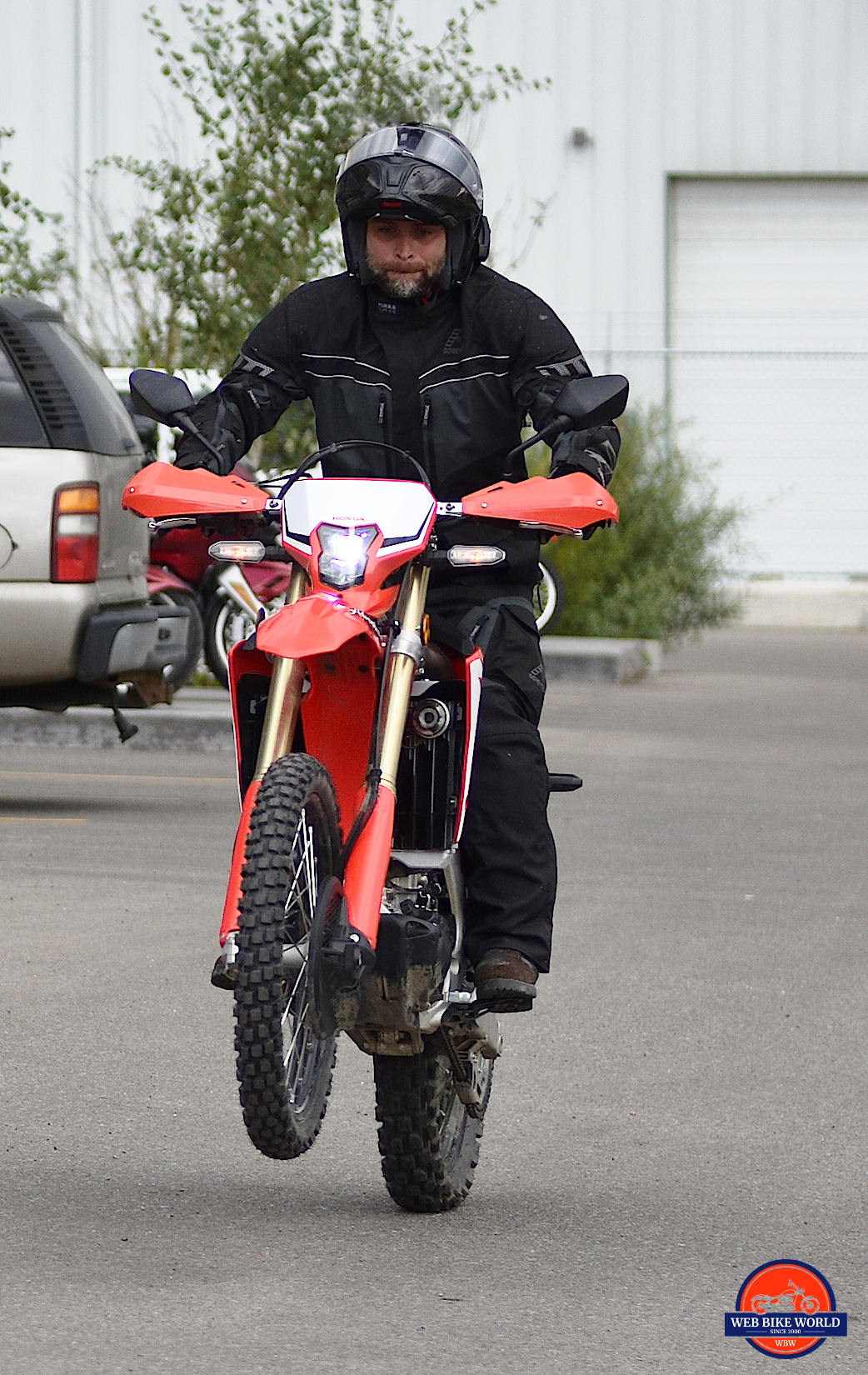 Tim, the sales manager at Adventure Honda told me he figures it's about 43 to 45 hp too. He and the other staff have been riding the bike almost non stop since it arrived. They've all thoroughly enjoyed it, and are looking at installing a 450X Akrapovic twin exhaust system on the 450L along with opening up the air box to uncork this already terrific bike.
Throttle response on the bike is crisp and responsive without being notchy even with all the emissions restrictions in place. Once the intake and exhaust are opened up I'm positive it'll really fly and hp numbers could reach into the 50s with any luck.
Once you get that many ponies out of this 450L it'll be more competitive with the KTM and Husky bikes from a power perspective. Those two start out around the 50-55hp mark from what I can gather.
The Ride
Transmission and Shifting
The six-speed transmission is as expected a silky smooth, fast shifting, wide ratio gem. When I toed the lever into first gear there was barely a click heard let alone the bike lurching ahead or the gears clanging loudly.
I had no trouble on the road finding an appropriate gear to use, and 3rd seemed very well suited to city riding.
At very low speeds the bike refused to stall even when I let the RPMs drop dangerously down in first or second gear. Low-speed maneuvering was excellent. The bike is well balanced and just begs you to "hoon" every chance you get.
On The Highway
Highway speeds were easy to get to. I obviously couldn't keep up with the Africa Twin out there, but the bike had no issue getting up to speed or trotting along on the freeway. It was definitely revving pretty high at 80 mph but it still had more left.
Mirrors and Buzzing
Speaking of the highway riding, I wasn't too sure what to expect out of the 450L at speed when it came to bad manners. I've been tortured by many bikes that were made for the highway with weird vibration and mirrors that became unusable as a result.
Happily, the mirrors on the 450L were totally stable even at 80 mph! Totally clear in fact. It stands to reason as they're the same ones used on the Africa Twin.
What makes that all the more surprising is that there is definitely some buzzing vibration at 65 mph that gets uncomfortable on the hands in particular. I also noticed it coming through the seat.
Interestingly, as I accelerated past 70mph the buzzing smoothed out to the point it wasn't threatening to numb my hands. I guess Honda wants us to ignore the speed limit?
It would have been better if Honda had specially built some folding mirrors for this bike like the ones you can get from Rottweiler for example. This would allow riders to fold away mirrors for when they leave the asphalt. 
Suspension & Handling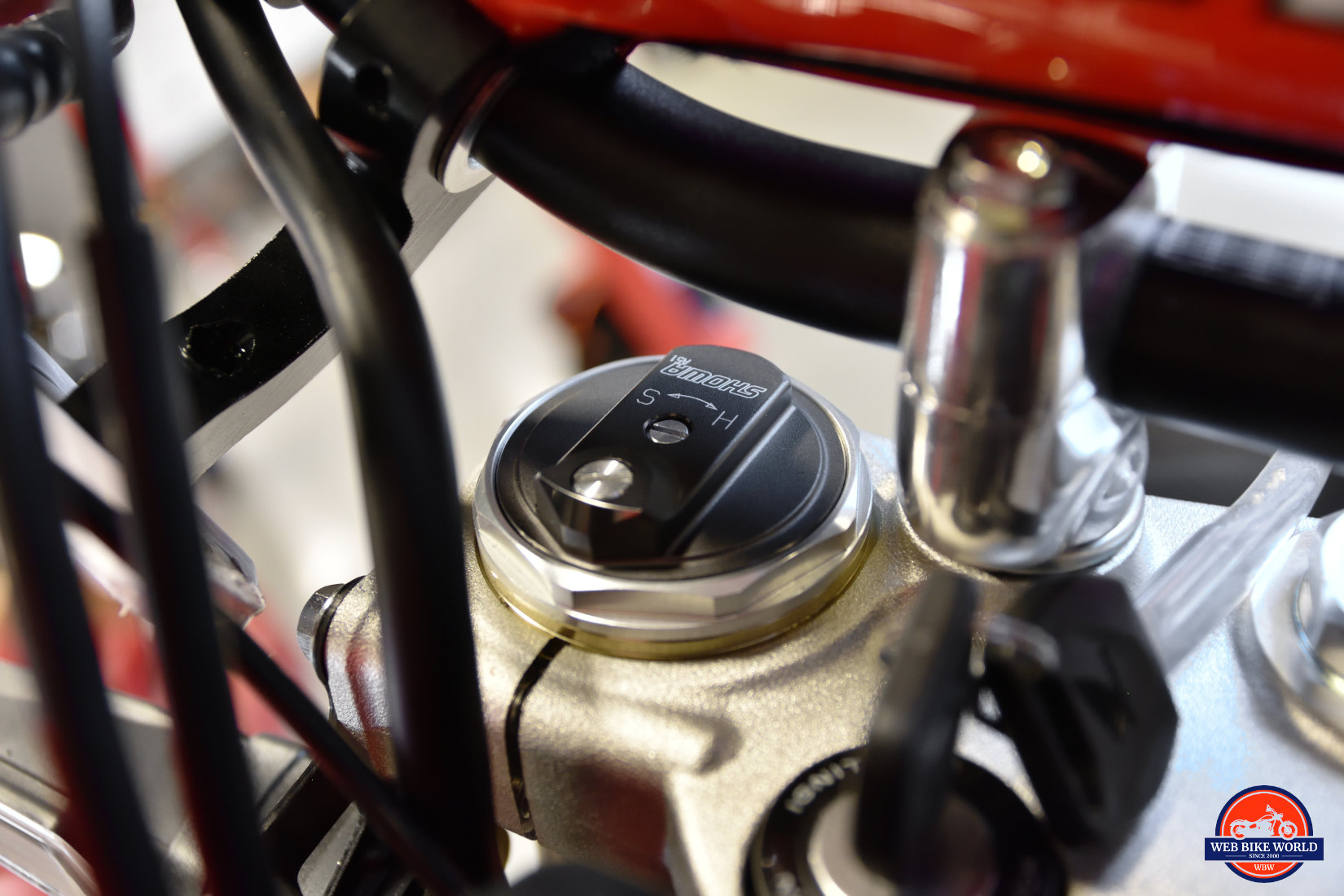 The first thing I did was test the fully adjustable Showa Pro-Link suspension front and rear by riding off a 12-inch high concrete curb onto the parking lot at the dealership. Then I turned around, blipped the throttle and climbed back up on it just as effortlessly.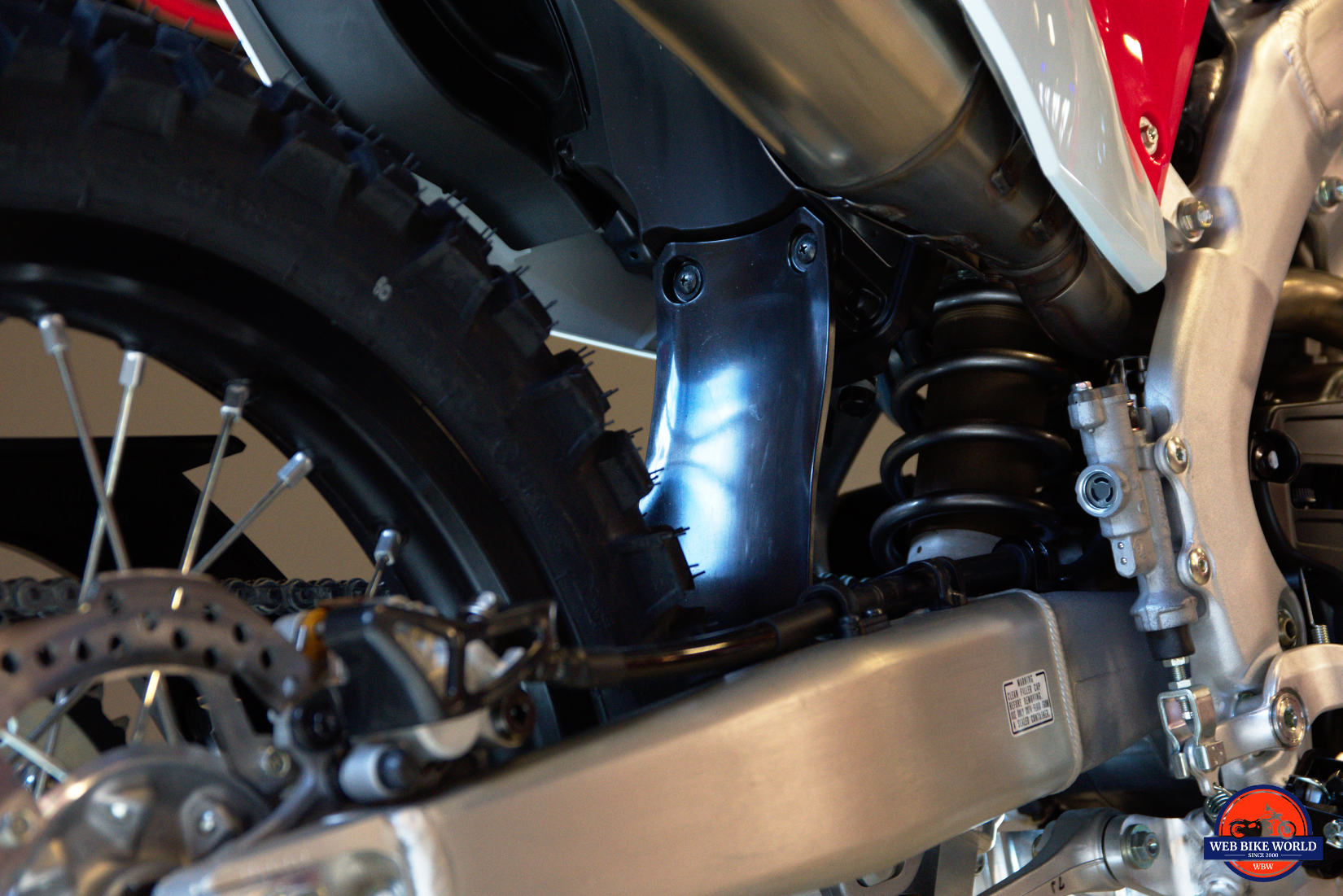 In that moment it reminded me of the suspension I enjoyed very much on my old CRF250X, only this was even better. The 12 inches of travel ate up that drop like nothing doing. This is exactly the same setup on the new 450X, meaning I knew right away I could ride this machine in the woods and mountains on tight single track paths with wild abandon and the bike would take me anywhere. This 450L feels just like my old 250 when it comes to weight and handling, only it has a lot more snap to it even muzzled by emissions as it was.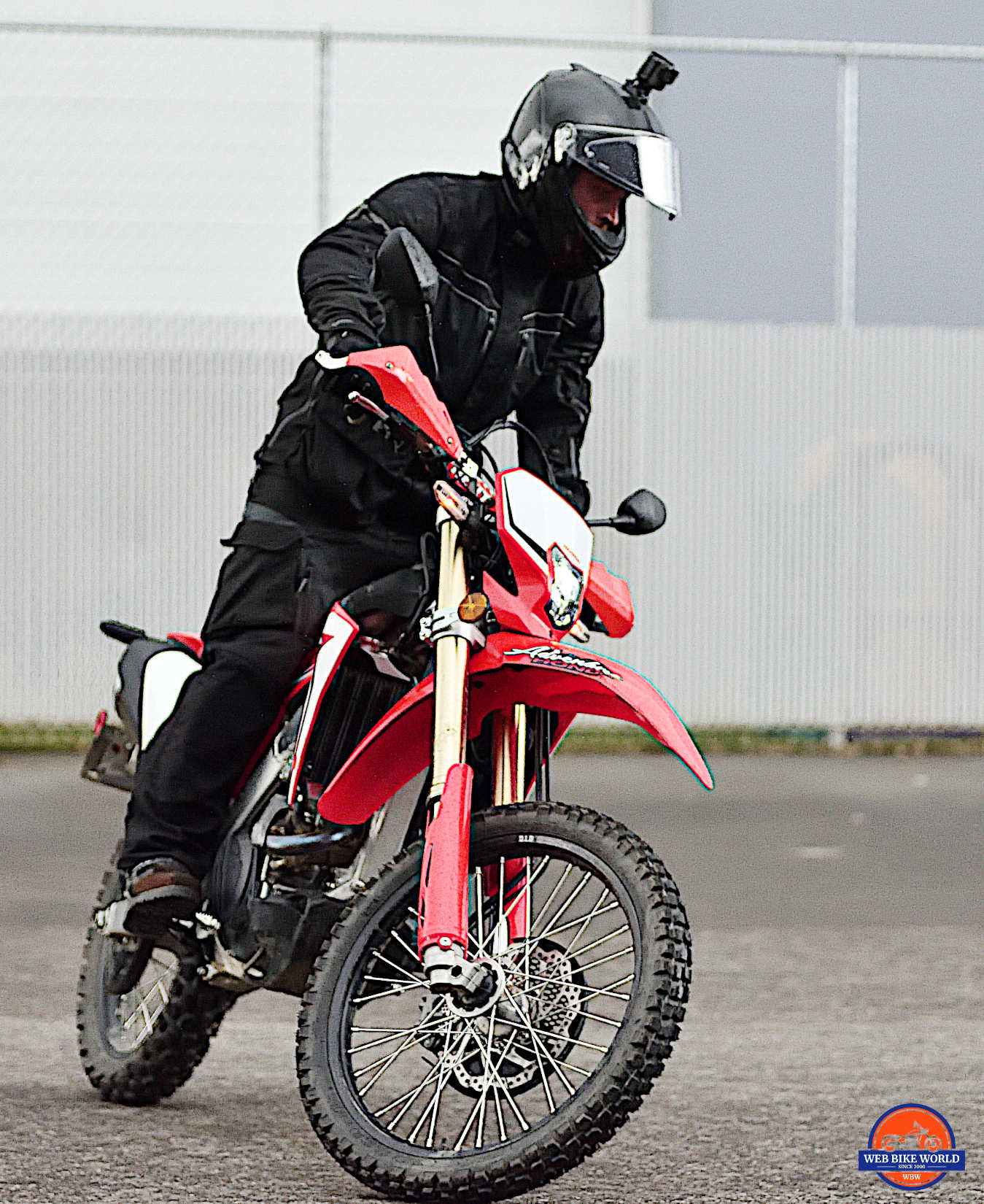 No offroad test is necessary for me… but I'd love to do one all the same if Honda would step up and let me. Hint, hint!
Brakes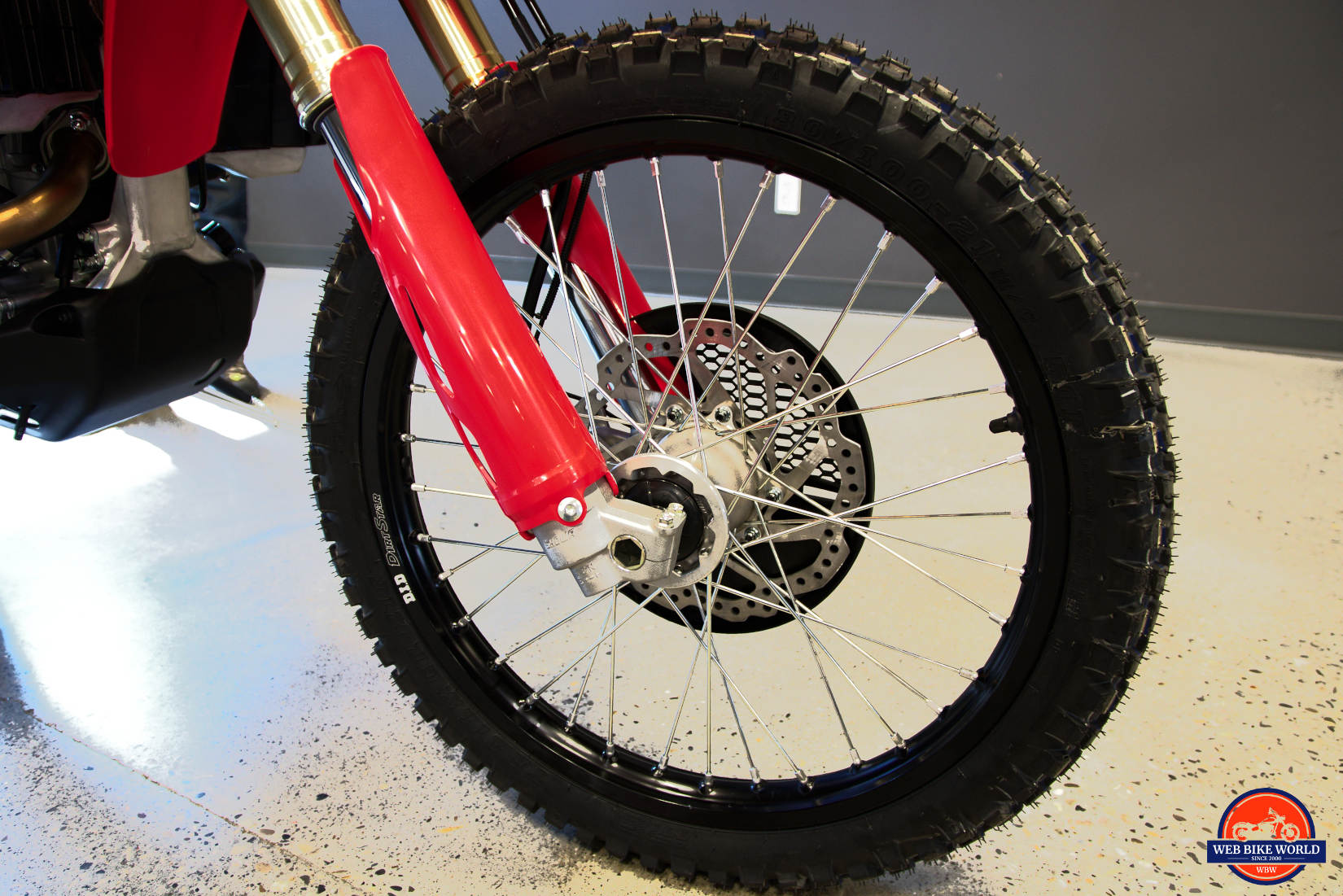 The brakes are single disc front and rear with a plastic guard covering the front as is common with Honda off roading machines.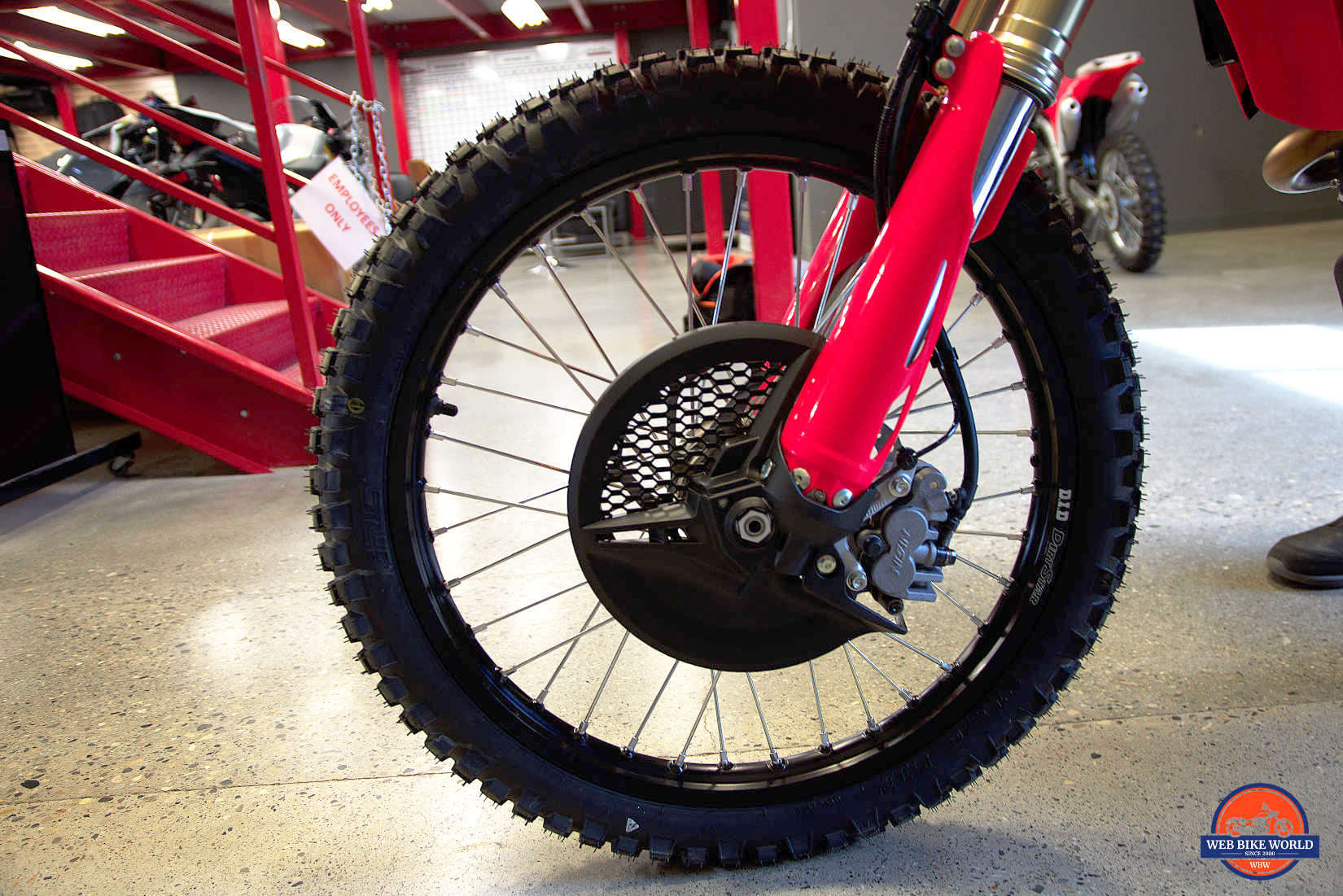 They chose slightly thicker discs for the 450L compared to the 450R model looking for longevity and better heat dissipation. I had no issues with the braking ability of this new Honda. It stopped just fine even in the pouring rain I encountered on my test ride.
There's no ABS on the 450L which may seem to be a no-brainer because it's primarily off-road oriented, but this IS for on-road too and so some form of ABS wouldn't be unthinkable.
Featherweight Features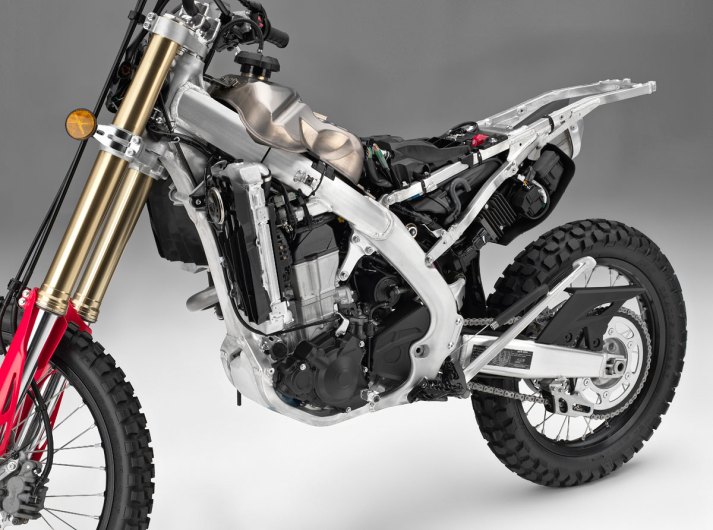 At 289 lbs full of fuel this 450L is about the same or only 13lbs heavier than the KTM 500 and Husqvarna FE501 and 30lbs lighter than the portly DRZ400.
Titanium Gas Tank
It stands to reason because I can't figure out where there's any steel on it other than the chain and shocks! It's almost entirely made of aluminum and even features a TITANIUM, 2-gallon fuel tank. That's 0.2 gallons less than a KTM 500 tank, but this Honda should get close to 60 mpg fuel economy, thus range shouldn't be an issue.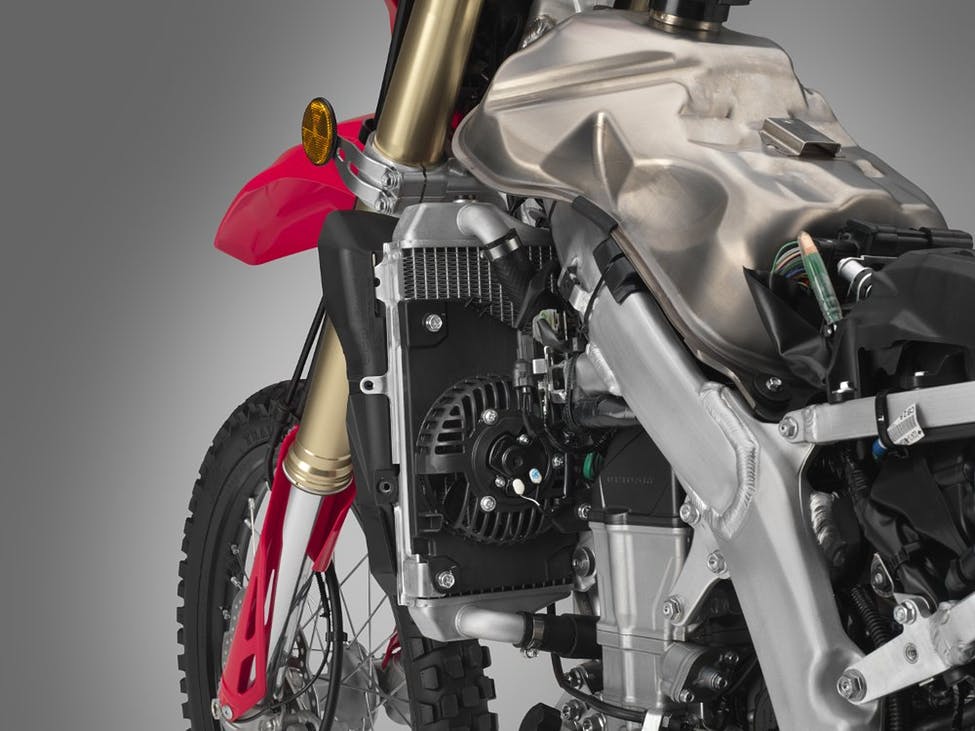 Why not stick with a larger plastic tank you might ask?  In a review I read from ADV pulse they claim Honda informed them it's simpler and faster (ergo cheaper) to stamp two pieces of ultra strong titanium and weld them together rather than to use the complex and time-consuming process of mold-forming a one-piece plastic tank.
Even better, the titanium tank walls are strong enough to be made thinner than other metals or plastic while still holding up to hard riding. This aids in keeping the overall weight low. Smart. Time and plenty of tip-overs will prove that claim true or false I'm sure.
Fuel Cap
It's not a weight saving feature, but since we're talking about the gas tank, the fuel cap has a feature built in to prevent gas from spilling out if and when this bike is dumped on its side. Smart.
Lithium-Ion Battery
The 450L comes standard with a higher capacity lithium-ion battery (than the 450X), garnering further weight savings compared to a lead-acid battery. The downside to this would be if you want to use this bike in weather close to or below freezing when these fancy batteries lose interest in providing power. There are ways around that problem, but it's something to keep in mind if for example, you plan on ice racing your 450L.
LED Lighting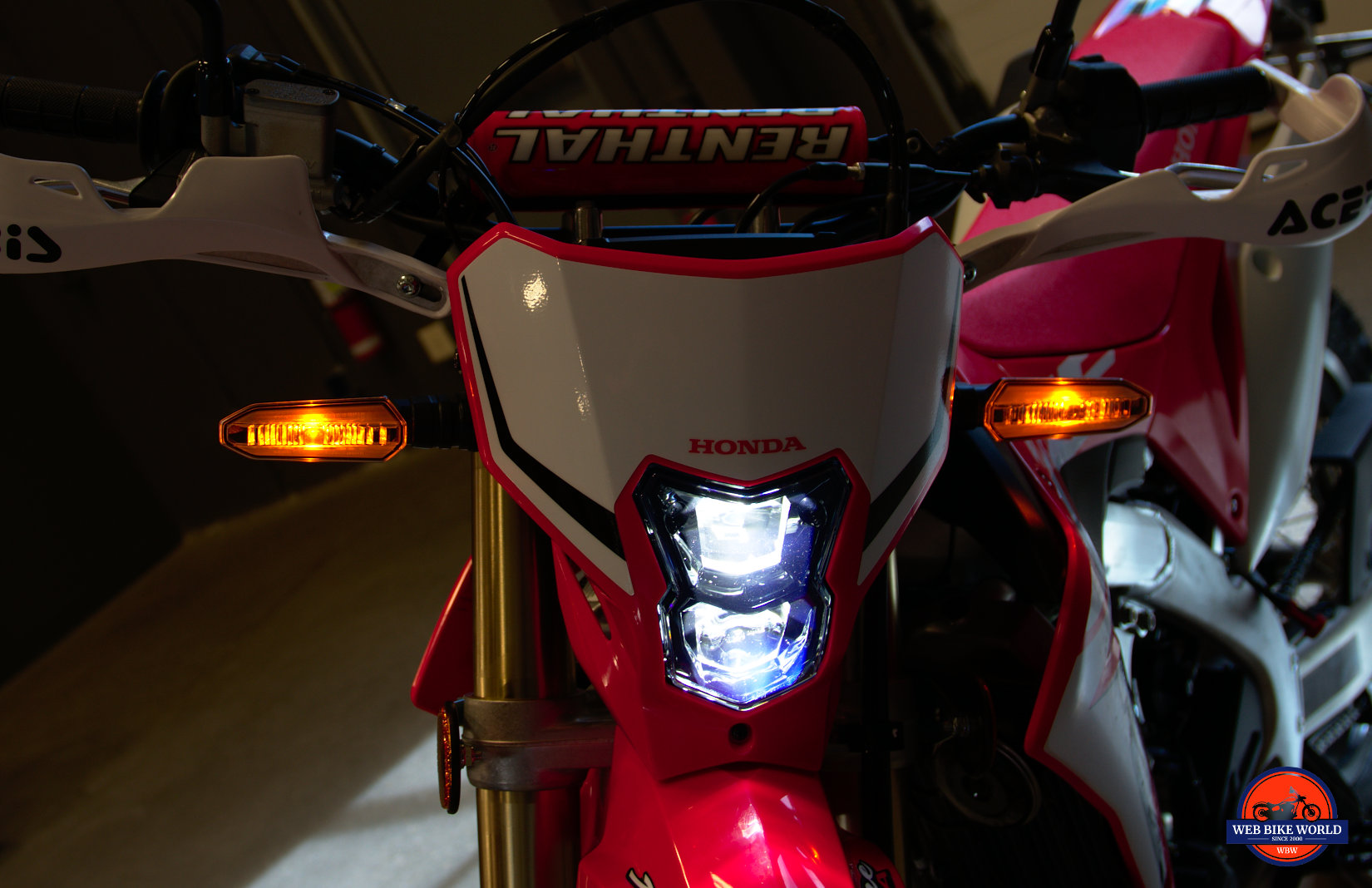 I already mentioned the uber cool tinted headlight lens. The headlight is really bright even on low beam and I approve of the always lit up front turn signals.
Best of all check out how flexible the turn signal perches are on this bike! The days of worrying about replacing them after a tip over are likely over thanks to this ability to bend 90 degrees without breaking.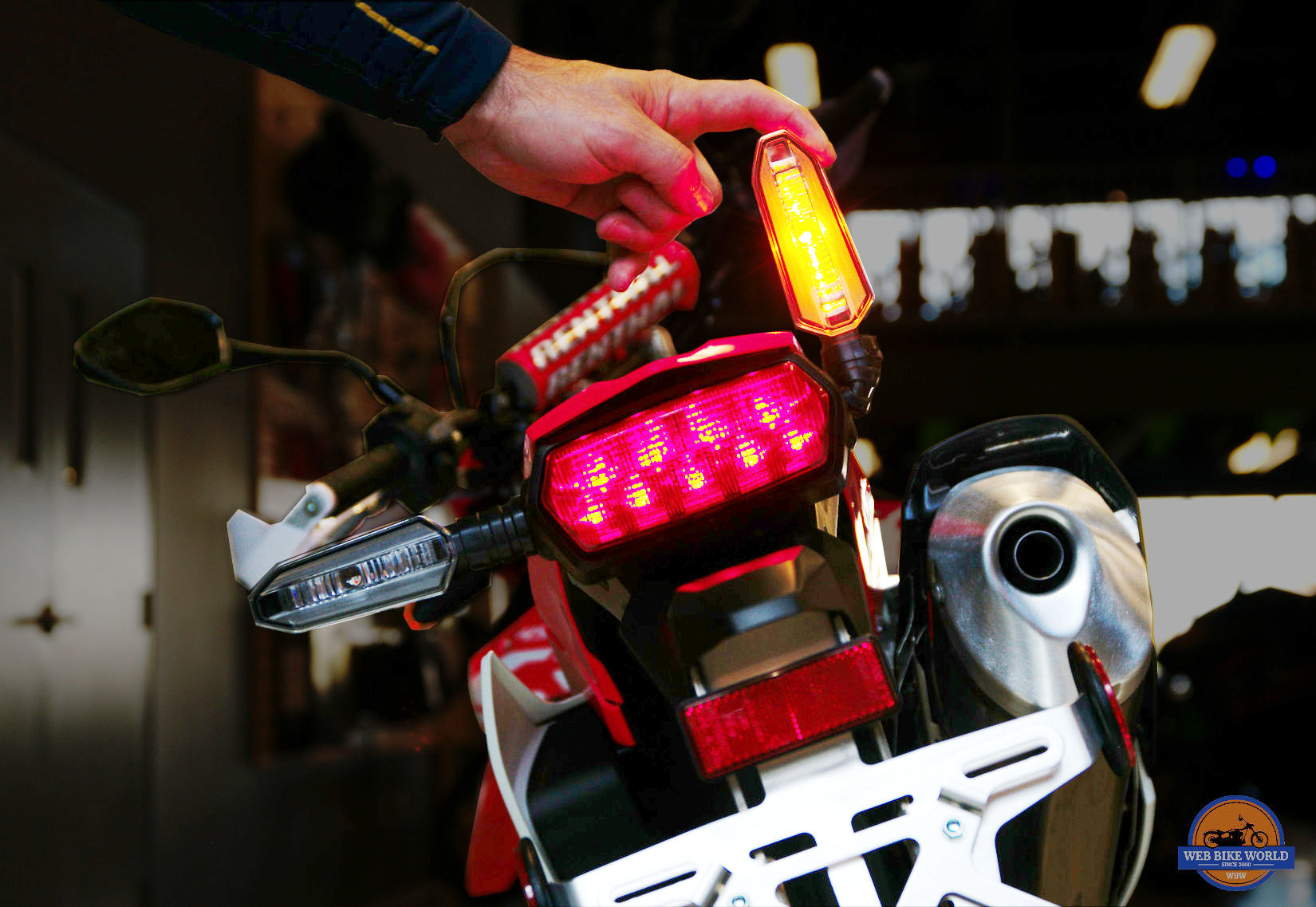 Seat Comfort
The seat looks like a 2×4 piece of lumber wrapped in a grippy, red rubber shell, but isn't completely awful. I know that's not a ringing endorsement, but let me clarify.
Compared to just about any KTM dirt bike or dual sport I've sat on this Honda seat is pure luxury. I rode the bike for about an hour and didn't feel any seat discomfort other than the buzzing vibration experienced at highway speed. It's really surprisingly good, but it's short behind where the driver sits in a way that no passenger could be properly accommodated.
There aren't any passenger pegs anyway.
Controls And Display
The instrument cluster is compact and fairly basic displaying black LCD characters on a white background. The large speedo numbers are easy to read while riding, but the rest of it I really couldn't make out very well, especially once it got covered in rain.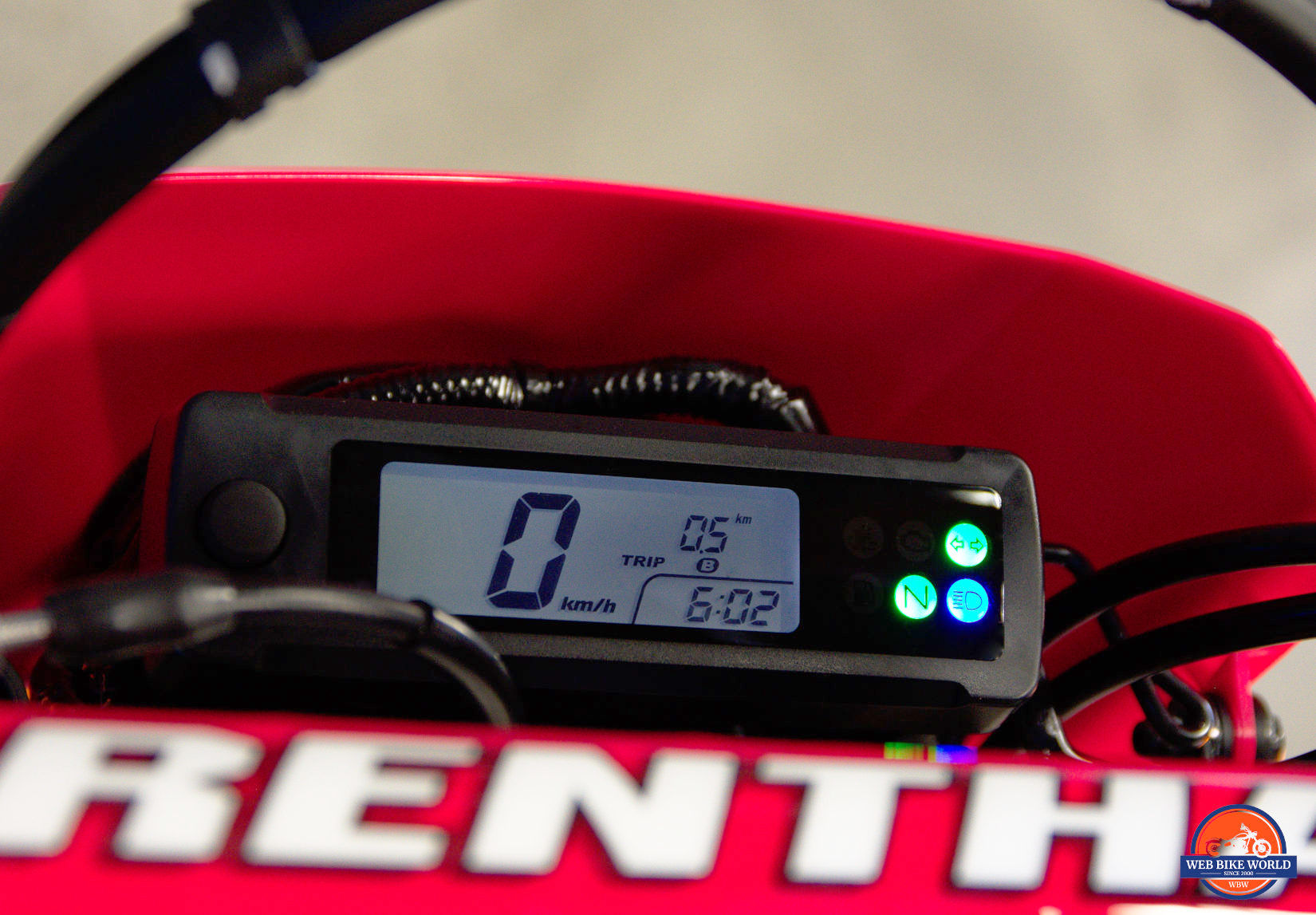 The display can show your odometer, two trip meters, and fuel economy numbers. There's also some indicator lights beside the LCD for high beam, neutral and low fuel, but irritatingly no fuel gauge and the turn signal light doesn't tell you if it's the left or right one flashing. I'm not a fan of the ambiguous green light that looks like a hazard flasher indicator.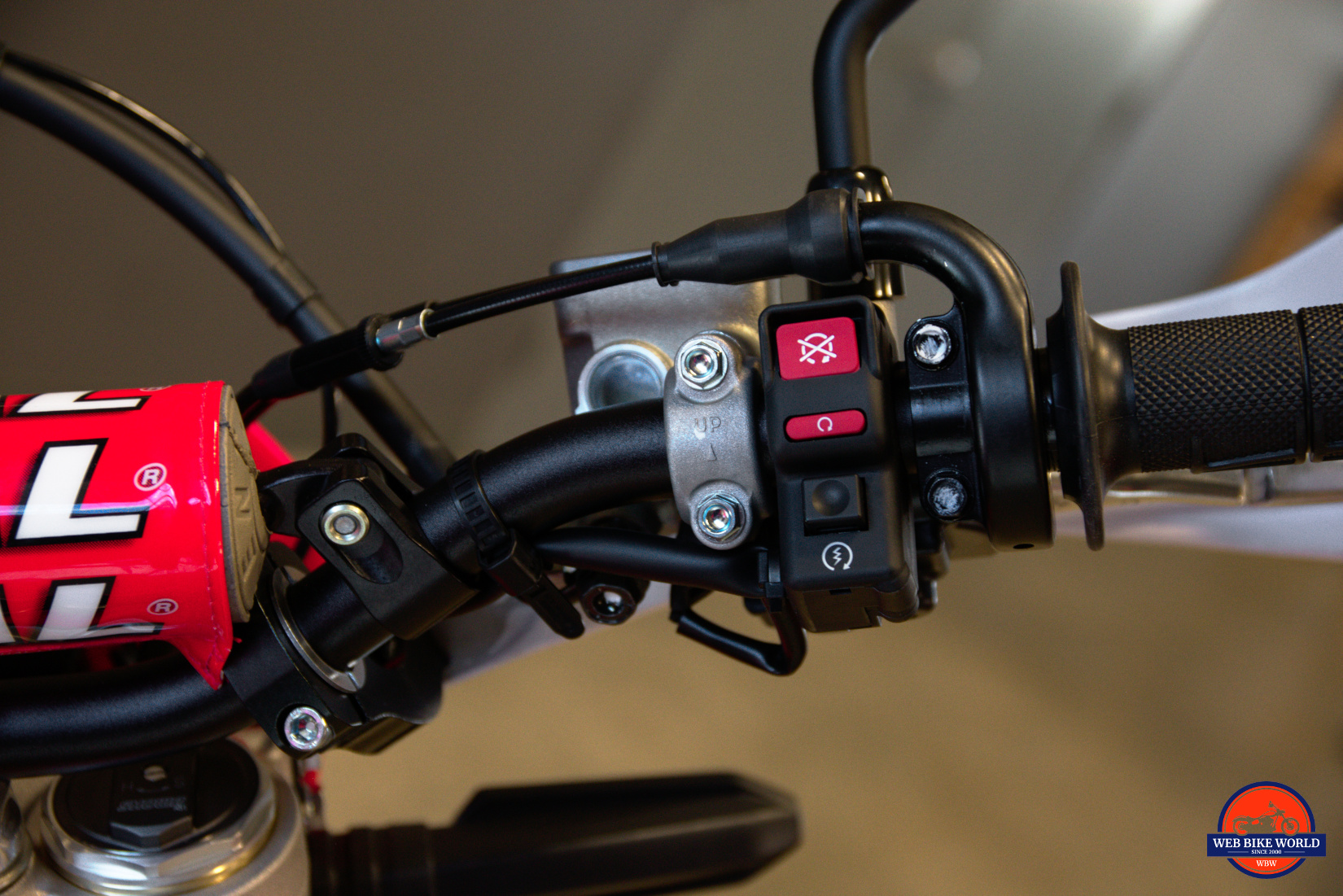 Switches for the electric start, horn, kill switch, etc are all spaced and sized nicely so you don't hit the horn when you want the turn signals for example. They don't protrude in a way that they would get broken off easily if you put the bike down in the dirt either.
Handlebars
Here's one area where this bike falls down compared to the competition KTM and Husqvarna. The 450L features only a ⅞" diameter Renthal bar which any serious off-road rider will swap out with a thicker one right away.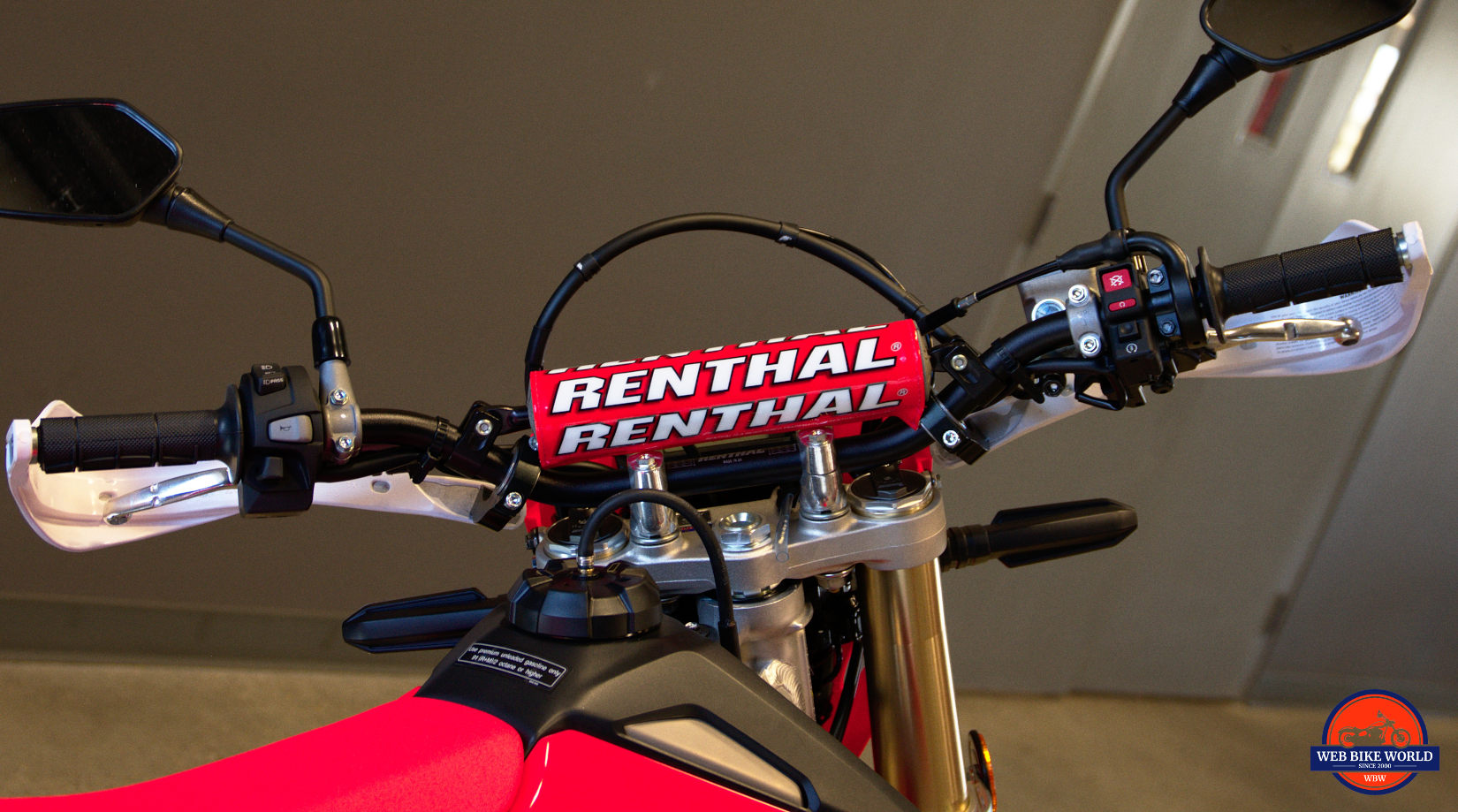 The 450L comes with wrap around bars to protect your hands complete with red plastic covers. The Acerbis ones in some of these photos are aftermarket put on by the dealer and are better than the factory ones as you would imagine. Still, I like the full protection of the bar Honda chose more than the guards on the KTM and Husqvarna which only have plastic protectors.
Guarding
The factory skid plate under the engine is basically cosmetic only and won't stop much if you take the bike off road from the showroom. Aftermarket skid plates from a 2018 CRF450X don't fit this bike either, unfortunately, but I'm positive the aftermarket is scrambling as I write this to produce ample protection pieces to buy for the 450L. Revzilla already has a few items available on their website as seen here.
The black "guarding" you see on the engine covers aren't about protection, but about sound suppression.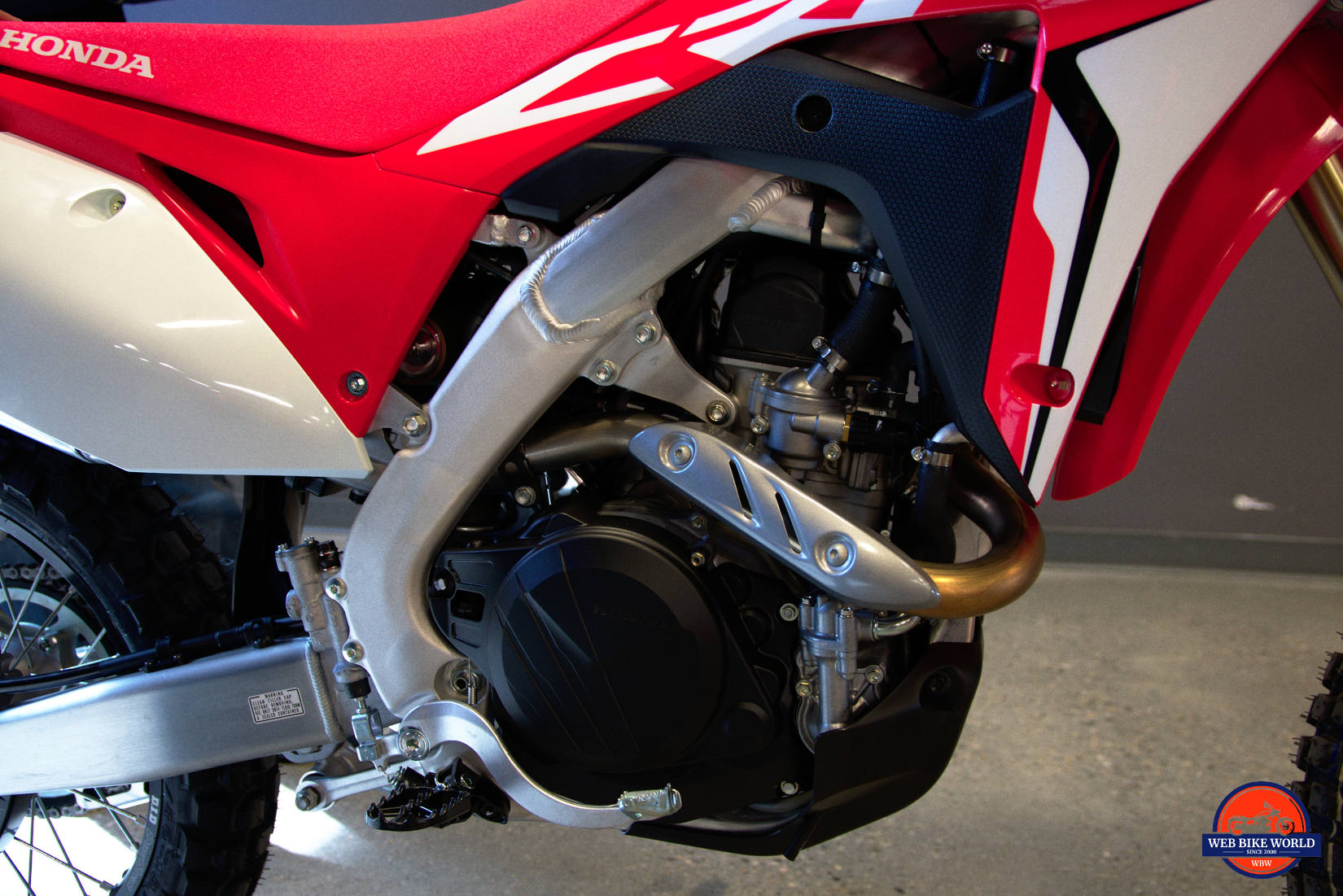 This bike really needs lower engine and radiator guarding badly! You can see the water pump/thermostat housing sticking out just below the exhaust guard in the photo above.  I wouldn't like to shear that off out in the middle of nowhere.
Tires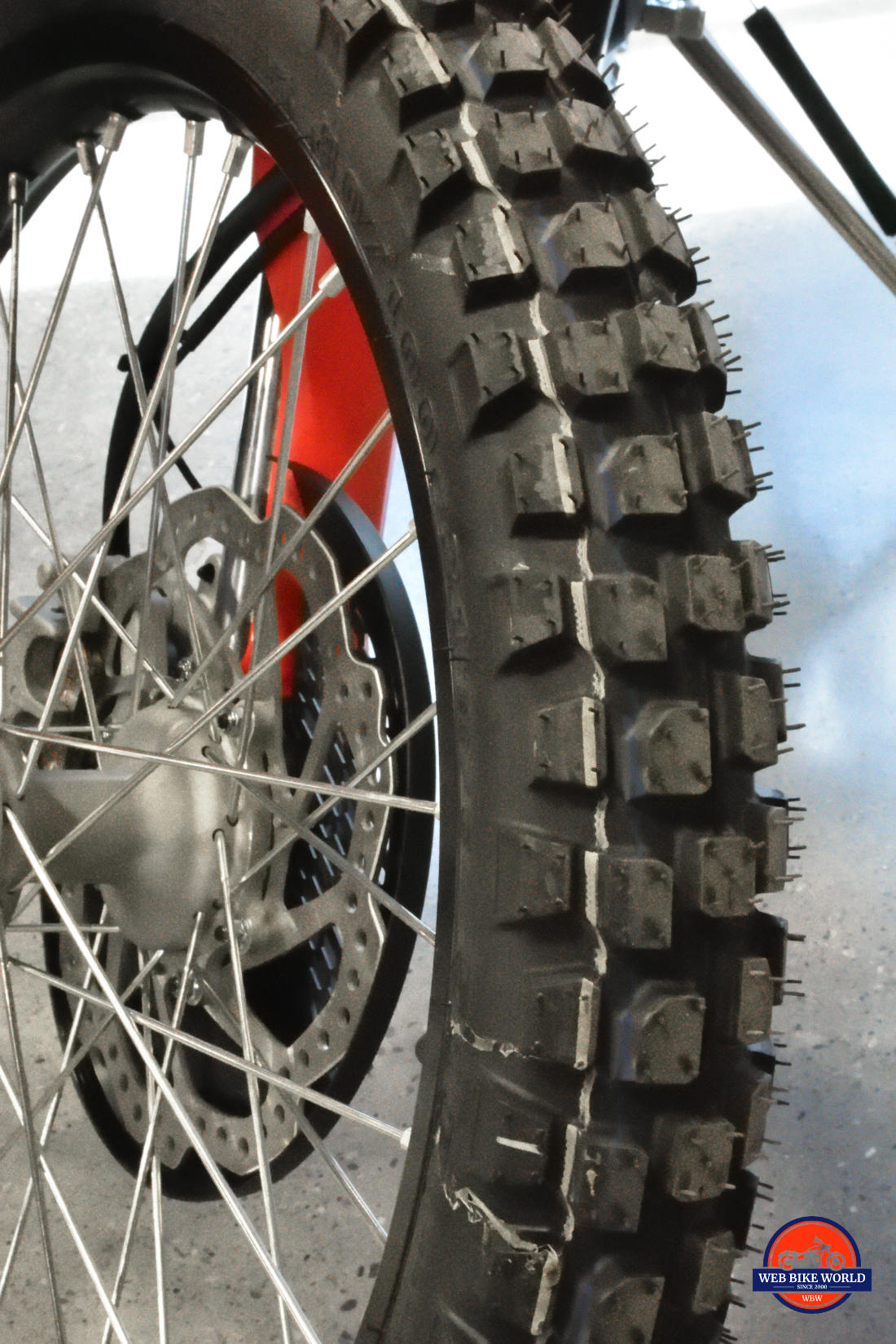 The front and rear tires are IRC GP21 80/100-21 and IRC GP22 120/80-18 offerings with tubes much to my chagrin. I would much prefer tubeless tires, but Honda is stubborn about including tubes in their rims even on the Africa Twin.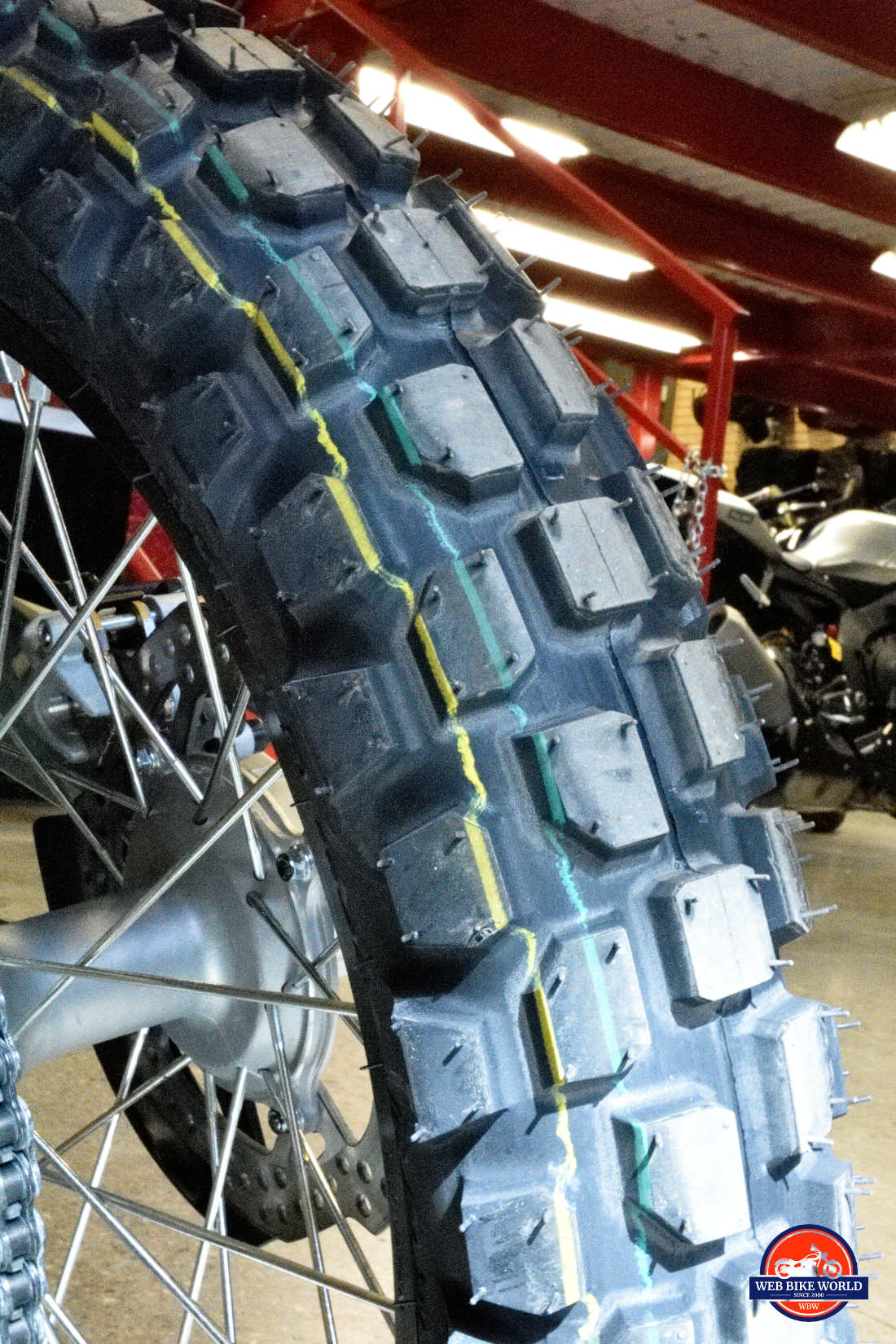 Conversely, the KTM and Husky come with Continental TKC80 sneakers right from factory and would definitely be my first choice on the 450L or something from MotoZ.
To be fair I have no experience with IRC tires previous to this test ride and they performed perfectly on wet and dry asphalt for me. I'm not confident they'll be up to snuff out on muddy trails like the Continentals would be, but I could be wrong.
Maintenance & Service Intervals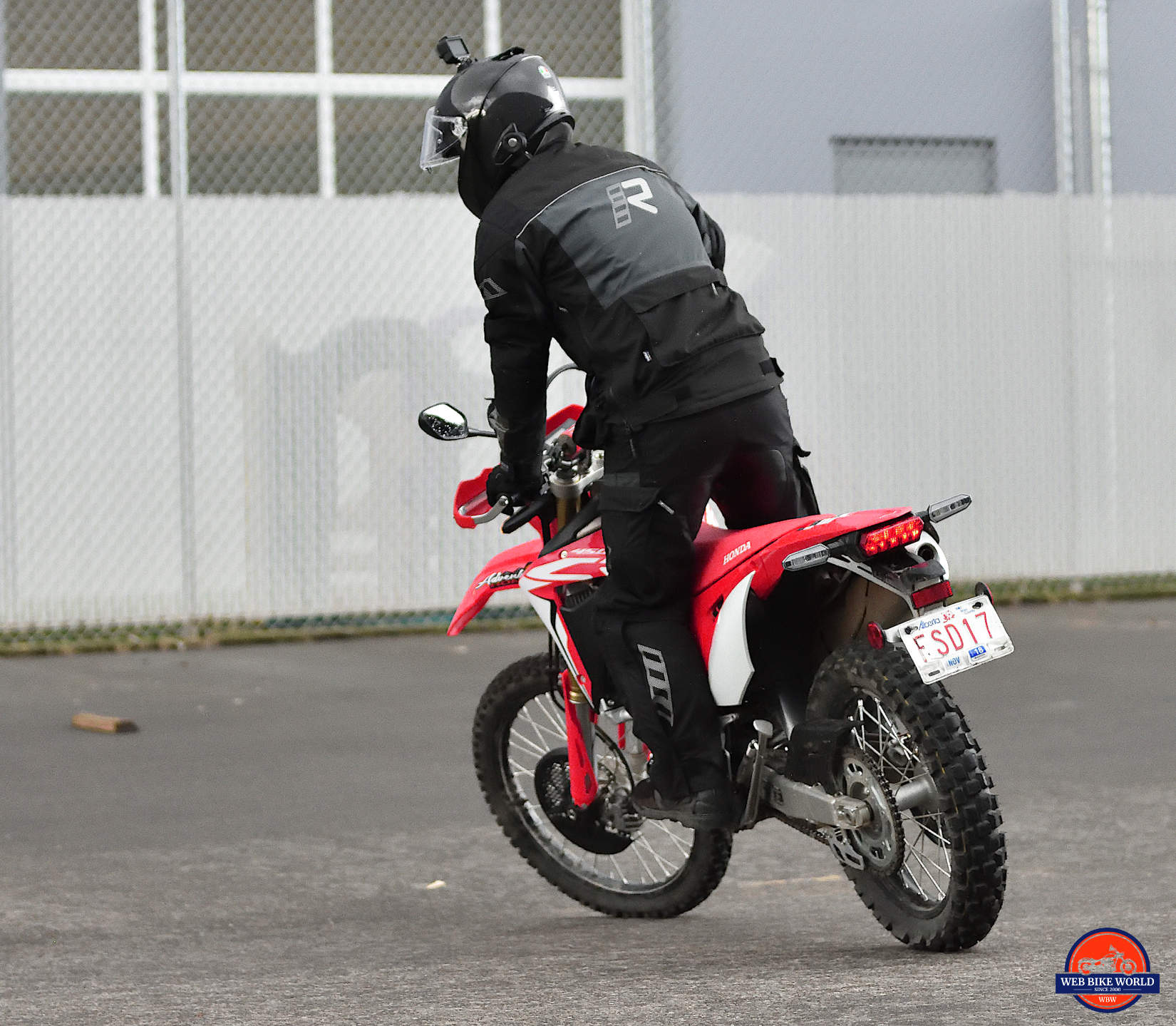 There's an initial service at 600 miles where Honda wants to check valve clearances, meaning your first one will likely be a little pricier than usual. The truth is that checking and setting valves on these bikes isn't time-consuming or that difficult, so even the dealer won't need your arm and leg as payment like with many other bikes.
Basic Duty vs. Extreme Duty
You're going to have to change the engine oil more often than in a typical street bike as this is a high-performance off-road engine.  If you're doing serious off road riding with it you'll need to do it every 2 or 3 rides and Honda has a separate maintenance schedule available for that application.
For typical off road / on road riding it's going to be more like double that or every 600 miles for engine oil, but valve checks/adjustments won't need to be done until you hit almost 2000 miles then every 2000 afterward. Meaning you could say… go ride the Baja 1000 course casually without needing to adjust your valves.
If you try racing it in the Baja 1000 that's a different story.
Overhauls
Engine rebuilds (replace the piston, rings, bearings, seals etc) with typical use are recommended at 20,000 miles.
A Couple Of Other Questions
Air Filter Access
One of the sales associates at Adventure Honda named Mike was discussing basic maintenance on the Honda with me, like how to access the engine air filter for example. On the KTM and Husky you can get to it without using any tools. Unfortunately, that's not the case with this 450L.
You'll need a 10mm socket to remove two seat bolts to access the airbox underneath.
Electrical Panel Access
Behind the left side number plate you'll find a small compartment that houses the fuses and other electrical components (relays) as Honda calls it. That also needs one seat bolt to be removed along with another with an 8mm head on it for access.
More troubling is that it's located right in the dirtiest area on the bike (beside the rear wheel) and doesn't have a rubber seal around the cover to keep dirt and water out.
I think this is intentional on Honda's part, not an oversight. Leaving it unsealed should allow water to go in and come out again I guess, but I'd lean more towards having it sealed tight.
The Final Verdict
This Honda is a really strong contender in the dual sport class. It's aimed to potentially take away a chunk of the dominant KTM and Husqvarna share of the market and possibly claim some DRZ400 buyers too.
It's priced about $1000 less than the Husqvarna and a few hundred less than the KTM, and notably offers much wider dealer network support across the globe. There's no denying how reliable and proven previous models of Honda 450 bikes have been for many years now. This 450L shouldn't be any different in that respect.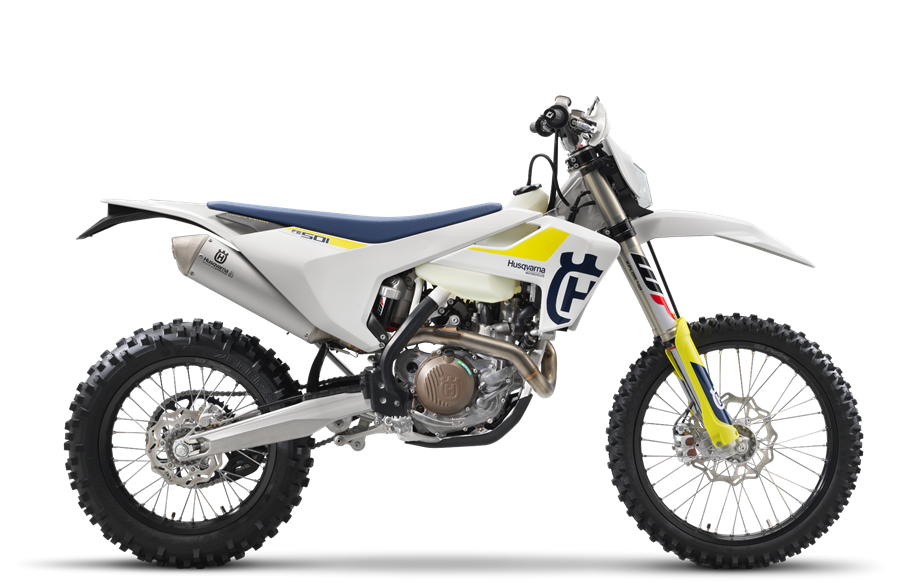 The KTM and Husky both sport WP Xplor PDS suspension which is better quality overall than the Showa ProLink on the 450L. I don't think anyone would dispute that, and both European bikes have 60 more cubic centimeters of displacement than the Honda too. There's no denying how significant both those factors are coupled with a solid reputation as the top dual sport bikes on the market.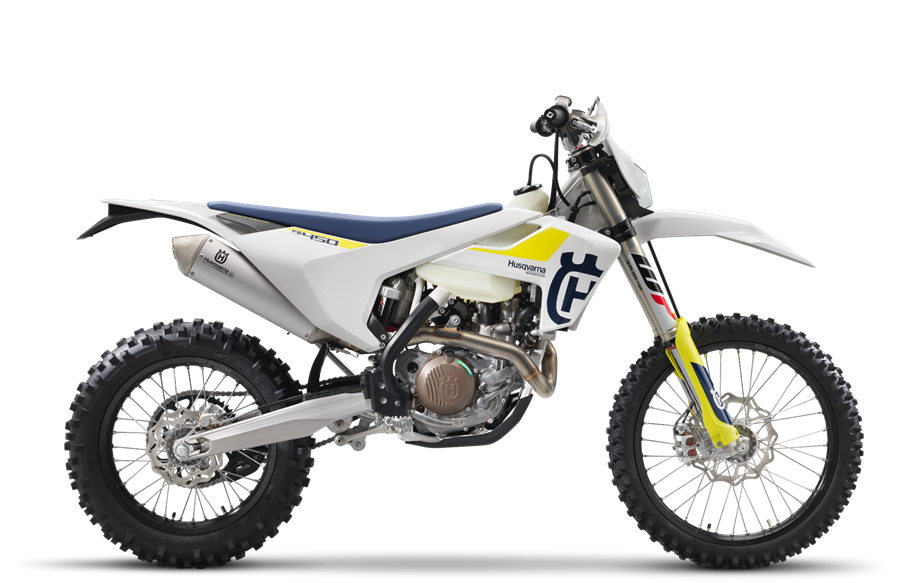 You may be wondering why I'm not comparing the CRF450L to the Husqvarna FE450.  The reason is that I've seen very few people riding them compared to the 501. I'm just keeping it real that way, and I wish Honda had gone to 499cc for this new bike too.
Check out this video review of both European bikes from Rocky Mountain ATV for more insight into the competition.
As good as it is, it's tough to pass on these two European bikes in favor of the Honda. The Euro bikes are much more powerful to start with, but once you uncork the Honda and bring up the power it really only comes down to slightly better suspension separating them. Could that be balanced out by the Honda dealer network advantage and lower purchase price?
Maybe.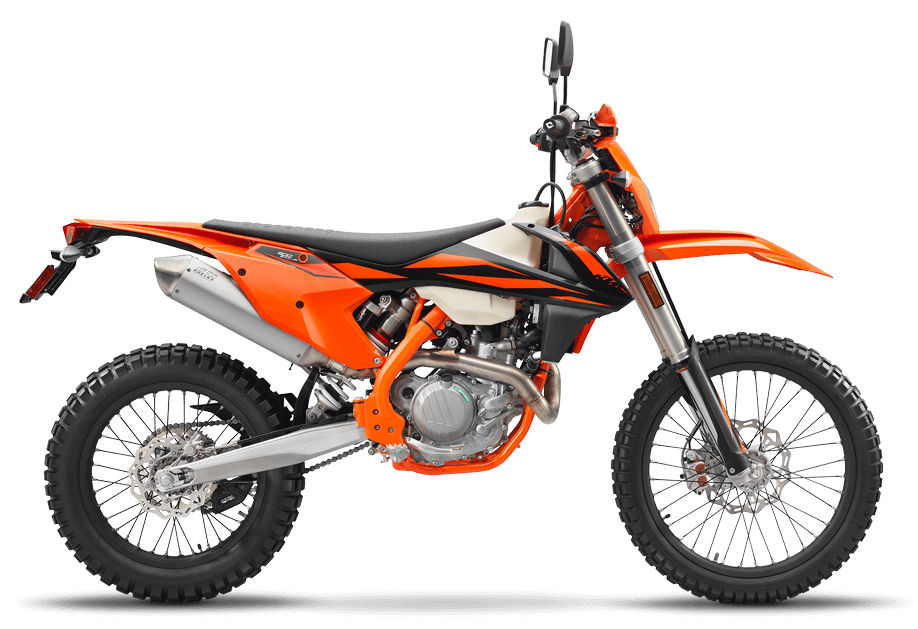 I guess it will come down to the small things each person looks for when they test ride these machines.
Maybe you prefer the color red over orange?
Maybe you're like me and just dig Honda design and looks?
Maybe using that $1000 savings between the Honda and the Husky for aftermarket exhaust is worth it to you?
Sadly I haven't personally ridden the KTM or Husky to be able to say decidedly which I prefer most of the three, but I'm confident this new Honda won't disappoint anyone who buys it.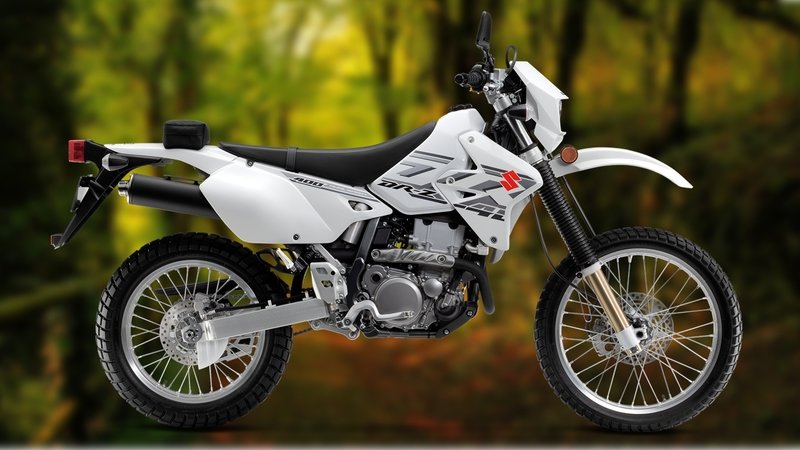 The Suzuki DRZ400 is a different matter. The only thing it has going for it over this Honda is a big difference in price. It's substantially less money ( about $3000 less) and still will be the choice for people who want a simple, carburetted, old school dual sport to bang around with at the lowest possible price.
Let's face it, that extra three grand will buy a lot of performance goodies for the DRZ, but it'll still be a very heavy bike that won't go everywhere as easily out in the woods like the Honda or Euro bikes will. The DRZ just isn't a high-performance machine like the others are.
From a performance standpoint, however, it's not even close between it and this Honda.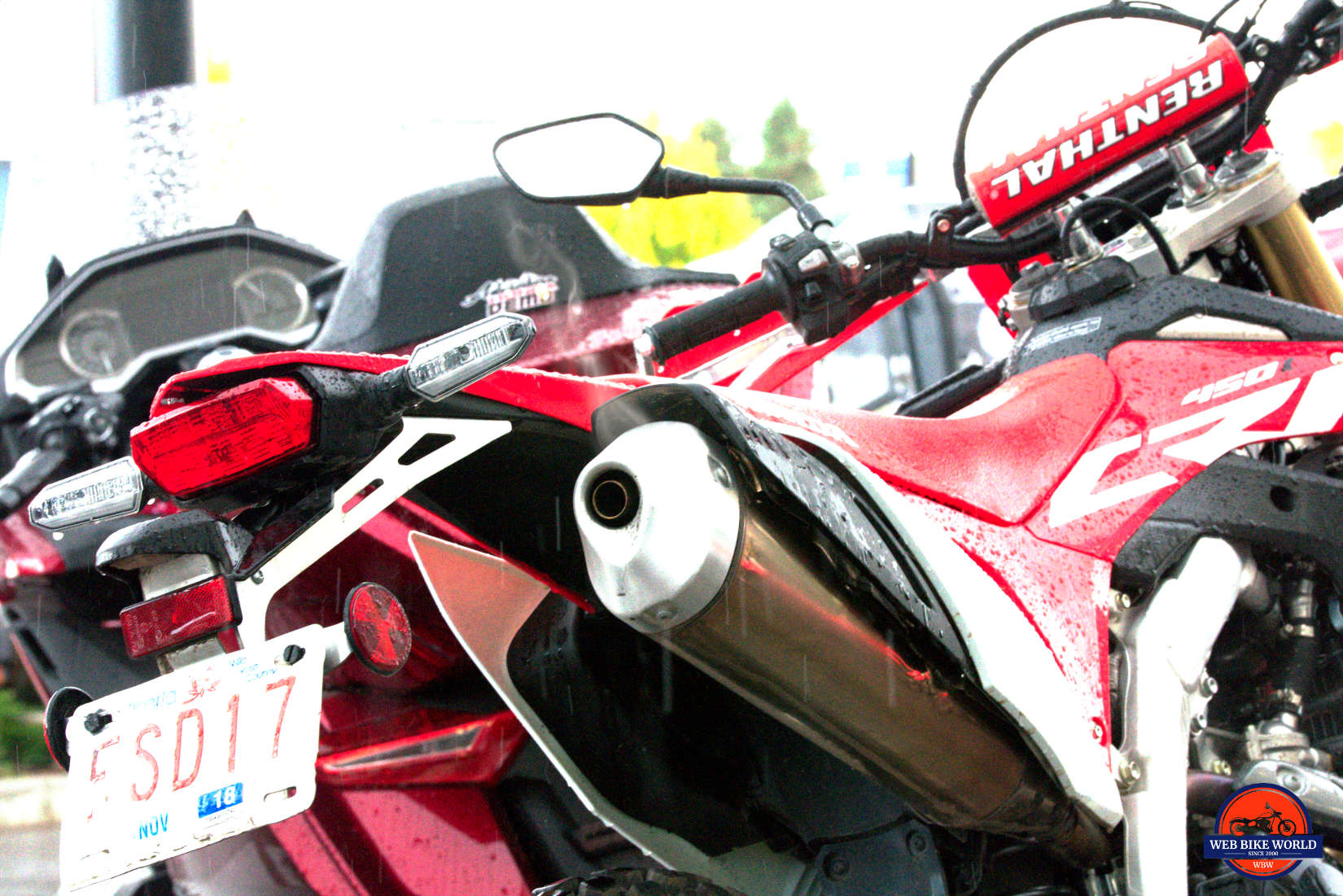 The bottom line is you'll have to ride them all yourself to decide, but this review will arm you with what you need to know up front about them.
I haven't even touched on the Beta 430RS either.  What a nice problem to have with so many good dual sports on the market.
Pros
Lightweight, nimble and easy to ride in all conditions

Electric start dual sport

Modern look with excellent build quality and features for on and off road

Narrow frame allows shorter riders to reach the ground

LED lights all around with nearly unbreakable turn signals

Stock levels of torque and HP are very usable and will be perfect after "uncorking"

Perfectly fills the gap between the less expensive DRZ400 and the more expensive KTM and Husqvarna competitors
Cons
Grips and seat buzz uncomfortably at highway speed

Small diameter Renthal handlebars

IRC GP22 tires aren't as good as some competitor tires off road

No guarding available yet for serious off-road protection (coming soon)

Performance parts from current CRF models may not fit

Expensive to buy compared to DRZ400
Specs
Manufacturer: Honda
Price (When Tested): $10,399 MSRP
Made In: Japan
Alternative models & colors: CRF450X, 450R and 450RX
Review Date: September 12, 2018