Forget what you know about Softails. The 2018 models combine the Softail and Dyna families with an all-new frame to create a totally different breed.
They are no longer "Soft". They are hard-charging cruisers for the modern era.
They feature a much stiffer frame, LED headlights, hidden and tidy wiring, modern graphics and finishes, much-improved handling and better acceleration through lighter weight.
First impressions are that Harley has hit the bullseye with this combination of the Dyna and Softail range into one family.
Many may bemoan the loss of the Dynas, but so did many Panhead fans when they moved on.
Harley is reinventing itself one family at a time and the new Softails are simply streets ahead of their previous incarnation.
We have just finished the first half of a ride from LA to Big Bear Lake in the hills outside the Hollywood town.
The roads are twisty, smooth and challenging and the Softails were in their element.
The best of the bunch is the former Dyna Fat Bob, now  Softail with a monoshock rear, upside-down forks, dual disc brakes, tidier styling and wiring and a choice of 100% balanced 107 Milwaukee 107 and 114 engines.
It is a cruise missile, not a cruiser.
The biggest improver and most surprising of the updated bunch is the Softail Slim.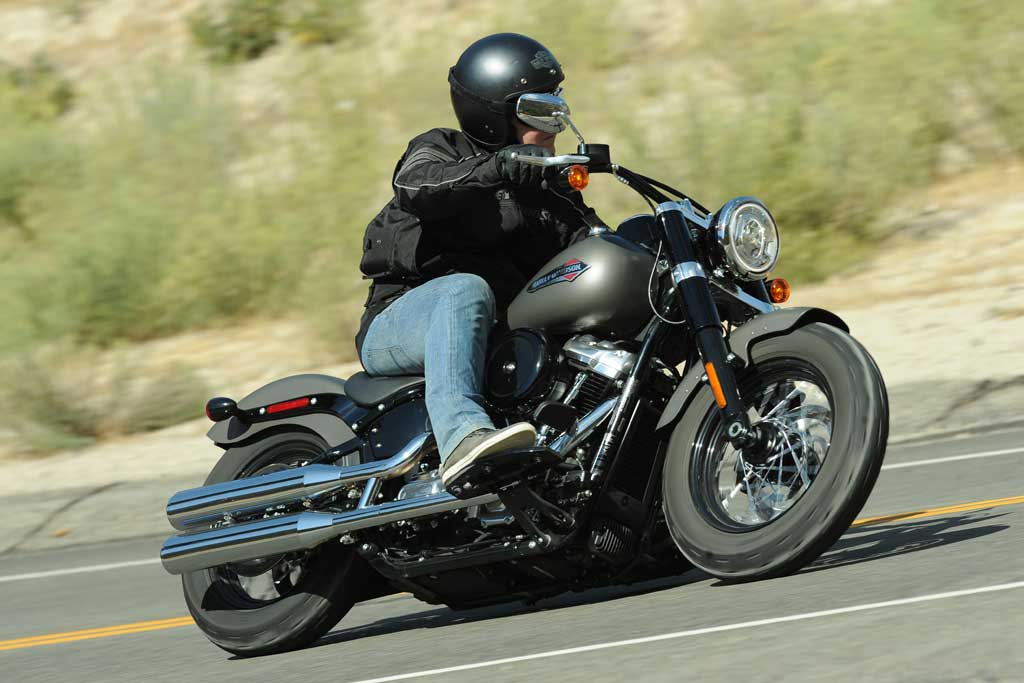 This was always a bare bones beauty, but it scraped the hardware even in parking manoeuvres.
Now it is a competent handler, ploughing through the tight and twisty hills with hardly any scars on its floorboards.
It's light, nimble, points and shoots with ease.
Handling now matches its bare-knuckle, take-no-prisoners looks.
The marriage of the Dyna and Softail range is the biggest research and development program Harley has yet undertaken, says the senior product manager for the program, Kevin Hintz.
The Softails now have two frames – one wide for the Fat Boy and Breakout – and the rest narrow.
Stay tuned for more detailed road tests.