Saddle Up For The Ride Of Your Life
Spyder owners are very passionate about their ride. They love the feeling of confidence and freedom they have when touring on the open road. They feel safe and most of all, they feel like they are part of something bigger, something more significant – a family.
I was given the opportunity by Bow Cycles in Calgary to try out this very cool machine for a couple of days. I would like to thank Dave and Rachel for this awesome opportunity.
Specifications
Rotax 1300 ACE in-line 3 cylinders, liquid-cooled with electronic fuel injection and electronic throttle control
115 hp (85.8 kW) at 7250 rpm
6-speed manual transmission w/reverse or 6-speed semi-automatic w/reverse
Double A-arm with anti-roll-bar front suspension w/ Fox podium shocks
Swing arm rear suspension with SACHS Shock
Foot operated, hydraulic 3-wheel brake
270mm disc front brake w/Brembo 4 piston fixed calipers
270mm disc rear brake w/1 piston floating caliper with integrated parking brake
Stability Control System
Traction Control System
Anti-Lock Braking System
Dynamic Power Steering
Digitally Encoded Security System
Electronic Cruise Control
Dry weight of 899 lbs. (408 Kg)
27L (7.1 gal) Fuel tank capacity
4.5L(1.2 gal) Reserve fuel
Starting at CAD$ 25,799
First Impressions
My first impression of the 2018 F3-S Spyder was how different from any other motorcycle this machine is. I was drawn in by the aggressive stance and the matte black color of the paint. The seat looked comfortable and I immediately felt like getting on.
After a quick introduction to the features, My colleague Jim Pruner and I took a moment to go around the machine and discuss the stance, the belt drive, the tires, the size of the footpegs and more.
Once it was started, I listened to the ROTAX 1300 ACE engine bring life into this somewhat strange yet inviting machine. The sound of the exhaust note was very nice at idle and I was wondering how it would feel to ride this bike home in rush hour traffic.
First Ride From The Dealer To My House
I pressed the button that disengages the electronic parking brake and proceeded to put the F3S in gear. It engages in first gear with quite a loud clunk. I released my foot off of the brake and turned the throttle. I was quite impressed with the low-end torque.
The first thing I noticed was how different it was to turn with a Spyder. Having 2 wheels in front, it feels much more like riding a quad instead of a traditional 2 wheeled motorcycle. Once I was on my way, I noticed how responsive the steering is on this machine. It actually turns very smoothly. The dynamic power steering requires less effort than I thought it would to control the F3-S on the street.
It takes some getting used to only having a foot pedal for braking. After being briefed on how to operate the Spyder, the subject came out that it is easy to forget that there is no hand lever for the front brakes. I found myself reaching for this lever all the way home. Luckily, I almost always use both my front brakes and rear brakes when riding.
The same goes for the clutch. Not being used to a semi-automatic transmission, I reached for the clutch a few times to be met with nothing except the downshift button that I ended up pressing a few times.
Once home, I really appreciated that the Spyder has a reverse gear. I got off the bike as Jim was pulling in with my truck. I mentioned to him that it would take some getting used to the seat. It is much wider than a standard motorcycle seat and I felt it in my hip flexors.
Evening Riding
I waited for it to get dark and decided to go for a ride to try out the instrument cluster and the lights. I went through a residential area and then got on the highway for a bit. The lights were bright and illuminated the road very nicely. In an urban setting, I felt that there were no issues in having a clear view of the road.
The instrument cluster was well illuminated and easy to read; however, I did find it boring. It consists of two analog gauges on both sides of a digital screen. I know that the other models of Spyders do not use this cluster. I found that it did not have much of an impact on me. I found it very utilitarian and unsophisticated.
The other thing that let me down during my evening ride was the lack of a fairing. I understand that it is available as an option and that it is available as standard equipment on some of the other models; however, it was not present on the F3-S and the result was a copious amount of bugs hitting the face shield on my helmet.
The rear lights are bright and I felt like I was very visible to other drivers.
City Riding
As it turned out, I had an additional day off on the same Friday that i wrote this review. Jim Pruner and I had made plans to go riding on Saturday so I took the opportunity to try out the Spyder in an urban setting. I had some errands to run and I wanted to see what it would be like to use the F3-S as a daily commuter.
After going to the grocery store, the hardware store and stopping for lunch, I went for a haircut. What really struck me was the amount of attention a rider gets when they are on a Spyder. I had multiple people stop by asking questions about the bike.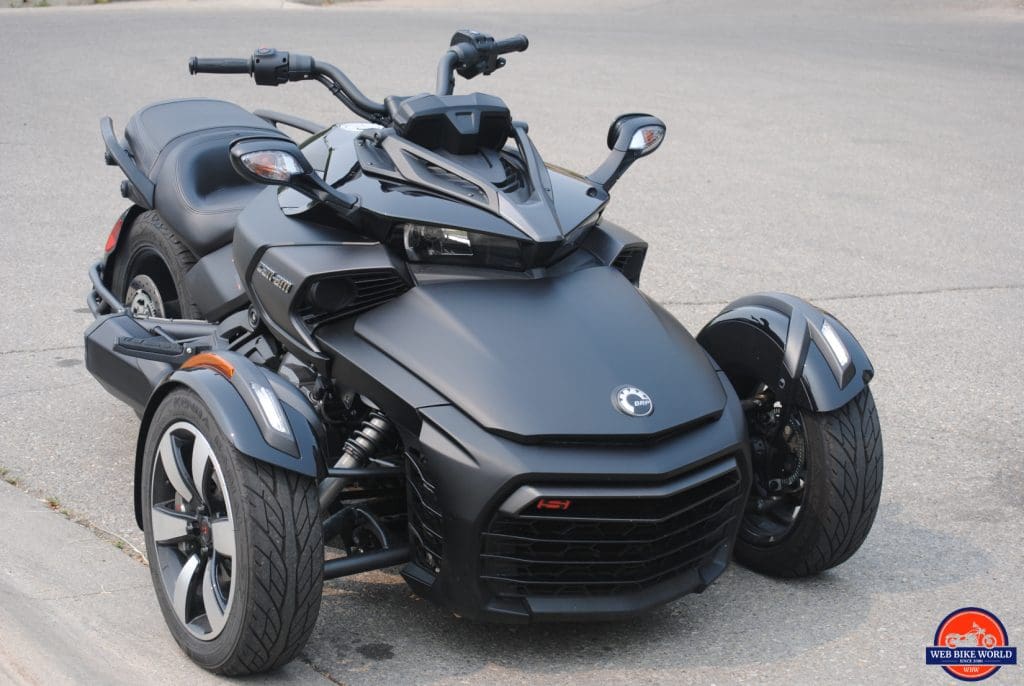 Coming out of my haircut, a small congregation of women had gathered around the Spyder and were asking me questions. One lady even asked me for a ride. Most of them seemed to be attracted to the Spyder due to the fact that it is stable.
One woman pointed out that the F3-S looks like something that you would see Batman riding down the streets of Gotham.
And with that, even though I was not sporting a cape or a cool utility belt, I did have a new haircut and that was enough for me to feel like a superhero for the rest of the weekend.
Country Road Riding
Road Test on Route 1A
I met up with Jim on Saturday morning at the A&W. We sat outside and had breakfast before setting out for our ride. During our short time there, we had a couple traveling through on their way to Montana on a Harley Davidson Trike stop and ask about the Spyder.
To be on the fair side, Jim rides a 2018 Kawasaki Ninja H2 SX SE. A fellow street bike rider did stop to talk to Jim about his ride as well.
After breakfast, we took off on Alberta Route 1A with a thick layer of smoke from the forest fires in BC made a canopy of grey over our heads.
Route 1A is an amazing stretch of road. It goes from Airdrie to Canmore. The road has multiple twists and turns surrounded by beautiful scenery through the Rocky Mountains.
The road has its hazards as it is a two-lane road in a region that is very active with wildlife. One has to be alert while riding this road as sharp turns and elk do not mix well with motorcycles. The experience of this stretch of highway is amazing and is very rejuvenating.
Adapting to the Spyder
It's about one third in the ride on the 1A that I finally felt comfortable with the Spyder. I finally understood that in order to appreciate this machine, you have to completely tune out everything that is instinctive with having ridden motorcycles for a long time.
You MUST resist your natural instincts to countersteer. The bike turns like a quad or a snowmobile. Not like a regular motorcycle. Leaning does very little. It will not make the bike move. Turning the handlebars will. It takes a bit of practice; however, once you get the hang of it, it becomes a blast to ride.
Again, I felt like the lack of a fairing or windscreen was a concern. The wind has a tendency to get you in the chest and helmet area. If you are gripping the handlebars too tight as I was doing at the beginning, you really start to feel the strain in your shoulders.
Highway Pegs Instead of Footpegs
The footpegs are good in the city. They are comfortable; however, they are kind of a pain on a longer ride. Floorboards would definitely give you more flexibility in positioning your feet.
That being said, I was thinking about how nice it would be to have highway pegs on the F3-S. That thought got cut short when I realized that if your foot is not on the footpeg and you are required to brake, highway pegs would greatly reduce your stopping time as there is no brake lever on the handlebars.
Custom Brakes
Speaking of brakes, the custom Brembo brakes on the Spyder are spectacular. They will easily stop this machine faster than most motorcycles.
Seating
Once I got accustomed to the seat, I found that it was very comfortable for a long ride. The only limitation is that the footpegs on the unit I rode were not fitted for me. When purchasing a Spyder, adjustments can be done to custom fit it to your needs for an additional cost.
Power
I found that the mid-range power on this unit was very enjoyable. It has good acceleration both from a full stop and from a rolling start.
A Second Opinion from a Friend
At one point, Jim and I decided to switch bikes to get his opinion on the F3-S. I got on his H2 SX SE and he took the Spyder. Needless to say, It is not fair to compare the two bikes. I do have to say that I was quite impressed at the handling of the Kawasaki on Route 1A.
Jim did a mini review on the Spyder and as I suspected, he was not as enthusiastic about it as I was. He wrote up a short blurb which I have included:
"Here are my impressions from only a half hour ride.
Pros
Comfortable seat and riding position
Decent power
Fox shocks absorb bumps well
Good storage in the trunk
Good braking
Fun to ride and attracts women that want to talk about the Spyder
Cons
Relatively Poor fuel efficiency about 30mpg
Front shocks "roll" during hard cornering which is unnerving
Dash works fine but LCD is lame. Should be TFT at this price point
Turn signal indicator doesn't show which direction has been selected. Looks like hazard lights are on
Expensive to buy
Overall I think I would buy the Polaris Slingshot or a Harley Davidson trike first."
Stopping for Poutine
We went for lunch at this amazing little restaurant in Canmore called 514 Poutine. They serve traditional Montreal style Poutine. Low and behold, another group of people gathered around the F3S and asked questions, asked to sit on it. It was a blast.
When we got back to Airdrie, I went to the gas station as the gas light had turned on and I was almost out of fuel. I was really surprised at how low a gas economy I got from the F3S. We calculated the gas rating to about 30 Mpg.
Couples Riding
My girlfriend is not the biggest fan of riding on a motorcycle. I was very surprised when I asked her if she wanted to go for breakfast on the bike and she enthusiastically said yes. We decided to have breakfast at the Calgary Farmers Market as it has a wonderful assortment in the food court area.
This would also be a good time to try out the cargo area and see how many fresh vegetables we could fit it there. As it turns out, it's quite a lot.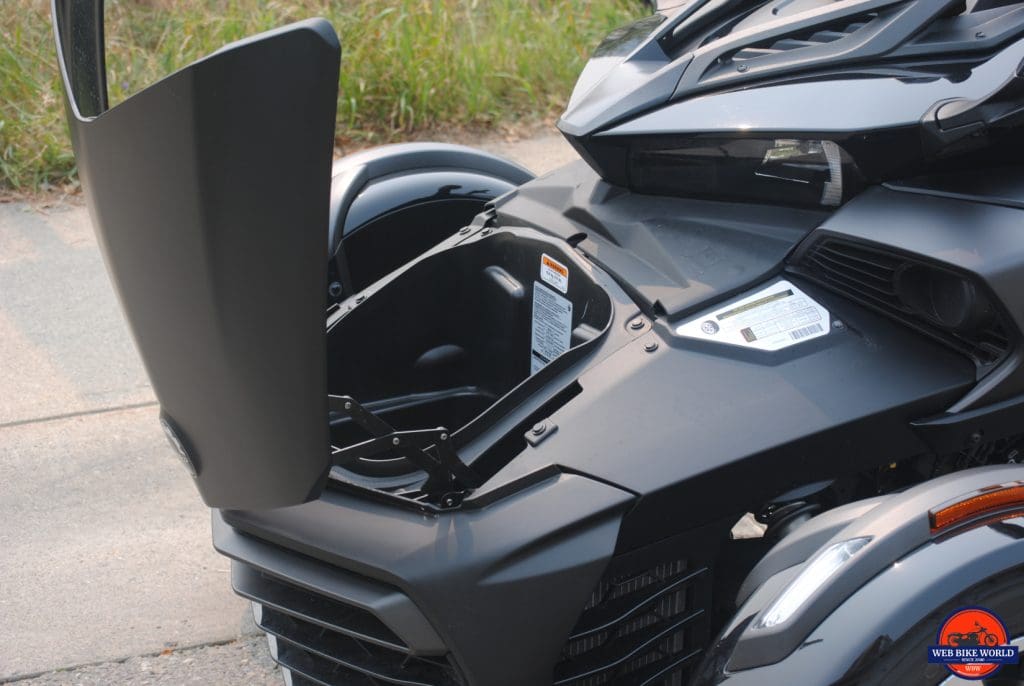 After the market, I stopped in an empty parking lot and got my girlfriend to try out the Spyder. She has never ridden a street motorcycle before and I wanted her impression. I quickly showed her the throttle, the brakes and how to shift using the semi-automatic position.
Instinctively, she was able to handle the F3-S like a seasoned rider.
After our ride, I asked her opinion on the ride. She enjoyed the seat, the suspension, and the stability. Also, when I asked if she would feel comfortable riding one on the street, she said that she would prefer it to a two-wheel motorcycle.
Riding Position
I was quite comfortable on the F3S Spyder. The seat is comfortable and the riding position is very much like a touring bike. This would be much better with a fairing or windscreen.
At highway speeds, the wind really hits you in the sternum and seems to make you tense up your shoulders. An alternative would be to have the handlebars lowered on this sport model and to have more of a sportbike riding position.
The foot position could be improved. In my opinion, floorboards would be a more comfortable option.
Instrument Cluster
The analog styled cluster on the F3S was adequate and utilitarian, but it was boring. It would be better to have a digital display as the one on the touring models. I found that I focused on the digital display and that the analog gauges on either side were of no use to me.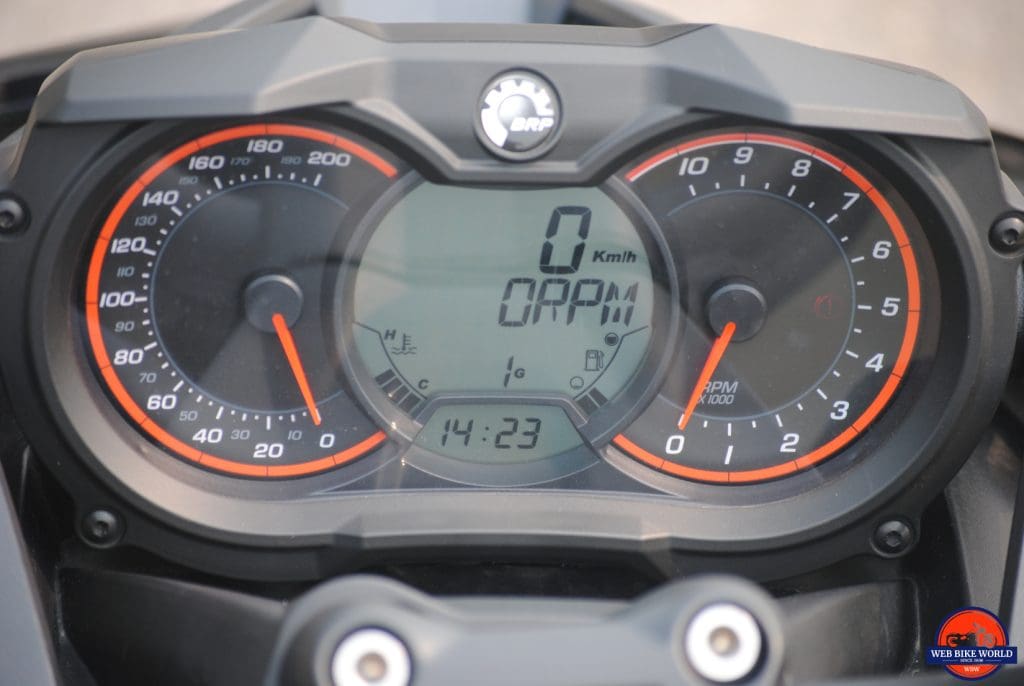 Tires
The Spyder F3-S comes equipped with Kenda tires. They work well, I found that I had very good traction at all times on warm and cold pavement.
The F3-S comes with 165/55R15 tires on the front and a 225/50R15 on the rear.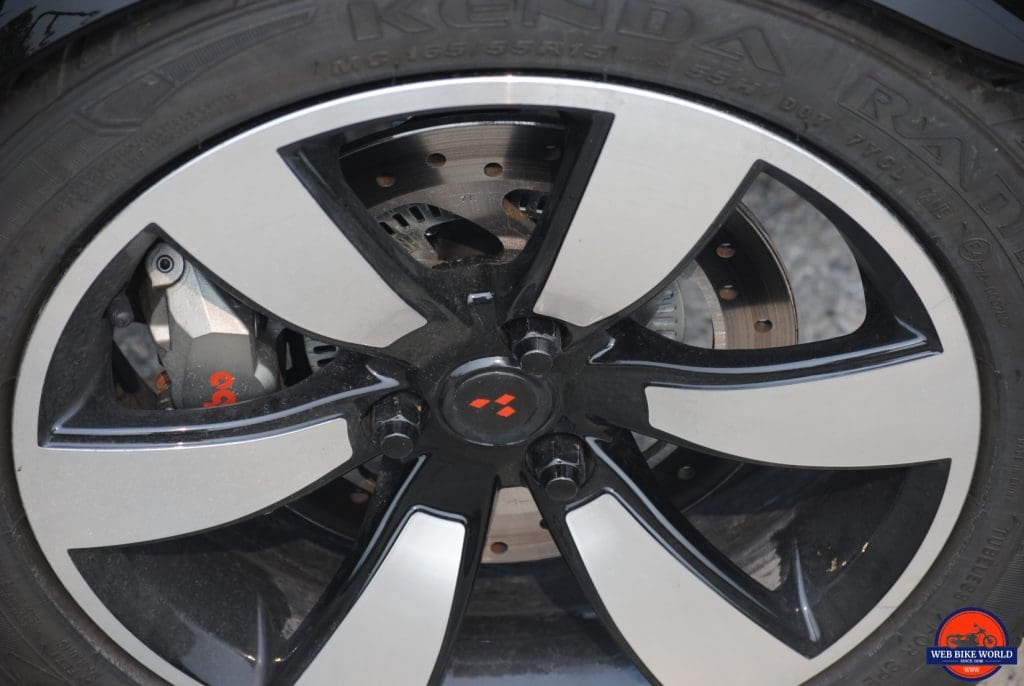 I was concerned with the size of the tires on the spyder. They appeared to me at first to be an irregular size tire and that they would be difficult to find in a rural area. While these tires are not overly common, I was amazed that both sizes were available at Walmart.
Brakes
The brakes on the Spyder F3S are spectacular. There is no question that the Brembo brakes on this machine were designed to have you stop on a dime. I was surprised at just how efficient they are.
Front: 270 mm disks with Brembo 4 piston fixed calipers.
Rear: 270 mm disk with a 1 piston floating caliper with an integrated parking brake.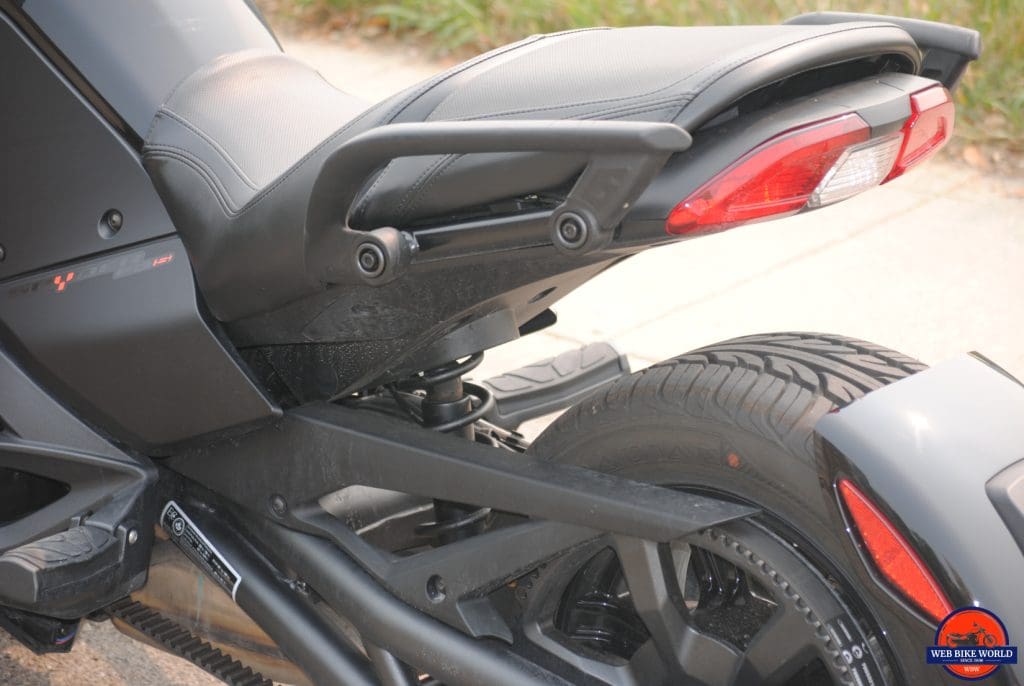 Conclusion
I rate the F3-S Spyder a 3.8 out of 5 stars.
It took me a couple of days to really appreciate the 2018 Can-Am Spyder F3-S. I was really unsure at the beginning, but I kept an open mind.
I am very glad I did. The spyder handles well, it accelerates well, it stops on a dime. I loved the stability of it, It does an excellent job at riding with a passenger and were it equipped with a few available options such as a fairing and floorboards, would make an excellent choice for touring.
I believe that the Spyder, in general, has a niche market. It is an excellent candidate for a rider that has difficulty with leaning into turns. Once you experience vertigo on a motorcycle, it makes it quite difficult to go out and ride.
It also caters to individuals that have difficulty holding up a touring bike because of decreased leg strength. It is a good candidate for an individual that is not looking to be on two wheels but enjoys riding on the open road.
It comes with a 2 year, unlimited mileage warranty with the option of adding an additional 12, 24 or 36 months with the B.E.S.T. Extended Service.
The price of the Spyder is subjective some find it expensive, some find it affordable. The Model I tested was listed at around C$24,000. Prices start at around C$20,000.
The biggest surprise I got from testing the F3-S was how difficult it was to give it back. I really liked the ride and would definitely consider this amazing machine as a touring bike for myself.
If you are new to the touring scene or have been riding for a long time and find it difficult to put in those long hauls due to stability issues, I recommend looking into the Spyder line of products. Keep an open mind, allow yourself to experience the ride. You might be pleasantly surprised.