I had seen plenty of photos of the Yamaha XSR900 prior to riding it – who wouldn't be curious about the new toy they've been given for a week?
However, that didn't quite prepare me for its striking looks in person. It appeared more shapely and interestingly, better designed than I'd anticipated.
The design of the bike flows and everything makes sense. I love the shape and style of the tank, the brushed aluminium looks fantastic and is reminiscent of the XS1 and XJR1200.
The small aluminium brackets and accents very much add to the style of the bike and if you peruse the Yamaha accessories catalogue, you'll likely also end up with a rear seat cowl, low slung café racer 'bars and a pair of nice, anodised black rearsets.
The ergonomics are also fantastic – my six foot, bulbous frame fitted nicely into the curved XSR900 seat, helping lock me in around the tank. I found it very easy to keep my lower half clamped on the bike, leaving my top half nice and relaxed, the bars falling to hand with me every so slightly canted forward.
The dash is mounted on the triple clamp but slightly off the right hand side, and provides a plethora of info – fuel gauge, traction control level, power mode, as well as also the usual info. I do have one small complaint about the styling – I really wish Yamaha would toss those mirrors in the bin. They were ugly on the FZs and they're still ugly now. Great rear vision though.
Having spent a significant amount of time on an MT-09 when it was first released, I assumed I knew what I was in for but thankfully, I wasn't even close.
All of the things that annoyed me about the original MT-09 have been fixed with the XSR900, as well as pile of new additions that only add to the riding experience. While the XSR900 and MT-09 are different models, the basic framework is the same, particularly in regards the improvements.
Electronics is the most obvious area – the first MT-09 didn't even come with ABS. The XSR900 comes with a full suite of electronics – power modes, ABS and traction control.
The power modes on the original worked well, but the fuelling left a lot to be desired. Come 2016 and the fuelling on the XSR900 is dead on. A-mode provides an immediate throttle response and awesome torque response from the inline triple. The torque curve feels very linear and just keeps on pulling bloody hard.
Standard mode still provides full power but the torque curve is softened slightly by the throttle response, which allows for a slingshot effect – jam on the throttle and wait for revs to build and flick you forward.
B-mode is softer yet again but I spent very little time in it – I didn't find it particularly useful, even on greasy and wet city streets. The fuelling is also quite miserly, chewing through an average of 5.4L/100km, with the fuel light flashing on with three litres left in the 14L tank.
As for the ABS and traction control being a welcome addition to a modern café racer – I'm still in two minds when it comes to electronics on bikes like these. I've had my arse saved by electronics and know exactly how valuable they can be.
By the same token, in every one of those situations, I can point to things I should have done differently, which would have negated the electronic intervention in the first place.
Electronics can add to a riding experience, but they can also detract from one and when it comes to the XSR900, frankly, I'm still not too sure. I liked being able to flick between full biccy mode and a less intense standard mode but, if the XSR was brought to market with no electrickery, it wouldn't stop me buying one.
Yamaha have kept up the standard on the brakes and suspension front as well, employing a pair of 41mm inverted forks and monoshock at the rear, both of which are preload and rebound adjustable. The stock set-up worked well but I did add some preload to both ends in order to help deal with my extra heft.
From lazy commuting through to fast sweepers, the suspenders take whatever you throw at them. At times, the XSR900 did feel a little nervous but that panned out to be my fault – I wasn't pushing it hard enough. The harder I pushed it, the better it got.
The brakes are of the spec you wouldn't expect to find on a standard bike – they provide seriously good stopping power without sacrificing feel and are backed up by a very good ABS unit. The pair of four-piston radial calipers clamp 298mm discs on the front, and the single piston rear employs a 245mm disc.
That engine, oh that damn engine. What a fabulous piece of engineering it is. It is the best of both worlds – producing gobs of torque with minimal vibration and yet, sings right up to it's 11,000rpm red line. It produces great power in every part of the rev range – it will happily bumble along at 100km/h at 4000rpm in sixth or launch away from the lights with the front wheel feathering the ground (provided the traction control is off or on level one).
The assisted slipper clutch also works a treat – there's no harm in banging down gears a bit too eagerly in what is a great gearbox. Every shift felt very positive, and I didn't get the slightest hint of any notchiness or false neutrals. The gear ratios are also set out perfectly, nailing that happy medium between having a bike that will launch and amble whenever required.
What is completely ridiculous though, is the price. A low $12,999 plus on-roads is all it will set you back to take one of these home, which makes the value for money and fun ratio astounding.
It's economical, cheap, comfortable, plenty of modern electrickery and a stonking motor to boot. It's got beauty and brawn in spades and to be frank, if I wasn't as poor as a church mouse, I'd be putting my money where my mouth is.
2016 Yamaha XSR900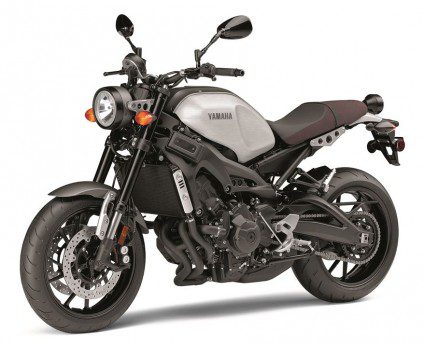 Price: $12,999 plus on-road costs
Engine: Liquid cooled, 3-cylinder 4-stroke, DOHC, 4-valve
Displacement: 847cc
Bore x Stroke: 78mm x 59.1mm
Compression: 11.5:1
Lubrication: Wet sump
Fuelling: EFI
Ignition: TCI
Starter: Electric
Fuel tank: 14L
Oil Capacity: 3.4L
Final Drive: Chain
Transmission: Constant mesh, six speed
Length: 2075mm
Width: 815mm
Height: 1135mm
Seat: 830mm
Wheelbase: 1440mm
Clearance: 135mm
Wet Weight: 195kg (with 14L of fuel)
Frame: Diamond type
Suspension Front: Inverted, telescopic forks, 137mm travel
Suspension Rear: monoshock, 130mm travel
Brakes Front: Hydraulic dual disc, 298mm rotor, 4 piston radial calipers, ABS
Brakes Rear: Hydraulic, single disc, 245mm rotor, axial caliper, ABS
Tyre Front: 120/70-ZR17
Tyre Rear: 180/70-ZR17
ABOUT THE AUTHOR
James is a Sydney-based photographer and motorcycle writer, with an undying love of anything with two wheels and a motor. Formerly the assistant editor of Two Wheels magazine, James is now freelancing for various publications, both nationally and abroad. You can contact him via email or check out his instagram site.