For those experienced riders looking for a lively and agile mid-sized naked bike, they don't have to buy a learner-approved bike and then try to de-restrict it; they can buy the Yamaha MT-07 HO.
The rest of the world just refers to it as the MT-07, but Yamaha Motor Australia first brought out a learner-approved and restricted version just for our market.
So now they refer to the internationally available MT-07 as a high-output version.
While it won't sell as many as the top-selling naked bike, there will still be a market for fully licensed riders who want a fun mid-sized bike.
However, those who have bought the LAMS version won't be able to convert their bike into the HO version because it's more than just 25% throttler restriction; they also have different cams, pistons and capacity.
The full-powered, higher-revving 689cc version of the 270 degree parallel twin has 55kW of power at 9000 revs compared with the 655cc LAMS version with 38kW at 8000rpm.
It also has more torque with 68Nm at 6500rpm compared with 57.5Nm at 4000rpm.
The non-learner-approved naked bike comes in blue only, does not have ABS and is priced at $9999 plus on-road costs. The LAMS model it comes standard with ABS for $9599.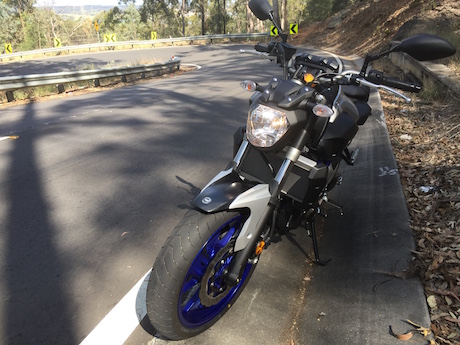 We took the HO version for a spin from Sydney to the Blue Mountains and back and found it an enormous amount of fun.
The engine actually behaves more like a smooth and powerful four-cylinder than a lump parallel twin.
It has less low-down torque and more mid to top-end power than the LAMS bike.
It's not as easy to ride around town, but let it off the leash in the country and it is a ton more fun.
The engine is surprisingly smooth and mechanically quiet allowing you to hear the suppressed tiger growl of the muffler.
In fact, the engine is so smooth and quiet, when you stop it feels like it has stalled.
The MT-07 HO version has the same suspension as the LAMS model but strangely it feels more composed and refined.
It points and shoots with precision and is forgiving over rough patches.
Just feed in a little steering input and it goes where it's pointed without any hassles or kickbacks.
Riding position is upright and comfortable with a relaxed reach to the bars and pegs.
The seat is narrow so shorter riders can get their feet down on the ground. It's also flat and firm but not uncomfortable except on long, straight stretches such as the M4 out of Sydney.
Sitting up on there bike, the front just disappears from view and you almost feel like you are flying.
The digital instrument screen is highly visible, in fact the best screen I have witnessed in broad daylight. The numbers and letters are easy to read so you can keep an eye on your speed on heavily patrolled roads such as the M4.
I like the new ignition and kill switch combined in one. Several bike companies are doing this now and it's convenient and reduces handlebar clutter.
The mirrors are excellent with a wide view allowing vision out to the blind spots and to the rear with no blurring at any revs, despite it being a parallel twin.
Brakes are biting and strong, but there is enough feel to avoid lock-ups with the absence of ABS.
The six-speed transmission has a good spread of useable ratios and is super-slick with no false neutrals and neutral easy to find.
Yamaha MT-07 HO