2016 TRIUMPH THRUXTON BACKGROUND
By 2016, the Triumph Bonneville had grown from 800cc to 1200cc. And starting in 2016, the top of the Bonneville food chain was the Thruxton and the Thruxton R. While they had identical engines, now producing 96-horsepower, the Thruxton R sported better suspension, brakes and tires, giving it a handling advantage over the already-capable non-R Thruxton. In addition to the were some subtle cosmetic differences. The Thruxton had chromed exhaust, while the R had brushed-stainless finish on its exhaust. Both are excellent road machines with sharp handling and ample power, a testament to the good people at Triumph.
---
2016 Triumph Thruxton R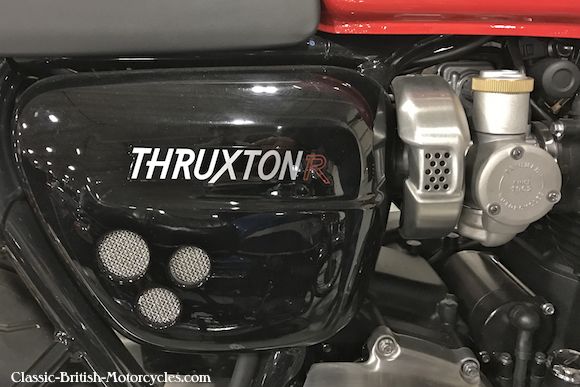 ABOVE: Talk about subtle, you can barely see the "R" after the Thruxton name. A nice touch is the electronic fuel injection units that are styled to look like an old Amal Monobloc from the 1960s. It even has old school-style pancake air filters.
BELOW: The chunky good looks are both modern and classic at the same time. They did a great job of picking up on classic Triumph Bonneville styling cues. The engine, with an overhead cam, 4-valves-per-cylinder, and water-cooling, still manages somehow to mimic the looks of the classic Bonneville engine, with it's triangular timing cover on the right, separate gearbox cover behind it, vertical cylinders with heavy finning, and two 'rocker boxes'. They even retained the basic shape of the primary cover on the left side. This is a great shot of the sophisticated front forks, brakes and the rear shocks.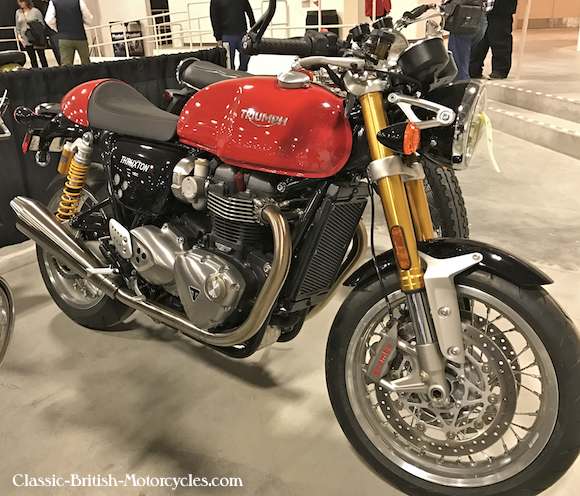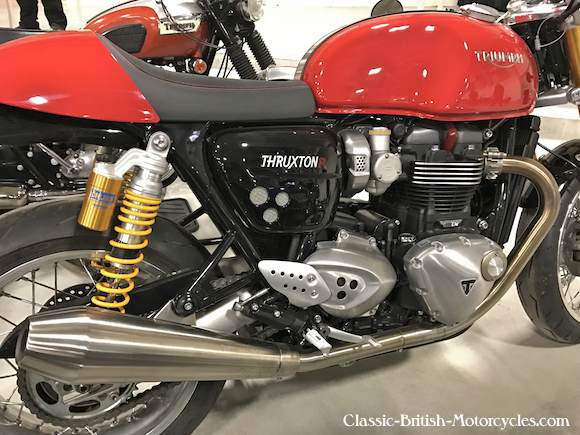 ABOVE: Two clues that this is a 2016 Triumph Thruxton R: the brushed stainless exhaust system (non-Rs are chromed), and the trick Ohlins rear shocks with the 'piggyback' oil reservoirs and yellow springs.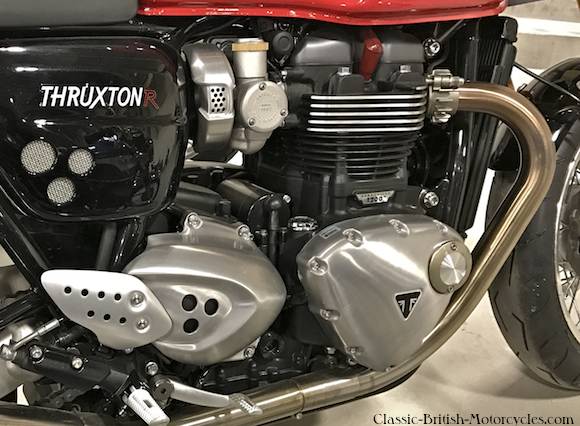 ABOVE: It's instantly recognizable as a Triumph Bonneville. The triangular timing cover, the oval gearbox cover behind it, the heavily-finned vertical cylinders with twin 'rocker boxes' on top, the exhaust even exits the head at the same angle. And then there's those Amal Monobloc carbs…oop! They're not carburetors. Clever, those Brits.
BELOW: They managed to package the engine to accommodate the classic Triumph primary cover. Judging by the extra hardware for that shifter, it wasn't an easy decision, but they did it anyway, in the interest of authenticity, and it's a good thing for us old Triumph buffs that they did.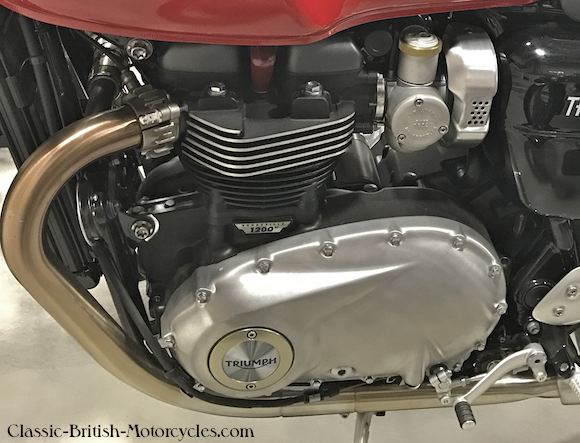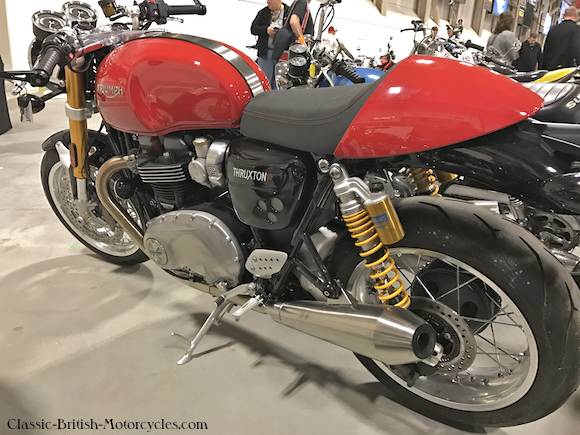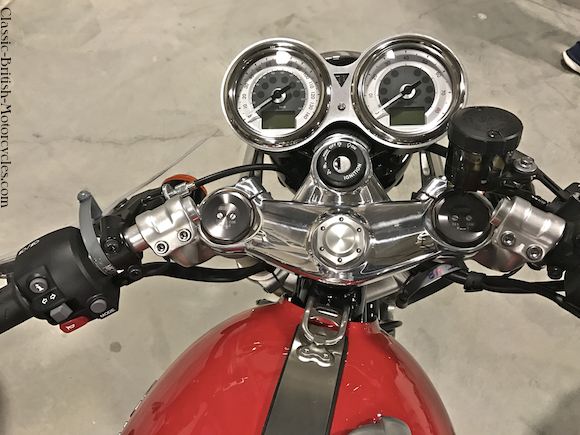 ABOVE: The high-quality components, and superb craftsmanship is visible everywhere on this bike. Kudos to the Brits for pulling it off. Too bad the old Triumph couldn't do that.
BELOW: Besides upgraded suspension, the 2016 Triumph Thruxton R also got a big boost in braking power, with twin 310mm Brembo floating discs with 4-piston radial monobloc calipers with ABS.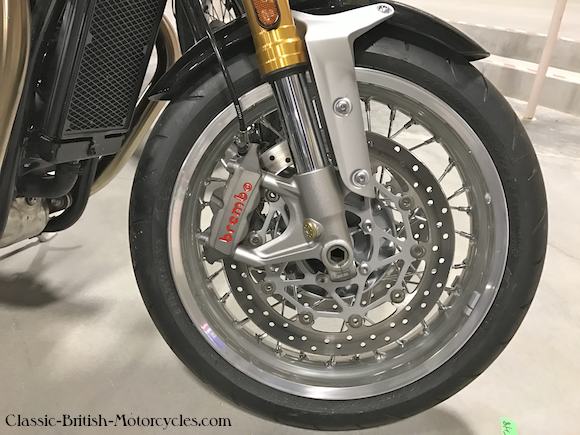 2016 Triumph Thruxton SPECIFICATIONS
MODEL:
Engine type:
Crank offset:
Cooling:
Displacement:
Bore & Stroke:
Compression:
Fuel System:
Horsepower:
Torque:
Clutch:
Gearbox:
Final drive:
Frame type:
Swing arm:
Wheel, front:
Wheel, rear:
Tire size, front:
Tire, front:
Tire size, rear:
Tire, rear:
Front forks:
Wheel travel:
Rear shocks:
Wheel travel:
Brakes, front:
Calipers, front:
Brake, rear:
Caliper, rear:
ABS brakes?
Length:
Wheelbase:
Width:
Height:
Seat height:
Rake:
Trail:
Dry weight:
Fuel capacity:
THRUXTON R
SOHC 8-valve parallel twin
270-degrees
Liquid-cooled
1200cc
97.6mm X 80mm
11.0:1
Multiport sequencial EFI
96 hp @ 6750 rpm
82.6 lb-ft @ 4950 rpm
Multi-plate, wet
6-speed
X-ring chain
Steel tube, twin cradle
Aluminum 2-sided
32-spoke 17″ X 3.5″
32-spoke 17″ X 5″
120/70 ZR17
Pirelli Angel GT
160/60 ZR17
Pirelli Angel GT
Kayaba 41mm
120mm
2-Kayaba adjustable
120mm
2-310mm discs
Nissin 2-piston, floating
1-220mm Nissin disc
Nissin 2-piston, floating
Yes
2105mm / 82.9″
1415mm / 55.7″
745mm / 29.3″
1030mm / 40.6″
805mm / 31.7″
22.7 degrees
90.8mm / 3.57″
454 lbs
3.8 US gal
THRUXTON R
Same as Thruxton
270-degrees
Liquid cooled
1200cc
97.6mm X 80mm
11.0:1
Multiport sequential EFI
96 hp @ 6750 rpm
82.6 lb-ft @ 4950 rpm
Multi-plate, wet
6-speed
X-ring chain
Steel tube, twin cradle
Aluminum 2-sided
32-spoke 17″ X 3.5″
32-spoke 17″ X 5″
120/70 ZR17
Pirelli Diablo Rossa Corsa
160/60 ZR17
Pirelli Diablo Rosso Corsa
Showa 43mm USD
120mm
2-Ohlins adjustable
120mm
2-310mm floating discs
Brembo 4-piston
1-220mm Nissin disc
Nissin 2-pistion, floating
Yes
2105mm / 82.9″
1415mm / 55.7″
745mm / 29.3″
1030mm / 40.6″
805mm / 31.7″
22.7 degrees
90.8mm / 3.57″
448 lbs
3.8 US gal