The Lighter-Weight Sport Tourer All-Arounder
You're looking at the newest webBikeWorld Project Bike!
It's a 2015 Kawasaki Versys 650 LT. The LT or "Light Touring" version of the Versys 650 comes with ABS, hand guards and matched luggage.
Why this bike? It's kind of a long and convoluted story, so hang with me:
Although I ended up liking the 2014 Suzuki V-Strom 1000 ABS (Blog) after we made some easy modifications that made a huge difference, I never really did get on with its weight, height and tractor-like engine.
But I liked the concept — sort of an all-around sporty tourer with a hint of adventure-touring thrown in.
I'm done with the adventure-touring concept for now. It's back to the all-arounder for me.
Although I will say that I almost never regret selling a motorcycle, but I did miss the Suzuki DR650 (Blog), with its narrow light(ish) weight and surprisingly good 650 cc single-cylinder engine.
It was probably too dual-sport focused for my normal riding routine, but it taught me a big lesson: "smaller" bikes can be (lots) more fun than bigger bikes.
Forget the "anything under 1000cc or 100HP is a beginner's bike" nonsense fostered by the motorcycle press. And even in 2015, you do not have to spend more than $10k to get huge grins.
Basically, I was looking for something like a cross between the DR650 and the big V-Strom. Kind of a lighter-weight V-Strom that I could flat-foot, that was more nimble and that wasn't as top heavy.
Also, I wanted a smaller, narrower engine — preferably a twin (the perfect motorcycle engine size — another lesson), but an engine that had a broader and more flexible powerband than the V-Strom.
Maybe something like…the Ducati Multistrada 620 (Blog), a four-motorcycles-ago webBikeWorld Project Bike. That bike had its own nest of quirks, but it was fun. And light.
And, of course, the next Project Bike had to be something new and interesting to webBikeWorlders.
Which brought me to the 2015 Versys 650.
I had always liked the idea of the original Kawasaki Versys (review) from 2008. But that styling… Look up the word "polarizing" in the dictionary and you'll find a picture of the original Versys.
But for 2015, Kawasaki kept the Versys guts and DNA and updated the styling. A few initial ride reports were very positive and now that the new LT version was announced, with ABS and bags, I was in. And it comes in metallic white!
Trouble is, having gotten burnt — or at least scalded — by the original Versys (which started out hugely popular and quickly faded after the initial fans bought one), Kawasaki wasn't sure if the newer Versys 650 — much less an LT model — would fly.
So they didn't make all that many LT variants and, of course, Murphy's Law and the Peter Principle struck. The few LT's that hit the dealers were scarfed up as fast as crab pretzels at Camden Yardson opening day.
Thus, it took some effort to find one — in white — and get it to the local Kawasaki dealer (who hadn't ordered any 2015 Versys 650's, thinking they wouldn't sell).
That's a long story, but the bike finally arrived on the Friday before the 2015 AIMEXpo (report).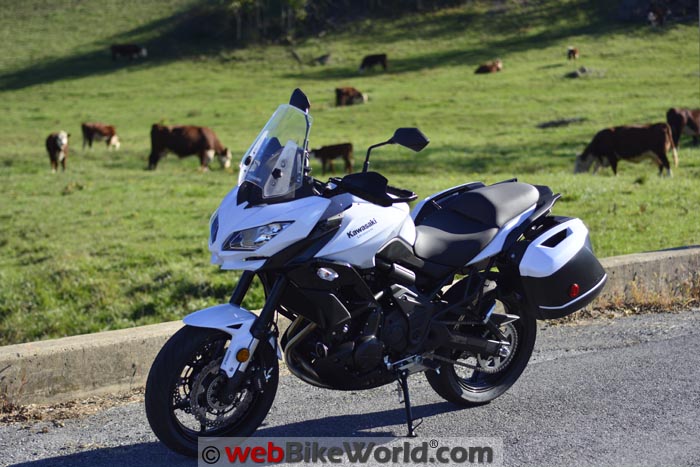 The Versys: A Modern "Street/Sport/Light Touring Standard"
The looks of the new Versys are probably still a love-it-or-hate-it proposition for many, but surely nothing like the original Versys. This time, you'll have to like the modern Japanese angular theme. Me? I like it.
Overall, with its color-matched bags, the bike looks like a modern sport tourer to my eyes. Take the bags off and the look changes to surprisingly sporty.
I'm calling the Versys — in both 650 and 1000 cc guise — a pure street bike with absolutely zero off-road intentions. Others may disagree, but really…if you want to go rough-roading, get a DR650. Or DR-Z400S. Or maybe an F800GS at the upper limit.
My personal feeling is that anything bigger and/or heavier than the DR650 is out of contention for off-roading.
Yes, yes, I know…it's been done.
I've even seen Harleys taken off road (and they did it frequently in WWII). But I'm calling the Versys a "modern street sport light touring standard". It does all of that very nicely, so why stretch it to include off-roading that it isn't designed for?
That being said…the irony here is that I've actually taken the Versys off road and — surprise — it handles it better than the big V-Strom 1000 "Adventure", which — with its 19″ dual-sport front tire — was supposed to work in the rough.
The V-Strom didn't, but the Versys does. Its light weight, nimble feel, light front end with easy steering and, believe it or not, the smaller 17″ front tire makes it feel much more nimble and even controllable in the rough stuff.
Of course, I'm not talking sand or mud or anything that a DR650 or a true off-road bike would laugh at. But for light off-roading, the Versys should actually handle it. 17″ front knobbies anyone?
Just…don't do it. Stick to the street and you'll be better off.
w

BW

 Video: 2015 Kawasaki Versys 650 LT Walk-Around
First Impressions
One thing's for sure: Kawasaki's build quality has it all over the V-Strom. Studying all the parts and wiring, under the seat and in and around the frame, Kawasaki has done a very good job at keeping everything nice and tidy.
The wiring is nicely wrapped and aligned, secured and out of the way, not haphazardly thrown together without waterproof connectors like I've seen on some other bikes costing a lot more.
The Versys does have a light feel — kind of a cross between the dreaded "beginner's bike" and a "real" bike.
But let's get something straight: a "beginner's" bike is a good thing. That means it's easy to ride, easy to handle, can be flat-footed and it's efficient. That's the way they ALL should be…
Bottom line, I'm more impressed with the build quality of this $8,699.00 Versys 650 LT than I was with the $13,999.00 V-Strom..
Which brings up another point: you can find a Versys LT for an out-the-door price (excluding tax and plates) of around $8,300.00 or even less. Just watch out for extra fees, like assembly and testing charges, shipping and, of course, taxes, licensing and additional dealer markups.
I'm also very pleased so far with the overall functionality, ease of use and general pleasantness of the ride. I'm pretty sure my appreciation will continue to grow as I move past the interminable break-in period.
There's a lot of bike here for the buck in my book and, in fact, I'm calling it a best buy for 2015. Maybe that's one of the reasons the LT has been difficult to find; the dealers can't keep 'em in stock!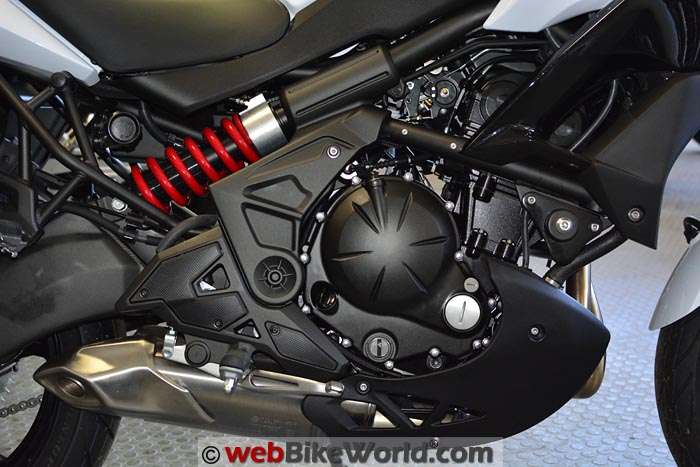 More Impressions
In no particular order, here are my first impressions of some of the features:
Break-in
I picked up the bike, rode it home the long way 'round and then took off for the show. In the week or so since I returned, I've put about 375 miles on it (600 km), on the way to its 500 mile (800 km) first phase break-in (not to exceed 4,000 RPM).
If you followed my Suzuki GW250 Blog, you'll know the routine. Breaking in a motorcycle by the book can be a frustratingly slow and boring experience.
A 4k RPM break-in on the Versys 650 isn't quite as bad as it was on the GW250 though; 4,000 RPM on the Versys is max 52 MPH (83 km/h). But short-shifting at 4k max is boring.
From 500 to 1,000 miles (800-1,600 km), the max is 6,000 RPM. Then unlimited after that.
I can sense the engine though; the twin is definitely smoother than the DR650's single (naturally) and feels like it has a lot more power. Again, the lesson here is that unless you're doing two-up heavy-duty touring, smaller and lighter is funner.
Still, with less than 400 miles on it so far, these are only preliminary findings.
Engine
The engine and the bike are very quiet; surprisingly so, to me anyway. After about 30 MPH, all I hear is the wind around my helmet.
The quietness of the 650 Versys has been made apparent also on three occasions, where I slowly passed people walking on the side of the road and all three obviously did not hear me coming. You can tell things like that when you surprise someone.
Otherwise, it's too early to tell much about the engine until the RPM limits can be exceeded. It feels strong enough for a 650 and it's fairly smooth. I really can't tell much more at this point.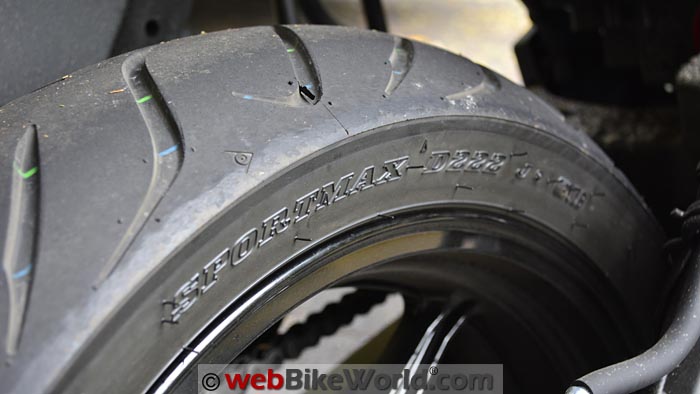 Shifting
One of the first things I noticed is that the transmission isn't quite as smooth-shifting as the V-Strom. I believe the Versys has one of these "positive neutral finder" systems and it leaves a noticeable gap when shifting up from first or down from second.
The gap between first and second makes a loud "clunk" noise, going up or down, that reminds me of motorcycle transmissions from the 1980's.
On the plus side, the thing never seems to miss a gear, no matter how I brutalize the shifts.
I have noticed that if I shift like I do on every other bike in recent memory — that is, pull the clutch in all the way and give the shift lever a quick boot tip, the Versys doesn't like it.
It took me a while to figure out a solution as I noodled on why the transmission seems so "clunky". I discovered I had to completely re-think my shifting strategy.
The Versys 650 — at least with the very limited amount of mileage on this one — likes a gentle touch on the shift lever. In fact, it likes clutchless upshifts most of all.
If I just touch my toe to the bottom of the shift lever, then barely pull on the clutch lever, the transmission snicks into gear no problem. If I try to give it my regular full-length toe pull, it clunks.
It's interesting that in all the bikes I've been on in the past 5 years or so, this one needs a different approach.
We'll see what happens after the break-in is complete. And possibly shifting at sub-4,000 RPM levels doesn't help either; a trait shared by several modern BMWs I've ridden.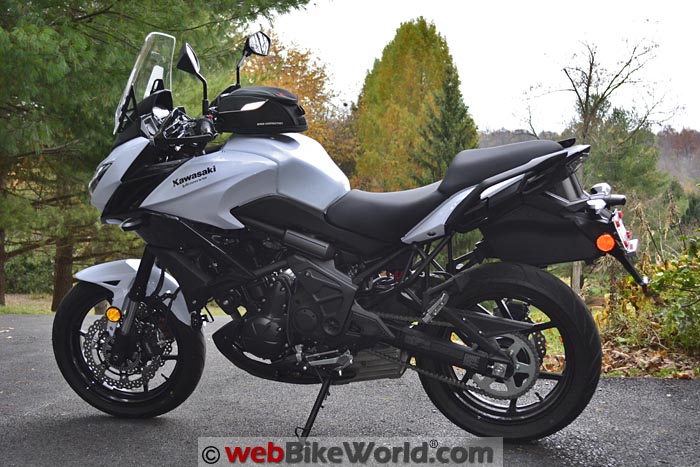 Handling
There's no doubt about it: on the road, the Versys 650 feels as light as a feather. This was quite a surprise when I first climbed aboard, especially compared to the big V-Strom.
The steering in particular feels very light — almost too light. H.B.C. also noted in his review of the first Versys back in 2008.
This easy steering makes the smaller Versys an excellent city bike. It feels very comfortable and confident zipping around the city streets.
But out in the country, the almost-too-light steering isn't quite as confidence-inducing.
The bike's willingness to change direction means a few too many corrections have to be made in turns, especially if the road surface isn't perfect. The front end feels like a combination of a front tire that is over-inflated and too narrow or "pointy".
Combine that with the typically rock-hard suspension settings the factory recommends to the dealer for initial setup (based, no doubt, on the ridiculous print press notion that every motorcycle, no matter what, has to be World Superbike track ready) and it made for a nervous ride.
Putting on my thinking cap — and studying the OE Dunlop D222 tires (120/70-17 front and 160/60-17 rear), I decided two things.
First, the D222 front has the wrong profile for the Versys. The radius seems too tight.
I noticed that the 160/60 rear was getting wear marks almost all the way to the edge, while the front tire still had about 30 mm of untouched rubber on either side. That seems abnormal to me; most other motorcycles will show fairly even wear out to the edges on the front and rear tires.
I immediately started thinking of tires that might be better suited to this bike; something like the Michelin Pilot 2 tires on my BMW F 800 S (Blog) would be perfect, I'd wager. Unfortunately, they don't come in the exact sizes required by the Versys.
The front tire feels over-inflated to me at the recommended owner's manual settings. It felt like it was skipping over some bumps, with minimal compliance.
So the combination of the too-narrow radius and recommended 33 PSI inflation just seemed like a mistake.
After thinking it over, I tried an experiment. I dropped the cold air pressure in the front tire by 2 PSI, to 31 PSI, a 6% difference.
As soon as I took the bike out with this change, I noticed the difference.
The Versys feels much more "planted" right from the start and it feels "normal" in the corners, with a good (but not great) and much improved secure feeling, needing no micro-adjustments in the mid-corner.
Now I'm sure both Dunlop and Kawasaki will tell me to stay with the tire pressures recommended in the owner's manual (33 PSI front and 36 PSI rear), but I'm going to ask them anyway. We'll see.
In the meantime, I now no longer feel the need to immediately replace the D222 tires with something else. I can at least wait until this set wears out.
Suspension
As I mentioned, the Versys is set up rock-hard on delivery, just like the V-Strom was and also every other motorcycle I've purchased new in the last 10 years or so.
I blame it on the bike mags, who make everyone think that race-taught suspension is the only way to go. Me — being a natural contrarian by nature — thinks differently.
I like 'em soft, with plenty of compliance. After all, it's normal every-day streets we're riding on, not Silverstone.
Fortunately, the Versys has a bit of adjustment front and rear, crude as it might be. The front right fork manages rebound, while the left fork works the preload.
In the rear, an easy-to-reach dial can be used to adjust the spring preload.
I messed with the rear first, ending up with the dial turned all the way out; i.e., no additional preload. In the front, I let off the preload by 2 turns and the rebound by 1.
It's made a little bit of difference, but not as much as I like. The Versys will probably never "float" over the bumpiest of back roads — at least not without a complete suspension replacement (which I'm not about to do). But it feels a bit more compliant and takes the edge off the rock-hardness from stock.
Overall, so far I'd say that the Versys doesn't have that planted, expensive, quality feel. Some of this is due to the relatively light weight (claimed 476 lbs.) and the mid-range 650cc engine.
Not really a problem, because at this price, you're not buying luxury. It's just something to be aware of. The Versys 650 feels much more like a 2006 Ducati Multistrada 620 than a 2014 V-Strom.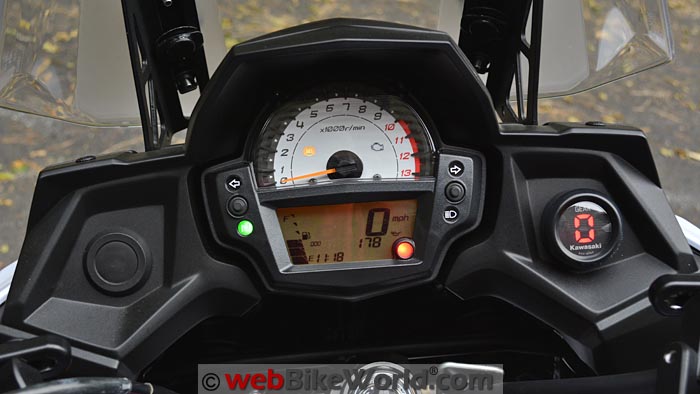 Windscreen
The stock windscreen on the 2015 Versys 650 has an interesting bell shape that matches the overall angular style of the bike.
It's easily adjustable, but not when you're riding. Loosen the two big plastic wheels in front, lift or lower the windscreen, then tighten the dials (not too much). That's it, and it's easy.
It takes just enough wind off my upper body and surprisingly doesn't cause much turbulence on the top of my helmet.
In fact, I'd say it's better than the stock windscreen on the big 2014 V-Strom 1000 Adventure but maybe not quite as protective as the MADSTAD windscreen (review) I installed as an accessory.
In case you're wondering, that's a very good thing. No need to replace the stock windscreen on the Versys in my opinion.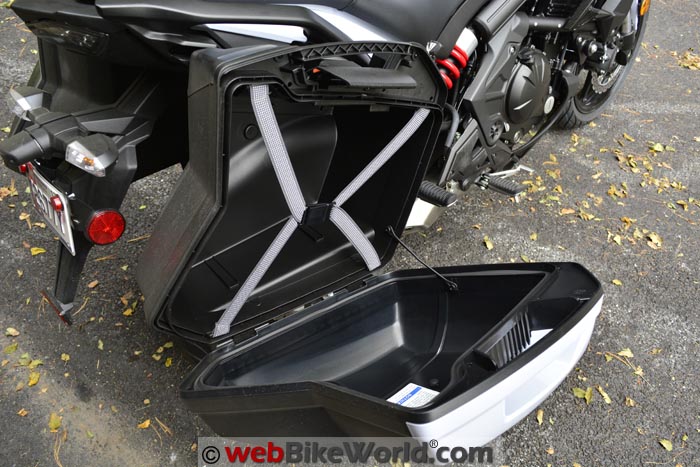 Accessories
In a surprise, I discovered that there aren't very many accessories and bits available for the 2015 Versys. Maybe this situation will improve in time, as word gets out about this excellent do-it-all motorcycle.
I was able to find a few bits, however:
The stock foot pegs seem small to me, so I ordered a set of the wide SW-Motech foot pegs (review) installed on the V-Strom to good effect.
I also bought one of the SW-Motech Bags-Connection adapter rings (review) for the Versys fuel tank and added the tiny SW-Motech tank bag (review) I used on the Suzuki GW250 (Blog).
Other accessories to install include an AdMore LED Mini Light Bar (running and brake lights); four of the IntertiaLED RY10W LED replacements (review); a yellow H7 headlight bulb (review) like the one installed on the V-Strom and I discovered that the fantastic Clearwater Darla LED lights (review) will fit on the Versys forks.
I also have a SHAD SH39 top case, designed for the new Versys and color-matched in white.
To Be Continued…
Hopefully we'll see many more accessories for the Versys, so stay tuned on that and it will all be covered in the new Versys Blog I'll set up soon.
Questions or comments? Send 'em to editor@webbikeworld.com
Next: 2015 Kawasaki Versys 650 Review Part 2
Also: 2015 Kawasaki Versys 650 LT Blog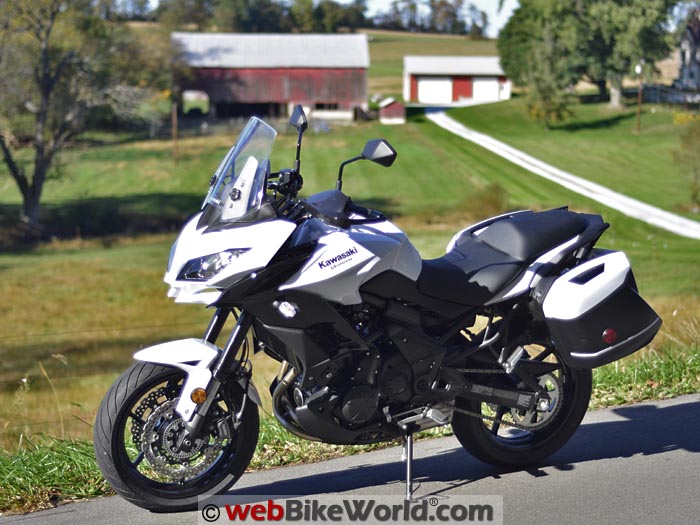 Master Listing of All wBW Motorcycle Product Reviews
Note:
 For informational use only. All material and photographs are Copyright © webWorld International, LLC since 2000. All rights reserved. See the webBikeWorld® 
Site Info page
. Product specifications, features and details may change or differ from our descriptions. Always check before purchasing. Read the
Terms and Conditions
!
Owner Comments and Feedback
---
From "H.B." (August 2016): "It just goes to show that looks/tastes should not really be discussed.
I never had original Versys 650, although I toyed with the idea of buying it, but I always ended up buying 2 to 4 times more expensive race bikes.
Now what drew me to original Versys: guess what — the looks! It did look the part: light all-rounder even hinting a bit towards adventure.
I mean if anybody can like BMW GS1200 lights, they should have been able to like Versys front end and lights.
Now for the new "improved" looks. My comment : the ugliest bike I have ever seen, best described as a mule! By this I mean a cross between a horse and a donkey.
They just tacked on a Ninja front end to an adventure frame.
But then again, I must be wrong, because everybody else, ever since the first journalist rained praise on the new looks, has been agreeing with it."
Rick's Reply: Thanks for the feedback, I guess I felt the same way as you but about the 1st generation of Versys.
My vote for the current ugliest bike made is the Yamaha XSR900, it looks like a pot of spaghetti thrown on to a motorcycle frame to me. Hard to believe the motorcycle press has been liking it so much!
As they say, "beauty is in the eye of the beholder".
---
From "D.H." (May 2016): "I read this nice review of Versys 650 LT. I'm 5'2 and can't reach the ground. What is your opinion on lowering links that lower the bike by 4 cm? Is it safe ?"
Rick's Reply: I'm 5'10" with a 31″ inseam and I can reach the ground with my toes, but it's hard to swing my leg over the bike.
I've looked at the lowering links but haven't tried them, I think they're safe, they are used by a lot of owners and even BMW offers lowering kits for many of their bikes. So I wouldn't have any problems using them. If you try it, please let me know how it works out.
---
From "B.Z." (November 2015): "I read the latest blog/post you put up about the Kawi you are now playing with. I just wanted to say how much I agree with you on the lighter kinds of bikes.
Since my KTM 990 SM-T got totaled, I have decided that I want to go lighter too, and have pretty much settled on getting a KTM 690 Duke and basically putting hand guards and a screen on it with some light soft luggage to make it a mini SM-T as it were.
That is, unless there is some shmokin' hot deal on a Hyperstrada that can't be ignored or something like that…
No need to have a liter bike to do a ton+, when I hardly have occasion to exceed 15%-20% over the speed limit on regular occasions ( just to keep from getting run over in traffic).
I just wanted to say hey and can't wait to see what you end up doing with it overall. BTW, in the white with black, that Kawi looks almost like it might be prime for some sort of Law Enforcement kind of scheme/duty."
---
From "G.W." (November 2015): "It's nice to see you review the Versys. I look forward to your future installments.
I'm a 6 year Versys owner and currently on my second Versys, a 2010. I highly recommend the Versys forum for information on modifications. You can also download a service manual (for 2008 mk1, 2010 mk2 and I think 2015 mk3) from the site in PDF format.
Obviously the Versys will never be as desirable as more expensive adventure tour bikes like the Multistrada 1200 and BMW 1200 GS.
But for a reliable, all rounder that is a fun city commuter, will pull light touring duties with ease and is a blast for weekend rides on B roads in the country, and even the occasional foray down a dirt/gravel road, it's impossible to find a bike that will do all this as well as the Versys at, or even near, the price point in my opinion.
Like any bike, it's better with a little tweaking and upgrades though.
I highly recommend the SW-Motech engine bars since they will pay for themselves the first time the bike falls on it's side and they will save the bike from more severe damage in a crash.
Stainless steel brake lines on the front and a good bleed job have improved the braking feel somewhat. EDC HH pads have further improved braking feel. For my use of the bike I find a tank bag (SW-Motech City model) has been an invaluable addition.
The most popular tires and perhaps best sport touring tires for this bike, at least by popular consensus on the Versys forum, are the Michelin Pilot Road 4 which I can attest to."
---
From "I." (November 2015): (Referencing C.H.'s comments below) "The 'Strom is truly an ugly and cheap looking motorcycle, but it works so well most everything is forgiven."
Reading your article about the Versys, the bike I really like, there are a lots of remarks how bad the V-Strom is. I've read your first test of V-Strom. You never liked that bike.
In 4 months I put 6000 miles in mine, and I have to say, that is my best motorcycle I ever owned (I owned20+), because; "it works so well most everything is forgiven."
I am not saying that you have to like or dislike anything, but just Let Go. I would recommend to buy a motorcycle that YOU like and YOU will use it for. And we all will be happy.
I purchased the 2014 V-Strom 1000 Adventure for $11,734.00 OTD. I put $1100 worth of accessories on it. A BMW GS with the same equipment would cost $10,000.00 more (I had one).
The handling is magical on mountain roads. I had 2 previous 1000 V-Stroms but they were not near of this bike. During the break in time (under 4000 RPM) the gas mileage was between 45 and 50 MPG. Calculated at each fill up. These are my on hand real experience with this bike."
Editor's Note: Be sure to read all 3 parts of my 2014 V-Strom 1000 ABS review, because after I worked out the initial bugs, it turned out to be a pretty good motorcycle and I kept it much longer than I originally anticipated.
---
From "C.H." (November 2015): "I had a similar experience to yours when I went from my Concours 1400 to a V-Strom 650. Better gas mileage, plenty of power, way lighter weight and less money.
I really think the "ADV" seated position is the most comfortable too. The 'Strom is truly an ugly and cheap looking motorcycle, but it works so well most everything is forgiven.
Had this new Versys with ABS and hard bags been around I probably would have bought it instead though. It is better looking and doesn't look so low budget and is a way better deal with the bags and hand guards then the 'Strom."
---
From "D.H." (November 2015): "You're gonna love the Versys. I have a 2012 with a face only a mother could love so call me Momma.
I moved from an R1100RT to the Versys and never looked back, but I added hard bags and a touring windscreen.
The clunky shift into second might be the neutral detent which is more pronounced and I know tire pressure is a personal thing but I run 40psi fore and aft for good tire mileage. The only thing I miss on my '12 is ABS…"