The 2015 Harley-Davidson Road Glide unveiled at the Sturgis Motorcycle Rally in South Dakota has a narrower shark nose with dual LED Dual Reflector Daymaker headlights making it more streamlined and sleeker.

The Road Glide was dropped from the line-up last year when the Project Rushmore Touring bikes were launched, but it was only gone for a year. It's now back and aren't we glad!
With its chassis-mounted fairing, rather than on the fork, it is the best-handling faired tourer in the lineup with no high-speed weave when you tuck in behind a truck. MotorbikeWriter will attend the world press ride launch later this month in San Francisco with a long ride down Big Sur to LA.

The only problems with the previous model were that the "shark nose" looked ugly especially from the side and it produced a lot of rider buffeting at highway speeds.
Since then, Harley has spent a lot of hours in two university wind tunnels with their Touring bikes and developed the triple slipstream vent which reduces back air pressure and therefore buffeting. They have now applied that to the Road Glide, together with some fairing redesign to make it look sleeker and about 4cm narrower. The difference is quite startling, thanks to some reshaping of the nose. A solid dose of rhinoplasty has converted it from an ugly toad to a handsome prince!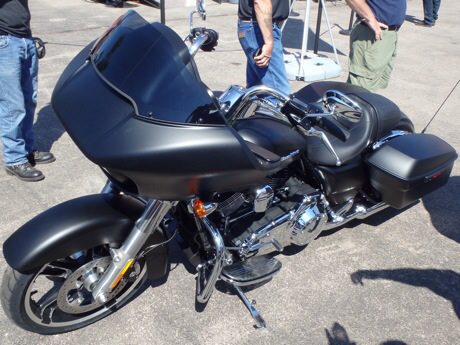 Apart from the twin LED headlights which are said to be 85% brighter, other Project Rushmore improvements on the 2015 Road Glide include hard injection-moulded saddlebags, joystick controls, new instruments and improved vents for more airflow around the legs and lower torso.
It will come standard with cruise control, air-ride rear suspension, a new swept-back handlebar, reflex linked brakes with ABS (expected as standard in Australia, but only available on the Special in the US) and Harley's brilliant BoomBox 4.3 infotainment system, which is an absolute must for anyone who loves clear sound, even at high speeds.

As expected, it does not get the twin-cooled engine because it doesn't have lowers to hide the discrete dual radiators, but comes with the air-cooled High Output Twin Cam 103 V-twin mounted to the same rigid steel touring frame it has used since 2009.
Colours available, but not yet confirmed for Australia, include Vivid Black, Amber Whiskey, Mysterious Red Sunglo (Road Glide only), Black Denim, or Superior Blue (Road Glide Special only). I expect Australia will only get the full-spec Special.
2015 Harley-Davidson Road Glide/Special
Compared the new model to these older Road GlidesUS price: $20,899/$23,199

US price: $20,899/$23,199

Engine: air-cooled OHV pushrod 103 V-twin
Bore x stroke: 98.4mm x 111.1mm
Ratio: 9.7:1
Transmission: 6-speed
Suspension: 49mm fork, air-adjustable shocks
Brakes: dual 300mm floating discs, four-piston fixed calipers; 300mm disc, four-piston fixed caliper
Tyres: Dunlop D408F 130/60B-19 bias ply; D407T 180/65B-16 bias ply
Wheelbase: 64.0in/1625mm
Rake & trail: 26º & 6.8in/223mm
Seat: 27.4in/695mm
Fuel: 6g/22.7L
Economy: 42mpg/5.6L/100km
Weight: 849lb/385kg