Victory Motorcycles just keep getting more and more attractive – in looks and price.
For 2014 they have optional factory custom paint, while prices are down as much as $1000 on some models.
Special paint costs an extra $500 to $1000 depending on detailing, two-tone colour schemes and packaging with special wheels such as the High-Ball (left) with flame paint and different wheels.
Gone is the Hard Ball which was basically a High Ball with bags. It was popular here, but the US chose to replace it with their more popular Cross Roads 8-Ball.
Victory Motorcycles marketing manager Adrian Givoye says we won't be getting them.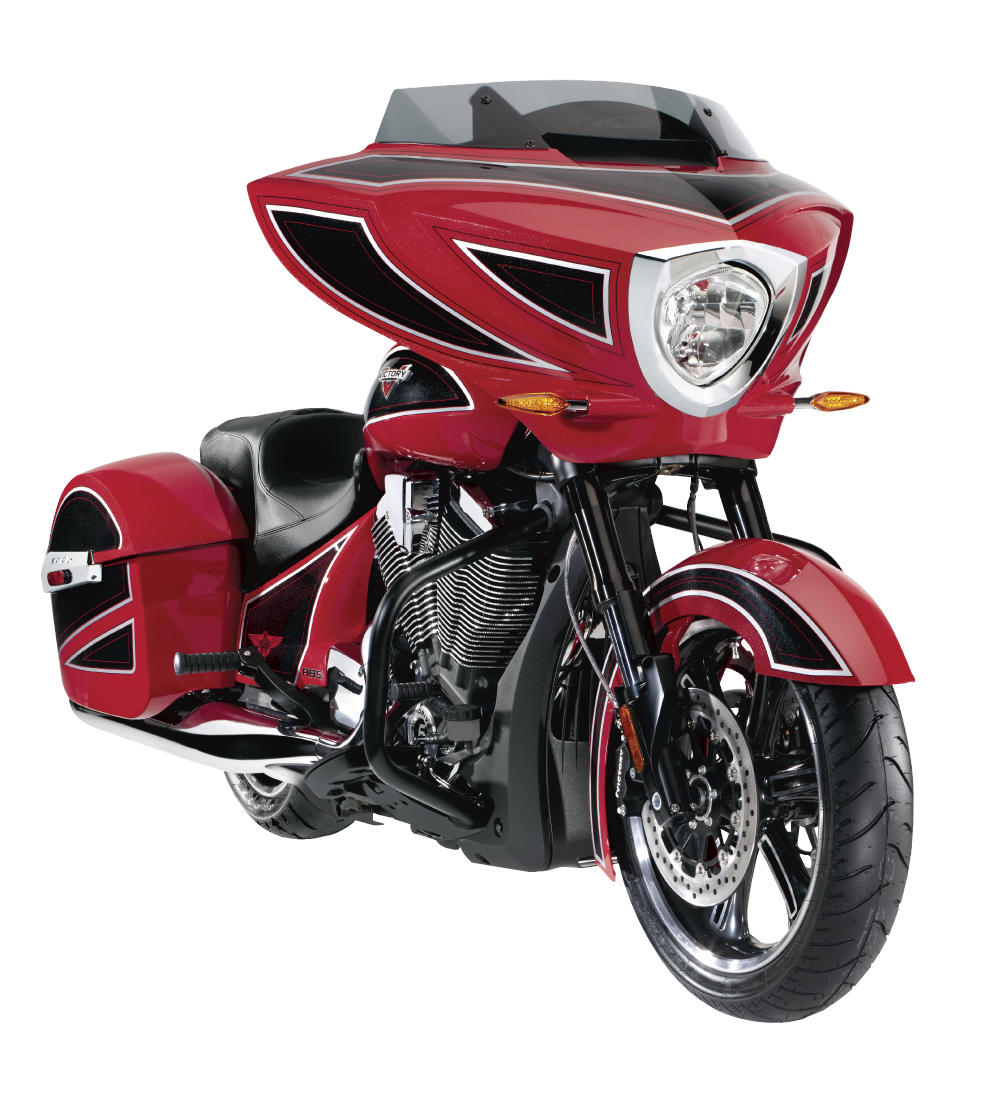 "We didn't take the Cross Roads or Cross Country 8-Balls as they didn't come with ABS or cruise and these are the key features that customers want from touring/baggers in our market," he says.
The cruisers consist of the High-Ball (*$19,495), Hammer S ($22,995), Hammer S LE ($23,495), Judge ($20,995), Boardwalk ($22,495), Hammer 8-Ball ($20,995), Vegas 8-Ball ($19,995) and the Jackpot ($23,995) which is down $1000 yet adds a new headlight, cast wheels, colour-matched frame and a 250mm back tyre.
While the Judge has been restyled with a less aggressive riding position in the US and dropped the side-mounted "race plate", Australia retains the more racey version. Click here to read my review.
In the baggers, there is the Ness Cross Country ($29,995), Cross Country ($26,495) and Cross Roads Classic ($24,995).
The Ness Cross Country features Ness logos and graphics, a signature plate and custom seats.
The touring line-up is Cross Country Tour ($28,495) and Vision Tour ($30,495) which now come with more standard features such as cruise control, heated seats and grips, ABS and adjustable floorboards.
In its 15th year, Victory is also adding new accessories and new apparel.
* All prices quoted are rideaway.