The Victory Cross Roads Classic is a soft bagger that is made for the long haul.
I reviewed the Victory Cross Roads last June and you can read my review here. Nothing has changed except for the addition of a two-tone colour option for an extra $500. It's a classy looking paint job that makes the bike look a little sleeker.
While my comments from the previous review still stand, I have a few extra observations I would like to make after a recent 1000km two-day trip on some harsh flood-damaged country roads in South East Queensland.
I can't commend the suspension enough for its ability to ride out the bumps without wallowing all over the road. There is plenty of travel and the rear shock is up to some of the harshest bumps. The previous test bike wasn't set up for my weight, but this time the rear shock was adjusted for my weight and the difference was remarkable. Short of the Harley air shock, the Victory Cross Roads is the best touring/cruiser ride on the market.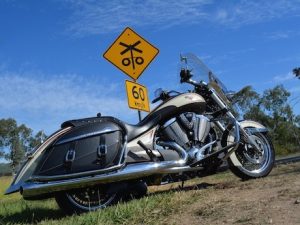 The riding position and saddle is also a perfect fit for my 6' (183cm) frame and bony backside. It may not suit everyone, but I found that even over long stretches without a break, I felt totally comfortable.
While I have lauded the build quality before, I'd like to add that the rubber insert under the side stand is a nice touch and it won't scratch your painted garage floor or slip on shiny surfaces.
I also noticed this time that in any light conditions, the simple single-pod instruments are easy to read.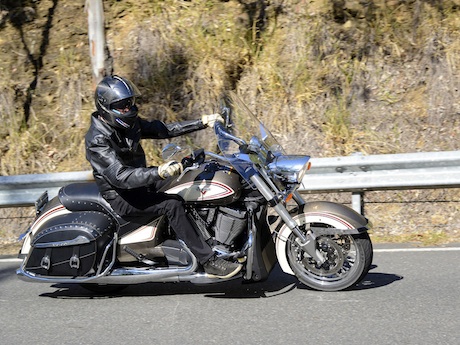 There are only a few niggling points that I hope Victory will fix in coming model years. While their brother company, Indian, features internal wiring, the exposed wires here are a bit messy. Though I didn't take a pillion with me, but I couldn't imagine they would feel much confidence in the single-handed looped grab handle which neatly retracts into a slot between the rider and pillion seat. It's like the grip a cowboy uses on a bucking bronco.
On my 1000km country ride, I didn't need to change gears very often. However, on a ride in city traffic, I found the cable clutch quite heavy. While The Cross Roads is a country tourer and not an urban crawler, the clutch pull weight is something Victory should address if they want to attract more women riders. Apart from those minor niggles, the beautiful and affordable Victory Cross Roads Classic would be right up the top of my list for a touring cruiser.
Victory Cross Roads Classic
Price: $24,995 ride away
Engine: 1731cc, fuel-injected 106 Freedom V-Twin
Bore x stroke: 101x108mm
Compression: 9.4:1
Fuel: 22 litres
Economy: 6L/100km
Transmission: 6-speed, wet clutch, belt drive
Dimensions: 2652mm (length), 1670mm (wheelbase), 667mm (seat), 148mm (clearance)
Dry weight: 338kg
Suspension: upside down 43mm forks, 130mm travel; single air rear shock, 120mm travel
Brakes: 300mm discs, floating rotor with 4-piston caliper (front), 300mm floating disc with 2-piston caliper (rear)
Wheels:  18x3in; 16×5.0in
Tyres: 130/70R18; 180/60R16