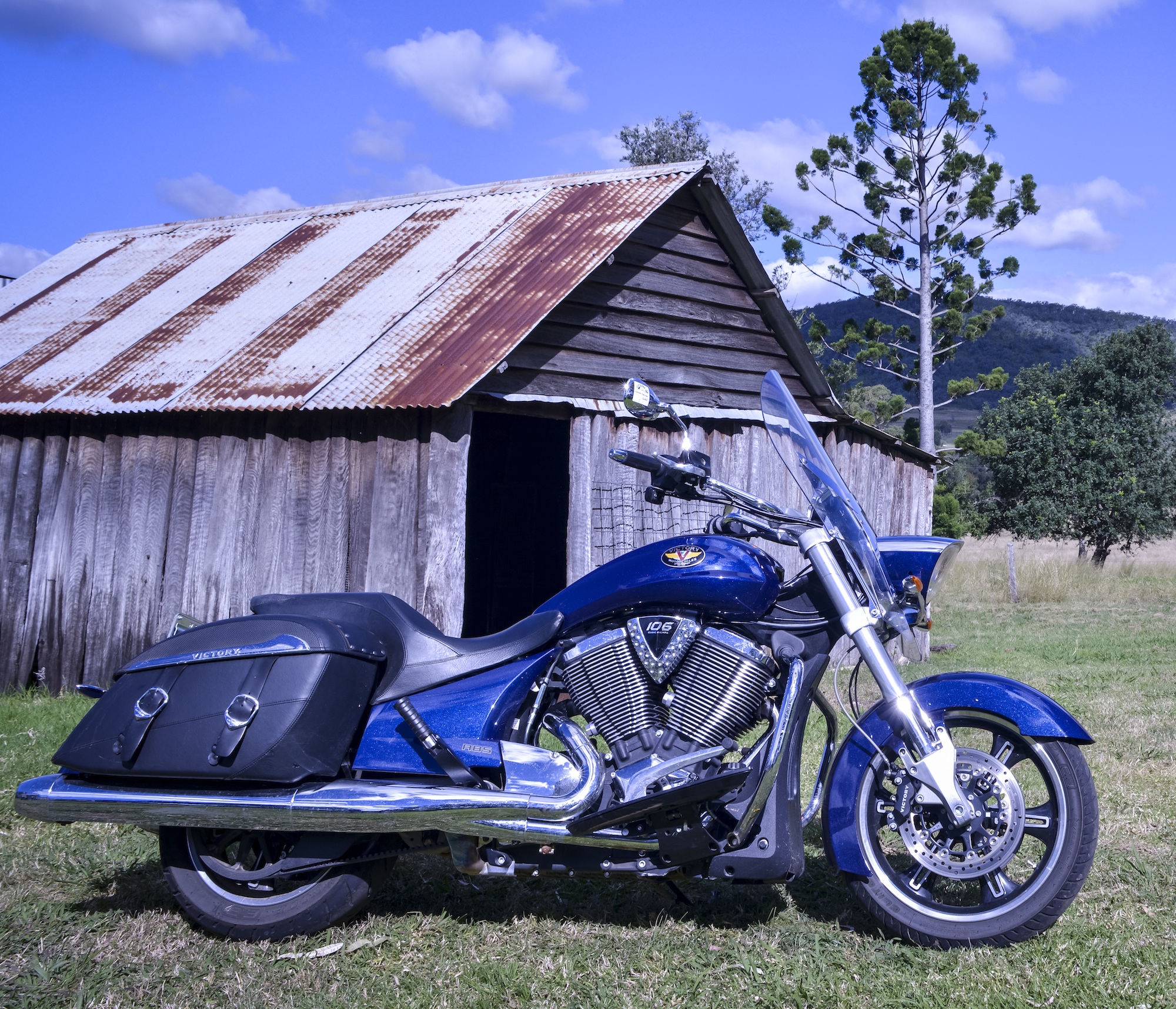 The Victory Cross Roads soft bagger is set up to cross this wide brown land in comfort, style and safety. Considering it's American-made, it almost feels like a big ol' Aussie Commodore the way it lopes down bumpy country roads, strides along the highways and carries loads of cargo with ease.
It's a stripped-down cruiser without all the fairings and luxury appointments, yet it still has cruise control and ABS. At $24,995 ride away, it sits midway between the Harley Heritage Softail or Road King and the Triumph Thunderbird and big Japanese metric cruisers.
Its American heritage is obvious all the way from the Chevy-style headlight cowl to the pointy tail with its massive Customline-style taillight. Everything in between is neat and curvaceous with a smooth silhouette where the soft bags follow the contours of the bike. Up front is a massive fixed touring windscreen. To remove it, you'll need to break out the tool kit.
Many of its competitors have quick-release windscreens which makes them more versatile, but if you like a windscreen then you probably won't want to remove it, anyway. The windscreen provokes some buffeting, but provides excellent weather protection across the shoulders and even the lower body thanks to the extended flanks down the side of the forks.
A big touring cruiser like this has to be comfortable for long hauls. Even for tall people, this bike has a comfortable riding position with a low (667mm) deep-dish seat, easy-to-reach "plough" bars and wide, floating floorboards. The 22 litre tank is good for about 350km and you won't be looking to stop before then to stretch or rub sore bottoms.
Like all Victory motorcycles, it's powered by the lusty 1731cc (106ci) V-twin which kicks into life without too much thump and purrs away so smoothly you'd think it was revving a little high. However, the digital rev counter confirms it's a rather lazy revver, achieving just 2400rpm at 100km/h in sixth.
It gets most of its urge from 2800rpm, so you'll need to drop it a gear for overtaking duties. In fact, it is probably geared a little too tall for Australia where sixth gear is almost superfluous.
The shifter feels clunky in the first few gears then gets lighter, however you can take a lot of that thump out of the gear change by preloading the shifter before engaging the throttle. It will also upshift quite smoothly in the higher gears without the clutch. There's no need to work the gears hard, anyway, as you can just change up and ride the torque.
Another factor in long-distance comfort is the ride and there are no complaints here. Unlike some other cruisers, it has generous travel in the rear as well as the front. The rear spring is a bit stiff for a cruiser, but with luggage and/or a pillion, it settles down. Still, it has a lot better ride than most cruisers and never once hit the bump stops even on some of the most treacherous, broken tarmac on the flood-ravaged roads of South East Queensland.
Thanks to its upside-down 43mm and moderate rake, turn-in is light and precise with little effort required. It then holds a stable arc through corners, isn't thrown out of whack by bumps and allows additional steering input if you want to adjust your line. Best of all, you can lean it over a long way past where other cruisers would be screeching along the tarmac, or digging into bumps and lifting the back wheel off the ground.
Brakes are somewhat unspectacular, especially the front which feels rather wooden. The rear has more feel and effect, helping to hunker the big bike down on the road and grind to a halt. ABS can kick in abruptly at times.
Tourers will welcome the massive, 66-litre, waterproof leather-wrap saddlebags which are vinyl inside. The top-loaders are also easy to open with the nylon clasps hidden under the faux leather straps and metal buckles. Instruments are simple, yet have enough information for most riders and, best of all, they can be easily read even in direct bright sunlight. Controls are conventional but the cruise controller looks like an aftermarket add-on. However it is easy to use and works just like most car cruise controls.
Apart from some windscreen buffeting, my only complaints are the lingering fuel fumes if you accidentally overfill the tank and the high rear footpegs which can cramp long-legged pillions. Otherwise, this is the most comfortable cruiser I've ever ridden.
Victory Cross Roads soft bagger
Price: $24,995 ride away
Engine: 1731cc, fuel-injected 106 Freedom V-Twin
Bore x stroke: 101x108mm
Compression: 9.4:1
Fuel: 22 litres
Economy: 6L/100km
Transmission: 6-speed, wet clutch, belt drive
Dimensions: 2652mm (length), 1670mm (wheelbase), 667mm (seat), 148mm (clearance)
Dry weight: 338kg
Suspension: upside down 43mm forks, 130mm travel; single air rear shock, 120mm travel
Brakes: 300mm discs, floating rotor with 4-piston caliper (front), 300mm floating disc with 2-piston caliper (rear)
Wheels:  18x3in; 16×5.0in
Tyres: 130/70R18; 180/60R16