Welcome to 2014, a year in which motorcycles will become cheaper and more fun.
I admit these are not exactly visionary predictions. They are just observations of current tends toward lower-capacity bikes, nakeds, cruisers and adventure bikes. And I can't see these trends slowing down this year.
As police continue to ramp up speed patrols and speed camera deployment, and speeding fines become more punitive, sports bikes will continue to decline and be replaced by bikes that are more about fun and exploration than outright speed.
On a more visionary note, I believe 2013 will also be marked by an Asian invasion and a trend toward street scramblers.
As traditional Western markets continue to slow down, motorcycle manufacturers will turn their attention to the rapidly growing Asian middle class to increase their sales. They are already exporting bikes to these markets, assembling and manufacturing bikes in Asian countries and even producing bikes specifically for Asian riders.
And the bikes they are making to suit burgeoning markets such as India are not tiny, two-stroke spare-parts-bin, bargain bikes. Harley, for example, has developed the Street 500 and 750(pictured at the top of this page), largely to gain traction in the Indian market. It will be built in the US as well as India.
The Street models and similar mid-capacity bikes will flow on to the rest of the world, providing even more choice for young riders, women and short people. That's great news as these potential riders have largely been ignored.
The other tip for 2013 is the rise of the street scrambler.
Triumph produced the Scrambler back in 2006. It was a moderate success, but not enough to create a run of similar models from other manufacturers.
The reason is that Triumph marketed it as an off-road adventure bike. It isn't. It doesn't have enough clearance or suspension travel and is too heavy.
However, custom shops love the look and have been making street scramblers with dual-sport tyres, but street cred. They are designed for street posing, boulevard cruising and canyon carving with the occasional detour on formed dirt roads.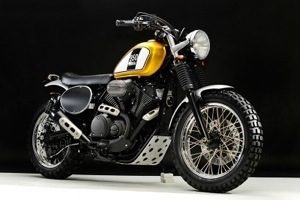 Custom shops have been leading the way in recent years and manufacturers have been paying attention to their trends such as rat bikes and cafe racers. Yamaha held a competition last year among 10 American custom shops where they provided Bolt cruisers to be customised. The winner was a scrambler (pictured left) and half the shops turned the cruiser into a scrambler. See my story here.

Manufacturers won't be far behind. BMW will this year release the R nineT (pictured right) which could be construed as a street scrambler and Ducati is tipped to produce a scrambler (pictured below) which is more road biased. Should be a good year for fun bikes.