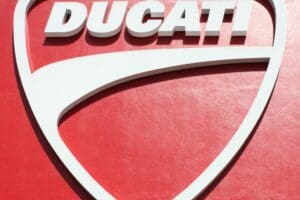 Is Ducati going scrambling, will it go water-cooled or is the Italian about to produce a mini-Panigale?
Next Thursday, CEO of Ducati Motor Holding, Claudio Domenicali, will meet the press and present a preview of the new model year 2014.
However, company spokesperson Silvia Salvadori says: "Only one 2014 model will be presented in this occasion".
What will it be?
The rumour mill has been running hot with talk about possible Ducatis.
One rumour is that they will produce a mini Panigale with a 749cc or 899cc engine. However, the supersport class hasn't really had much market impact in recent years, so it seems unlikely or at least unwise.
Another rumour is that they will go to water-cooling to increase power and reduce emissions, or partial water-cooling like the recent BMW "wasser boxer" and Harley Touring bikes.
The most persistent rumour seems to be about a scrambler after the iconic Italian manufacturer applied for a new trademark on the name Ducati Scrambler.
Ducati used to make single-pot scramblers back in the '60s and '70s, so there is definitely a precedent. And like the SportClassic, it could be a great way to entice old fans and return riders.
Maybe it's a mixture of all three – a 749cc partially water-cooled scrambler!
Whatever it is, check back here at 11am Bologna time on September 12 for the story.