World Exclusive!  The 
web

BikeWorld

 Live Report From the 2009 Powersports Dealer Expo
Indianapolis, Indiana – February 13-16, 2009
HJC Helmets
I may just have to get another HJC FS-15 Carbon, our 2008 Motorcycle Helmet of the Year!  It's now available in color tint carbon fiber, and the copper version (and the blue and the red) shown below look stunning!
The non-Carbon versions of the FS-15, like the FS-15 Prism shown below, also look great in person.
The new HJC IS-series also looks interesting, and we'll have a review coming soon.  The new IS-Max appears to be a cross between the FS-10 and the SyMax II and has a list price of only $189.99.
My initial impression is that the flip-up mechanism operates very smoothly.  It has a newly designed internal visor rotating mechanism with two positions and a push-button instant release back up into the helmet.  The helmet also has a central assembly made from a different colored and textured plastic material that adds quite nicely to the styling, especially on the black helmet.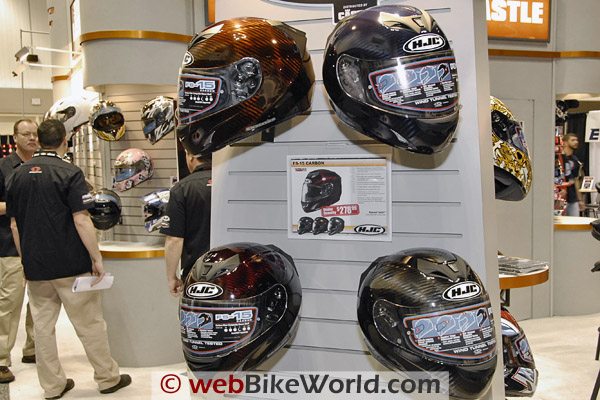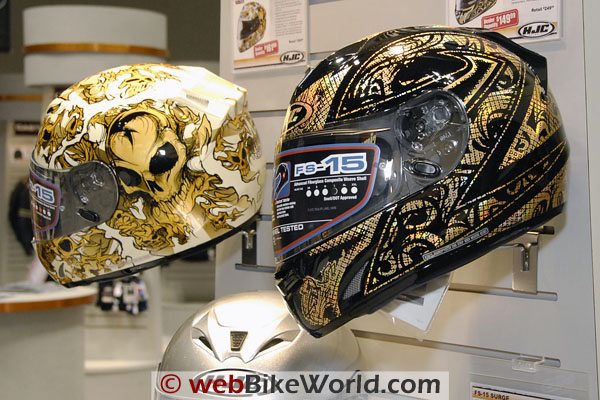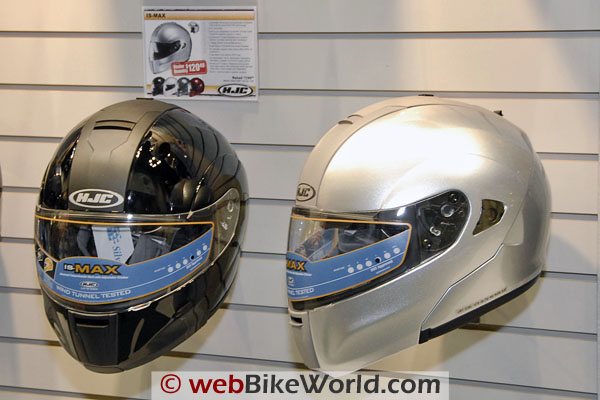 Knox Armor
The Knox Fastback back protector has been updated for 2009 (photo right) and appears to be a more sensible (i.e., comfortable) solution for street riding protection.  The back protection is built into a wide mesh undershirt.  We'll be reviewing this soon.
The Knox "Kompakt" Back Protector (photo left) rolls up for storage, although why this is important escapes me.  It feels very light and possibly the split "modules" will form a more comfortable bend to the rider's back.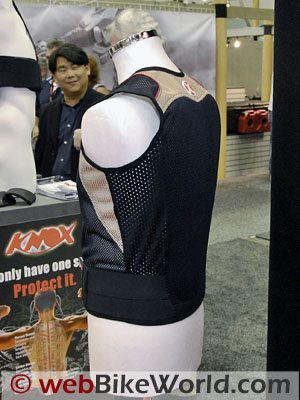 2009 Powersports Dealer Expo Displays and Visitors
Knox Kompakt back protector (L) and Fastback back protector (R).
Saturday starts the main event, with the big players on display in the Indiana Convention Center.  But my gut feeling that the 2009 show is smaller and seems less crowded.  The hallway below that parallels Maryland Street is usually filled with displays and people, but appears rather empty.
Some individual displays are smaller than they were in previous years, especially the Teknic display, which was one of the largest at the show and was usually filled with booth models and racers signing autographs.  This year, it's tiny in comparison.
I also feel that there just isn't all that much that's new and revolutionary — at least that I've seen yet.  This is to be expected in a year of economic distress, and it's nice to see that many of the regulars have maintained their booth size and enthusiasm in 2009.  In fact, wait until you see the Fulmer Helmets display — it's a mind-blower, definitely the best of the show and it will take an entire page to give you the feel for what they're doing in 2009!
It's also too bad that in this, of all years, the city of Indianapolis took down the RCA Dome, splitting the Dealer Expo between the Indiana Convention Center and the Lucas Oil Stadium about 3 blocks away — three very long blocks in the cold, damp and windy winter weather.  If it had snowed — as it normally does at the show — the logistics would be a mess.
But on a happier note, I think THH Helmets gets the prize for doing more with less — their display "walls" are made from helmet boxes, with helmets lining the ramparts.  Not only is it a nice design, it's a great idea because it repeats their logo without a lot of complex and expensive signage; it's colorful; and it looks like a place you want to visit.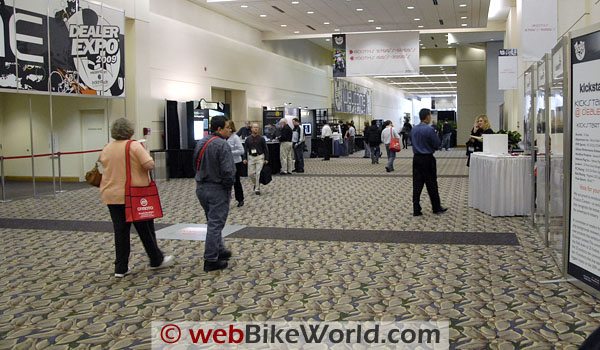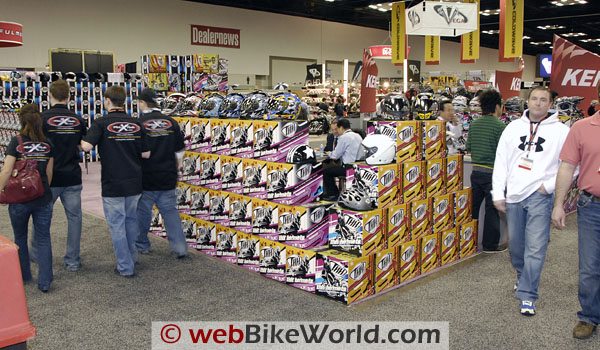 Caberg Helmets USA?
Several webBikeWorlders asked me to be sure and check out the Caberg Helmets booth to see if they were really planning on entering the North American market.  The Caberg Trip has been one of the most popular flip-up helmets of the past year, and it is the first flip-up to get five stars in the UK's SHARP rating system.
But, I'm sorry to report that apparently Caberg will not be coming to NA anytime soon.  They did have a booth, but it was empty.  I tried to inquire about this at the Italian industry office (the Italians sponsor a huge display at the show), but all I got was a shrug of the shoulders.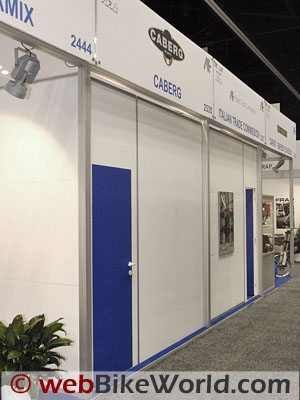 2009 Expo Report Home  |  Next: Page 4
Note:  For informational use only.  All material and photographs are Copyright © webWorld International, LLC – 2000-2011.  All rights reserved.  See the webBikeWorld® Site Info page.  NOTE:  Product specifications, features and details may change or differ from our descriptions.  Always check before purchasing.  Read the Terms and Conditions!