World Exclusive:  webBikeWorld Live Report From The 2007 Powersports Dealer Expo
It's here!  This is our fourth visit to the fantastic Powersports Dealer Expo, held each year during President's Day weekend in Indianapolis, Indiana.
This is the place where all of the motorcycle accessory, clothing and helmet manufacturers display a fantastic array of products and take orders from the distributors and dealers for the upcoming motorcycle season.
As always, you're the very first to see all of the brand-new motorcycle gear as it is released by the manufacturers for the very first time!
The Powersports Dealer Expo is a huge event and it's the only venue where all of the dealers, distributors and manufacturers can get together to see what's new.  It's an exhausting 3 days, with miles of walking, elbowing gawkers out of the way to take photos and button-holing the manufacturers, trying to persuade them to spill their secrets for webBikeWorld visitors.  But it's loads of fun and…someone has to do it!
There are usually around 20,000 visitors to the event, walking through miles of aisles to visit the more than 1,000 exhibitors who will be displaying their wares.
Stay tuned to this page from February 16 to February 19.  We'll be adding photos descriptions of interesting products, with single pages and larger photos for some of the more interesting products that we hope to review at a future date.
February 21, 2007: Wednesday
My last report for now on Page 5.
Also, check out these preview photos of the cool Victory Vision!
February 20, 2007: Tuesday
There was so much to see, I still have more to tell:
Lots of new stuff from Tour Master and Cortech this year.  More coming soon, my fingers are tired!
February 19, 2007: Monday
Individual Pages:
REV'IT! Infinity One-Piece Textile Suit
More photos of the new Scorpion EXO-1000 added!
Page 4 – X-Ramp Motorcycle Ramp
Page 3 – Öhlins MotoGP Forks and Rear Shock, Corbin Beetle Bags for Kawasaki ZX-14
February 18, 2007: Sunday
Page 3 – Giannini Mini Moto Pocket Bikes
Page 2 – Teknic Clothing, Stallion Trike, W2 Boots, Muc-Off, Pivot Pegz and more on the way…
February 17, 2007:  Opening Day
Individual Pages:
1. Three New Bridgestone Tires Announced
2. Scorpion EXO-1000 First Look
On This Page (Below):
1. Scorpion EXO-1000 (Below)
2. Scorpion EXO-100 (Below)
3. Scorpion EXO-200 (Below)
4. New Tank Bags, Clothing and Boots from Held
5. New Dainese Products Announced (Feb. 16 Pre-Show)
6. New Brembo Supermoto Calipers for European Motorcycles Announced (Feb. 16 Pre-Show)
7. News From the Chinese Pavilion (Feb. 16 Pre-Show)
It was snowing this morning in Indianapolis and it continued off and on all day.  You'd think that when the Visitor's and Convention Bureau knew they had 20,000+ people coming to town in the middle of winter that they'd make an effort to clean the sidewalks?  Nope.  Not sure why they don't schedule this show in, say, Orlando in February instead.
Nevertheless, I trudged through the slush to find what appears to be an even bigger and better show than last year.  The exhibits were packed, making it very difficult to get good photos.  They finally have wireless Internet access this year, so next time I'll bring the laptop right to the show and report from there, saving the time lost by trudging back and forth to the hotel room.
So let's see what's new:

Here it is folks:.  It's the brand new Scorpion EXO-1000.  Yes, it has an internal rotating sun shade, but — get this — it also has air adjustable cheek pads with its own little built-in air pump in the chin bar!
We don't have many photos yet, but this deserves its own page (see the EXO-1000 First Look) because it will get the webBikeWorld review treatment as soon as it's released in May of 2007.
Scorpion also announced a new EXO-700 (wBW review) model.  The EXO-700 Scorpion graphic utilizes iridescent foil graphic technology, providing the illusion of color changing images.  The EXO-700 Scorpion graphic is available in three colors; Matte Anthracite, Matte White and Chameleon Green.

We told you so: Scooter Style helmets are in!  Here's the new Scorpion EXO-100, with a very cool-looking 3D Scorpion logo appliqué and yes, a rotating sun shade!
This deserves its own page also and we'll get a helmet asap for a review.

The folks at Scorpion have been busy this winter!  Here's the new Scorpion EXO-200, more of a modern version of the classic open-face helmet.
I sort of knew that Held makes a lot more than just gloves, but just how much more became clear to me today.  They have a nice booth at the show, staffed by the German owners and the U.S. distributor.
Their product line now includes helmets; a line of cruiser leather clothing and saddlebags; rain gear; duffels and tank bags; goggles and sunglasses; motorcycle cleaning products; a large variety of tank bags; kidney belts; winter windproof underwear and of course their leather and textile jackets, pants and gloves.
Here are a couple of interesting items that are new for 2007.
The Held "Rapid" tank bag shown below can be fitted with an optional accessory bracket to mount a GPS, iPod, MP3 player or other device.  It's ingenious: it fits into two pockets on the front of the bag, so when the bag is removed the device comes with it.
Here's a photo: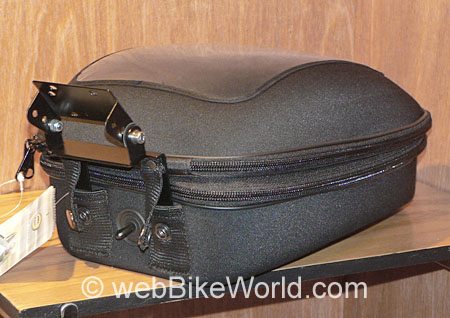 The "Rapid" tank bag shown here and several others are fited with Held's new "Quick Click" attachment system.  The system includes a bracket that attaches to the fuel cap mount; it's the horseshoe shaped device shown in the photo below at the bottom of the bag.
We're looking at the underside of the bag here; that matching bracket in the center that looks like it's attached with a cord is actually movable up and down the length of the channel.  The channel is lined with Velcro, so the bracket can be effectively moved back and forth to position the bag for the rider's preference, or to fit differently sized fuel tanks or motorcycle types.
The cord in the front is pulled to release a spring-loaded catch, which then allows the bag to be removed.  Very cool!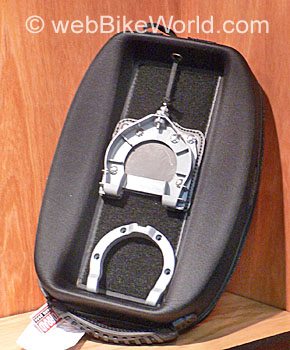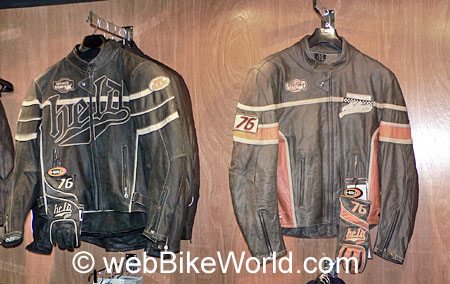 Held also has a variety of new clothing items on display, including these very nicely made retro leather jackets, each with a matching pair of gloves (available separately), seen hanging in front.
The jacket on the left is the "Aras", with the "Rocco" on the right.  Each includes soft CE-approved padding in the back, shoulders and elbows.
Here's a close-up (below) of the new women's "Nikita" jacket.  The photo absolutely does not do justice to this really nice-looking jacket, which includes a waterproof and windproof removable liner, CE-approved padding in the back, elbows and shoulders, an optional CE-approved back protector, a detachable thermal lining, air vent zippers in the front and an attachment for the matching (black) pants.  I'm going to see if we can order one for a review, because it's very nicely made and it looks great!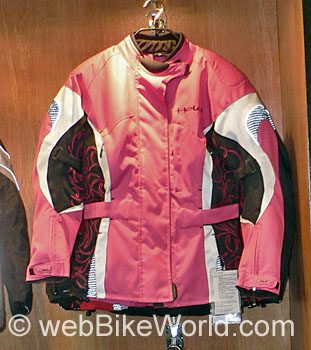 There are lots more Held products that we'll try to get for a review, but I also wanted to mention that Held is now making some of its gloves in Long and Short versions.  What a concept — why didn't I think of it?!  Some of us have long, thin fingers and some of us have shorter, thicker fingers.  But gloves typically come in one length only.  Hopefully this will allow more riders to take advantage of Held's huge glove lineup.
And while we're on Held, one more thing.  They now have a selection of very nice-looking motorcycle boots (photo below), one of which has an interesting adjuster to allow better fitment to various calf sizes.  This has long been a problem with motorcycle boots, so maybe this will help.  See the second photo below.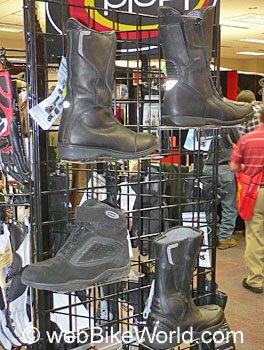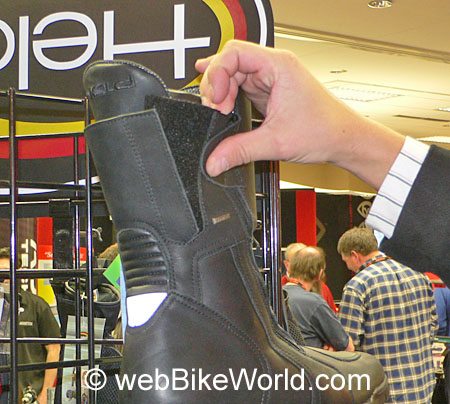 February 16, 2007:  Pre-Show Press Releases and the Chinese Pavilion
New Dainese Products Announced
Let's get right down to it with a couple of interesting press releases.  Early arrivals to the show were greeted with this information from Dainese, who have released a few new products.  The press release states "The 2007 Collection offers a selection of high-tech Springtime apparel with original design "suited" to all motorcycle fans who want to live the coming warmer months in the most complete comfort and safety.  From head to toe, helmet to boots, Dainese has come up with a line of gear with the highest quality in materials and finishes and loving care to even the finest technical and styling details."
Dainese Airstream Course Seven 2 Helmet
The Airstream Course Seven 2 helmet is distinguished by its vintage style and simple, streamlined forms.
The Number 72 on the sides recalls the year Dainese was founded.  Developed for sports/touring use, Seven 2 features the channeled "FFV" (Free Flow Ventilation) system that makes it both safe and extremely comfortable. Text and photos courtesy of Dainese.
Portland Fabric Jacket
In the Portland Fabric jacket, protection becomes synonymous with style.  Ergonomic cuts blend right in with the protective elements to create a graphic pattern in its own right.
Special pockets in "3D" double laminated fabric with mesh structure for increased volume give both the protections and product's technological core greater visibility while also enhancing breathability.
The Portland Jacket was developed for the eclectic rider who is equally content astride a bike in or out of town.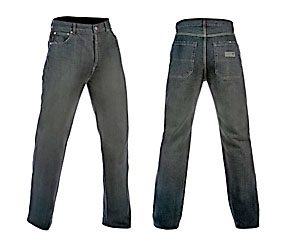 Denim Fantan Pants
Fantan Pants are the Dainese re-interpretation of the classic 5-pocket jeans in a stronger sports light.  The use of K-Denim guarantees higher mechanical performance with twice the comfort of normal jeans.
In this sense, the combination of different materials assumes fundamental importance: natural Cordura  thread provides elevated abrasion strength; malfilè cotton grants softness and comfort, while Kevlar increases wearability by adding greater resistance to tear and abrasion.
Fantan Pants are designed for everyday wear with outstanding fabric strength and reliability.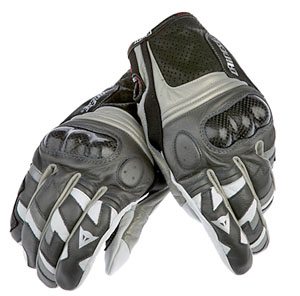 Blaster Gloves
Short Blaster gloves are long on performance and protection.  The application of soft inserts and carbon fiber plates combined with the use of cowhide guarantees elevated impact and abrasion resistance.
The use of D-Stone fabric in the areas of greatest torsion and the special inserts in perforated leather on the back help keep the rider's hands always fresh and free from thermal stress during long rides.
Anti-abrasion reinforcement inserts and the soft pads on the palm of the hand promote greater distribution of the load during braking.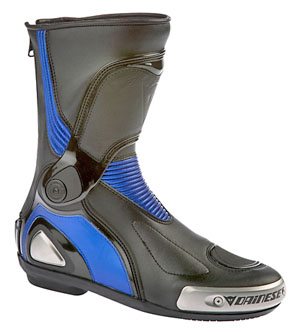 Torque Out Boots
The Torque boot is the highest expression of Dainese foot protection technology.  The Torque Out model is provided with the tried and tested Axial inner boot structure perfected through years of collaboration with World Motorcycle Racing champions and Dr. Costa's Mobile Clinic.
The Axial system limits the twisting of the ankle that might cause serious harm.  Axial envelops the foot and the ankle for greater protection against impact by distributing impact forces throughout the entire structure for better absorption.
A new slider in stainless steel applied behind the calf bonded to supports in thermoplastic material increases anti-grip action in case of fall and resistance to abrasion in case of slides over the asphalt.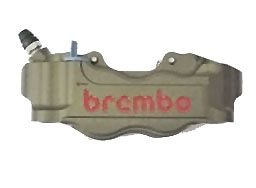 Brembo Supermoto Brake Calipers
Brembo released some new brake products last year and again this year.  The two new radial calipers are designed to be interchangeable on the standard radial forks of European motorcycles (Aprilia, Benelli, Bimota, Ducati, KTM, Mondial, MV Augusta).
The calipers are "machined from a solid billet, which helps to achieve the high braking power and stiffness derived directly from Brembo race engineering technology."
The calipers are supplied in a kit with sintered brake pads, an instruction handbook, a set of Brembo decals, and a series of practical temperature stickers to monitor the working temperature of the calipers.
I couldn't quite understand their press release, but apparently the second product is a "slim line" version of the Supermoto four-piston caliper.  The Supermoto "slim line" calipers will be supplied through specialized dealers and are aimed at the serious amateur or semi-professional racer.  The new calipers fit all spoke wheels in addition to Marchesini Supermoto aluminum wheels.
The photo above is pretty cheesy — I'll see if I can get better photos tomorrow at their booth when the show officially starts.
The Chinese Pavilion for 2007
The Chinese Pavilion is a separate showroom filled with exhibitors from the vast Chinese motorcycle and ATV industry.  There are usually many very interesting products to see, with parts, helmets and clothing to ATVs, tons of scooters, dirt bikes and off-road "mules", or large industrial ATV-like 4-wheel-drive vehicles.
I'm very surprised to see that this year's Pavilion is much smaller than in the past, but the products seem like they have relatively higher quality.  It could possibly be that only the best manufacturers are represented here.  There was a lot of interest from American motorcycle dealers and I witnessed many huddled conferences and sharing of business cards.  The Chinese do seem to be filling a void in the marketplace, especially for smaller sized motorcycles, which have been missing from the U.S. Market for some time.
Here are some examples: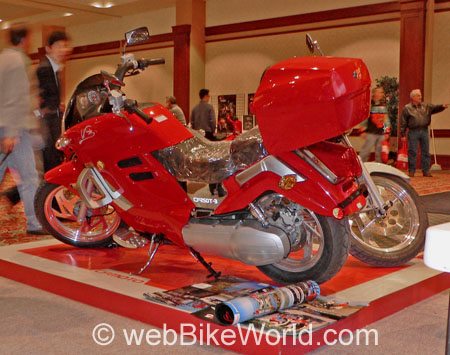 CF Moto, a brand of Chunfeng Holding Group Co. Ltd. has one of the largest displays and this "V3" and its companion, the "V5" were attracting a lot of interest.  CF Moto calls this style an SRV, or Sport Recreation Vehicle.  They've been making these for several years, and each year they are back at Indy with an improved model, so it's something to keep an eye on.  The American motorcycle dealers were all over these bikes, so I think their time may yet come.
It may take a while to get used to the styling, especially of the V3, and although it's not my cup of tea, I do think the bikes look practical, possibly for commuters.  The V5 actually isn't bad looking.  By the way, they are sort of a cross between a scooter and a motorcycle, and they have CVT transmissions.
One thing's for sure, they're different.  Both the V3 and V5 are single cylinder, liquid-cooled four-strokes of 500cc's and they meet Euro II emissions and noise standards.  The engines have a 72mm x 60mm bore and stroke and the V3 has a 3.2 gallon (12 liter) fuel tank, while the V5 carries up to 17 liters, or 4.5 gallons.
The V3 has a 58″ (1480mm) wheelbase and the V5 is just a tiny bit longer at 58.70″ (1490mm).  The claimed dry weight of the V3 is 393 lbs. and the unfaired V5 is 366 lbs.  Claimed maximum speed on both is 100km/h, or 62MPH.  both bikes have disk brakes front and rear and take 100/90-18 tires up front and 150/80-15 in the rear.
The fit and finish on the bikes is rather nice and the switchgear feels decent.  The SRV also features a fuel tank cover that hides a built-in Hi-Fi system for connecting MP3 players, radios, memory sticks or other devices.  The panel is claimed waterproof and also controls the AM/FM radio.  More controls are repeated on a plate attached to the triple tree.
They have adjustable brake levers, a hidden USB port under the seat for music stored on USB memory drives.
UPDATE:  The price of the V3 and V5 starts at $3,499.00.  Seems like a bargain.  Here's a photo of the V5: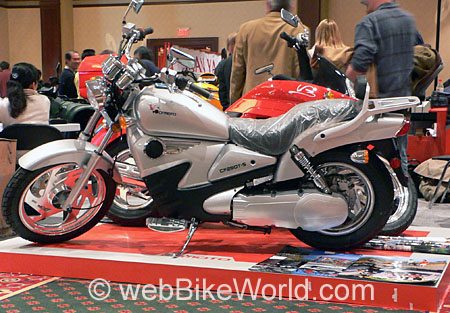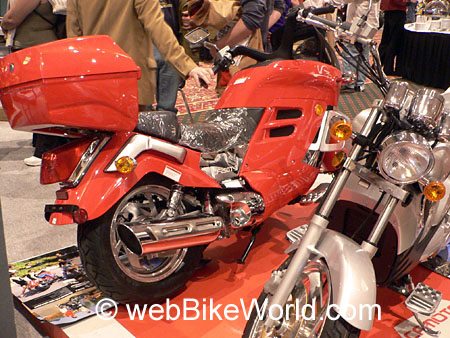 More coming later…
Note:  For informational use only.  All material and photographs are Copyright © webWorld International, LLC – 2000-2011.  All rights reserved.  See the webBikeWorld® Site Info page.  NOTE:  Product specifications, features and details may change or differ from our descriptions.  Always check before purchasing.  Read the Terms and Conditions!
Other WebBikeWorld
Accessories

 

Posts