It's time to start thinking about the next Motorbike Writer project bike, but first we have to make way in our garage by reluctantly selling the 2006 Ducati GT1000.
We have added more than $6000 worth of tasty extras including Blackstone TEK Black Diamond carbon fibre wheels, carbon fibre hugger and timing belt cover, Rizoma bar-end mirrors, leather hand-reupholstered seat, Ikon rear shocks and progressive fork springs, and a black Ventura rack with high and low bars.
Yet we are only asking $14,500 for the bike!
Click here to contact me via email if you are interested.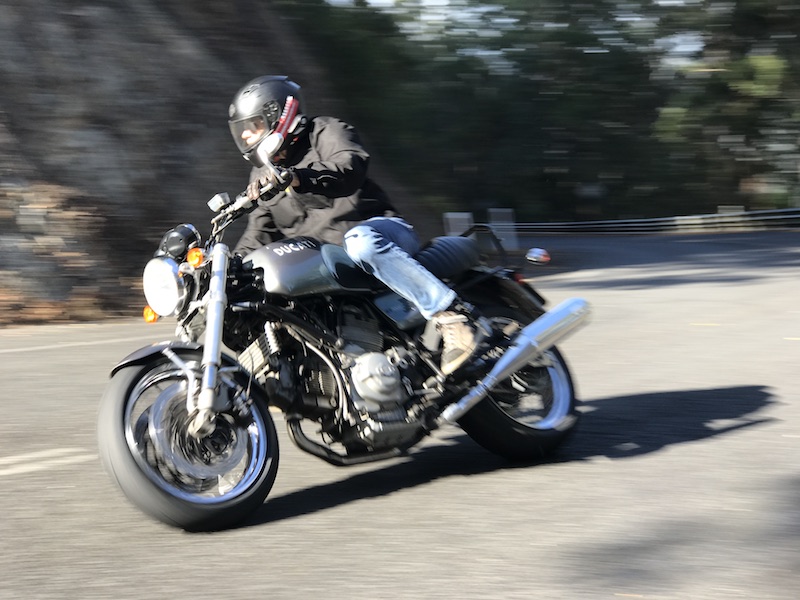 Modifications have also included shortening the gearing by changes to both cogs, so they are totally new.
The standard bike surged at low speed while fifth and sixth gears were virtually superfluous at Australian highway speeds. Many Ducati models suffer from the same problem as they are made for Italian autostradas.
Now the GT1000 accelerates faster, wheelies easier (if that's what you are into!), feels smooth and is drivable around Aussie suburbs.
However, the biggest change was the carbon-fibre wheels which dropped 11.5kg off the weight. (If you still like the original spoked look, the wheels are also supplied.)
Together with the Ikon shocks and forks springs, they make this bike one helluva sharp and responsive handler. Read all about it here.
The timing belts were recently changed, the 20,000km service done and it comes shod with Dunlop Sportmax Alpha 14 tyres with only 3000km on them.
There is also a spare pair of Pirelli Phantom original-fitment tyres which are brand new and we have included the original spoked wheels and mirrors if you like the standard look.
Finish is near perfect and the odo shows a bit over 26,000km. If you have any queries, send us an email.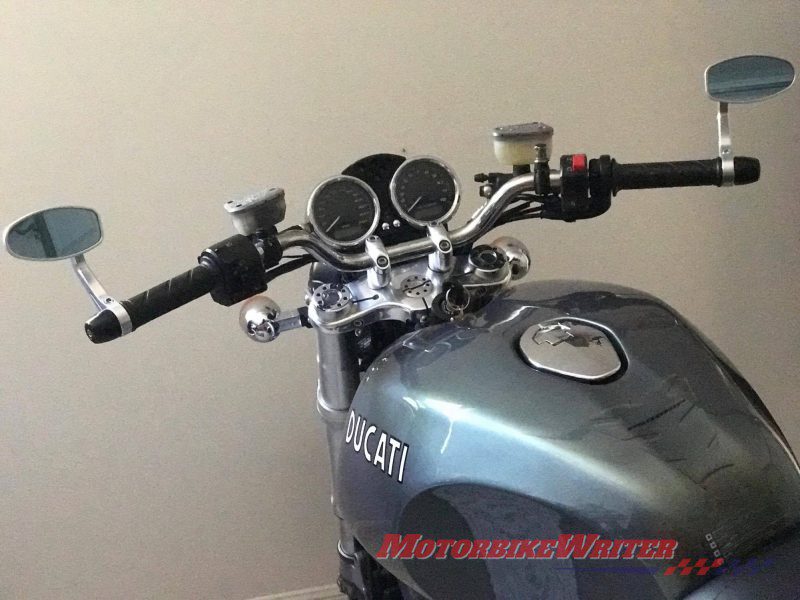 Next project bike
Once the garage has some more space in it, we hope to fill it quickly with another project bike.
This time it will be something newer and top of our wish list is the BMW R nineT Urban G/S or Scrambler.
We haven't decided yet.
Both are capable road bikes with a little bit of dirt thrown in.
The Urban G/S could do with some aesthetic work (throw that red seat and screen as far as possible!) and the Scrambler needs a suspension upgrade and knobby tyres. Tail needs a tidy on both!
What else could we do? Leave your comments below.