1989 Norton F1 Rotary
1989 NORTON F1 ROTARY BACKGROUND
Norton's liquid-cooled, twin-rotor Wankel motorcycle, the F1, was produced from 1989-1991, and was produced in very low numbers, typical of Norton's rotary motorcycle business of the day . It was the ultimate development of Norton's rotary engine program, following several generations of air-cooled twin-rotor Wankel-powered bikes, all produced in low numbers. Norton had inherited the rotary project from BSA, who merged with Norton, then collapsed. For their first effort, Norton built just 350 of the 588cc Interpol 2 (P41) police bike as pre-production prototypes from 1983-1988 to be tested under the rigorous conditions of daily police work with several police forces in England. Poor idling, constant overheating problems, and blown rotor seals were common. Next up was the P43 Classic in 1987 and 1988. It was an ambitious plan, and one that failed to find traction, as only 100 were built, and dealers had trouble selling them. The big failing of all the bikes was overheating, which the air-cooling was woefully inadequate to counter. So, the next bike, the 1988-1994 RCW588 racing bike, was water-cooled, which not only killed the overheating problems once and for all, but freed up loads of horsepower. A street version followed in 1989, the F1. This 1989 Norton F1 Rotary was caught at the 2017 Quail Motorcycle Gathering in Carmel Valley CA.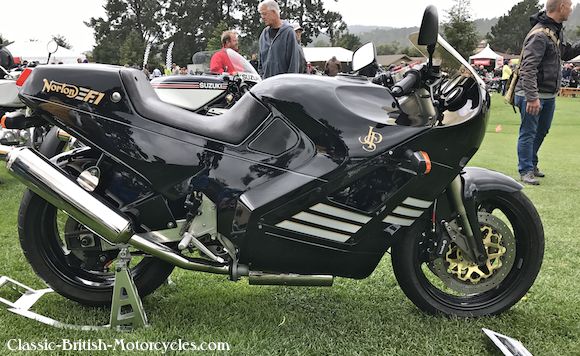 POLITICAL INTRIGUE BEHIND THE 1989 NORTON F1 ROTARY
After the slow-motion trainwreck that was the demise of the British motorcycle industry in the 1970s, only the beleaguered Meriden Co-Op (reduced to practically cottage industry-levels of Triumph Bonneville production), and Norton-Villiers Triumph (NVT). The last classic Norton Commando rolled off the line in 1975 with a few unsold units being retitled as '76s. NVT Engineering Ltd. closed in 1976. In 1978 Dennis Poore acquired the remaining assets to form Norton Motors Ltd. By 1982, Norton was back in the motorcycle business, building small numbers of rotary-powered Interpol 2 motorcycles for British police forces. Poore died in 1987, and Phillipe LeRoux acquired Norton to form the new publicly-traded company Norton Group PLC. At this point, the company went full-boat into the rotary-power business, with a whole line of Wankel-powered high-end motorcycles and ultralight/drone aircraft engines (their NR73 Wankel drone engine weighed just 22 pounds and made 38 horsepower). None of the motorcycles were ever built in large enough volumes to be profitable and by 1992 Norton was £7 million in debt (about $12.3 Million USD) and went bankrupt. LaRoux was investigated for financial improprieties, acquitted, and his business plan for Norton became the subject for a Harvard Business Review case study titled "To Be or Not to Be in the Motorcycle Business".
THE LOOK OF THE 1989 NORTON F1 ROTARY
The F1 is a slightly-detuned, street-legal version of Norton's wicked RCW588 race bike (1988-1992). The race bikes were painted in a wide and sometimes wild variety of liveries, but all the F1 street bikes are painted exactly the same. They are all black with gold and and gray striping and trim, and bear the gold "JPS" logo on the tank, commemorating John Player Special, the British cigarette brand that sponsored Norton's GP racing team.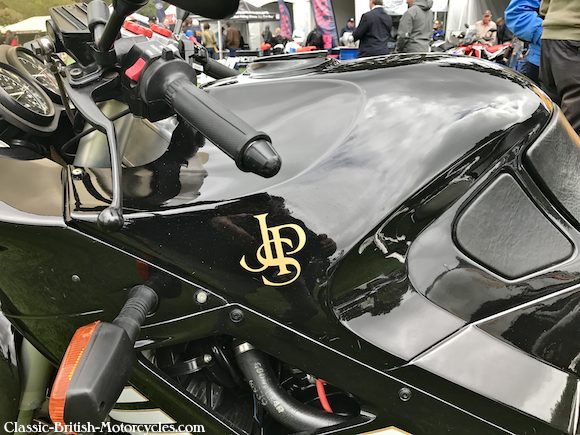 ---
1989 Norton F1 Rotary SPECIFICATIONS
Engine type

Displacement

Compression ratio

Cooling system

Fuel system

Starting system

Power output

Torque output

Gearbox

Final drive

Wheelbase

Length

Width

Height

Suspension, front

Suspension, rear

Brakes, front

Brake, rear

Tire, front

Tire, rear

Fuel capacity

Dry weight

Top speed

Twin-rotor Wankel

588cc / 35.9 ci

9.0:1

Liquid-cooled

2 – 34mm Mikuni BDS downdraft carbs

Electric starter

90 hp @ 9000 rpm

57 lb/ft @ 7500 rpm

5-speed constant mesh, left-foot shifting

Chain

1465mm

2060mm

740mm

1130mm

WP upside-down forks, adjustable

WP monoshock, ajustable

2 – 320mm discs, Brembo

1 – 230mm disc, Brembo

120/79 ZR17, Michelin

170/60 ZR17, Michelin

5.2 US gal / 20.0L

423 lbs / 192 kg

140 mph / 233 km/h