1973 TRIUMPH BONNEVILLE MODEL DESIGNATIONS
1973 was a big year for the new Oil-in-Frame Triumph Bonneville. Starting the model year with Engine #JH15366, the T120 Bonneville 650 soldiered on for another year (it would finally be dropped in 1976), side-by-side with the new T140 Bonneville 750, which started with Engine #JH15435.
BELOW: This lovely bike was sold at the huge Mecum Auction in Las Vegas in January 2018 for $7,700.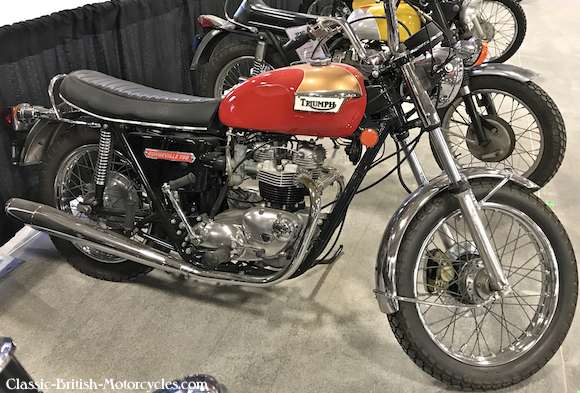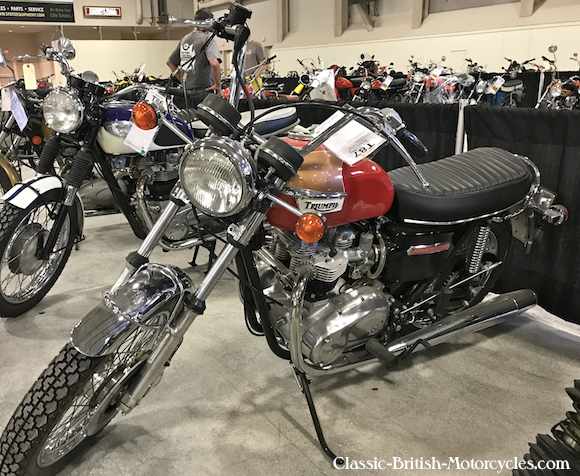 1973 TRIUMPH BONNEVILLE RUNNING GEAR
Shock absorbers were 1/2″ shorter, lowering ride height. Of course the big news on the chassis front was the new front disk brake, long overdue, Honda had them on every model from the 450 on up since 1969. Well, it was finally here, and a 5-speed too! Happy days. Now if we could just have that electric starter…
1973 TRIUMPH BONNEVILLE – FINALLY A DISK BRAKE
The new 10″ cast iron disk brake rotor was chrome-plated (not a good idea, as it turns out) & bolted to a new 2-piece alloy hub. A new left fork slider had a cast-in lug for mounting the Lockheed single-piston caliper, hidden behind an attractive chrome cover with a small round 'Triumph Hydraulic' logo on it. Chrome is too smooth to make a good friction surface for braking & it tended to peal off after some time. Tire sizes were still 3.25 X19″ up front, but the rear was increased to a 4.25 X 18″ Dunlop K70.
1973 TRIUMPH BONNEVILLE COLORS & TRIM
Colors for 1973 were Hi-Fi Vermilion (bright red) & Gold with White pinstriping on T140s, home-market (UK) T120s got Tiger Gold over Cold White. The fenders were now chromed & with the black plastic side covers, this left the only color on the bike being on the tank. It made it easier on. The top photo in this section shows a 1973 Triumph Bonneville with the so-called 'home market', 'British spec', or 'Euro' tank. It's larger in capacity at 4 Imperial gallons (more than 4 US gallons) & has a much chunkier, barrel-chested shape. US models now got a 'slimline' tank with a scant 2-1/2 US gals of capacity. At somewhere around 45 mpg, that isn't much range. But, man, did those Triumph teardrop tanks look great! The headlight reverted back to a conventional shape, from the former 'pancake'-style.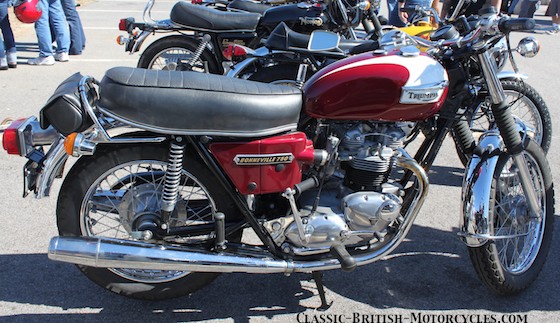 ABOVE: This 1973 Triumph Bonneville is finished in Astral Red & Silver, a Canada-only color combo. The only other year they used Astral Red on a Bonneville was in 1970, and it was also trimmed in Silver.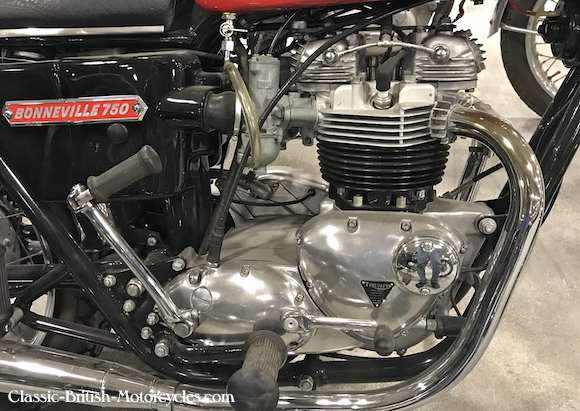 ABOVE: Note how the side covers on this 1973 Triumph Bonneville differ from the 1971-72 Bonnevilles in that these are smooth, devoid of the phony grilles incorporated into the earlier types.
1973 TRIUMPH BONNEVILLE ENGINE
The shorter barrels meant shorter connecting rods, shorter pushrods & pushrod tubes, changes to the exhaust, the head stay (top engine mount) & the cases. The crankcase mouth was relieved to make room for the bigger barrels, the main journal bosses beefed up also. A new crankshaft used the old flywheel but the balance factor was tweaked again to 74%. Compression ratio was 8.6:1 on US machines & 7.9:1 on UK & Exports.
1973 TRIUMPH BONNEVILLE TRANSMISSION
In the primary case a 3/8″ triplex replaced the duplex, the clutch springs & clutch-hub rubber shock absorber were beefed up, & the primary cover widen slightly to accommodate. The 5-speed Quaife gear cluster was now standard equipment on every 1973 Triumph Bonneville, and Triumph TR7s. Early 5-speeds tended to jump out of gear, so a conversion kit (with new 1st, 2nd & 3rd gear layshaft pinions & 1st & 2nd mainshaft pinions, a layshaft shift fork & dog) was made available to dealers & the factory fitted them on the line. These trannies were in common with the Triumph T150 Trident Triple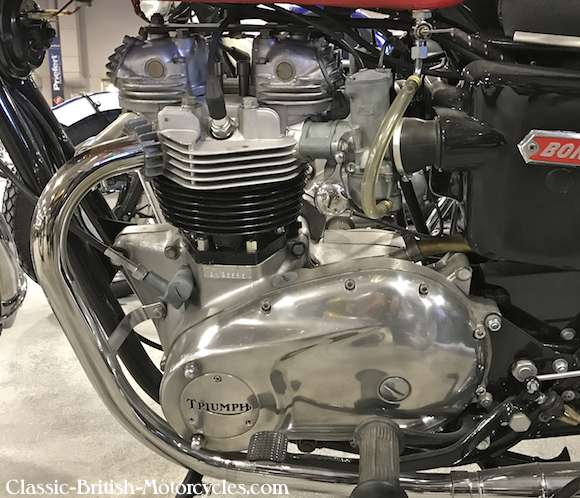 1973 TRIUMPH BONNEVILLE – INCOMPARABLE INCOMPETENCE
The new cylinder block for the 1973 Triumph Bonneville 750 was one fin shorter than the previous 650 cylinder, from 8 fins to 7. Ever since the adoption of the oil-bearing frame in 1971, the rocker boxes had to be removed from the assembled engines on the assembly line, the engines placed in the frames, then the rocker boxes reinstalled & torqued down. It was messy, time-consuming, laborious & hence expensive business, all thanks to the bad planning at Umberslade Hall, parent-company BSA's opulent new technology center. So, shortening the height of the engine allowed them to be installed in one piece, greatly streamlining production. Can you imagine Honda, Yamaha, Kawasaki or Suzuki ever doing things this way?
1973 TRIUMPH BONNEVILLE – MERIDEN MADNESS
1973 was a watershed year for the Triumph Bonneville not just because of the bump up to 750cc, the 5-speed & the disk brake, it was when the workers took over the factory at Meriden & refused to allow anything to come in or out for well over a year! The effect on Triumph motorcycle production was devastating. They weren't exactly setting the world on fire, but the new 1973 Triumph Bonneville, its sister bike the TR7, and the Triumph Trident 750 triple were all decent bikes by 1973. Granted they still didn't have starters yet, but they did now have 5-speeds and disk brakes plus good looks and performance to match. They looked like they were poised to turn the corner when the strike ensued & production stopped in October 1973, after they had already begun building 1974s. Very few 1974s were built, & virtually no 1975s. It wasn't until the 1976 model year that Triumph began building Bonnevilles in earnest again, but by this time, they shifted on the other side!
1973 TRIUMPH BONNEVILLE FACTORY SHUT-DOWN
The reasons for the shutdown are many, but once again it came down to backroom dealing on BSAs part. Norton-Villiers had merged with BSA to form a new conglomerate called Norton-Villiers-Triumph (NVT). Their plan was to shut down the Meriden factory (where Triumphs had been built for decades) & move production to the existing BSA & Norton factories. When word of this reached the Meriden workers, they revolted. It destroyed Triumph's last chance at survival, even though it would take a few more years to die. When the dust cleared in 1975, the workers had organized into the Meriden Co-operative & purchased the company. Things went from bad to worse. But, that story comes a little later…
BELOW: 1973 Triumph Bonneville T140RV with UK/Export tank. They held 3.5 Imperial gallons (4 US gal), compared to the US-market "teardrop"-style tank at only 3 Imperial gallons.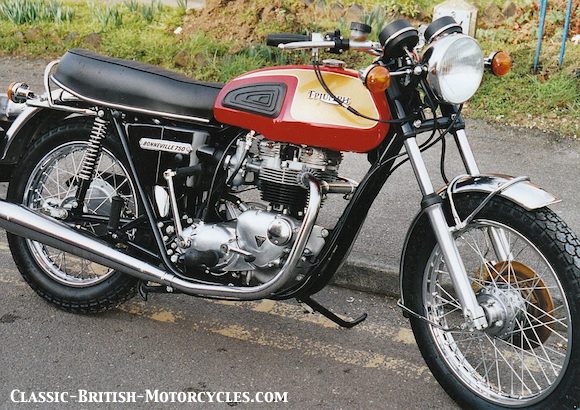 ABOVE: This is a UK-spec (home market) 1973 Triumph Bonneville. The main visible difference, besides the low bars, is the tank. While US bikes got a "teardrop" tank, UK bikes got what became known as the "Euro tank" or "UK tank". It held 3.5 Imperial gallons, which equals 4 US gallons. More fuel than the American teardrop. And while I don't like the way Triumph painted these tanks, I love the shape. Lose the garish paint, take off those rubber kneepads, and remove the big chrome emblems, and they're really a handsome shape. In fact, I have the same tank on my personal bike, below.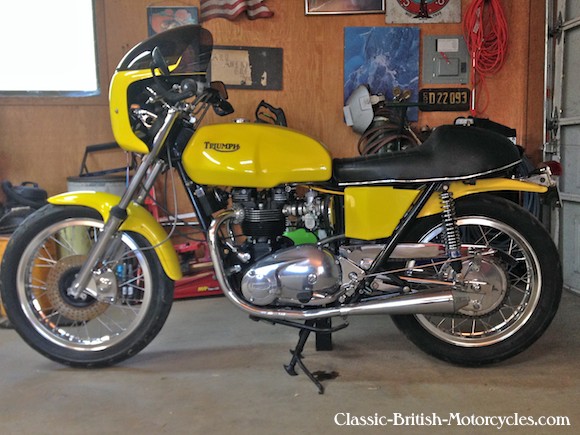 YELLOW BIKE: MY OWN PERSONAL '73 BONNEVILLE
I have a personal passion for 1973 Bonnevilles & TR7s. If you plan to ride your classic Triumph, I believe the '73 is your best choice. It's the first year for the 5-speed, the 750 and the front disc brake, and it still shifts on the right. I built mine into a custom cafe racer, the bike I always wanted to build. I started on it in around 2000, and rode it all over California until I foolishly sold it at the Las Vegas auction in 2009. I always regretted selling it, and last year I tracked it down and bought it back. I'm putting the finishing touches on it now, getting it running perfectly again, testing its reliability, and doing another round of mods. I'll be riding it soon. And as you can see, I have the UK-spec tank also.
---
1973 Triumph Bonneville SPECIFICATIONS
T120RV Bonneville

T140RV Bonneville

Engine type

Displacement

Bore & Stroke

Compression

Carburetors

Ignition

Engine output

Primary drive

Primary sprockets

Clutch

Gearbox

Ratios, overall:

1st, bottom

2nd

3rd

4th

5th, top

Final drive

Final drive sprockets

Frame type

Suspension, front

Suspension, rear

Brake, front

Brake, rear

Tire, front

Tire, rear

Fuel capacity

Wheelbase

Seat height

Ground clearance

Weight

5-speed 650 Roadster

5-speed 750 Roadster

Air-cooled OHV vertical twin

744cc / 45.0 ci

76mm X 82mm / 2.99″ X 3.23″

8.6:1

2- Amal Concentrics R930/9, 30mm

Battery & coil, Lucas

49 bhp @ 6200 rpm

3/8″ triplex X 84 links

Engine 29T X Clutch 58T

Multi-plate, wet

5-speed constant-mesh, right-foot shift

12.25:1

8.63:1

6.58:1

5.59:1

4.7:1

5/5″ X .400″ X 3/8″ chain X 106 links

Gearbox 19T X Rear 47T

All-welded, oil-bearing large-tube backbone

Telescopic fork, hydraulic damping 2-way

Swing arm, 2 Girling dampers

10″ disk, 2-piston hydraulic caliper

7″ SLS drum, conical hub

3.25″ X 19″ Dunlop, ribbed

4.00″ X 18″ Dunlop, universal

3 Imp gal (US) / 4 Imp gal (UK & export)

54.5″ / 140.3 cm

32.5″ / 77.5 cm

5″ / 12.7 cm

387 lbs/ 176 kg
---
Check out these TRIUMPH BOOKS
---
---

Triumph Motorcycles: The art of the motorcycle
---

The Complete Book of Classic and Modern Triumph Motorcycles 1937-Today (Complete Book Series)
---

Triumph Motorcycles: From Speed-Twin to Bonneville
---

Triumph Bonneville and TR6 Motorcycle Restoration Guide: 1956-83
---

British Motorcycles Triumph (Little Books)
---

Triumph Motorcycles in America
---

McQueen's Motorcycles: Racing and Riding with the King of Cool
---

Triumph Motorcycle Restoration
---

Illustrated Triumph Motorcycles Buyer's Guide: From 1945 Through the Latest Models (Illustrated Buyer's Guide)
---