1971 BSA Rocket 3
BIG CHANGES FOR THE 1971 BSA ROCKET 3
1971 was a watershed year for BSA and Triumph. The Big Twins (BSA A65 and Triumph Bonneville/TR6got all new frames, suspension, brakes, cycle gear and bodywork, a complete redesign with the exception of the engines, which carried over. The Triples got the same treatment, and benefitted from much the same hardware, with the exception of the frames, which also carried over.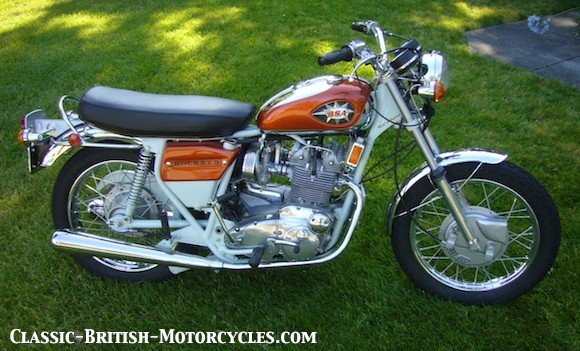 1971 BSA ROCKET 3 FRAME COLORS
Early 1971-model BSA A65sand Rocket 3s came with dove gray frames (above). Not silver, mind you. Dove gray. Some people loved the look (me included), most hated it. It also showed off all those oil leaks. By the end of the 1971 model year, BSA had gone back to a more conventional black frame (below).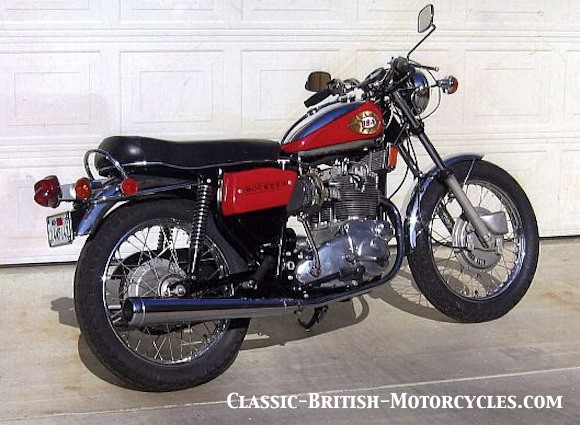 ---
1971 BSA Rocket 3 SPECIFICATIONS
Engine type

Displacement

Bore & Stroke

Compression Ratio

Intake Valve dia

Exhaust Valve dia

Carburetors

Bore size

Main Jet size

Needle Jet size

Needle type

Needle position

Throttle Valve

Ignition System

Spark Plug type

Spark Plug gap

Electrical System

Charging System

Primary Drive

Clutch

Gearbox

Internal ratios

1st Gear

2nd Gear

3rd Gear

4th Gear

Wheelbase

Overall length

Overall width

Overall Height

Ground clearance

Seat Height

Unladen weight

Engine weight, dry

Fuel Capacity

Brakes, F/R

OHV air-cooled inline 3

741cc / 45 cu.in.

62mm X 70mm / 2.67″ X 2.751″

9.0:1

38.9mm / 1.53″ +/-

33.3mm / 1.31″ +/-

3- Amal Type 626 Concentrics

27mm

150

.106

STD

2

3-1/2

Breakers & Coils

3- Champion N3

.020″ / .50mm

12 volt DC

Lucas 7CA alternator

Triplex chain

Single-plate, dry, diaphragm-type

4-speed, constant-mesh, sliding dogs

—-

2.47:1

1.71:1

1.26:1

1.00:1

56.25″ / 142.875cm

86″ / 218.44cm

32.5″ / 82.55cm

43.5″ / 110.49cm

6.5″ / 16.51cm, unladen

32″ / 81.28cm

460 lbs / 208.8 kg

180 lbs / 81.72 kg

4.2 US gal / 3.5 Imp gal / 15.94 liters

8″ TLS drum / 7″ SLS drum