1971 BSA A70 Lightning
1971 BSA A70 LIGHTNING IS BORN
BSA wanted to enlarge their 650 twin to a 750 to compete in the open class in AMA Class C racing. But the rules required that the races bikes be based on an actual production bike that the public could buy. The magic number was 200 units in order to homologate them for racing. The 1971 BSA A70L Lightning was the result.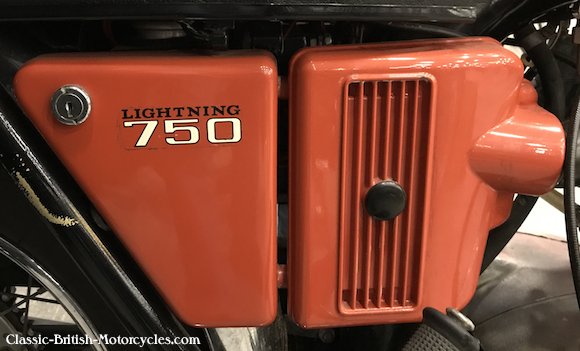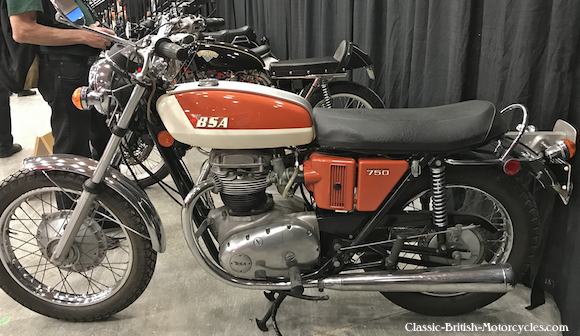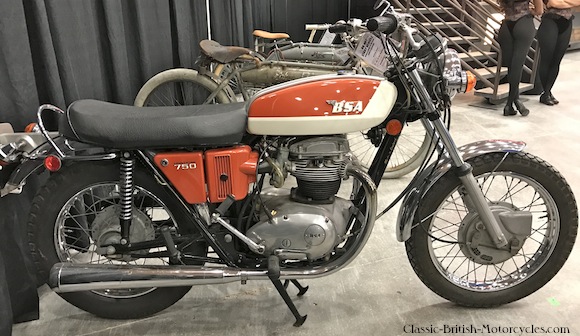 A CHANGE IN RULES
Since 1933, the AMA rules restricted Class C to 500cc or less for overhead valve engines, and 750cc or less for flatheads (or sidevalves). Harley fielded their awesome 750cc K-series V-twins which later morphed into the Sportster. All the Brits were stuck running 500s. In 1969 the rules changed, reflecting the changing times and technology (Harley was still shamelessly running their 750cc KR flatheads, but otherwise there were no other flatheads), and allowed 750cc bikes of all types. Harley quickly convertd its flathead KR into the OHV Sportster-based XR750 to great success. Triumph and BSA were both running their 750 triples, Honda had just joined the game with their new four cylinder, and Triumph had just bumped their 650 Bonneville up to 750cc themselves, to be used in Grand National flat track races. It was only natural that BSA would follow suit. As cash-strapped as they were at the time, BSA must sure have thought they would survive, and that racing successes would be a big help. And it worked. BSA rang up a string of impressive racing successes including the Daytona 200.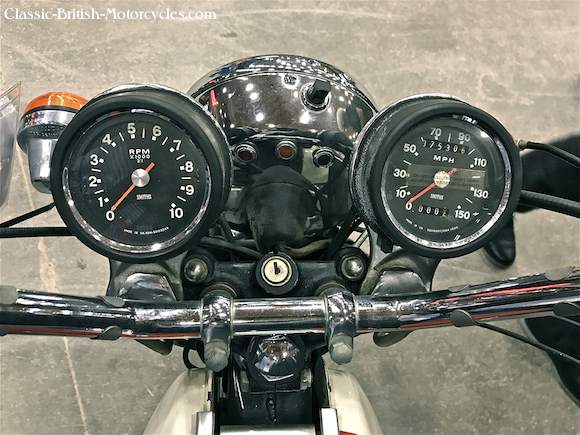 BSA SLIPS INTO THE ABYSS
So, the 1971 BSA A70 Lightning was born to meet the 200-unit production requirement. Actually 202 were built, 65 in June of 1971, 101 in July, and 36 in August. It is estimated that around 180 A70s were shipped to BSA's East Coast distributor out of Baltimore MD with the remaining 22 coming to the West Coast. BSA was very near the end of the road, having slipped into receivership. Barclays Bank was now calling all the shots and slashed production immediately to try to stop the bleeding. There would be no more BSA 750 twins. In just over a year, BSA went from winning Daytona to going broke. How the mighty have fallen.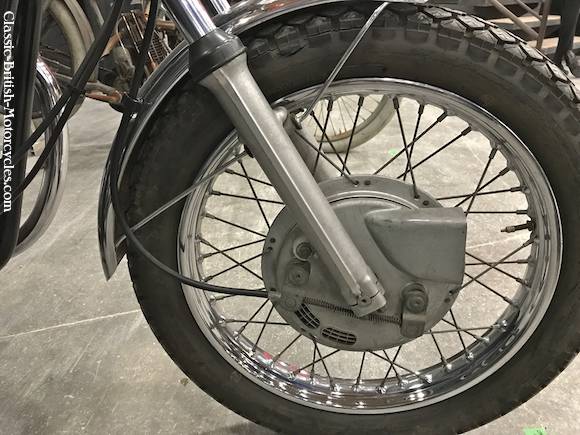 WHAT MAKES THE 1971 BSA A70 LIGHTNING UNIQUE?
The 1971 BSA A70 Lightning is almost indistinguishable from a garden-variety 1971 A65 with the exception of the "750" decal on the side covers. They're all painted in the same orange and creme color scheme as was used on the 1971 A65 Lightning. Most of the 202 A70s came with black frames, while a few had the dove gray frames that BSA ran in early 1971. Engine-wise, the engine cases were rumored to be different somehow, but other than an oversized timing-side bushing, there is no obvious difference. The main difference is a new crankshaft with an 85mm stroke, special connecting rods and pistons. Compression was 9.5:1 compared to the 650's 9.0:1. The A70 ran two Amal 930 Concentric carburetors with 250 main jets (larger than the A65). Interestingly, the entire increase in displacement came from an increase in stroke. The original 650cc A65, launched in 1962, was one of the few oversquare bikes on the market, although barely oversquare, with a 75mm X 74mm bore-and-stroke. The new crankshaft added 11mm to the stroke, out to 85mm. No more oversquare here! The overall effect was an output in street trim of 52 horsepower at 6,250 rpm with a top speed of 120 mph.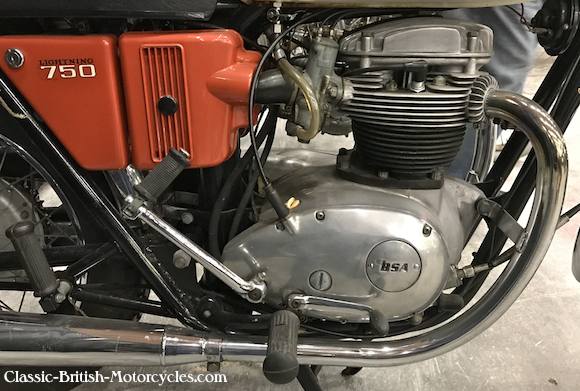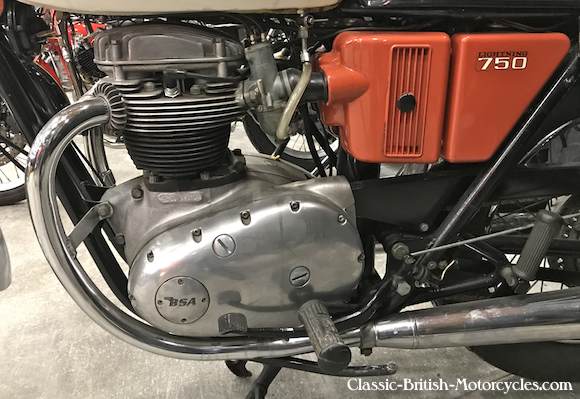 THIS 1971 BSA A70 LIGHTNING JUST SOLD!
I took these pictures at the big Mecum Auction in Las Vegas in January 2018. It sold for just $16,000. One of just 202 bikes built, with its history and in this condition. Sounds like a bargain…or a good investment.
---
1971 BSA A70 Lightning SPECIFICATIONS
Engine type
Displacement
Bore & Stroke
Compression ratio
Fuel system
Output
Primary Drive
Clutch
Gearbox
Ratios, overall:
1st gear, low
2nd gear
3rd gear
4th gear, top
Final drive
Wheelbase
Ground clearance
Seat height
Curb weight
Suspension, F
Suspension, R
Brakes, front
Brakes, rear
Tires, front
Tires, rear
PERFORMANCE
0-60 mph
1/4 mile
Top speed
Air-cooled OHV parallel twin
751cc
75mm X 85mm
9.5:1
2X Amal 930 Concentric carburetors
52 hp @ 6,250 rpm
Triplex chain
Multi-plate, dry
4-speed constant mesh

12.23:1
7.79:1
5.57:1
4.87:1
Single-row chain
56.0″
7.5″, laden
32.0″, laden
390 lbs / 177 kg
Telescopic forks
Swing arm, 2 shocks
8″ drum, TLS
7″ drum, SLS
Dunlop 3.25″ X 19″
Dunlop K70 4.00″ X 18″

6.60 sec
15.29 sec @ 83.6 mph
120 mph