1971 BSA A65
BIG CHANGES FOR THE 1971 BSA A65
For the 1971 model year, BSA and Triumph changed virtually every item on their big 650 twins, with the exception of the engines. A new frame had been designed by BSA's hopelessly misguided Umberslade Hall tech center. Instead of focusing their limited resources on fixing the vibration problems, electrical gremlins, and reliability issues, they built a new frame. It was called the "oil-bearing frame" because instead of a traditional separate oil tank as before, now the engine oil was carried in the thick 3-inch diameter backbone. Everything else changed with it, the wheels and suspension, the bodywork and all the cycle gear. The results were mixed. It certainly gave them a more modern look. But it turned off traditionalists, who were BSA's core market. Not that it mattered all that much. This was 1971, and by 1972, BSA would be in the graveyard. Only Triumph (which BSA owned) survived and soldiered on using the same frame and running gear (with notable exceptions) until Triumph folded in 1983. The new frames on the early '71 twins were painted "dove gray", which wasn't a bad look. But it showed every imperfection and sort of highlighted all the oil that was leaking out of the engine. So by mid-year BSA had switched back to black frames.
---
1971 BSA A65 Lightning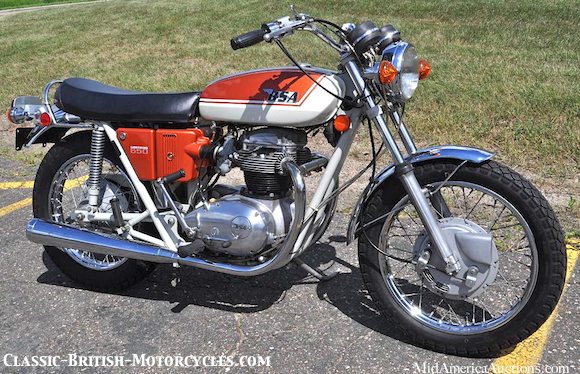 A65 LIGHTNING
The Lightning was always sitting at or near the top of BSA's 650 hierarchy. With it's twin carbs, it was BSA's equivalent of Triumph's Bonneville. As BSA pared down its dizzying array of 650 models, it came down to two roadsters, the Lightning, seen here, and the single-carb A65 Thunderbolt; and one Dual-Sport bike, the Firebird Scrambler.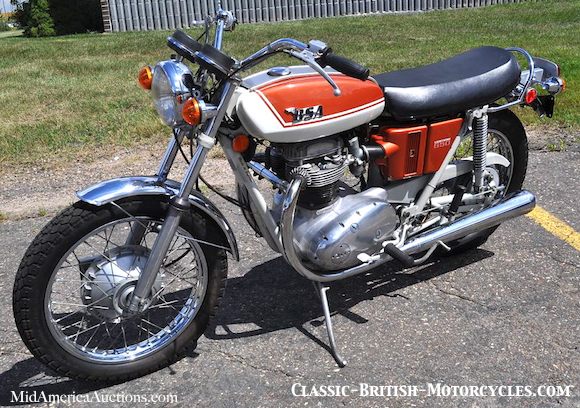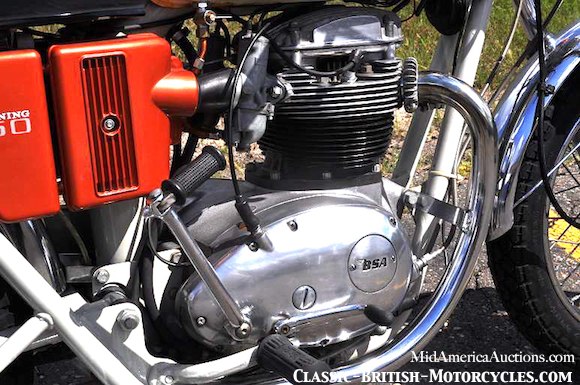 ---
1971 BSA A65 Thunderbolt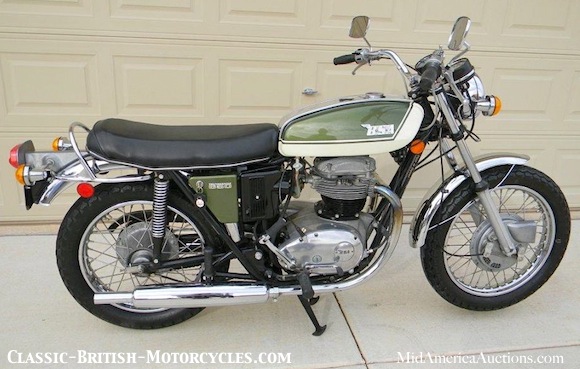 A65 THUNDERBOLT
The Thunderbolt was the single-carb version of the Lightning, intended to be the lower-priced Roadster in BSA's 650 lineup. Like all 1971 BSA A65s, it got the new oil-bearing frame, seen here in late-1971 black, and those gorgeous (but not very effective) conical brake hubs.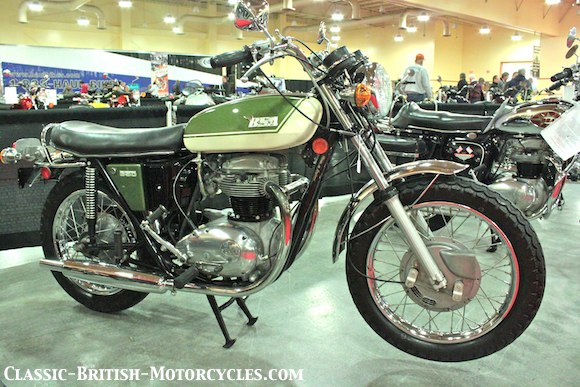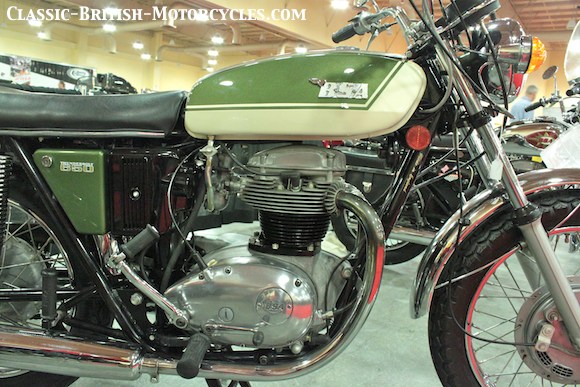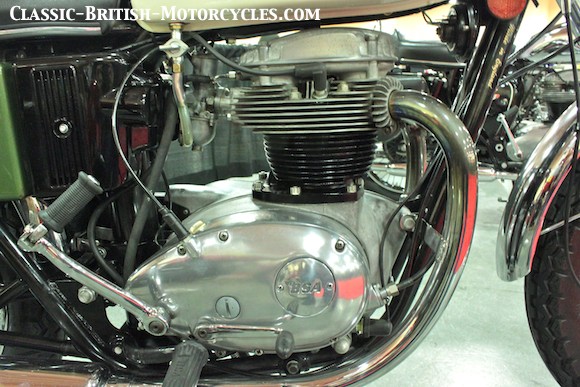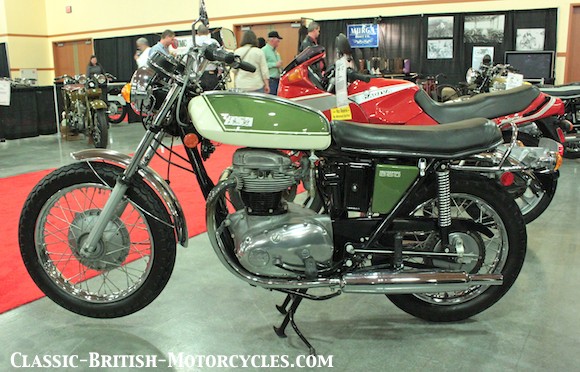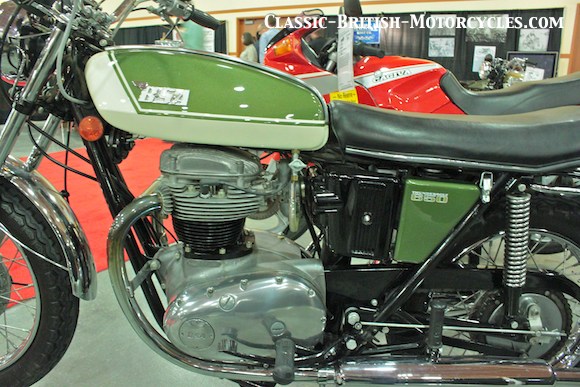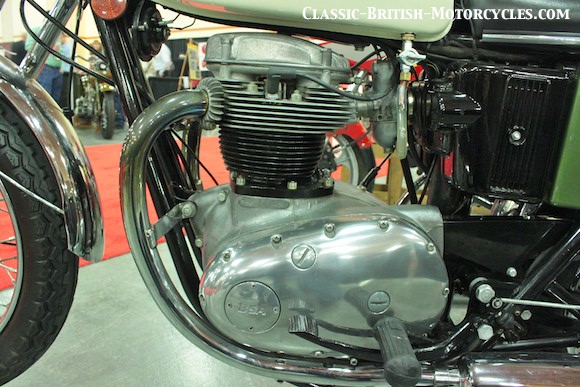 ---
1971 BSA A65 Firebird Scrambler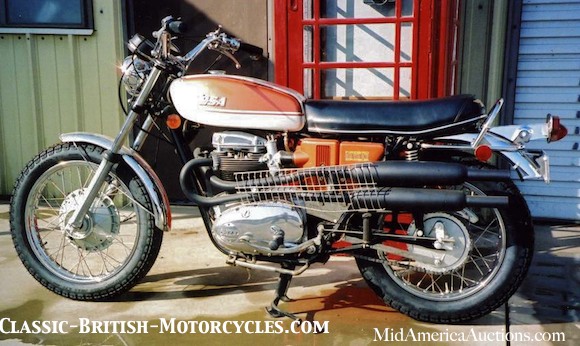 1971 BSA A65 FIREBIRD SCRAMBLER
BSA cut their teeth in the off-road business, building world-class dirt bikes and desert racers like the Gold Star and others. The A65 Firebird Scrambler already had a good reputation as a solid desert machine, and this was continued in the oil-bearing bikes like this 1971 BSA A65 Firebird Scrambler.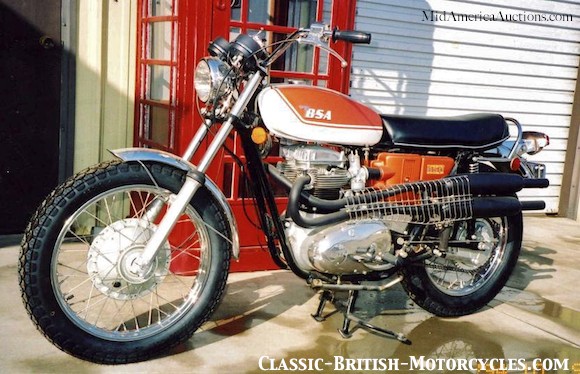 ---
1971 BSA 165 SPECIFICATIONS
Model

Displacement

Engine type

Bore & Stroke

Compression

Carburetor(s)

Output

Primary Drive

Clutch

Gearbox

Ratios, overall:

1st gear, low

2nd gear

3rd gear

4th gear, top

Final drive

Wheelbase

Ground clearance

Seat height

Curb weight

Suspension, F

Suspension, R

Brakes, front

Brakes, rear

Tires, front

Tires, rear

PERFORMANCE

0-60 mph

1/4 mile

Top speed

A65L Lightning

654cc / 39.9ci

OHV vertical twin

75mm X 74mm

9.0:1

2- Amal Concentric

52 hp @ 7,000 rpm

triplex chain

multi-plate, dry

4-speed constant mesh

12.23:1

7.79:1

5.57:1

4.87:1

single-row chain

56.0″

7.5″, laden

32.0″, laden

408 lbs

telescopic forks

swing arm, 2 shocks

8″ drum, TLS

7″ drum, SLS

Dunlop 3.25″ X 19″

Dunlop K70 4.00″ X 18″

6.60 sec

15.29 sec @ 83.6 mph

102 mph

A65T Thnderbolt

654cc / 39.9ci

OHV vertical twin

75mm X 74mm

9.0:1

1- Amal Concentric

42 hp @ 6,800 rpm

triplex chain

multi-plate, dry

4-speed constant mesh

12.27:1

7.80:1

5.58:1

4.87:1

single-row chain

56.0″

7.5″, laden

32.0″, laden

401 lbs

telescopic forks

swing arm, 2 shocks

8″ drum, TLS

7″ drum, SLS

Dunlop 3.25″ X 18″

Dunlop 4.00″ X 18″

7.40 sec

15.56 sec @ 80.0 mph

98 mph