1969 BSA Rocket 3
1969 BSA ROCKET 3 BREAKS NEW GROUND
The irony here is that the mad scientists in the back room at sister-brand Triumph had 3-cylinder prototypes running around since 1965, a full 4 years ahead of Honda. But parent-company BSA dithered. It wasn't until word leaked out of the mighty 4-cylinder from Japan that they gave the Rocket 3 and its twin, the Triumph Trident the green light. In classically-inept BSA fashion, they trusted the styling of the bikes to an automotive supplier. The result was the very stodgy look, with "shoebox" gas tank, chunky side covers, and those crazy "ray gun" mufflers (aka: "Flash Gordons"). Even worse, the British triples only beat the Honda 750 Four to market by a few weeks. It was better styled, more reliable, and cheaper.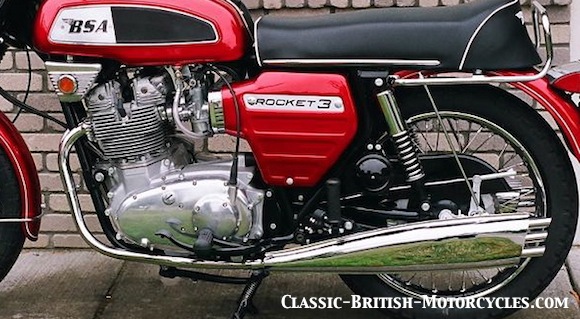 1969 BSA ROCKET 3 IS FAST
Despite everything else, the new Triples were fast, very fast. Faster than the Norton 850 Commando, faster even than the new Honda 750…on a good day. And they quickly began racking up victories on road racing circuits allover the world. Alas it wasn't enough to stem the tsunami of Japanese bikes or to cure all the other ills that plagued BSA at the close of the 1960s. Today, they are much sought after by collectors. And they are one of the best classic British motorcycles to ride in modern times, with ample power to keep up with just about anything on the road.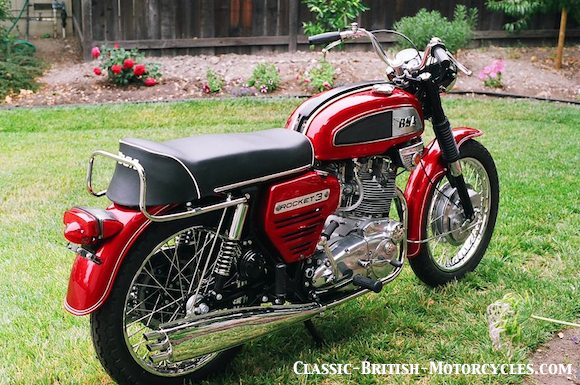 ---
1969 BSA Rocket 3 SPECIFICATIONS
Engine type

Displacement

Bore & Stroke

Compression Ratio

Intake Valve dia

Exhaust Valve dia

Carburetors

Bore size

Main Jet size

Needle Jet size

Needle type

Needle position

Throttle Valve

Ignition System

Spark Plug type

Spark Plug gap

Electrical System

Charging System

Primary Drive

Clutch

Gearbox

Internal ratios

1st Gear

2nd Gear

3rd Gear

4th Gear

Wheelbase

Overall length

Overall width

Overall Height

Ground clearance

Seat Height

Unladen weight

Engine weight, dry

Fuel Capacity

Brakes, F/R

OHV air-cooled inline 3

741cc / 45 cu.in.

62mm X 70mm / 2.67″ X 2.751″

9.0:1

38.9mm / 1.53″ +/-

33.3mm / 1.31″ +/-

3- Amal Type 626 Concentrics

27mm

150

.106

STD

2

3-1/2

Breakers & Coils

3- Champion N3

.020″ / .50mm

12 volt DC

Lucas 7CA alternator

Triplex chain

Single-plate, dry, diaphragm-type

4-speed, constant-mesh, sliding dogs

—

2.47:1

1.71:1

1.26:1

1.00:1

56.25″ / 142.875cm

86″ / 218.44cm

32.5″ / 82.55cm

43.5″ / 110.49cm

6.5″ / 16.51cm, unladen

32″ / 81.28cm

460 lbs / 208.8 kg

180 lbs / 81.72 kg

4.2 US gal / 3.5 Imp gal / 15.94 liters

8″ TLS drum / 7″ SLS drum