1965 Matchless G12CSR
650 Twin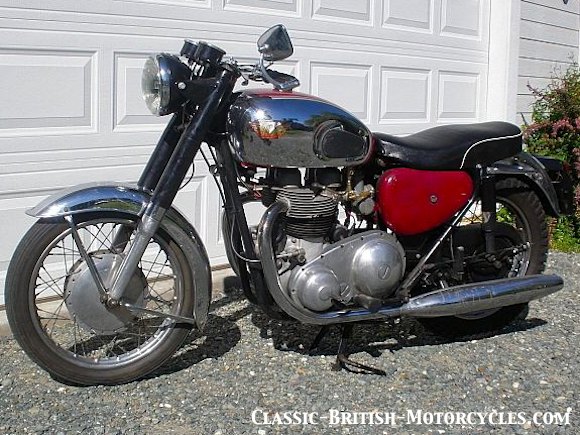 1965 MATCHLESS G12CSR – A BRIEF HISTORY
Matchless built their first vertical twin in 1949, the 500cc G9. In 1956, they punched it out to 600cc and named it the G12 (seen here). In 1959 they punched it out again to 650cc and called it the G15. In 1963 there were four models offered of the G12. There was the Standard, De Lux, the CS (Competition Sport) and the CSR (Competition Sport, Road). They all were 646cc vertical twins with the 4-speed AMC gear box, Lucas magneto ignition. The CS and CSR came with alloy fenders, siamezed exhaust, and quick detachable headlight. The CS had a small 2-gallon competition fuel tank, skid plate and western style handlebars. An option offered for these bikes was a speed kit that consisted of 10.5:1 compression pistons, hotter camshaft and dual carburetors. These additions proved to over stress an already fragile crankshaft. The AJS version was the Model 31 and they came in AJS Mediterranean Blue.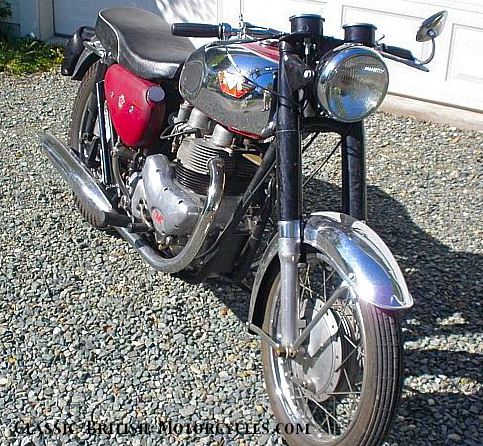 ---
1965 Matchless G12CSR SPECIFICATIONS
Model Designations, Matchless/AJS
Engine type
Displacement
Bore & Stroke
Compression ratio
Lubrication
Oil capacity
Fuel system
Ignition System
Power output
Battery
Primary drive
Clutch
Gearbox
Final drive
Suspension, front
Suspension, rear
Brakes, front
Brakes, rear
Frame type
Tire, front
Tire, rear
Dry weight
Fuel capacity
Fuel economy
Top speed
G12 / Model 31
Air-cooled OHV vertical twin
646cc / 39.4 ci
72mm X 79.3mm
7.5:1
Dry sump
2.5 L / 5.3 US pints
1 – Amal 389 1-1/8″
Lucas distributor & points
35 hp @ 6,500 rpm
Lucas 6V 12aH
1/2″ X 5/16″ single chain
Multi-plate, wet
4-speed, right-foot shift
5/8″ X 3/8″ chain, 96 links
AMC Teledraulic forks
Swing arm w/2 shocks
7 -n SLS drum
7-in SLS drum
Double cradle
3.25″ X 19″ Dunlop
3.50″ X 19″ Dunlop
396 lbs / 180 kg
4.5 US gal / 17 L
55 mpg / 23.4 km/L
95 mph