1964 Norton Atlas
1964 NORTON ATLAS BACKSTORY
The story starts not with a Norton at all, but with the 1938 Triumph 500 Speed Twin, the world's first "modern" vertical twin. The rest of the British motorcycle industry went nuts and rushed to field their own 500 twins. But WWII got in the way, putting things off until after the war. But once civilian production resumed British vertical twins started popping up all over. BSA was first in 1946 with their A7 (500). Norton and Matchless both launched their first 500 twins in 1949, Norton calling theirs the Model 7.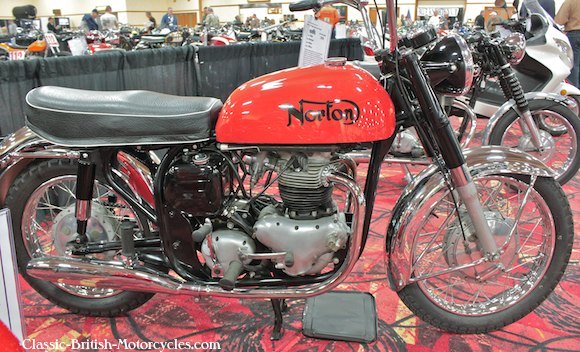 FEATHERBED FRAME
In 1950 Norton introduced the game-changing Featherbed Frame for it's road racing Manx singles, and by 1953 they'd dropped the Model 7's 500 twin-cylinder engine into the new frame, creating the Dominator 88. In 1956, they punched the 500 out to a 600 and renamed the bike the Dominator 99. In 1960 they did it again, this time to 650cc and added twin carbs for the 1961 Dominator 650SS which ran through 1969, overlapping the 1968 introduction of the iconic 750 Commando. But Norton wasn't done yet.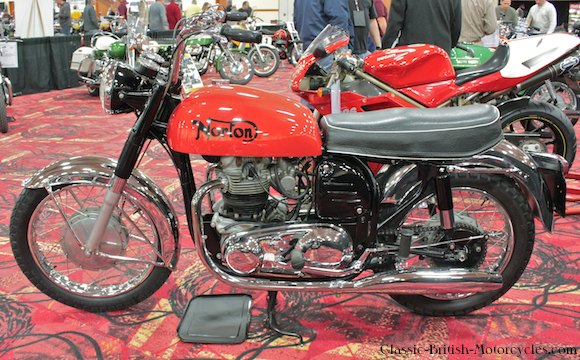 THE NORTON ATLAS IS BORN
Norton once again enlarged this same old engine that was launched in 1949 as a 500, then a 600, then a 650, and now a 750. With the added displacement came a new name: Norton Atlas 750. The Atlas became Norton's front line bike until it was replaced by the 750 Commando in 1968. The 1964 Norton Atlas was the first to receive 12-volt electrics.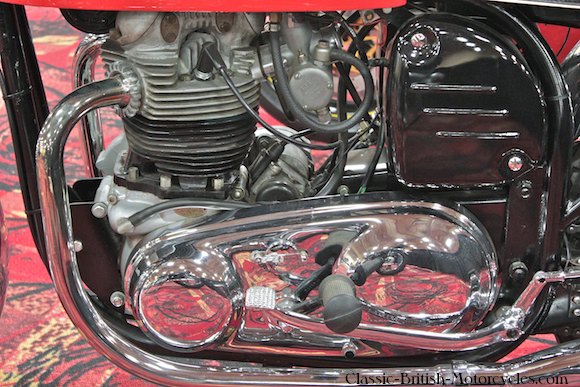 ---
1964 Norton Atlas SPECIFICATIONS
Engine type
Displacement
Bore & Stroke
Compression
Spark Plugs
Ignition
Carburetor
Engine output
Charging
Battery
Ignition timing
Points gap
Primary Drive
Primary Sprockets
Clutch
Final Drive
Final Sprockets
Gearbox type
Overall Ratios:
1st, Bottom
2nd
3rd
4th, Top
Suspension, front
Suspension, rear
Brake, front
Brake, rear
Tire, front
Tire, rear
Petrol Capacity
Wheelbase
Ground clearance
Seat height
Dry weight
Curb weight
Air-cooled OHV vertical twin
745cc
73mm X 89mm
7.6:1
Champion N6Y
Capacitor
1- Amal Monobloc
49 bhp @ 6,800 rpm
12V Alternator
12 volt
32 degrees BTDC at full advance
0.012″
1/2″ X 5/16″ chain X 76 links
21 teeth X 42 teeth
Multi-plate, wet
5/8″ X 1/4″ chain X 98 links
19 teeth X 43 teeth
4-speed, right foot shift11.6:1
7.57:1
5.52:1
4.53:1
Telescopic fork, hydraulic damping
Swing arm w/2 hydraulic dampers
8″ X 1.25″ SLS drum
7″ X 1.25″ SLS drum
3.25″ X 19″
4.00″ X 18″
2.5 Imp gal
55.5″
6.2″
31.0″
395 lbs
410 lbs