1962 Triumph TR6
1962 TRIUMPH TR6 NOMENCLATURE
Of course, this is tFor the 1962 model year the only Triumph TR6 produced was the Triumph TR6 S/S Trophy. Gone were the "C" & "R" designations, leaving the TR6 to become very much a Triumph Bonneville without the second carb. 1962 Triumph TR6 S/S engine & frame numbers ran from D16189 to D20308, & were built from October 26, 1961 to July 31, 1962.
ENGINE CHANGES
Starting with Engine #D17043 the crankshaft balance factor went from 71% to 85% where it would stay until the introduction of the 750cc Triumph TR7 in 1973. This required a new crank with pear-shaped bobweights. Starting with #D17552 the troublesome alloy oil pump was replaced with a cast iron oil pump. The infamous "Slickshift" foot clutch is quietly dropped.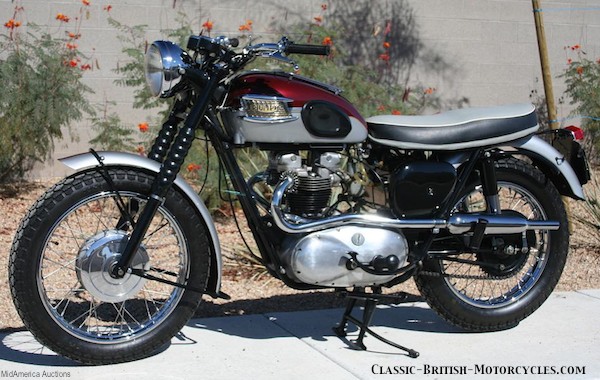 DETAIL CHANGES
The 1962 Triumph TR6 got new fuel petcocks designed not to jam like the units they replaced. The oil tank was now completely rubber-mounted. A Lucas K2F magneto replaced the R2FC competition magneto (for reasons of cost). Handlebars were now flatter & the seat, while shaped the same, now had a gray top & lower trim band.
The last pre-unit Trophy, a 1959 Triumph TR6 S/S, rolled off the assemblyline on July 30, 1963 with Engine #D20308.
---
1962 Triumph TR6 SPECIFICATIONS
Engine type

Displacement

Bore & Stroke

Compression

Carburetor

Ignition

Engine output

Primary drive

Primary sprockets

Clutch

Gearbox

Ratios, overall:

1st, bottom

2nd

3rd

4th, top

Final drive

Final drive sprockets

Frame Type

Suspension, front

Suspension, rear

Brake, front

Brake, rear

Tire, front

Tire, rear

Wheelbase

Seat Height

Ground Clearance

Fuel capacity

Dry weight

Air-cooled OHV vertical twin, non-unit

649cc / 40.0 ci

71mm X 82mm / 2.79″ X 3.23″

8.5:1 (US & export); 7.0:1 (UK)

1-Amal Monobloc

Lucas magneto

42 bhp @ 6500 rpm

1/2″ X .335″ X 5/16″ chain, 70 links

21T X 43T

Multi-plate, wet

4-speed constant mesh, right foot shift

11.92:1

8.25:1

5.81:1

4.88:1

5/8″ X .400″ X 3/8″ chain, 101 links

18T X 43T

Brazed lug, rigid

Telescopic fork, hydraulic damping

Swing arm, 2 Girling dampers

8″ SLS drum

7″ SLS drum

3.25″ X 19″ Dunlop

4.00″ X 18″ Dunlop

55.25″ / 140 cm

30.5″ / 77 cm

5″ / 12.7 cm

3 Imp gal (US); 4 Imp gal (UK & export)

380 lbs / 173 kg