1962 Triumph 650 Thunderbird
1962 TRIUMPH 650 THUNDERBIRD-A COMMUTER BIKE
The Thunderbird was introduced in 1950 it was Triumph's first 650 twin, and instantly became its fastest bike and its best-seller. But the introduction of the T110 Tiger, a hotter version of the 650 twin, in 1954 the T-Bird lost it's top-shelf status. It happened again in 1956 with the introduction of the hotter-still TR6, and again in 1959 with the launch of the twin-carb Bonneville. And every time it happened, and another bike was added to the top of the model hierarchy, the lowly Thunderbird got kicked farther downstairs. By the time this 1962 Triumph 6T Thunderbird was built, it had become Triumph's entry-level 650 and its standard heavyweight commuter bike. Not that it was slow, it just wasn't as fast as its hot rod cousins.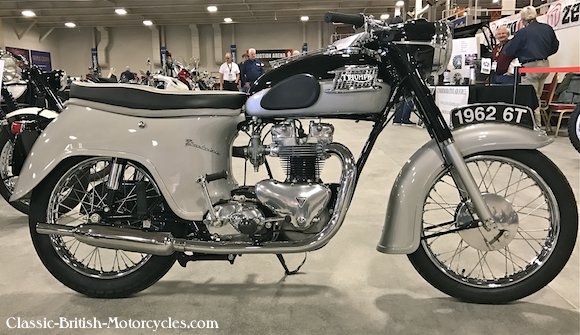 1962 TRIUMPH 650 THUNDERBIRD HAS 'BATHTUB'-STYLING
In the mid- to late-50s and well into the 60s, there was a trend in Britain toward enclosing their bikes. Several manufacturers came out with their own enclosed machines, some nicer than others. These included the Velocette Vogue, the Vincent Black Prince, the Ariel Leader, and the Norton Navigator Deluxe, to name a few. But none sold nearly as well as Triumph's enclosed bikes, known to the world by the nickname of "the Bathtub Triumphs". Obviously, the bulbous enclosed rear bodywork earned it that title. Intended to make wipe-down easier on British commuter-riders (it rains a lot in England), the stamped steel bodies were heavy, made routine maintenance and repair more difficult and were prone to rust. Note also the large full-valance front fender, also intended to protect the bike and rider from the cruel British elements.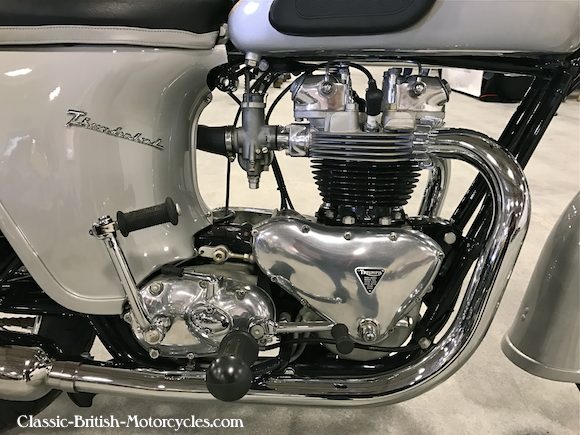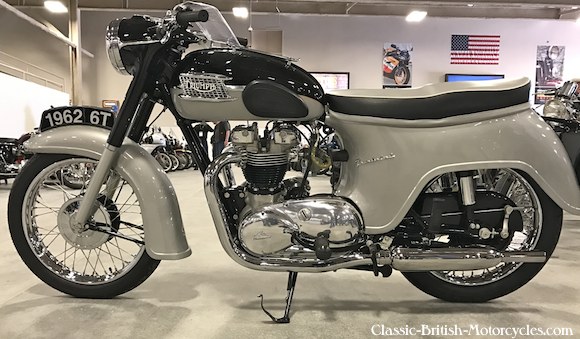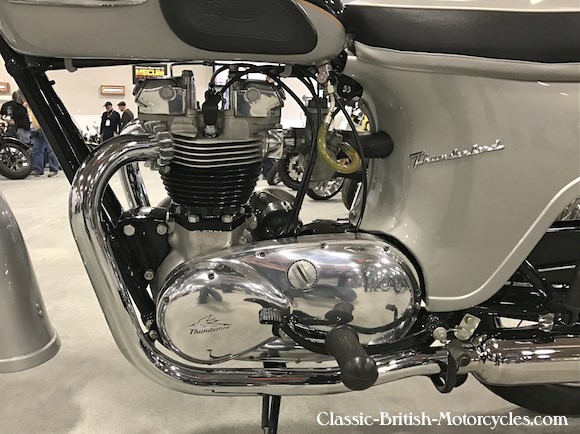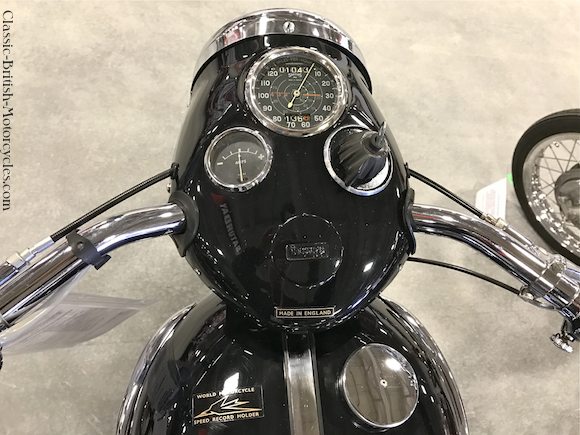 ---
1962 Triumph 650 Thunderbird SPECIFCATIONS
Engine type

Displacement

Bore & Stroke

Compression

Carburetor

Ignition

Engine output

Primary drive

Primary sprockets

Clutch

Gearbox

Ratios, overall:

1st, bottom

2nd

3rd

4th, top

Final drive

Final drive sprockets

Frame Type

Suspension, front

Suspension, rear

Brake, front

Brake, rear

Tire, front

Tire, rear

Wheelbase

Seat Height

Ground Clearance

Fuel capacity

Dry weight

Air-cooled OHV vertical twin, non-unit

649cc / 40.0 ci

71mm X 82mm / 2.79″ X 3.23″

8.5:1 (US & export); 7.0:1 (UK)

1-Amal Monobloc

Lucas RM14 magneto

34 bhp @ 6500 rpm

1/2″ X .335″ X 5/16″ chain, 70 links

24T X 43T

Multi-plate, wet

4-speed constant mesh, right foot shift

11.90:1

8.25:1

5.81:1

4.88

5/8″ X .400″ X 3/8″ chain, 101 links

18T X 46T

Steel tubing, brazed lugs

Telescopic fork, hydraulic damping

Swing arm, 2 Girling dampers

8″ SLS drum

7″ SLS drum

3.25″ X 19″

3.50″ X 19″

55.75″ / 141 cm

31″ / 77.5 cm

5″ / 12.7 cm

3 Imp gal (US); 4 Imp gal (UK & export)

395 lbs / 179 kg