1962 BSA A10
Pre-Unit 650 Twin
1962 BSA A10 – NEARING END OF NON-UNIT CONSTRUCTION
In 1962 BSA was in the middle of a major retooling to begin production of the new A50 (500) and A65 (650) unit-construction twins, that were meant to replace the highly successful non-unit twins the 500cc A7 and the 650cc A10. This was going to be a tough act to follow, and with pre-unit twins flying off the shelf, BSA made the decision to overlap production of the pre-unit bikes and the unit-bikes by about a year. So there are both 1962 BSA A10s and 1962 BSA A65s. Non-unit, or pre-unit construction refers to the engine crankcase, primary case, and gearbox being separate components that are bolted together in the frame. Unit construction is when all these components are incorporated into one common casing, one "unit", hence the name. Unit construction supposedly came about, at least when it did, because Lucas, supplier of all electrical componentry to the entire British motorcycle industry at the time had just announced that as of 1963 it would cease production of its line of magnetos, which had been providing ignition spark to all Brit bike since the dawn of time. So, everyone in the industry scrambled to re-engineer their engines to accommodate the elimination of the magneto and the adoption of points and coils. BSA used it as an excuse to complete redesign their engine/gearbox packages into unit-construction. Their results were mixed at best. Sales of the newer unit-construction bikes were never as good as their pre-unit ancestors. But then, times were changing also, and what sold well in the 1950s didn't necessarily sell well in the 1960s. In fact, big changes were right around the corner, heading this way from Japan, but that's another story…
---
1962 BSA A10 Spitfire Scrambler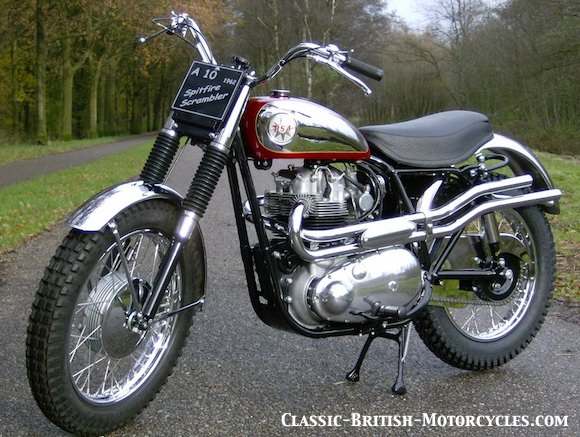 1962 BSA A10 SPITFIRE SCRAMBLER
The Spitfire was indeed a 'scrambler' in the true sense of the word, with knobby tires, high pipes on the left side, one carb, and stripped of everything that wasn't essential. These are gorgeous bikes, and actually make a great off-road ride. They practically dominated desert racing in the Western US, and also many a scrambles track. The big torquey motors didn't need to be revved tight to get up hills and out of holes. Big British twins and singles ruled off-road racing around the world until the lightweight 2-strokes started pouring in from Japan and Europe.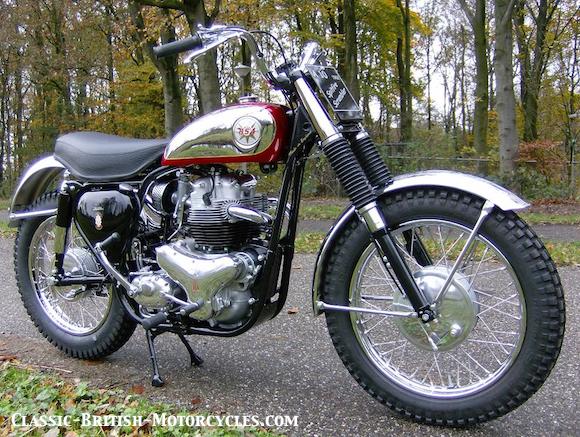 ---
1962 BSA A10 Rocket Gold Star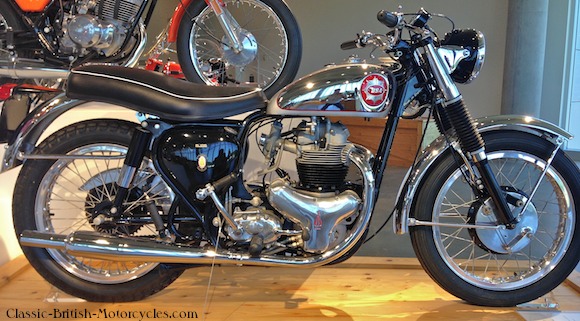 1962 BSA A10 ROCKET GOLD STAR
In it's final year of non-unit construction, BSA slipped the A10 650 twin-cylinder engine into the frame from a 500 Gold Star single, creating a whole new bike, the Rocket Gold Star, a combination of the A10 Rocket and the Gold Star. It was fast, handled well, and the twin was much easier to kick over than the big strokey single. A total of 1,584 were produced in its 1962-only run. Most were street bikes, but 272 of them were built as off-road scramblers.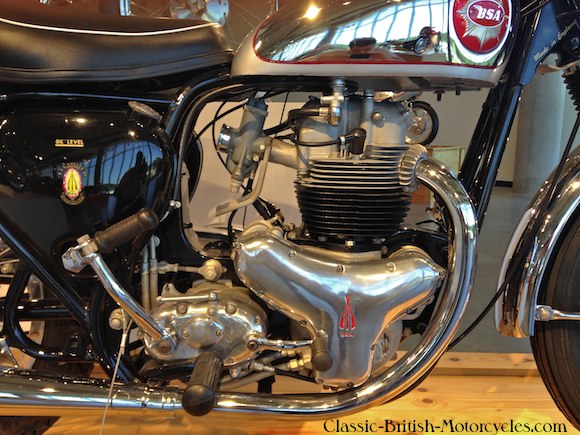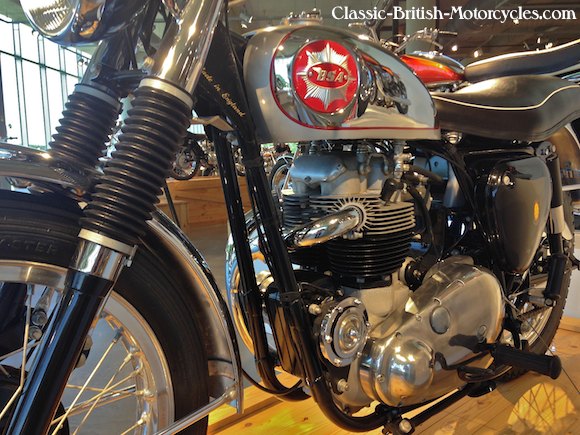 ---
1962 BSA A10 SPECIFICATIONS
Engine type

Displacement

Bore & Stroke

Compression

Carburetor

Engine output

Primary drive

Clutch

Final drive

Gearbox

Ratios, overall:

1st, Bottom

2nd

3rd

4th, Top

Wheelbase

Seat height

Ground clearance

Suspension, front

Suspension, rear

Brakes, front

Brakes, rear

Tires, front

Tires, rear

Fuel capacity

Curb weight

Air-cooled OHV vertical twin

646cc

70mm X 84mm

8.3:1

1- Amal Monobloc

42 hp @ 6,000 rpm

1/2″ X .305 single-row chain

Multi-plate, wet

5/8″ X 3/8″ chain

BSA constant-mesh 4-speed, foot shift

—

11.68:1

7.96:1

5.48:1

4.53:1

56.0″

30.0″, unladen

6.0″, unladen

telescopic forks, 2-way damping

swing arm, 2 hydraulic dampers

8.0″ SLS drum

7.0″ SLS drum

3.25″ x 19″

3.50″ x 19″

4.0 gal

439 lbs