1959 MATCHLESS G80 BACKGROUND
As was the case with virtually all Matchless motorcycles, sister-company AJS had a nearly-identical version which they called the Model 18. Matchless had cut its teeth, and built its reputation fielding fast, robust and reliable big singles (ie: 350cc and 500cc). The Matchless G80/AJS Model 18 were pushrod-operated OHV singles with a nearly "square" bore and stroke, unusual in an era dominated by long-stroke (undersquare) designs.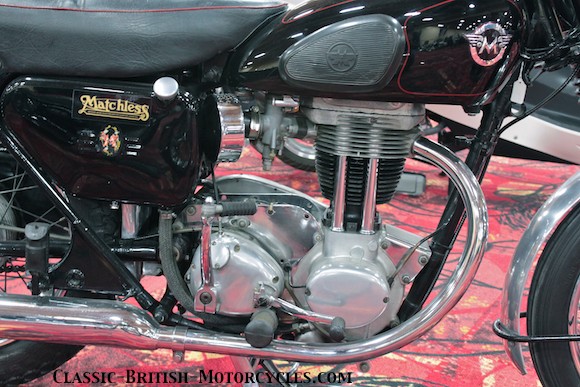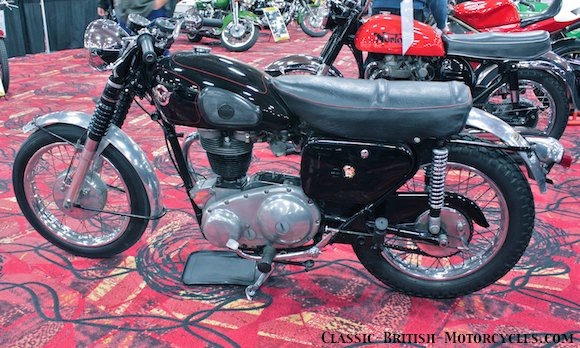 MATCHLESS G80 FROM AMC
Matchless and AJS were part of the (at one time) gigantic AMC empire. AMC, short for Associated Motor Cycles, was formed by the owners of Matchless and AJS in 1938 to hold an expanding stable of British motorcycle brands. These would ultimately include Matchless, AJS, Norton, Sunbeam, James and Francis-Barnett. But by the time this G80 was built, AMC was already in decline. By 1960 they'd dropped everything but Norton and the Matchless/AJS singles, trying to focus their resources. It didn't help. By 1966 AMC was broke and Matchless went with it. Norton survived a few more years. Pity that.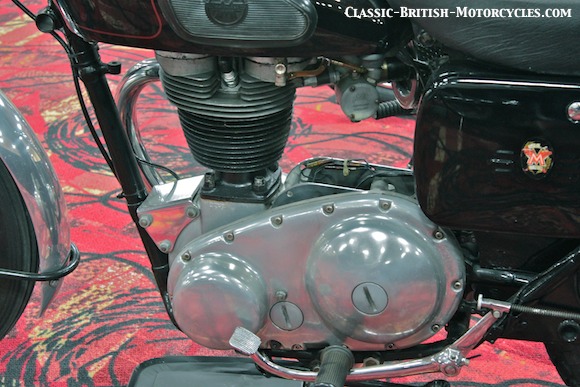 ---
1959 Matchless G80 SPECIFICATIONS
Engine type

Dislacement

Bore & Stroke

Compression

Carburetor

Engine output

Ignition

Charging

Lubrication

Primary drive

Clutch

Final drive

Gearbox

Suspension, front

Suspension, rear

Brake, front

Brake, rear

Tire, front

Tire, rear

Frame type

Wheelbase

Ground clearance

Seat height

Dry weight

Top speed

Air-cooled OHV single

497cc

86mm X 85.8mm

7.3:1

Amal Monobloc 389 1-1/8″

28 bhp @ 5,600 rpm

6V battery & coil

6V alternator

Dry sump, Norton gear-type oil pump

Chain

Multi-plate, wet

Chain

4-speed constant-mesh, right foot shift

Norton Roadholder telescopic fork

Swing arm w/2 Girling shocks

8″ full-width Norton SLS drum

7″ SLS drum

3.25″ X 18″

3.50″ X 18″

Duplex full cradle

55.0″

6.0″

30.0″

394 lbs

84 mph
---
Check out these MATCHLESS BOOKS
---
---

Matchless, once the largest British motorcycle manufacturer
---

AJS and Matchless Post-War Singles and Twins: The Complete Story
---

Motorcycle Apprentice: Matchless – in name & reputation (Classic Reprint)
---

History of Matchless Motorcycles
---
---

BOOK OF THE MATCHLESS 350 & 500cc SINGLES 1955-1966
---

AJS and Matchless: The Post-war Models
---

AJS and Matchless Gold Portfolio 1945-1966
---

Illustrated Ajs and Matchless Buyer's Guide (Illustrated Buyer's Guide)
---
For more like this, please visit our

MATCHLESS MOTORCYCLE BOOKSTORE
---