1959 BSA A10
Pre-Unit 650 Twin
---
1959 BSA A10 Rocket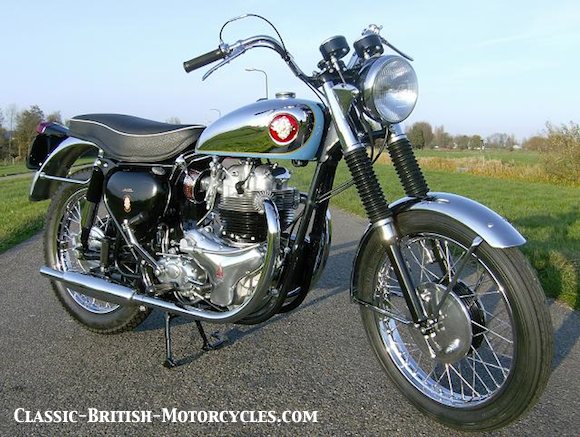 1959 BSA A10 ROCKET
By 1959, both of BSA's big non-unit twins, the 500cc A7 and the 650 cc A10 had been in production for a decade or more and had been the recipients of constant and continuous improvement. This would break and they'd make it stronger on all subsequent bikes. That would wear out, so they'd use a different part. By 1959 the BSA A10 was a well-developed bike. They were also handsome and pretty fast. The A10 Rocket was considered the top of the line with it's dual carburetors and premium trim, and the low pipes of a roadster. These were very handsome bikes, built by a powerful, swaggering BSA that was in its prime. Alas, the swagger wouldn't last. But the A10 Rocket did, because I see them all the time at shows and in auctions.
---
1959 BSA A10 Spitfire Scrambler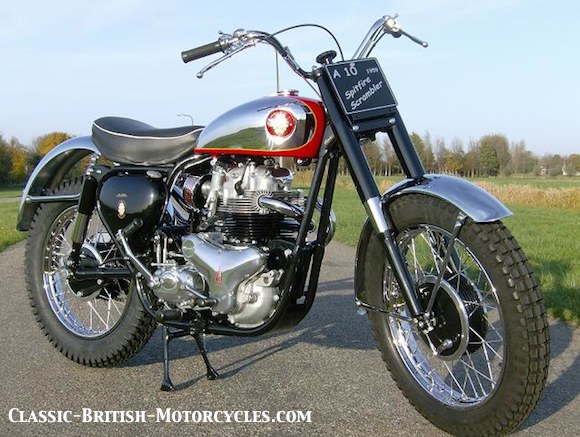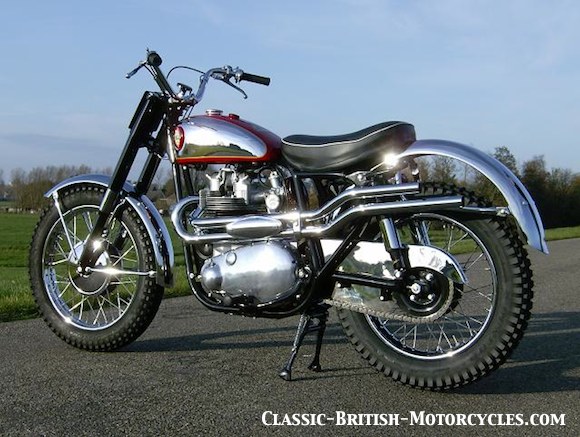 SPITFIRE SCRAMBLER
The Spitfire was indeed a 'scrambler' in the true sense of the word, with knobby tires, high pipes on the right side, one carb, and stripped of everything that wasn't essential. These are gorgeous bikes, and actually make a great off-road ride. They practically dominated desert racing in the Western US, and also many a scrambles track. The big torquey motors didn't need to be revved tight to get up hills and out of holes. Big British twins and singles ruled off-road racing around the world until the lightweight 2-strokes started pouring in from Japan and Europe.
---
1959 BSA A10 ENGINE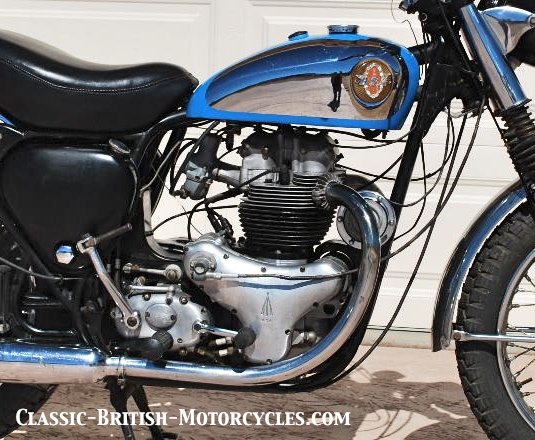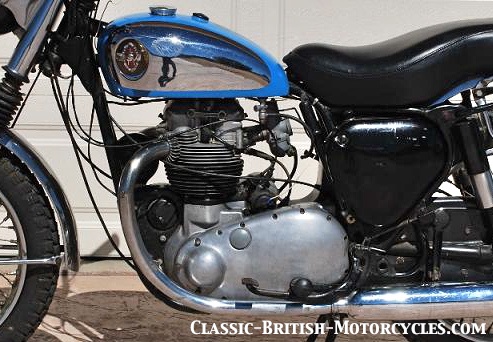 ---
1959 BSA A10 SPECIFICATIONS
---
Engine type

Displacement

Bore & Stroke

Compression

Carburetor

Engine output

Primary drive

Clutch

Final drive

Gearbox

Ratios, overall:

1st, Bottom

2nd

3rd

4th, Top

Wheelbase

Seat height

Ground clearance

Brakes, front

Brakes, rear

Tires, front

Tires, rear

Fuel capacity

Dry weight

Air-cooled OHV vertical twin

646cc

70mm X 84mm

8.5:1

1- Amal Monobloc

46 hp @ 6,200 rpm

1/2″ X .305 single-row chain

Multi-plate, wet

5/8″ X 3/8″ chain

BSA constant-mesh 4-speed, foot shift

—

11.68:1

7.96:1

5.48:1

4.53:1

56.0″

30.0″, unladen

6.0″, unladen

8.0″ SLS drum

7.0″ SLS drum

3.25″ x 19″

3.50″ x 19″

4.0 gal

413 lbs