1954 VINCENT BLACK SHADOW-ONE OF THE LAST
The Vincent Motorcycle Co. closed its doors in 1955, so this 1954-model was built one year before the end. Vincent was a low-volume producer of high-quality motorcycles, and high-priced for the time. From the end of WWII until their demise in 1955, they barely produced 11,000 bikes total, including mostly single-cylinder Comets and Meteors. And sales were slow and getting worse nearing the end, so only a few hundred 1954 Vincent Black Shadows were likely produced.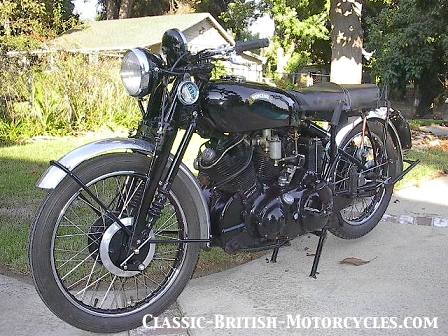 VINCENT BLACK SHADOW-A PARAGON OF ENGINEERING
What made Vincent famous and their bikes so prestigious at the time was their extreme quality. Owner Phil Vincent didn't mess around when it came to building and designing the best motorcycles in the world at the time. And they literally were, or close to it. In fact, Vincent called the Black Shadow "The World's Fastest Motorcycle" and it actually was. A modified Black Shadow was the first to break the 150mhp-barrier on the Bonneville Salt Flats in 1948, performed by Rollie Free in only a bathing suit! Check out the whole story of the 'Bathing Suit Bike'. Advanced features abounded on Vincent Motorcycles. Among them was a unique-to-Vincent system of two valve guides per valve, one set high and one low with a forked rocker arm actuating the valve in the space between the two. It was intended to keep the valve travel dead-straight to fight valve guide wear, a big problem back then, and it worked commendably.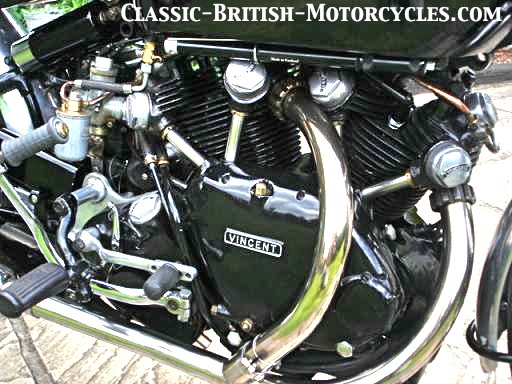 1954 Vincent Black Shadow SPECIFICATIONS
Engine Type

Displacement

Bore & Stroke

Compression

Carburetors

Ignition

Engine Output

Primary Drive

Clutch

Gearbox

Final Drive

Frame type

Wheelbase

Seat height

Suspension, front

Suspension, rear

Brake, front

Brake, rear

Tire, front

Tire, rear

Fuel capacity

Dry weight

Top speed

Air-cooled OHV 50-degree V-twin

998cc

84mm X 90mm

7.3:1

2- Amal Type 29, 1-1/8″

Lucas magneto

55 bhp @ 5500 rpm

Chain

Multi-plate, wet

4-speed constant mesh, right foot shift

Chain

Cantilever w/engine as a stressed member

56.5″ / 1435 mm

32.5″ / 826mm

Girder-style sprung fork, Girdraulic

Sprung rear sub-frame, 2 dampers

2-sided 7″ SLS drum

7″ SLS drum

3.00″ X 20″

3.50″ X 19″

4.22 gal / 16 liters

458 lbs / 208 kg

125 mph / 201 kph
Special thanks to www.motorcyclespecs.co.za for providing these specifications.