1954 Triumph T15 Terrier
1954 TRIUMPH T15 TERRIER BACKGROUND
While Triumph was known exclusively for single-cylinder bikes in its first 30 years, the introduction of the 500cc Speed Twin in 1938 and Tiger 100 in 1939 changed how the world saw the brand. After World War II, Triumph focused on its twins, revamping the Speed Twin and Tiger 100, and adding another 500, the TR5 Trophy and punching it out to 650cc for the 6T Thunderbird by 1950; but still no single. The Triumph Board was encouraged to develop a lower-priced, smaller model for commuters, and Edward Turner—Triumph's designer and chief executive—insisted any new Triumph model had to be faster than rival small machines, look like the rest of the Triumph range, and be charming enough to keep riders loyal when they wanted a new or larger machine. The Terrier was introduced in 1953, and it was Triumph's first unit-construction engine. It had a 149cc pushrod OHV engine whose main competition for sales were mostly small-capacity 2-strokes using proprietary Villiers engines (which themselves were based on DKW designs taken by the Allies from Germany as war reparations).
1954 TRIUMPH T15 TERRIER DEISGN
The Terrier's engine was a strong performer in its class and had a throaty exhaust note. But what really sold it was the styling, it was a very handsome machine, in a segment of the market where most bikes weren't. Turner recreated the looks of the Speed Twin, using the same Amaranth Red color, Speed Twin-like bodywork including Triumph's trademark headlamp nacelle, the four chrome bars on the tank that ran into the badge, and even the same style of ribbed fenders. The looks not only tied the bike into the rest of the Triumph family, it was attractive enough to stand on its own and still be admired. The Terrier was an instant hit, being by far the best looking lightweight motorcycle at the time. It was also Triumph's first motorcycle with rear suspension, as the Terrier used plungers at the rear end, while its 500 and 650 big brothers used Triumph's notorious "sprung hub" with their rigid frames. Thr 1954 Triumph T15 Terrier was the second year of production.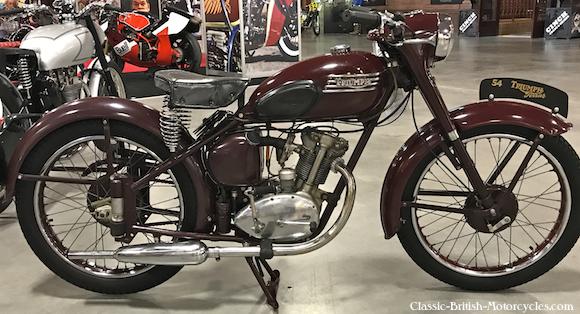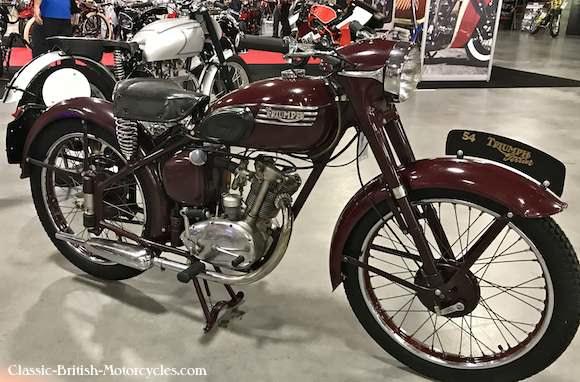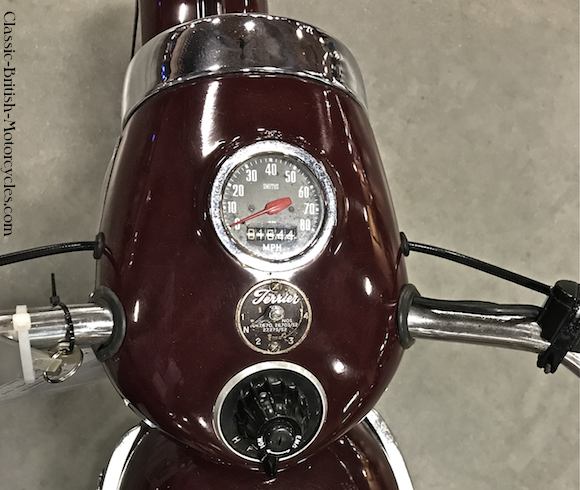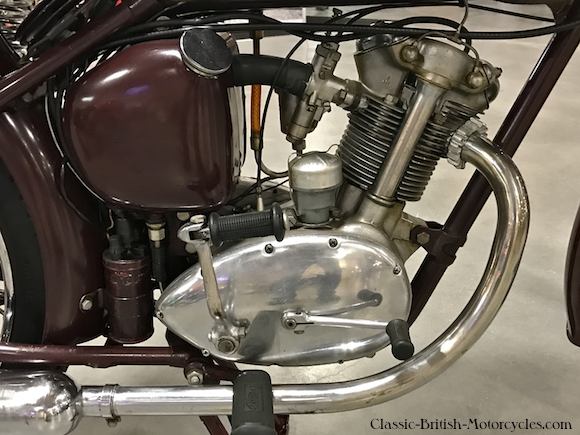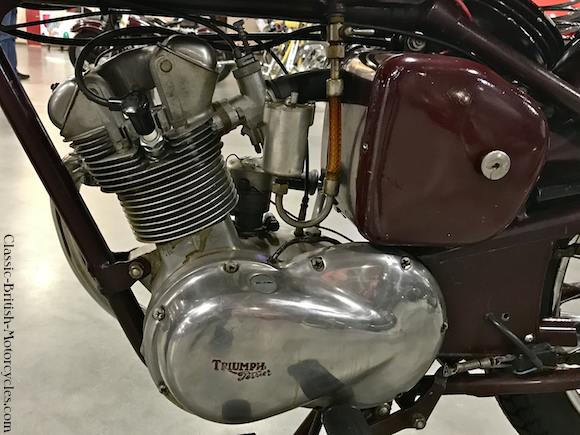 ---
1954 Triumph T15 Terrier SPECIFICATIONS
Model designation

Engine type

Displacement

Bore & Stroke

Compression ratio

Fuel system

Power output

Primary drive

Clutch

Gearbox

Final drive

Wheelbase

Suspension, front

Suspension, rear

Brake, front

Brake, rear

Tire, front

Tire, rear

Fuel capacity

Oil capacity

Top speed

1954 Triumph T15 Terrier

Air-cooled OHV single-cylinder 4-stroke

150cc / 9.5 ci

57.0mm X 58.5mm / 2.2″ X 2.3″

7.1:1

1- Amal carburetor

8.3hp @ 6500 rpm

Chain

Multi-plate, wet

4-speed, right-foot operated

Chain

49.0″ / 1200 mm

Telescopic fork

Plunger

5.5″ / 112mm SLS drum

5.5″ / 112mm SLS drum

3.00″ X 16″

3.00″ X 16″

3 Imp gal

3 pints (tank & crankcase)

80.5 kmh / 50.0 mph