1954 BSA Gold Star 
1954 BSA GOLD STAR BACKGROUND
Throughout the 1930s, BSA created and developed a strong line of single-cylinder motorcycles. In 1937, they introduced the 500cc Empire Star. When Wal Handley lapped the Brooklands racetrack at over 100 mph average speed, he was awarded a Gold Star. The name stuck and was applied to the new high-performance variant, the 1938 BSA Gold Star in both 350cc and 500cc form. The engines were hand-built to the highest standard. The BSA factory offered several performance modifications as options. Every bike was run on a dyno, and came from the factory with a printout of its dynamometer results showing the actual horsepower that the engine produced. The BSA Gold Star was one of the fastest production motorcycles on the planet at the time. 1939 was the last year of civilian production prior to World War II. These early pre-war bikes had rigid frames and girder front forks.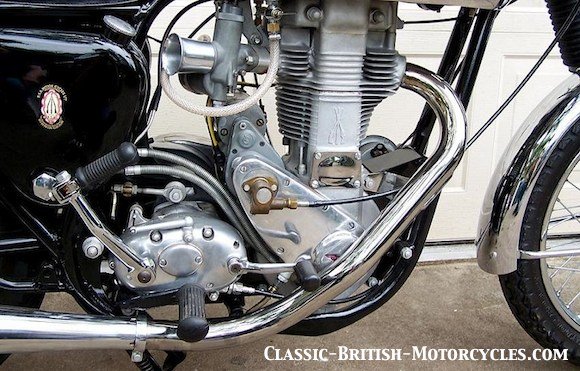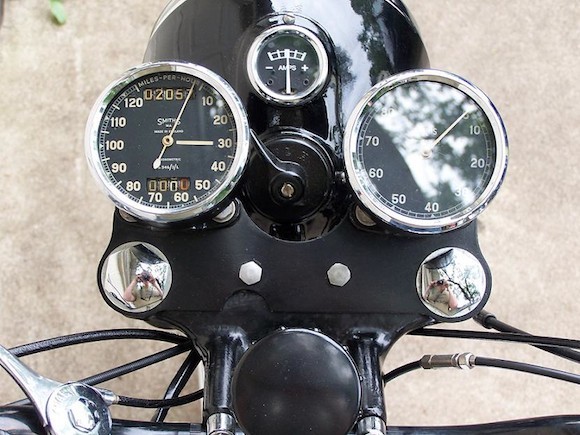 1954 BSA GOLD STAR DESIGN
The 1954 BSA Gold Star came in two sizes, 350cc (the CB32) and 500cc (the CB34), which was given more cooling fins on the cylinder and head than before, and they took on a squarer shape than before. The hand-assembled engines got several meaningful upgrades for the 1954 model year. A stronger crankshaft with oval flywheels was fitted, along with a shorter connecting rod. The valve gear was reworked and the carburetor was changed over to the Amal GP.
---
1954 BSA Gold Star
CLUBMAN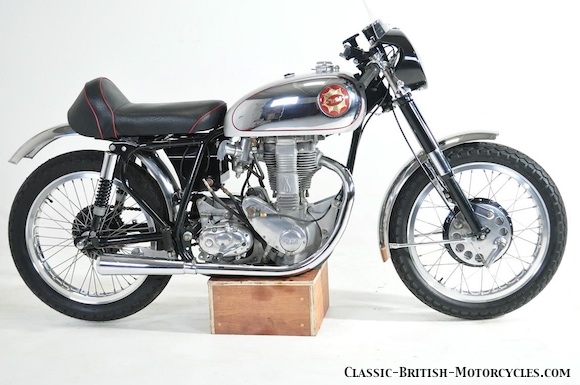 ---
1954 BSA Gold Star SPECIFICATIONS
Engine type

Displacement

Bore & Stroke

Compression

Carburetor

Horsepower

Primary Drive

Clutch

Gearbox type

Ratios, overall

1st Gear, Low

2nd Gear

3rd Gear

4th Gear, Top

Final Drive

Frame

Wheelbase

Ground clearance

Seat height

Dry weight

Suspension, F

Suspension, R

Brakes, F

Brakes, R

Wheels, F

Tires, F

Wheels, R

Tires, R

Fuel capacity

Oil Tank cap.

BB32 350                

Air-cooled OHV single

348cc

71mm X 88mm

8.75:1

Amal GP

1/2″ X .305″ chain

Multi-plate, dry

4-speed, foot-shift

10.15:1

7.0:1

5.8:1

5.28:1

5/8″ X 1/4″ chain

All-welded steel duplex

54.75″

5″

30.5″ unladen

380 lbs, dry

Telescopic, hydraulic

Swing arm, 2 shocks

8″ drum, SLS

7″ drum, SLS

WM1-19 (19″)

Dunlop 3.25″ X 19″

WM1-19 (19″)

Dunlop 3.25″ X 19″

4 gal

3 pints

BB34 500                

Air-cooled OHV single

499cc

85mm X 88mm

8.0:1

Amal GP

38hp @ 7,000rpm

1/2″ X .305″ chain

Multi-plate, dry

4-speed, foot-shift

8.71:1

5.99:1

4.96:1

4.52:1

5/8″ X 1/4″ chain

All-welded steel duplex

54″

5″

30.5″ unladen

383 lbs, dry

Telescopic, hydraulic

Swing Arm, 2 Shocks

8″ drum, SLS

7″ drum, SLS

WM1-21 (21″)

Dunlop 3.00″ X 21″

WM1-19 (19″)

Dunlop 3.25″ X 19″

4 gal

3 pints